San Sebastian and Biarritz full Day Tour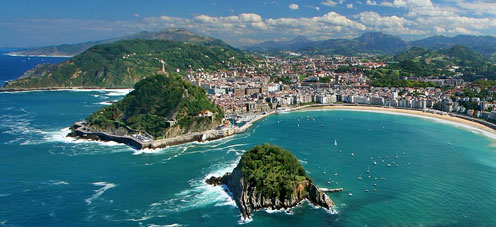 Following the highway through stunning natural landscape, you will arrive in Biarritz. It was a magnet for famous and royalty such as Napoleon III, Gary Cooper and Frank Sinatra, and still nowadays it is a very important tourist destination. You will be able to enjoy the old port, the Virgin on the Rock, the streets and the beautiful figure that forms this village on the coast. Following the rugged coastal road you will continue to Saint Jean De Luz, a lovely small village located on the French Basque coast. The house of Louis XIV and the Church of Saint Jean Baptist are the highlights, surrounded by narrow streets.
Later on, transfer by boat from Hendaya to Hondarribia across the Txingudi (natural reserve) bay to visit this village full of history that holds a medieval fortress and a lovely area that in the past was a pirate and whaler port.
There will be free time for lunch and your guide will suggest a selection of recommended local restaurants. Your last stop will be San Sebastian, the most beautiful city in the Basque Country to start a panoramic tour of the city. There are magnificent views up the mountain Igeldo, plus a walking tour into the old historical quarter. After your tour you will have free time to enjoy the city at leisure. Finally you will return directly back to Bilbao to arrive at approximately 7:00pm.
Biarritz – a walking and panoramic tour in this French Basque country.
Saint Jean de Luz – another coastal charming village with beautiful Basque architecture.
Hendaye – take a boat and cross the border with Spain into a naturally preserved Bay.
San Sebastian – a city tour in the old town of this majestic city on the Cantabrian Sea.
Meeting Point:
08:45: Petit Palace Arana-Grand Bilbao-Tryp Arenal-Holiday in Bilbao
08:55: Hesperia Bilbao-Nervion-Conde Duque-NH Deusto
09:05: Abando-Carlton-Coliseo-Jardines de Albia-Lopez Haro-Silken Gran Domine-Miro-Melia Bilbao-Ercilla
09:15: Hesperia Zubialde-NH Villa de Bilbao-Abba Parque-Silken Indautxu-Zenit
San Sebastian and Biarritz full Day Tour Available every Sunday
Availability:
Sunday : 9.00am
Arrival in Bilbao:
Return back to the hotel at : 19:00 approximately
Duration:
10 hours
Language:
Spanish, English
Price:
€85
Included
Transport in coach.
The service of a professional guide, able to guide visits in Spanish and English.
In order to ensure a satisfactory visit, the tourist guide in charge may make any necessary changes if needed.