Get a Quote for the Camino de Santiago Pilgrimage!
How much does the Camino cost? Are there different price ranges for different types of travel? Do the routes all have the same budget? Find out how much you should plan to spend on your Camino de Santiago pilgrimage with a quick quote!
Get a quote from the experts at Follow the Camino – the longest-running Camino Tour company. We have decades of experience between us and we would love to help you plan your Camino walk. You can read more about why you should choose us here.
From a specific quote for one of our regular packages to a fully customised itinerary that is tailored to you – we can help you to plan your trip. We operate guided and self-guided walks on all of the major Camino routes.
Whatever stage of planning you are in – we can help. Whether you are still dreaming and looking for information, or you have it all planned out and are ready to make a booking, get in touch!
All quotes can be changed and updated as your plans evolve, and you are protected by our super flexible date change policy. Even if you have confirmed everything, you can still change your booking and postpone your trip if needed, up to 10 days before you are due to leave!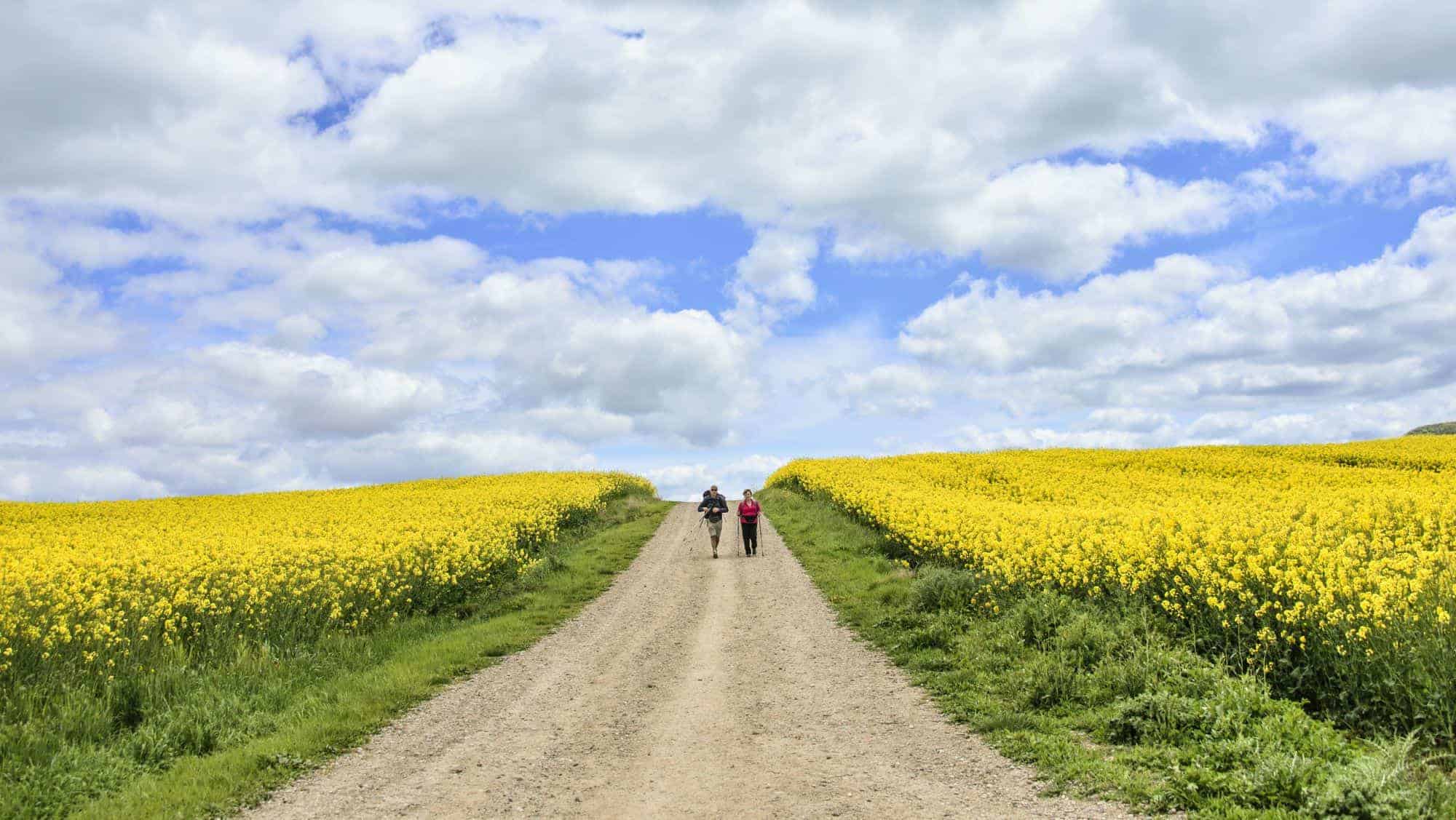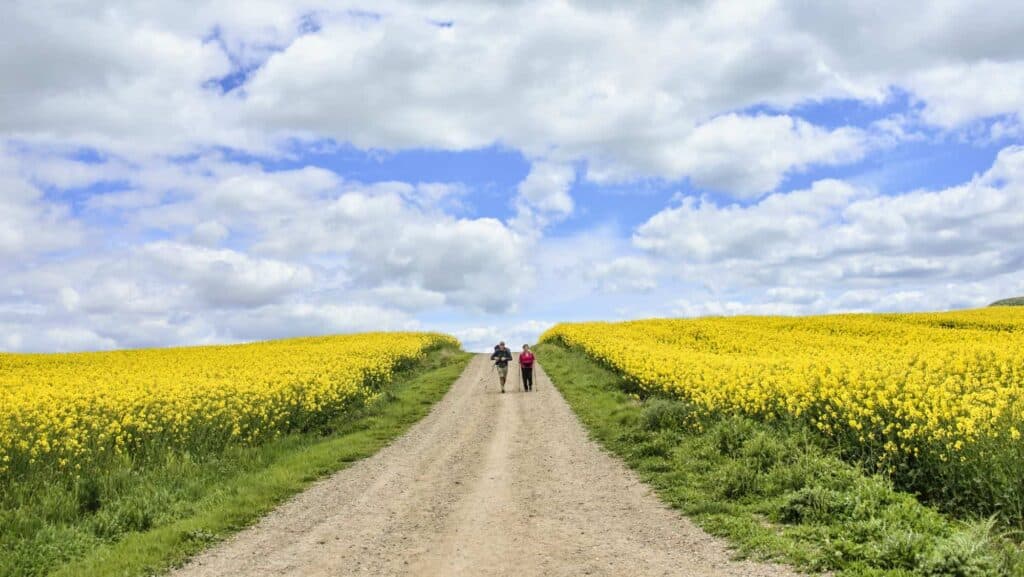 Learn more: Download your FREE Camino e-book!
Discover the routes and sections of the famous Camino de Santiago pilgrimage.
Download
Popular Camino Route Costs
While we can design a customised itinerary for almost any budget, here are a few quotes for standard trips to give you an idea of what to expect.
All of our standard packages include excellent accommodation, a customised itinerary and walking notes, bag transfers between your accommodation, breakfasts, your pilgrim passport, and 24/7 support while you are on your Camino.
*Please note that the prices given here are only a guideline and are based on shared room per-person costs. There may be changes to these prices based on dates and availability.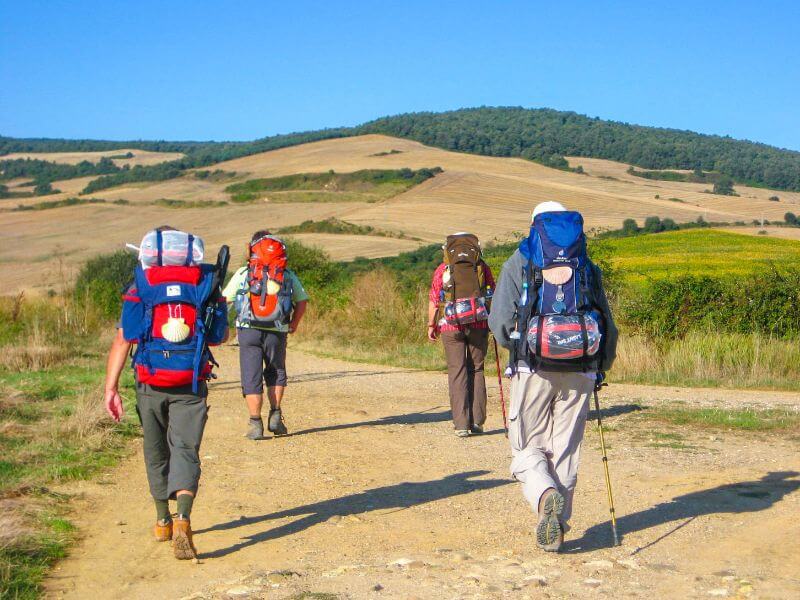 If you are doing the Camino by bike, we organise your bicycle hire and delivery to your start point.
We can also provide accommodation upgrades, airport collection and drop off, additional nights along the way, dinners, romantic treats, and day tours to cities, landmarks and attractions near the Camino. Just let us know what you are interested in and we'll add it to your Camino quote.
For people on a very tight budget who are happy to stay in hostel style accommodation and albergues, we have a cheaper option – the Camino on a Budget.
We hope to see you soon on this spiritual walking holiday through Spain, Portugal, or France!
Buen Camino!
Inspired? Download Our Camino Packing List!
Everything you need to pack to walk the Camino de Santiago.
Download
Learn More About the Camino
Explore the various Camino Routes and pick the one that suits you! We can give you a couple of quotes for different Camino routes so that you can choose between them.
Want to know more about the accommodation options on the Camino de Santiago? Here they are.
There is more than one way to walk the Camino! You can take it slower, covering fewer kilometres each day, and have more time in each place to explore. Our Camino Short Days are perfect for people who need to take things easy, too.
Check the average weather for the times of year you are thinking about. Some of the most popular months are May, June, and September because they avoid the scorching peak of summer.
Add a bit of zen meditation and movement to your Camino by doing a yoga tour. You'll be accompanied by a qualified yoga instructor who can help you find inner peace.
You can do the Camino solo, or bring your kids or grandchildren! The Camino is perfect for all groups and families of any size. We can even offer you a quote for a private guided tour on the Camino!
Discover the history of the Camino and Saint James. Learn all about Camino Holy Years and what makes them so special.
Practical Advice
Start preparing for your Camino by following our comprehensive training plan – designed by qualified physiotherapists!
Check out our ultimate Camino packing list and start getting your gear together. There is also one for cyclists!
Struggling to decide which Camino shoes to choose? We've got plenty of advice. We can also help you to choose a Camino backpack!
Looking for more information? Here are our favourite films and books abut the Camino to get you inspired!
The Camino is also a wonderful way to raise funds for charities and good causes. Let us know if you would like a quote for a charity fundraiser on the Camino de Santiago.
Ask us a question! We are happy to help.
Buen Camino!






Take the School Trip You'll Never Forget!






The ULTIMATE Educative Adventure Across Spain, Portugal, or France.






Connect with your students as you share this incredible experience.



From accomodation to airport transfers, we can plan the ideal Camino for your class.






 Flexible itineraries    Luggage transfers   Private rooms & bathrooms




Contact us