Camino training cancelled due to coronavirus.
Whether you are familiar with the Camino de Santiago or you are only an active person looking for fun while exercising and meeting like-minded walkers, you can't miss this great opportunity to walk the Boyne Valley Camino on Saturday 23 May.
The Boyne Valley Camino is a 25km loop walk and it forms part of the Celtic Camino Series. It goes along the Boyne, through beautiful Townley Hall woods, via two OPW sites of Mellifont Abbey and Oldbridge House, through the village of Tullyallen, along the Boyne Canal, and returns to Drogheda along the stunning Boyneside Trail.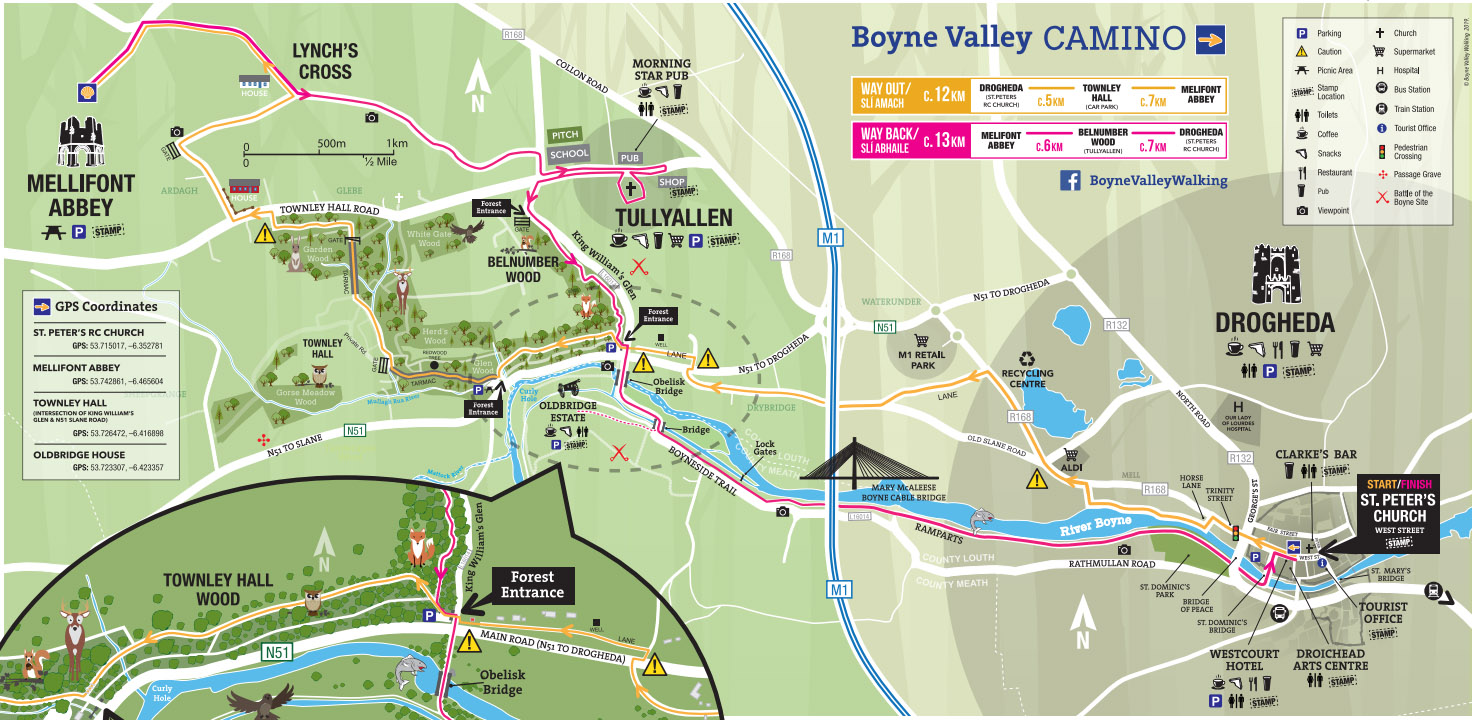 Difficulty: easy walking Total: 25 km
We're meeting at St Peter's RC (West Street) at 9:00 am for some light stretching and a brief introduction to the Camino de Santiago. From here, we'll walk to Mellifont Abbey and then return to Drogheda.
Stamp 1
At the Start: St. Peter's Church. West Street, Drogheda, Co. Louth
Stamp 2:
Westcourt Hotel, Drogheda, Co. Louth
Stamp 3:
Old Mellifont Abbey
Stamp 4:
Supermarket Tullyallen Village
Stamp 5:
Morning Start Pub
Stamp 5
Oldbridge House
Stamp 6
Final stamp – St. Peter's Church. West Street, Drogheda, Co. Louth
The Boyne Valley Camino is a good way to start your Camino de Santiago and get your pilgrim passport stamped!
The Cathedral of Santiago has agreed to grant a Compostela certificate to pilgrims who can prove that they have walked the first 25 km in their home country, so they just have to walk 75 km on the English Way from Coruna to Santiago de Compostela to get their certificate.
Participants in the Boyne Valley walk, who accomplish 25 km, will receive their first official stamp in the pilgrim passport on the day, which is valid for up to one year.

Meeting point: St. Peter's Church. West Street, Drogheda, Co. Louth
Meeting time: 8:00 am sharp
Price: This is a free event; we just charge a symbolic fee of €20 that will all go to charity.
*The first 30 bookings will receive a free neck bandana.
*You'll receive a free Camino de Santiago Pilgrim's Passport.
PACKING LIST
• Comfortable walking or hiking shoes
• Plenty of water
• Sun cream
• Sunglasses
• Rain gear (just in case… it is Ireland after all!)
We look forward to introducing you to your Camino journey and guiding you every step of the way.
Book your place today for €20 which goes entirely to our partner charities.
Disclaimer: Participants will be responsible for the payment of their own food and drinks at the Camino – they will also be responsible for their return trip home i.e. Dart, taxi, bus etc.
Originally published on 20th February 2020
Don't forget to share this post!