Whether you are familiar with the Camino de Santiago or you are only an active person looking for fun while exercising and meeting like-minded walkers, you can't miss this great opportunity to walk the North Bull Island trail walk on the 27th of June at 10 am.
The meeting point will be at the corner of Mount Prospect Avenue at St. Anne's Park (see map below). We will start with a 15-minutes introduction and gentle stretch, providing advice on what to bring with you on the Camino. We will then set off at 10.15 am sharp.
Book your place today for €10 which goes entirely to our partner charities.
Here is some information about the walk –

After meeting at Mount Prescott Avenue, we will head towards the Bay restaurant on Clontarf Road, which is close to the Wooden Bridge linking Bull Island with the mainland.
Making our way then to the bridge, we will cross it to arrive on Bull Island. Crossing the bridge, we'll then head toward the beach to continue our walk. Walking along the beach, we will head towards the middle of the island to Causeway Road.
Once we reach the Causeway Road near St. Anne's Golf Club, we will take a left onto the Causeway Road Bridge. After crossing the bridge, we take another left and enter St. Anne's Park. We will take a small walk through the beautiful park, heading towards the DART station side of the park.
We will eventually take a left and walk to the tennis courts in the park, and loop back around heading to the Red Stables Market, concluding the training with a coffee at the Olive Rooms café.
Bull Island is a man-made island, being 5km long and almost 1km wide and is connected to the mainland via the Wooden Bridge at the Clontarf Road end and Causeway Road Bridge at the Raheny end. St. Anne's Golf Club and Royal Dublin Golf Club occupy opposite ends of the island with a magnificent beach facing the sea beside both courses. Keep an eye out for any grey seals on the shore or Eurasian curlew birds that inhabit the island.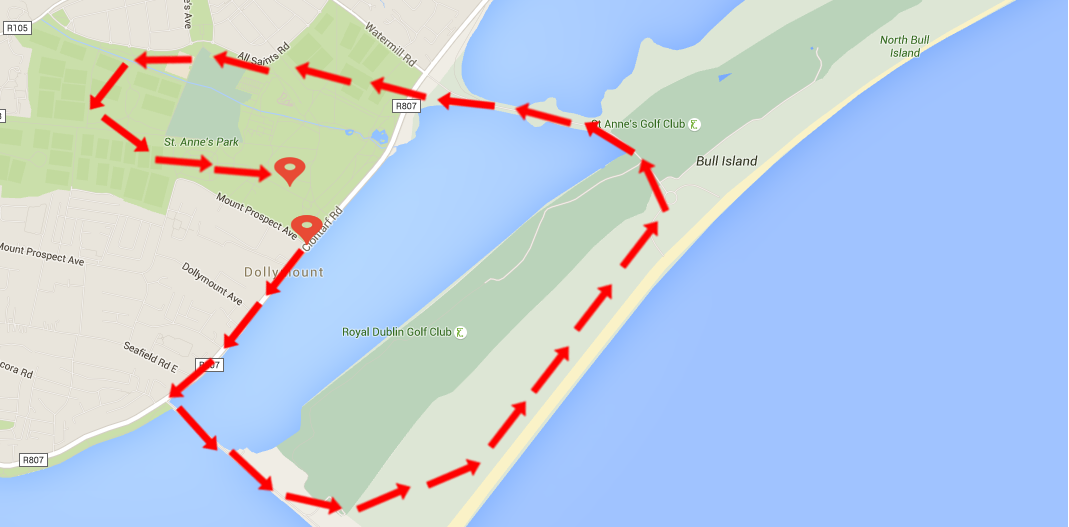 North Bull Island
Grade: Flat Walk
Distance: 10km
Time: 3hrs
What to bring on the day:
Water and packed Lunch
Walking shoes or boots
Walking poles (optional)
Small backpack
Waterproof gear (this is Ireland!)
We look forward to introducing you to your Camino journey and guiding you every step of the way.
Book your place today for €10 which goes entirely to our partner charities.
Disclaimer: Participants will be responsible for the payment of their own food and drinks at the Camino – they will also be responsible for their return trip home i.e. Dart, taxi, bus etc.
Further details about tours can be found at www.followthecamino.com
Originally published on 20th February 2020
Don't forget to share this post!