Testimonials
Great Camino Bike ride

"From the time we enquired, Patricia provided excellent service. Emails were answered promptly, all details were set out easy to read and all documents arrived promptly.
Our accommodation was excellent and where we indicated we would like to stay. The booklets proved with directions, sightseeing were great." – Lynn, Cycling the Camino Frances
Outstanding support for our Camino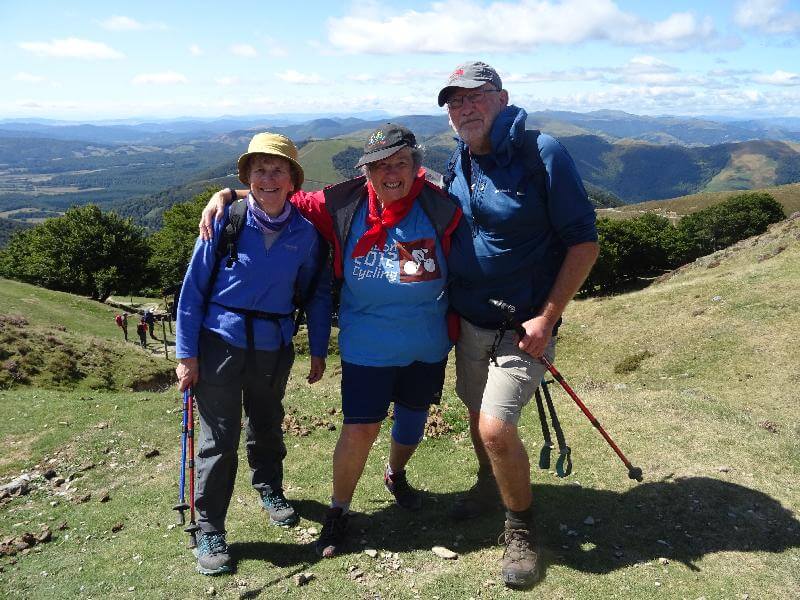 "Follow the Camino has provided an excellent service and support throughout our trips to the Camino. We will certainly use them again." – Sally, Camino Frances.
Outstanding well organized trip
"Outstanding trip, service and guide. Fran is a delight, knowledgeable and willing to entertain his group with music. He helped build early bonds between us. We look forward to a return trip in 2021, more days on the trail. We loved the Torre de Rio Inn and hope more groups get to enjoy that wonderful place. Thank you." – Sharyn, Camino Portugues Coastal.
No hesitation in recommending
"I have no hesitation in recommending the guys from Follow the Camino. From start to finish they organised our trip with great attention to detail, which left us with more time to enjoy our adventure. They also advised the best route to suit all our fitness levels.
Umberto and Alberto were such a pleasure to deal with and great fun, and they made sure everything went like clockwork on the trip. They gave great advice before we left and while we were there, and I think they're the ultimate professionals" Andrea Smith, Journalist – Ireland.
Excellent to deal with
On my Camino trip ,I dealt with Patricia and the crew and they were excellent to deal with. I was so unsure of my needs to begin with and made so many changes to my trip, including dates and times and places but all my changes were dealt with promptly and professionally. I was delighted with my choice of Follow The Camino.
All went like clockwork, including the pick up at the airport, and the luggage drop to the various accommodations.
If I had one suggestion for Pilgrims I would suggest learning some words in Spanish, you will be in rural Spain and a few words in the local lingo will go a long way. Just my opinion, mind. I loved my trip and would go again in the morning. Totally recommend the Follow The Camino crew. John Dillon, Pilgrim – Ireland.
Our pilgrimage was excellent
Our 240 km walk of the Camino Santiago has come to an end. Many thanks to Shenda O'Hare and Follow the Camino. The trip was well planned, baggage transfers seamless, and booked hotels contacted if there were any problems. The places to stay on our pilgrimage were excellent. The few bumps regarding noise and heat couldn't really be helped until the Spanish invent window screens and realize a fan in every room is a fine idea.
Having meals included was a good idea and special recognition to Parada das Bestas. Full stars. And if you can, accept a room (3rd floor if possible) at Parador in Santiago. Outstanding! It transports one to another century.
So, thanks again and Buen Camino. A transformative 2 weeks for both of us. Jamie and Flo McIvor – UK.
An absolute pleasure
Thank you Umberto and crew. It was an absolute pleasure to have you make our arrangements, and support us so magnificently along the way in our efforts to raise awareness for Well Ways and the need to de-stigmatise mental illness. You are all fabulous!!!! Love from "down Under"!!
Cheryl McInnes of Well Ways Mental Health Charity – Australia.
---