At the moment, hundreds of aeroplanes are grounded, hotels are closed, and tourism services are shut down because of coronavirus (COVID-19). This halt in tourism has had an incredibly positive impact on air quality and pollution. So, when things get back to "normal", how do we try to make sure that our air quality doesn't just go straight back to being as bad as it was? How do we change our travel habits to become greener? What choices can we make to make our holidays more sustainable?
Here are just a few things that you can consider:
Choose your green holiday destinations carefully
1. If you only have a little bit of leave then consider staying closer to home. Taking big flights for a weekend is a lot of carbon for a short holiday. Consider embracing the "staycation" and doing a road trip to somewhere closer to home. You'll also avoid wasting half of your holiday in airports and dealing with jetlag.
2. If you have more days of leave to play with – save it up for one big holiday. Long holidays let you fully relax, take things slower, and avoid taking multiple flights in a short period of time. Make those big international flights worth it!
3. Look for low energy holidays – walking or cycling holidays are perfect for this! Rather than taking 6 flights in 12 days and barely seeing anything, spend your time exploring one area deeply and with minimal fossil fuel-based transport.
Walking the Camino is a fantastic longer holiday that has a tiny footprint. You'll be staying with smaller, locally owned hotels and guest houses, and eating locally grown food when you book with us, and we even do carbon offsetting!
Transport is your biggest travel carbon emitter
Consider your transport options for your journeys. Take the time to see what is available in terms of airlines, trains, buses, or driving.
4. Book direct flights if you can – take off is the most fuel-intensive part of the flight so it is best to minimise those.
5. Avoid domestic flights. If you are travelling internally there might be a train or bus option you could take instead which will have a lower carbon footprint.
6. Drive if you have a group. A single person in a single car is pretty inefficient, but if there are 3 or more of you then cars can be quite a low carbon transport option. This is a particularly good option for families! You can even take a ferry from the UK or Ireland to Spain or France with your car.
7. Walk, bike, or use public transportation to get around whenever possible once you arrive.
8. Pack light – every kilogram you transport adds to the amount of fuel that your trip uses. When you are doing an active holiday you'll also want to keep the amount of stuff you pack low to keep weight down. Check out our recommended packing list to get an idea of what is essential.
Save water and energy as you would at home
All the normal ways to live sustainably still work, regardless of whether you are at home or in a hotel. Keep your green living tricks going while you are on holiday.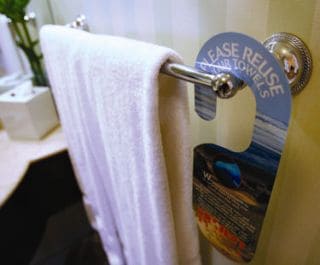 9. Avoid using the small shampoos and soaps that hotels and guest houses provide. These have a lot more plastic packaging per gram of product than normal-sized toiletries. Rather bring your shampoo and soap from home in travel containers.
10. Hang up your towels after each use. This is the sign that you'd like to use them again rather than having them washed every day. You probably don't wash your towel after one use at home, so why would you do it on holiday?
11. Leave the "Do Not Disturb" sign on the door of your room for the duration of your stay. This cuts down on chemical cleansing agents, electricity used in vacuuming, and the washing of bed linens.
12. If you just need a couple of things washed, then try washing them in the shower or sink rather than using hotel laundry services. Laundry services will only wash one person's things per load, so it wastes lots of water.
Choose to reuse!
Reduce your waste while you are on holiday by bringing reusable things to replace single-use plastics and packaging.
13. Bring a reusable coffee cup – there is plenty of excellent coffee to be had, so if you choose to take away remember to bring your own cup.
14. You're on holiday! Take the time to relax and sit down to drink coffee if you don't want to carry a reusable takeaway cup.
15. Pack a refillable water bottle – there are plenty of places to refill these along the way and avoid nasty plastic bottles.
16. Bring a container for takeaways and picnic lunches. You can have many cafes put lovely cakes or takeaway food into your reusable container rather than a single-use one that will just end up in the bin. You can bring your own cloth napkin and reusable cutlery too!
17. For picking up snacks and groceries, bring a reusable shopping bag. If you forget then you can always use your hiking bag, if there is space.
Eat and drink local on your vacation
18. Buy locally-made products. Items that are flown or shipped in have a much larger carbon footprint and are much less interesting and unique. Be suspicious of anything that seems too cheap when you are trying to travel green – it is unlikely to be sustainable or ethically made.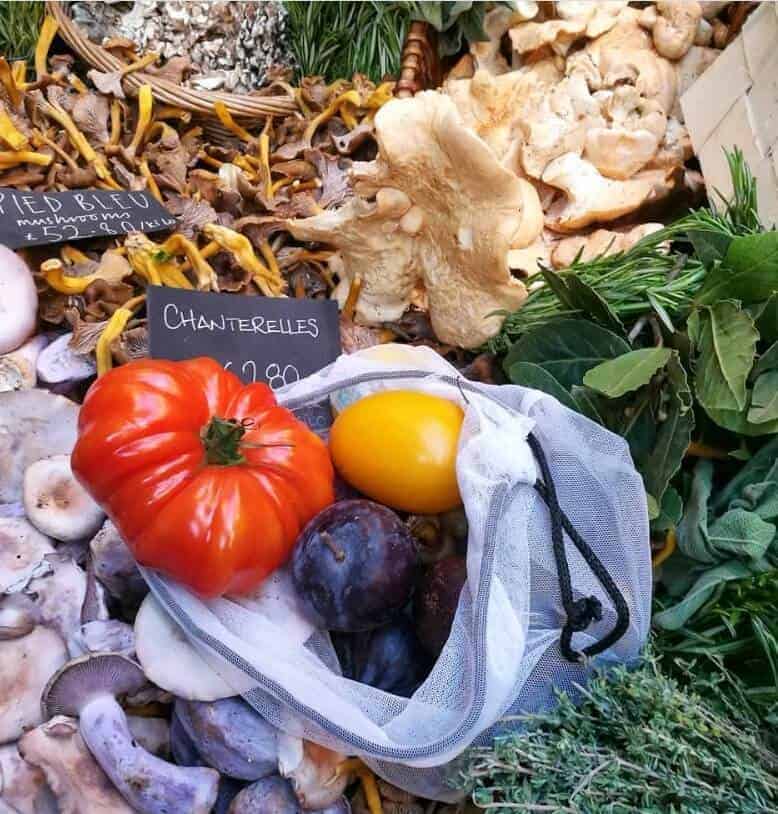 19. Try the local, seasonal food! It is most likely to be made from local ingredients with smaller transport footprints. Local food is also one of the best reasons to travel!
20. Drink local wine – considering the local wine is brilliant across Spain, Portugal, and France, every Camino will offer you something special in terms of wine. Buying local wine means the grapes haven't been driven hundreds of miles in a truck and also means you are supporting local producers. I'll drink to that!
21. Try a few vegetarian meals. Meat has a much higher carbon footprint than vegetables and there are loads of divine vegetarian options out there. Look for local vegetarian delicacies and enjoy the incredible flavours of fresh produce.
Avoid waste while on your sustainable holiday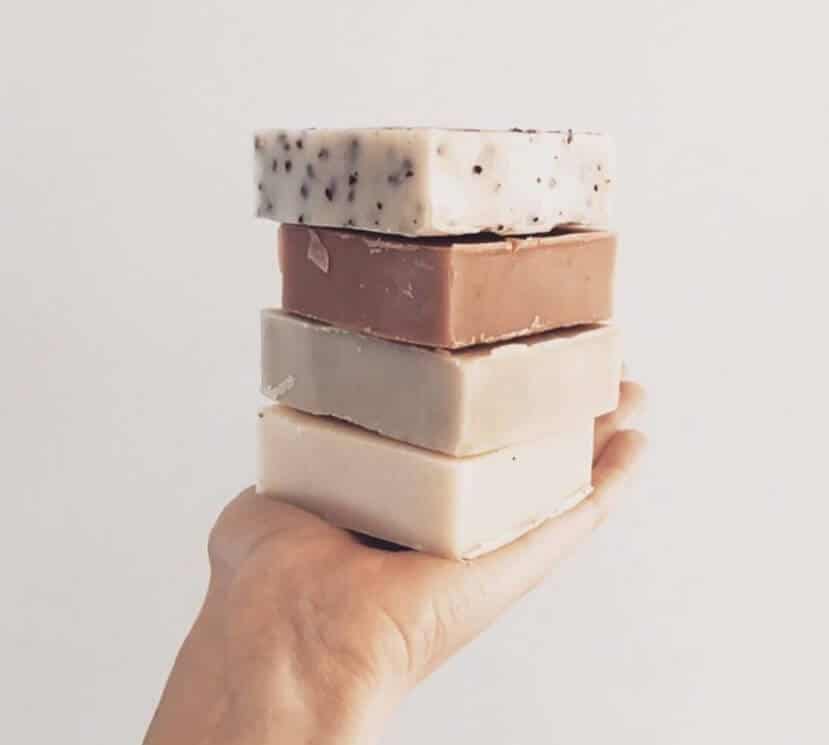 22. Opt for solid bars of soap, shampoo, conditioner, and shaving cream on your sustainable holiday (and in your life when you get home!). These concentrated products take up less space and weight in your bag, won't spill, and can come with no plastic packaging! You can pop them in a container or tin to keep them from getting on your clothes and they will keep you smelling lovely.
23. Only buy what you know you'll use. If you are walking alone there is probably no point in buying a whole baguette for lunch. If you know you don't need a new keychain then don't buy one. Anything you don't use was still made, grown or cooked, so it still has a carbon footprint.
24. Return maps, brochures, and other tourist pamphlets once you're finished reading them. That way someone else can use them too and fewer will need to be printed.
25. Use apps and online confirmation for bookings instead of printing them out on paper, where possible. If you are walking the Camino most of your bookings and notes will be online so you don't need to use any paper. This saves trees and ink!
26. Bring a rubbish bag for all your rubbish. There may be long gaps between seeing trash bins along the way, so it is important to carry your waste out with you. For extra green-travel points, pick up any litter you see along the way as well to keep the place clean for the other walkers and the animals that live near the tracks.
27. Learn a few important words to help you find recycling bins, ask for things in your reusable containers, and let restaurants know you don't need a straw. Add these to "Thank you," and "Please help me" and you'll be just fine.
Look after nature – keep it green and healthy
28. Stay on marked paths to avoid harming native flora and avoid any creepy-crawlies that may be in the area. Keeping these healthy is very important to local ecosystems.
29. If you are going to the beach (for example on the Portuguese Coastal Camino), make sure your sunscreen is reef safe! Some sunblock lotions contain chemicals that are very bad for ocean life. People and animals rely on healthy oceans and seas, so let's keep them that way. A sustainable holiday leaves everywhere you go as healthy as you found it!
30. Don't get too close to animals or touch them. Some animals may bite, others might spread diseases or get sick from being near you. It can also upset the natural balance of their lives and disrupt surrounding ecosystems.
31. Don't feed wildlife or animals that you don't have permission to. Wild animals have a specific diet that is good for them and they can find all the nutrients they need in their natural environments. Introducing new food can be very harmful to them, and even kill them. For example, some birds are unable to make strong eggshells after eating too many nuts, so their chicks will die. Domestic animals and farm animals may be on special diets for their health. Always check with their owners before approaching them.
Offset the carbon you can't avoid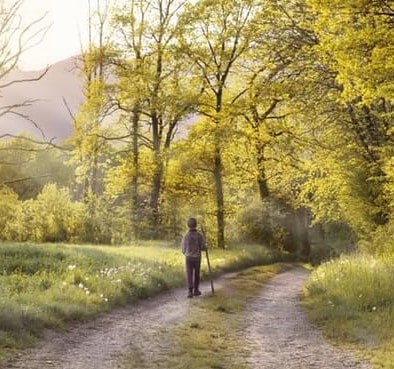 32. There are lots of carbon offsetting options out there, and some are more genuine than others. Look for carbon offsetting companies that offset locally, are accredited by reputable companies or organisations, and clearly show you where your carbon offsetting dollars go. Green travel can work well with offsetting for any carbon you can't avoid on your travels.
33. Plant a tree or two! Your flights and things can be offset by planting trees if you want to be able to see the benefits of your journey to carbon-neutral travel. Make sure to plant native trees that will grow well in your area and that will be good for local wildlife.
Choose sustainable travel operators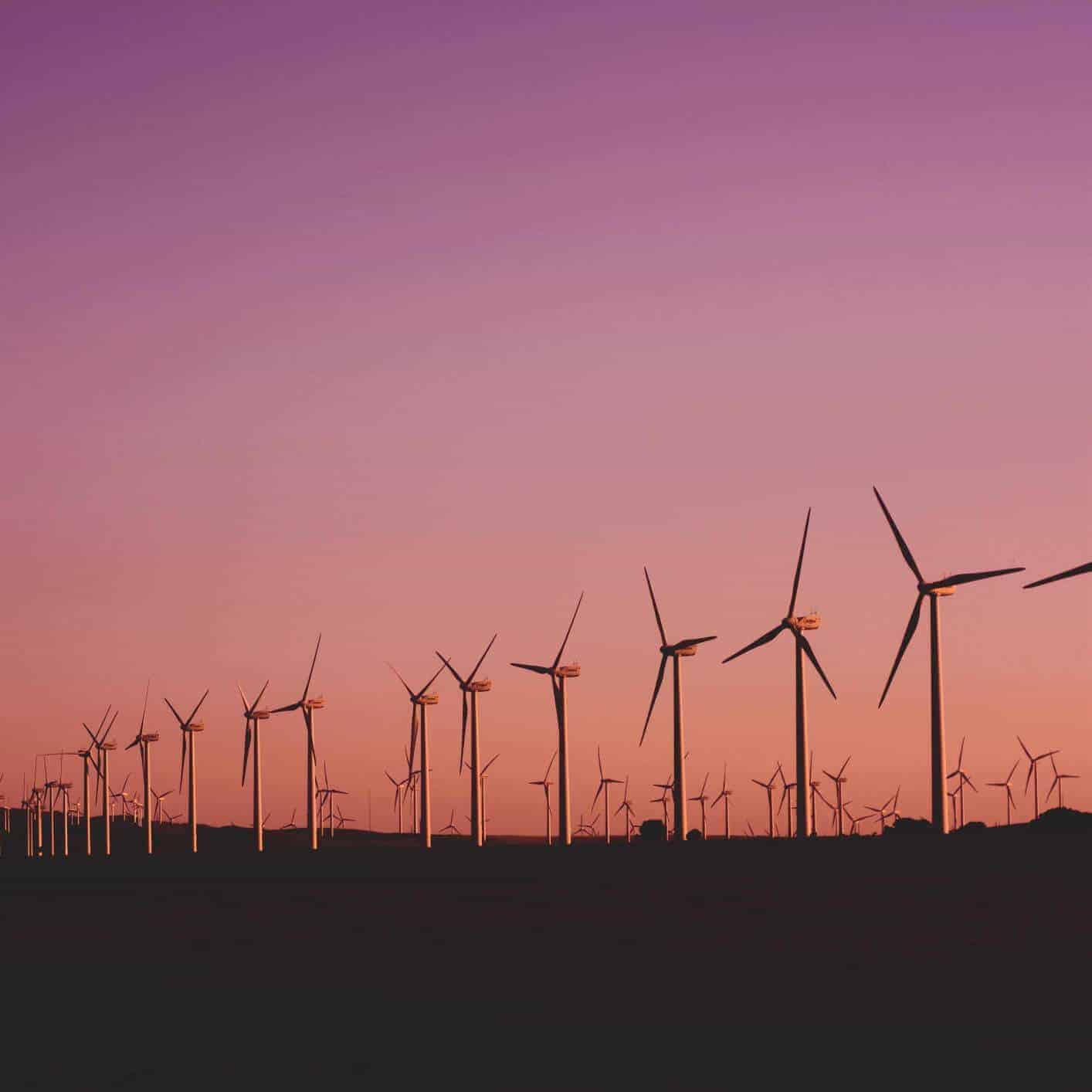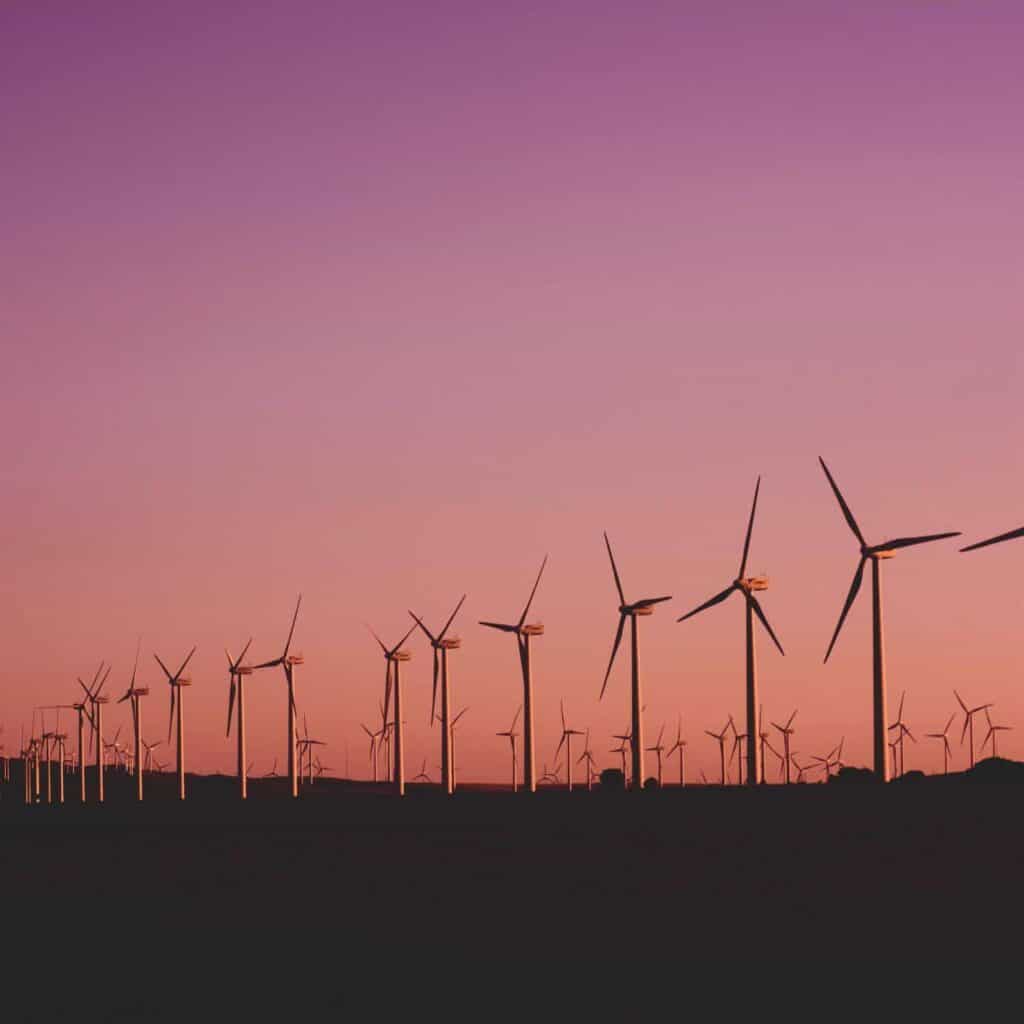 34. Almost every organisation out there has some kind of sustainability policy in place these days. What those policies contain and how well they are stuck to can vary dramatically. Check for independent certification when companies say they are a sustainable travel company. Look for pages on their website that describe how they deal with reducing and offsetting their carbon footprints. If you can't find much online you can also email them for more information about how they define sustainable holidays. Follow the Camino has recently bought a bog to begin a new carbon offsetting project in Ireland!
35. If you want to travel in a group then look for tour operators that work with small groups and local guides. These small groups tend to have lower carbon footprints, and resources like baggage transfers can be combined for the group. We offer guided group tours regularly throughout the popular walking seasons on the Camino.
Use your influence to encourage sustainable holidays
36. As a conscious traveller, you have an amazing opportunity. You can let the companies you buy from know that you want to travel more sustainably. One way you can encourage green travel is to ask about recycling and use it properly. If there is no recycling available then let the restaurant or hotel know that this is something you would like to see in the future.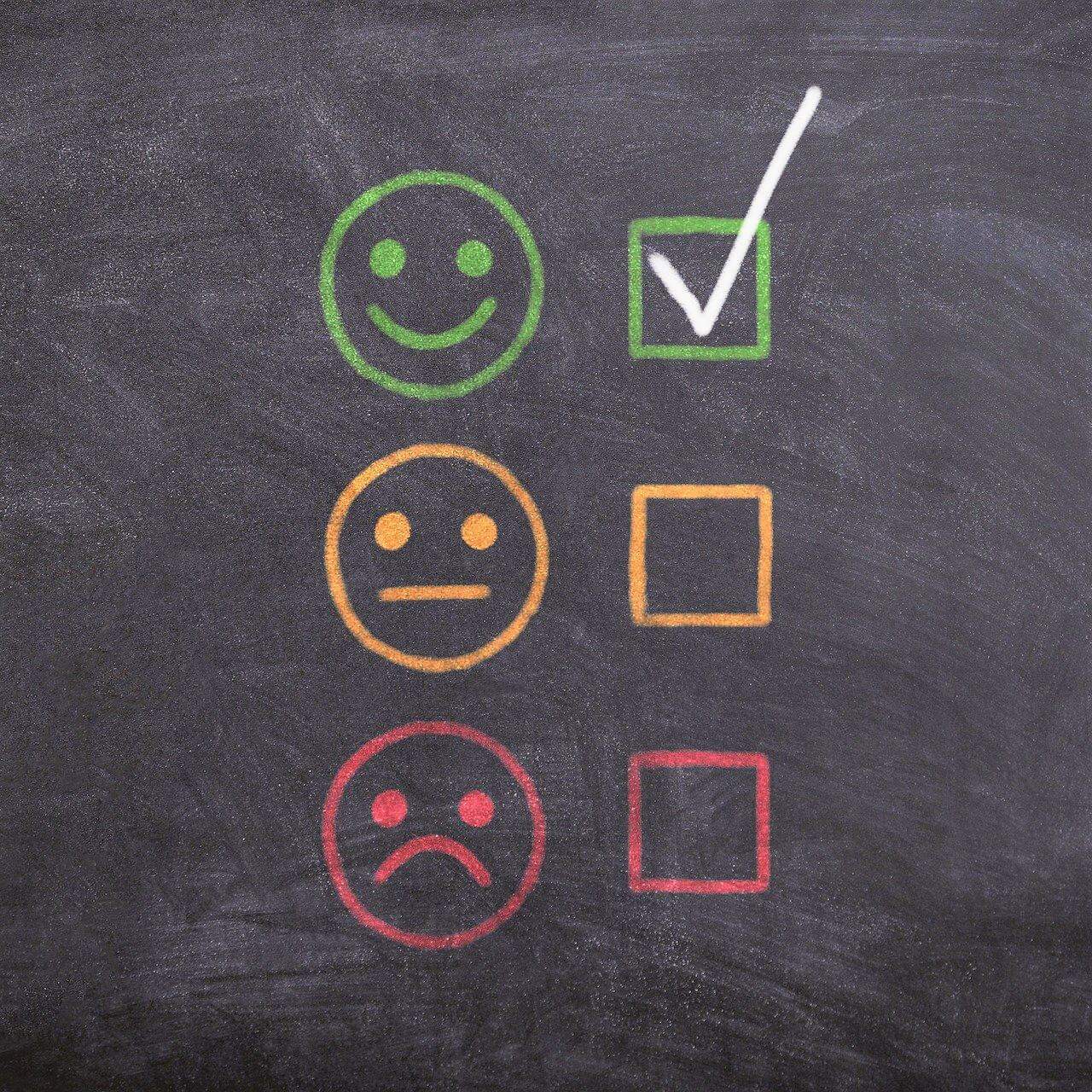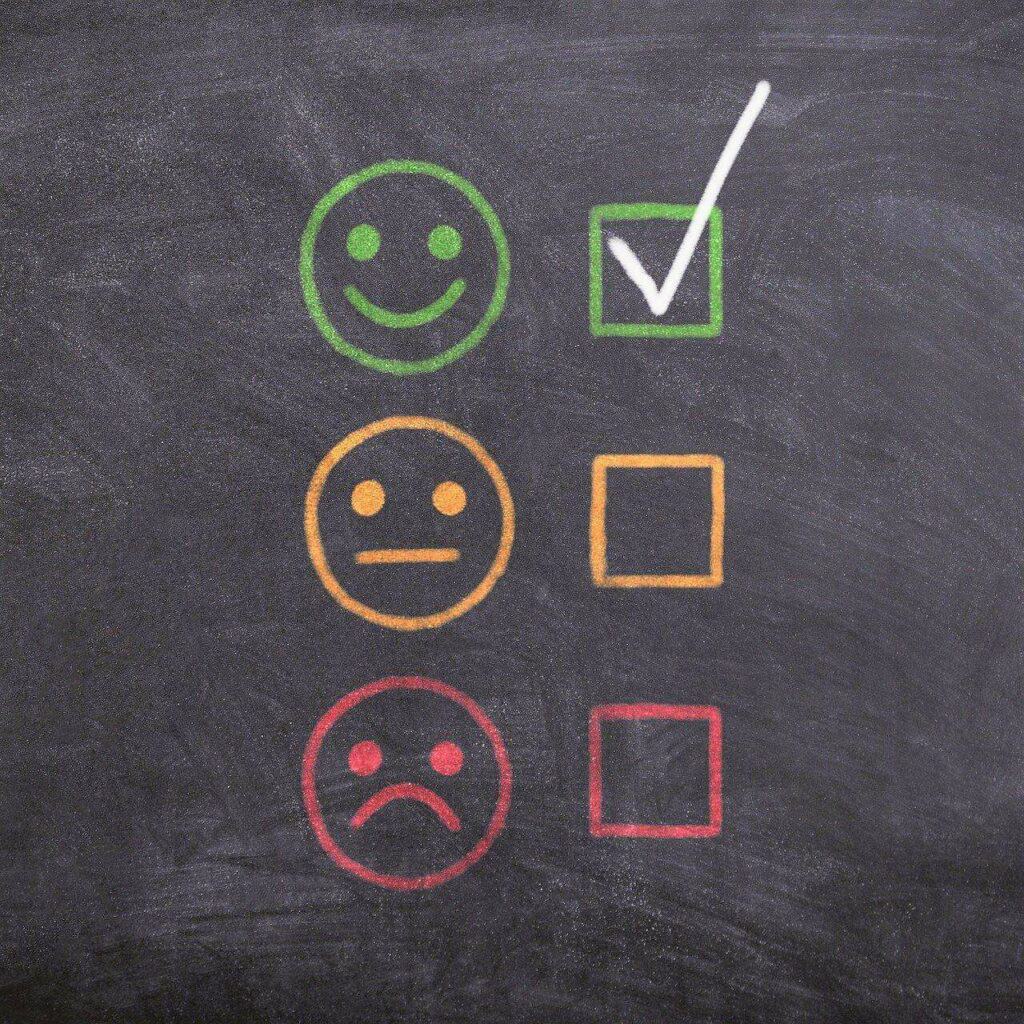 37. Leave feedback – if there was something you noticed that was fantastic in helping you to be a more eco-friendly traveller – leave a note with reception or give them a review online. Encouraging good ecologically-minded companies means they know to keep it up!
38. Ask questions about the hotel or tourist service's sustainability. Do they use solar power, wind turbines, rainwater harvesting, energy-efficient lighting, and low-flow toilets? Sometimes just asking can encourage travel companies to act. The more people ask the more they will feel the need to get greener!
There are plenty more things that you can do, but we hope this list will get you started and help you to think about other ways that you can have a more sustainable holiday.
The Camino is Open for 2023 Bookings!
Some of our top accommodation booked out in 2022, so get in now to secure the best accommodation for your Camino!
Discover this empowering journey across Spain, Portugal and France for yourself.

Journeys from 3 to 90+ days available.
Flexible itineraries Luggage transfers Private rooms & bathrooms
Contact us