In August 2018, ultrarunners and husband and wife, Agnieszka Pami and Marek Pamula took on a challenge of a lifetime… to run the entire Camino Frances in just 9 days to raise vital funds for their wheelchair-bound friend. While they ran into many unexpected challenges, Agnieszka says that the Camino transformed their lives in ways that they never expected.
EMBARKING ON OUR JOURNEY
The French Way (Camino Frances) is the most famous of the Camino trails, stretching 800KM from Saint-Jean-Pied-de-Port in France to Santiago de Compostela in North-western Spain. This is one of the oldest European pilgrim trails, and one of the most frequently used in modern times.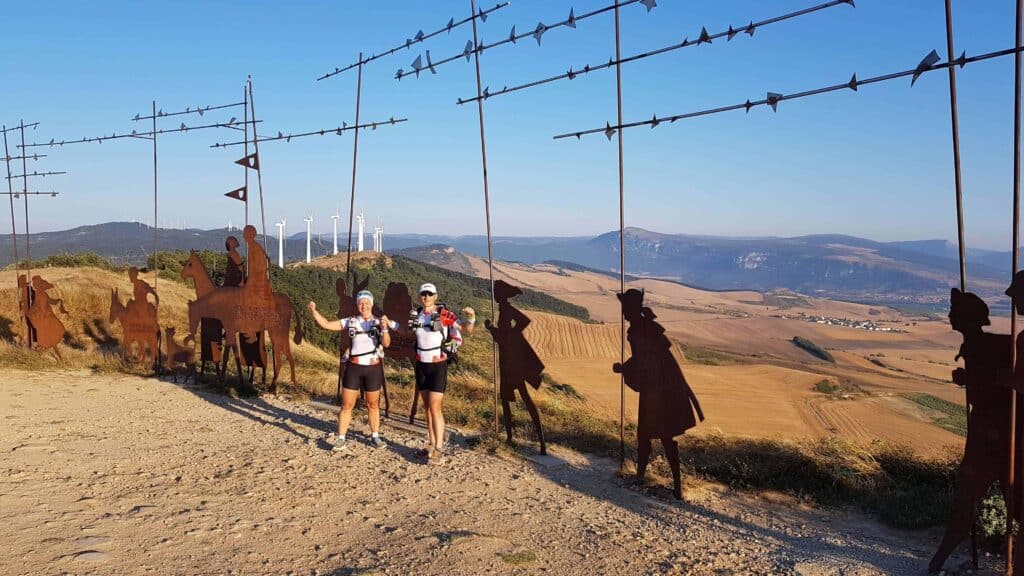 Thousands of people set off to walk the distance for different reasons: health, sports, spiritual, adventure… just to name a few. This year, we decided to run it for a very special cause.
There are many people running this trail each year, in parts or the entire distance. However, we couldn't find on the Internet any trace of people who have done it without any external support. We wanted to run the Camino with only us and our 5 kg backpacks with everything we needed. We made the plan for 10 days. We'd run an average of 80KM, which seemed realistic, considering our running experience to date. At the heart of the plan, however, was to raise money to pay for treatment for our friend Mirek, who was in a motorcycle accident several years ago. Our goal was to raise enough money for him to pay for rehabilitation treatment for 6 months.
For this purpose, we set up a Facebook page Camino on the Run and GoFundMe account to promote our fundraiser and raise awareness. For months, we put all our effort into training and preparation, trying to balance this with work life. Everything else in our lives was put on hold until we reached Santiago de Compostela. On 20th August we started our journey full of excitement – and little we knew how this trip will unfold.
We arrived in Saint-Jean-Pied-De-Port, and on the first day of our Camino adventure, we went through the Pyrenees. There were many uphills, but not as steep as we expected. Still, we walked them, being mindful that we could not use all our energy at the beginning. The day went fast, and the views on The Way were just amazing!
We stopped a few times to have some food, and refill our bottles. When we reached Pamplona, our first stop, we were thinking: "Ok, day one is over. Now we just need to continue".
SETBACKS
The second day we started quite early, around 6:00 in the morning. There was 90 km to do on that day. Again, there were some hills on the way for the first half of the day, until we reached open fields. The sun was up and it was very hot, reaching almost 40 degrees and there was no shade. Again we decided to fast walk until it gets a bit cooler or we find some woods. Well, there was no shade until Los Arcos. There we stopped and made the decision to finish at that point (20 km short of the planned distance for the day), take a taxi to our next stop Logrono and go back to Los Arcos the next day to continue. Marek was feeling quite bad and I was nauseous as well. We thought that maybe we ate something heavy on the stomach and that we just needed some rest – but we couldn't fall asleep until morning.
The next day Marek was throwing up and I felt dizzy. We realised quickly that it was a heat stroke. On the second day! We just couldn't believe this. We were experienced, we have done so many races in hot conditions, running in saunas, and now this?! Obviously, we knew we had to take a break to cool our bodies, rest, and drink water. We took a taxi to our next place, Belorado. We were lucky that the room we had was very chilly and the owner was super friendly. He provided us with ice and frozen gel pads. This helped a lot, as I covered Marek with gel pads and cold towels and then went to take an icy shower. We also bought some tomato juice to sip, that helped a lot.
And even now, in these crazy times, the Camino de Santiago does transform lives.
The following two days Marek was not yet ready to go. The temperatures were still very high and his stomach felt shaky. But he was able to function normally. We decided he will be taking transport from one place to the other until he feels better and I will be doing at least a marathon distance each day so that our fundraiser still made any sense. At that stage it was obvious we will not make the entire distance but we couldn't just leave it like that. The next two days I spent on the open fields again and I was happy that Marek is taking the safe approach.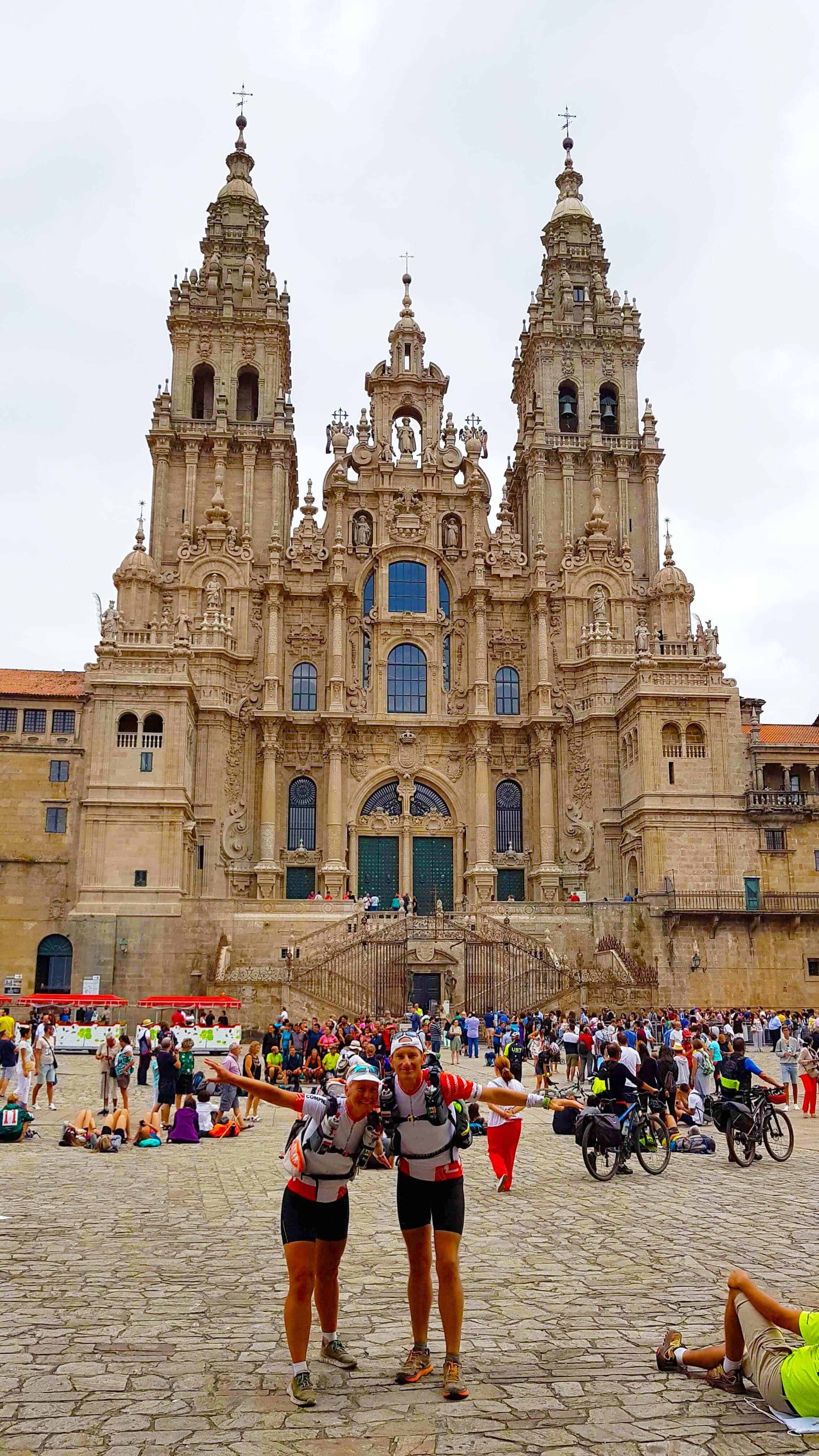 We were able to continue together from day 6 to the end. We covered some distance each day and then we took a taxi from wherever we finished to our next accommodation. We knew that in order to receive Compostela certificate of completion Camino de Santiago we need to cover the last 100km with no gaps. And so the distance from Sarria to Santiago, which is approximately 120 km, we divided per 3 days. 40 km a day was not very challenging, especially that close to Santiago where there were many shaded areas like woodland. We started early each day and then we had plenty of time to rest.
We were so happy that we didn't give up despite all the circumstances, that we remembered that journey itself is more important than the destination. And that we could help someone.
And so we made it to the Cathedral's main square in Santiago de Compostela on 29th August. The atmosphere was amazing! People finishing their pilgrimage were shouting and dancing with joy. You would think it's UTMB finish line, it was so cheerful. We went straight to the pilgrim office where we received our certificates.
We were so happy that we didn't give up despite all the circumstances, that we remembered that journey itself is more important than the destination. And that we could help someone.
FOR A GREAT CAUSE
Mirek was part of our project from the beginning. He was hoping that we manage to raise enough funds to let him go to a rehabilitation centre for at least 6 months, where he could go through advanced treatment and have a real chance to stand up and leave the wheelchair days behind. The GoFundMe page is still open if you wish to help. He appreciates every donation, and so do we. This is why we continued giving updates on our page even when things turned bad. Believe it or not but at those times this was the biggest challenge – to stay positive.
A LEARNING CURVE
Now when we are well rested and had time to talk things through we know that the plan was too ambitious. We should have allowed ourselves 2-3 extra days just in case something goes wrong. We could finish the whole distance if we were more flexible in our planning. But as we had everything pre-booked we had no other option but to go from one place to the other. Also picking summer time maybe wasn't the smartest choice. But hey, we learn from our mistakes, right? We have never done anything like that and the 10 days were amazing in what we learned along the way.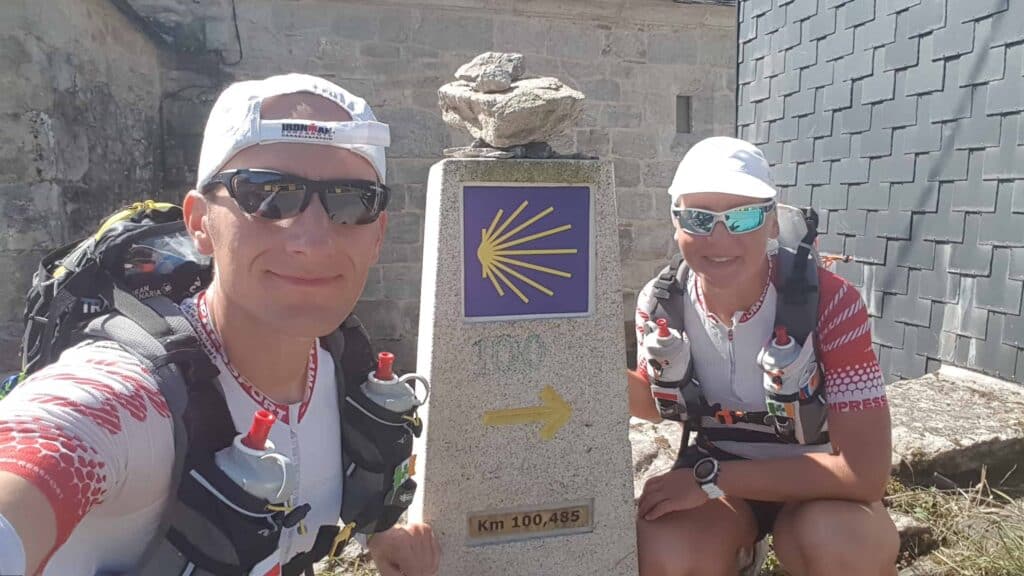 One of the best things we took out of this experience is that there is plenty of goodness in people. There were few situations where we thought: "Now we're screwed. What do we do?!" And there was always somebody who helped us – even if they didn't have a word of English.
Spanish people are very friendly, and proud of their country. You cannot see much of foreign capital invested in this country. They prefer their food, industry, banks etc. And this may be their strength. They also respect their family time. We could observe at many places where we stopped for some hot food how they come together with the whole family and friends and celebrate their time at the table with delicious food and sangria wine. The landscapes changed as we moved. Starting from the Pyrenees, then some open fields, forests, and lovely small hills.
We have also learned that there are more important things that pure ambitions: family, friendship, kindness, empathy, love. We keep telling people our Camino stories and we always start with: "It didn't go according to the plan, but at the end, it was much better than that!" The Camino has some unique atmosphere and you have more time than at any ultramarathon to think. And even now, in these crazy times, it does transform lives.
This was quite a journey.
Agnieszka & Marek
DONATE TO THE CAMINO ON THE RUN BY VISITING THEIR GO FUND ME PAGE.






Take the School Trip You'll Never Forget!






The ULTIMATE Educative Adventure Across Spain, Portugal, or France.






Connect with your students as you share this incredible experience.



From accomodation to airport transfers, we can plan the ideal Camino for your class.






 Flexible itineraries    Luggage transfers   Private rooms & bathrooms




Contact us