Walking holidays with your children are amazing experiences. You'll make memories and stories that you'll be looking back on fondly for the rest of your life. You get to watch your kids learn new things. You'll see them seeing views, sights, and places for the first time. They'll get to try new foods, and play in new places. But, of course, kids can get tired and disengaged sometimes, so here is how to keep them inspired and motivated the whole way along your family walking holiday.
Motivation starts before the holiday
When you get in touch with us to start your planning let us know how many kids are travelling with you and their ages. That way we can also help to make sure all the distances are just right, and that you can stay in kid-friendly accommodation. We'll try and add as many fun extras as possible, like pools, beaches, and suggestions for activities.
Right from the planning phase of your journey – get your children involved. The more they feel like they helped to make the holiday the more they will buy into the ideas. This will also help you to make sure that you are including things that are of interest to them. Making your trip child-friendly is absolutely essential to keeping them engaged.
Show your kids pictures of all the things that you could see on your journey and ask them to help you pick which ones to spend more time at. This means they will already have some images in their heads of what to expect. It also means that while you are walking you can motivate your kids by telling them what is up next.
Keep your kids involved with as many decisions as you can, and keep them informed of everything else so they know what to expect. Make sure that they come on training walks with you so they understand what distances feel like. This is also important to gauge their level of fitness and endurance.
Make sure they have the right gear. A pair of shoes that rub, or a backpack the wrong size can add of lot of grumbling to your walk. Our guide for the right footwear gives you great tips on what to look out for. The same rules apply to children. Remove discomfort by making sure everything fits well and is broken in so there is nothing dragging down your children's spirits.
As you are getting ready to leave, pack your kids' backpack with them, make sure it's not too heavy and only includes little essentials. You can find our full packing list here.
Learn more: Download your FREE Camino e-book!
Discover the routes and sections of the famous Camino de Santiago pilgrimage.
Download
Get food-ready
Make a few dishes from the area that you are going to visit with your child. They will learn about the food and it will be less strange to them when they try it. Fussy kids might need a slower introduction of new foods into their diets. You can read more about getting kids ready for new foods here. If they especially enjoy one of the dishes then you can look for places that will serve that along the way. There is nothing like your favourite new meal to motivate you those last few kilometres!
Are You Vegan Or Vegetarian? Download our Ebook!
Our Vegan on the Camino Ebook is full of tips for our plant-based clients, from restaurant recommendations to useful phrases!
Download
Motivating children during your walking holiday
Horray! It's time for your adventure! Get out on the trails and see the world with your family!
Have a good breakfast, and make sure you pack snacks for the day. Starting your walk on a nice fully tummy makes a big difference.
Double-check that your child's bag isn't too heavy and that they will have enough water for the day. Make sure shoes are on correctly, and that their bag's straps are properly adjusted.
Keep an eye on their pace and help them to maintain a steady pace. They'll get tired faster if they run and stop.
Chat about the landmarks that you expect to see that day. See what you can spot around you on your journey. Look for birds, bugs, and other animals along the way. You can start a logbook to see how many animals you can spot.
When you take breaks, they can take photos of things they see. This is especially good for creative children and those interested in nature.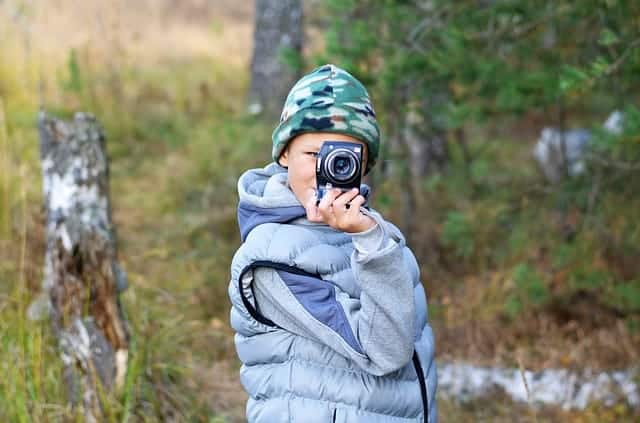 Try to find a paper map of the route you are walking and let your child be the 'navigator'. They can learn a new skill (map reading) while also feeling a sense of responsibility. It will also help them to understand the distances between points.
For younger children, the job of 'sign-spotter' might be more appropriate. The Camino is an excellent walking holiday for sign spotting. Pick out the yellow scallop shells and arrows along the way.
If you notice a dip in pace, set shorter targets. This could include stopping at a big shady tree or getting to the next ice-cream shop for a refreshing treat. "We'll stop for cookies at the next sign post" is always a good motivator!
Distract them with fun and games
Another great technique to keep young people from focusing on tired legs is to distract them. Here are a few tried and trusted ways to get kids thinking about something else –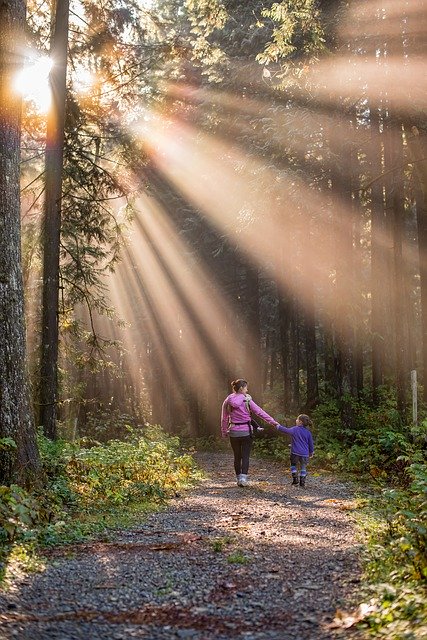 Tell them a story – it can be the plot fo something they already know, like Frozen, or Harry Potter, or a brand new story. (My travel companion was an imaginary pink rabbit called Hoppity Rabbit who went on loads of adventures…)
Make up a story together! Imagine that you are telling your friends about all the adventures of your walking trip, or elaborate! Maybe there was a magic puppy who joined your adventures? Or you took a special path and ended up on the moon?
For more practical children try getting them to narrate the journey as though it is a documentary. Identify birds and talk about how the swoop like the next David Attenborough.
Sing or hum a walking song. Learn the words to their favourite songs, or teach them some new ones. There are some classics, like "99 bottles on the wall" and plenty more you can learn from YouTube videos.
A classic game like "I spy" will keep kids looking around them. "Animal, Vegetable, Mineral" is another great one you can look up online. Try walking charades, or "Rock, Paper, Scissors".
Inspire future inventors and engineers. Ask them to come up with a machine or a robot that could do chores or a boring job for them.
Speak in silly voices and pretend to be characters from movies. Pretend to be pirates on an adventure looking for treasure and speak in pirate voices.
Audiobooks and music are an excellent way to keep your kids' spirits up. They also give you a bit of quiet time where your kids will need less attention. Some community libraries will have an audiobook library, otherwise, you can use apps like Audible for downloadable audiobooks. Some kids may prefer reading physical books, but some parts of your trails will be uneven so it's better that they keep their eyes on the road.
Keep an eye on things
Monitor their food and water intake. Check that they have enough sunblock on. Check their feet if they tell you they are sore. Double-check that they haven't tried to sneak a big heavy toy into their bags.
Kids are an absolute joy, but there is plenty to keep an eye on. If they have one bad day it can translate to feeling less enthusiastic from then on. Make sure to intervene if necessary to keep them in optimal fun walking condition.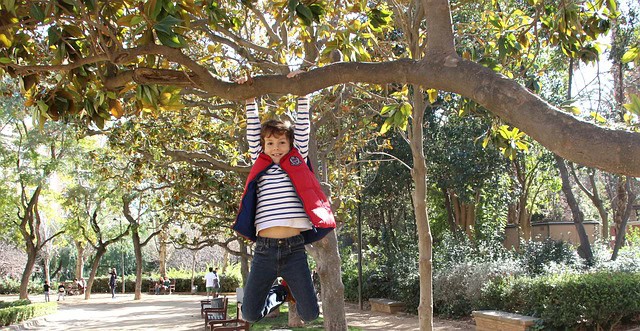 Remember that your children will have shorter legs than you and will get tired more easily. Even with the perfect number of snacks and breaks, sometimes your kids will just be too tired or uncomfortable to continue happily.
A lot of major walking routes will have options for cutting a day shorter if needed. On the Camino, this is usually in the form of a taxi from somewhere along the trail to your hotel or guesthouse. Your child will be able to nap in the car, rest their feet, and get back on the trails the next day.
It's not "cheating" to look after yourself and your little travel buddies. Plenty of people do this for a number of different reasons. Ask at your accommodation each morning about the options for doing this. They'll probably be able to give you the number for a taxi company that they trust.
Keeping things positive in the evenings
Depending on the age of your child, a short nap when you arrive at your accommodation can do wonders for their energy levels. Try to get them to do a little bit of stretching with you so their muscles won't be sore the next day, and make sure you wash your feet and let them dry out each day.
Take the evenings at a relaxed pace. Hang out by the swimming pool if there is one available. Have an ice cream or another treat to let them know they did a great job.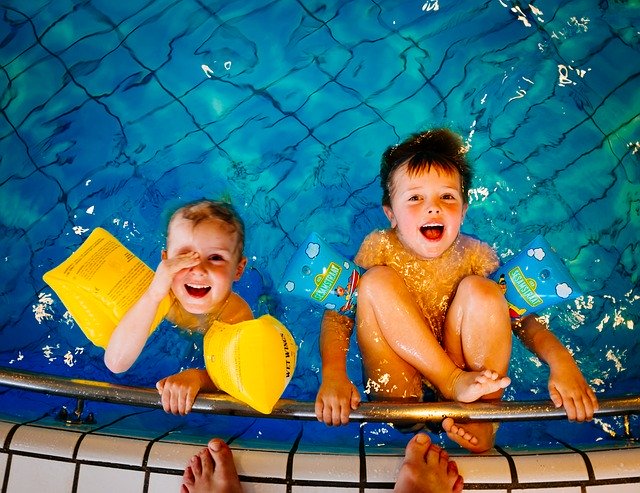 Talk to them about the walk and let them know what they did well. If they were on photography duty, have a look at their pictures and see what they focused on. You might notice that they were really interested in birds or buildings, so you can help them spot those again the next day.
Keep an eye out for foods that they might enjoy. Ask at your accommodation about good places fo find those meals for dinner.
Give them some time to just be kids. This could mean finding a park to kick a ball around in, or going to a fun kids attraction. If there are other young people their age at your accommodation, let them play together and talk about the adventures they are on. You might even find that they come back with excellent ideas for places to see or treats to try!
Talk to your children and make sure you listen to what they are feeling. You might learn something new about them. You can learn what is working for them and what you could try the next day. Make sure to let them know you care about what they think and what they are experiencing.
Inspired? Download Our Camino Packing List!
Everything you need to pack to walk the Camino de Santiago.
Download
After your walking holiday
You might be home but you can still keep the spirit of the holiday with you. Talk to your young ones about what they loved and what they might like to do differently next time. Make notes of their thoughts so that the next adventure you undertake can be even better!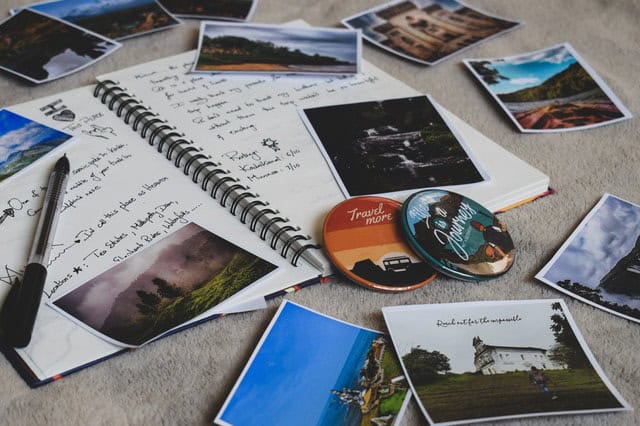 Bring home new recipes, books, toys, photos, and stories. Put together a scrapbook or collage with bits and pieces that you collected along the way. Hang it in the house or their room as a reminder. Print out a couple of your favourite photos. You can also set them as your computer background to remind you of your trip.
We hope that these tips will help you to have the best possible active holiday with your children! A lot of these tips will also work with adults who are easily bored. Try them on your partner or friends on your next walk too!
We have plenty of options for active family holidays at we can customise to meet the needs of your family. There are family-friendly options on all the major Camino routes.
We work with a variety of accommodation providers and do bag transfer to make sure that you have the best family holiday on the Camino de Santiago. If you have any questions about doing the Camino with kids please get in touch – we are happy to help.
If you're looking for spending some quality time with your family then Camino is a perfect choice! An example of how bonding the Camino can be is Jorge Jesus. He has walked the Camino de Santiago more than 4 times and on one of those occasions with his children!
The Camino is Open for 2024 Bookings!
Get in now to secure the best accommodation for your Camino!
Discover this empowering journey across Spain, Portugal and France for yourself.

Journeys from 3 to 90+ days available.
Flexible itineraries Luggage transfers Private rooms & bathrooms
Contact us






Take the School Trip You'll Never Forget!






The ULTIMATE Educative Adventure Across Spain, Portugal, or France.






Connect with your students as you share this incredible experience.



From accomodation to airport transfers, we can plan the ideal Camino for your class.






 Flexible itineraries    Luggage transfers   Private rooms & bathrooms




Contact us