Galicia has some of the most scenic and spectacular beaches that really should be indulged in after walking the Camino. The best way to get to some of the beaches, that aren't in towns is by car. There is also the option to take public transport in the coastal towns that have decent urban beaches.
Sanxenxo
This is highly recommended by Follow the Camino. The main beach of Sanxenxo is almost semi-circular and has white sand and crystal blue Atlantic Ocean. The town itself has a busy port, a vibrant promenade and streets packed with restaurants and accommodation. It is touristy, so a little more expensive compared to other coastal town but it will not let you down.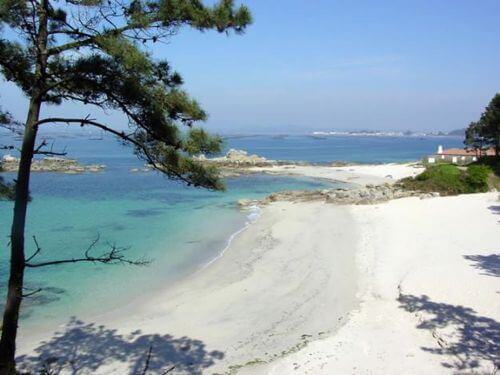 O Grove
Located on the bay of the Arouca estuary. Wide, soft sandy beaches meet beautiful and clean waters of this Spanish peninsula. The sight of its many-coloured boats creates unforgettable views. O Grove Port is devoted to oysters, scallops and mussels.
Langosteira Beach
Langosteira is a lovely fine white sandy beach with calm clear blue water. It is very well maintained with a variety of restaurants and bars. The beach party takes place in July for locals and tourist to enjoy together.
Mar de Lira, Carnota
The water is clear and transparent, the sand is white and fine and it's not usually busy, even during the summer. Mar de Lira was awarded a Blue Flag in 2010. The Blue Flag is one of the world's most recognised eco-labels which comply with a specific set of criteria relating to water quality, information provision, environmental education, safety and beach management.
Inspired? Download Our Camino Packing List!
Everything you need to pack to walk the Camino de Santiago.
Download
Illas Cíes
Three spectacular islands that form a beautiful bird sanctuary and are home to some of Galicia's most privileged sandy beaches. These beaches include the lagoon-backed crescent of Praia das Rodas, the sandy isthmus joining Illa de Monteagudo and Illa do Faro, or nudist Praia das Figueiras.
Corrubedo
The large golden sandy beach is located in Corrubedo National Park which is well known for its 1km long sand dunes. It is popular with sunbathers enjoying the heat with a constant cool breeze. It also attracts surfers with its strong waves. Even though it can be busy, there is always space to enjoy and there are lifeguards patrolling during busy periods.
Isla de la Toja
A little Island in the "rias baias" (lower bays), connected to Galician mainland. La Toja has a reputation for attracting wealthy residents and holidaymakers with a high private security presence. There is one beautiful beach on the island ideal for sunbathing.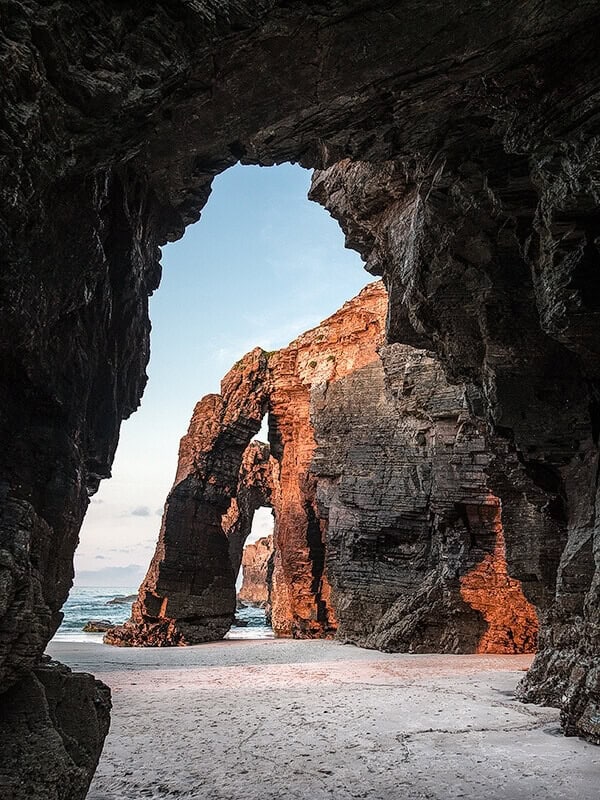 Praia das Catedrais
You will have to wait until the tide is out to appreciate this amazing "work of art" beach with Sea caves, spired domes and arches. Or, simply walking along the sandy corridors surrounded by slate walls. It is described as "inside the cathedral of the sea". Just be careful to leave the caves before the tide comes in because the beach disappears very quickly!
A few tips for your Camino Beach hunt
The Camino has plenty of beautiful beach spots, so ask your Camino Planner about them when you are booking for the best tips.
Rural beaches are often of higher quality than those in more urban areas.
Respect the beaches and all of their inhabitants.
The tides can be strong and unpredictable on some of these beaches, so swim in designated areas.
Choose reef-safe sunscreen where possible, and remember your hat!
Remember to double-check for any escaped litter before you leave so the beaches will stay clean and beautiful for everyone!
Our recommendation for the Camino route best suited to the beach and sea lovers is the Camino Portugues Coastal route. Check out the Portuguese Way Camino routes to read about these beautiful walks along the coast.
If you would like further information about Camino de Santiago tours, contact our Camino experts.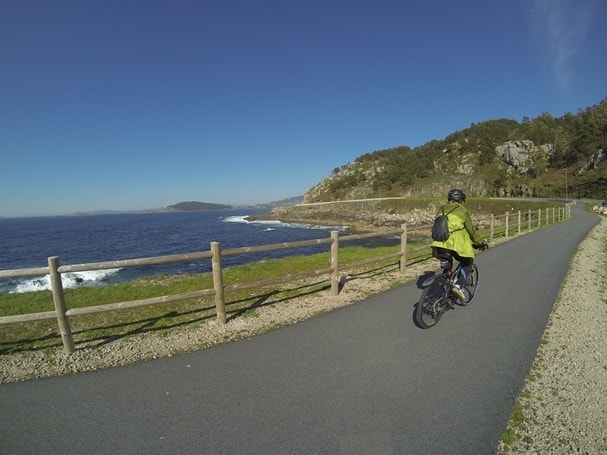 The Camino is Open for 2023 Bookings!
Some of our top accommodation booked out in 2022, so get in now to secure the best accommodation for your Camino!
Discover this empowering journey across Spain, Portugal and France for yourself.

Journeys from 3 to 90+ days available.
Flexible itineraries Luggage transfers Private rooms & bathrooms
Contact us