Get to know the honeymoon couple! "The Camino brought us closer together…" A young couple account of setting off on a romantic journey on the Camino de Santiago for their honeymoon.
Where are you from, how long have you known each other?
Ellyn and I are from Singapore. Although we married each other in July 2012, we have actually known each other for over 14 years now. We are good friends from high school back in 1998, but college and careers took us away from each other for nearly 12 years. She had a special place in my heart throughout this period though.
We finally started dating in 2010 when life saw it opportune to bring us back into each other's lives. I'm glad to have married the love of my life and I will treasure the time we spent walking the Camino together always as it completely affirmed for both of us that we have married the one.
Why did you choose to spend your Honeymoon on the Camino?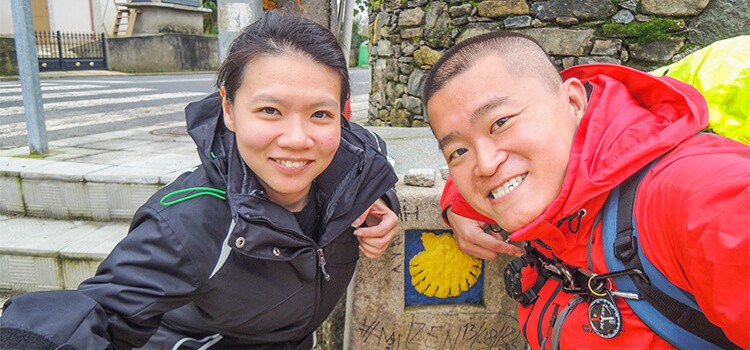 I'm a big fan of the author, Paulo Coelho, and read his book "The Pilgrimage" quite some time ago. His book made me fall in love with the idea of walking the Camino. When Ellyn and I started to plan for our honeymoon, I proposed the idea of walking the final 100km of the Camino Frances on December 12.
At the time I thought, a typical honeymoon consists of things that I'd do on any other holiday, i.e. tourist attractions and beach resorts. So, I thought wouldn't it be incredibly romantic for Ellyn and I to embark on this once-in-a-lifetime experience for our honeymoon instead? The walk is something we'll remember for the rest of our lives because the 5 days we spent on the road, with only each other for company, really bonded us together as we spent long days just chatting and discovering new opinions we had and new depths to each others' personalities.
It allowed us to strengthen our trust, love and respect for each other as we watched each other overcome the challenges of the day and the challenge of the Camino itself. We also timed our walk to end on Christmas Eve. Walking into Santiago de Compostela (the third most religious city in the world after Rome and Jerusalem), the day before Christmas and attending the pilgrim's mass on Christmas day is such a special experience we'll never forget.
Do you think walking the Camino brought you closer?
Definitely. In the hustle and bustle, we find ourselves in today, it's refreshing to spend 5 days on the road with Ellyn, away from email, work phone calls and other distractions. We had only each other for company and that certainly brought us closer.
Would you recommend walking the Camino to other couples?
Walking the Camino on your honeymoon is not going to be easy. But I highly recommend it to couples who are looking for a unique honeymoon experience that they'll cherish for the rest of their lives. In a sense it's an analogy for life ahead, walking together not in front or behind and ready to face life challenges one step at a time.
Lastly, what was the most romantic spot on the Camino?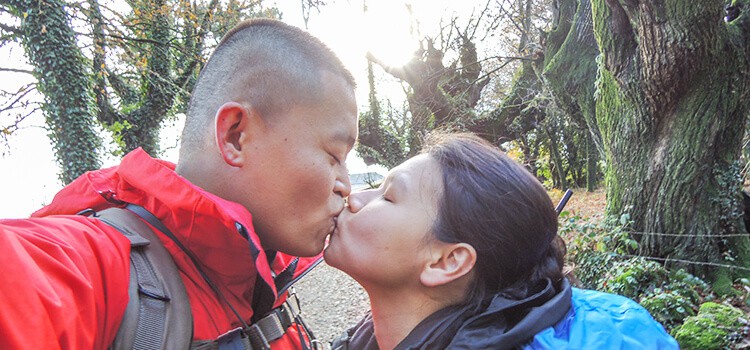 The entire Camino really. Walking through the hamlets and witnessing the locals go about their normal day while you're on the road to Santiago has a certain sweetness to it. Meandering through country roads amidst all of nature's greenery is also incredibly romantic. And the city of Santiago de Compostela in Winter, with its snow-covered church rooftops, is indeed a wonderful sight to behold.
How was the accommodation suited for a couple on their honeymoon?
We were really taken care of on this front as Follow the Camino had told each of our hotels that we were on honeymoon so we were put in the best room in each hotel, or casa rural, each night and the staff went above and beyond to ensure our stay was as comfortable and romantic as we could ever have hoped for.
Are you planning a return to another section of the Camino for your anniversary?
Absolutely, it would be a dream of ours to complete a full Way over different sections across a number of years.
If you've been inspired by our honeymoon couple, why not surprise your loved one with a romantic week together on the Camino Romantico!?
Simply tell us what date you wish to go and the occasion for walking the Camino. It can be for Valentine's week, for your honeymoon, your renewal of vows or just to express your love and we take care of the rest.
Discover more about the Camino Romantico trip here
Please contact us at info@followthecamino.com for any queries about the Camino de Santiago walking tours or our services.
Take a romantic break on the Camino!
Reconnect with your significant other on a romantic holiday with something different.

Make new memories that will last a lifetime.
Customised itineraries Luggage transfers Specially chosen rooms
Learn more