The French Way is the most popular and well-organised route on El Camino de Santiago. Starting at Saint-Jean-Pied-de-Port on the French side of the Pyrenees, the route crosses over to Roncesvalles in Spain. From here, it goes through Pamplona, Logroño, Burgos, Sahagún, León and Sarria on the way to Santiago de Compostela. About 80% of those on El Camino walk this way. So, no matter what time of year you're going there, you're going to have some people around. The reason it's called the French Way is less about France (you'll cross into Spain within a day's walk of Saint-Jean-Pied-de-Port) than the route's history. It was originally a trading route used by French salesman in medieval times. It's also got some interesting history. The horizontal line from Santiago to Pamplona – and over to Barcelona, moving away from the route – once separated the Catholics from the Moors, who had been fought back to this line by the French.
Where to eat
I have been on the French Way four or five times; sometimes walking, sometimes running, and I've even cycled half of it. One thing I know for sure is that whenever people are walking the Camino, on the French Way you will not have to worry too much about food. In the towns and villages, you can have a menú de día (menu of the day) for between €8 and €12. That's a three-course meal that's nice and homemade, nothing fancy but very good. Usually, you get free wine as well. Along the way, there are other smaller restaurants or bars where you can stop for a bocadillo (sandwich) or a bit of tortilla, a kind of omelette made with potatoes. Logroño is a good town to go for genuine tapas: a 'bite' with a drink. It can get very busy at night, and it's a lot good fun. And then there's León, a beautiful town with a nice cathedral, where, for just €1 or €2, you get one drink and one tapas.
My favourite restaurant on the French Way is in a guesthouse called Casa de Acivro, in the town of Rua (O Pino). The cook, Natxo, made some razorfish. I'd never eaten razorfish in my life, but the guy cooked them so I couldn't refuse – and they were excellent. I've tried to make them at home myself twice since, but it was a disaster. Next time I want to eat them, I'll have to go there.
When you get to Santiago you should stick around Rua do Franco, the main pedestrian street. A Taverna do Bispo (right in the middle of this street, on the left-hand side when you are coming from the cathedral) is a nice place with gorgeous food. Porta Faxeira is a higher-end restaurant where you can get a T-bone steak of 1 kilo for about €25 to €30 – and the meat is gorgeous. You should aim to go there for about 9 or 10 o'clock: any earlier and it will be empty. In all of the restaurants, people usually have their meals from around 9 o'clock. By the time you're fed, and after the day's journey, everyone gets sleepy – the nightlife gets quiet after 1.00 or 2.00 am. You've been walking the whole day, so you should be tired. If you're not tired, drink more wine! If you do want to go out at night, just wander around the different bars and tapas bars. There is Paradiso disco on Rua do Villar, but this was not the best spot to go out.
Are You Vegan Or Vegetarian? Download our Ebook!
Our Vegan on the Camino Ebook is full of tips for our plant-based clients, from restaurant recommendations to useful phrases!
Download
What to see
El Camino is an adventure. Though there are some nice cathedrals, smaller churches and chapels to see along the way, it's the people you meet that make it. Everyone's following the same route. So, you're going to find yourself next to a man or woman at some stage, asking, 'How are you doing? Where did you start?'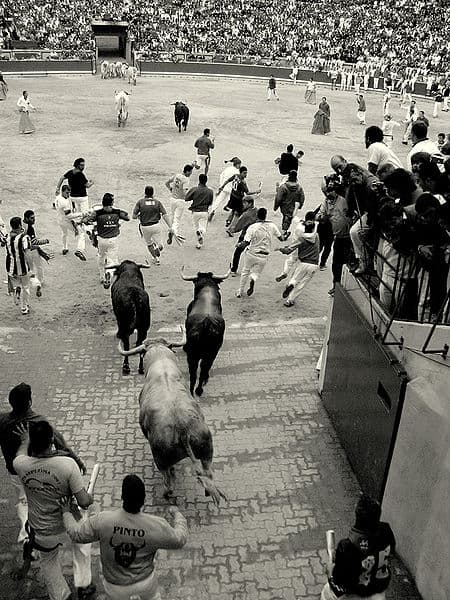 If you want some extra excitement, you could time your arrival at Pamplona to coincide with the Running of the Bulls, which take place every year from July 6 for one week. If you want to do this, you will have book in advance, because it's madness – but it's great fun as well. You will see the Celtic village of O Cebreiro and its slate stone-built houses before you reach Sarria, and further along the route is Portomarín, where you will get the best view on the way. I've been to Portomarín several times, once cycling and once walking, and the arrival at the town is my favourite part of the French Way.
You have to cross a very long bridge to get here – it must be 200 or 300 metres – and then you have a stairway leading you into the village. As you arrive, you'll get a wonderful view of a big Celtic river village, which was submerged by a man-made reservoir in the 1960s. It was then reconstructed, stone-by-stone, from beside the River Miño to higher ground. For relative novices – and for more experienced travellers who want to take their time – it's easy to see the attraction of the French Way. The route is well organised but can get over crowded, and has many great places to stay and eat – even before you consider the huge variety of people you'll meet along the way. In other words, it's popular with good reason.
Take a look at our review of the French Way here
Feel free to contact us at info@followthecamino.com for more information on Camino de Santiago tours or our services.
Experience the Flavours of the Camino in 2023!
Immerse yourself in the sumptuous food, delicious wine, and friendly culture of Spain!

Fall in love with the taste of Spain on the Camino.
Flexible itineraries Luggage transfers Private rooms & bathrooms
Contact us