Dotted along the Le Puy Route of the Camino de Santiago lie some of the most beautiful villages in France – many of which have been shortlisted again and again in the prestigious selection of "Les Plus Beaux Villages de France".
Full of rich heritage, stunning architecture, and striking scenery, these villages are worth the long walk and deserve exploration once you arrive after a days trek.
1. Auvillar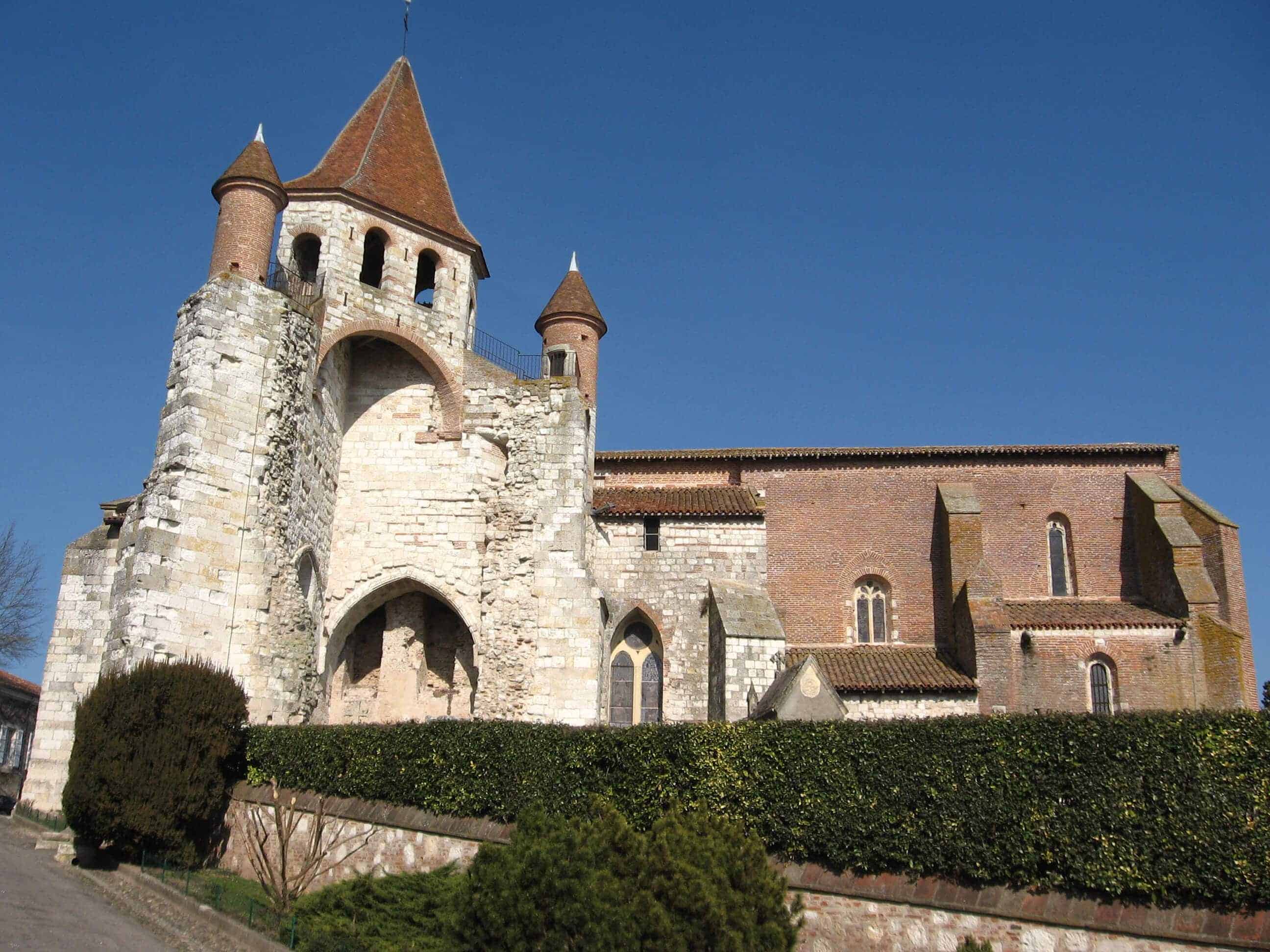 The village of Auvillar is a hilltop settlement, built mainly of local red brick. Auvillar enjoys an imposing view over the Garonne Valley is revealed through one of the three gateways that cuts through its fortifications and leads to the square where a circular corn exchange can be admired – the only one of its kind in Southwest France. The people of Auvillar ('Auvillarais') are well known for their hospitality and are more than happy to welcome pilgrims and visitors.
It is known that Auvillar was the site of an ancient community and was possibly rebuilt in Roman times. For centuries, Auvillar has been a magnet for artists and creative types walking the Camino. During the 12th century, Macabrun, a poet and musician, was born and lived in Auvillar. Later a number of Occitan poets lived there.
More recently, the elaborately decorated ceramics of Auvillar were another important part of a long tradition. A remarkable collection of ceramics made in Auvillar during the 18th and 19th centuries is to be found in the Auvillar Museum of Art. Today, Auvillar visited by artists looking to be inspired! Painters in particular like to spend time quietly appreciating the calm and serenity of the village.
2. Cahors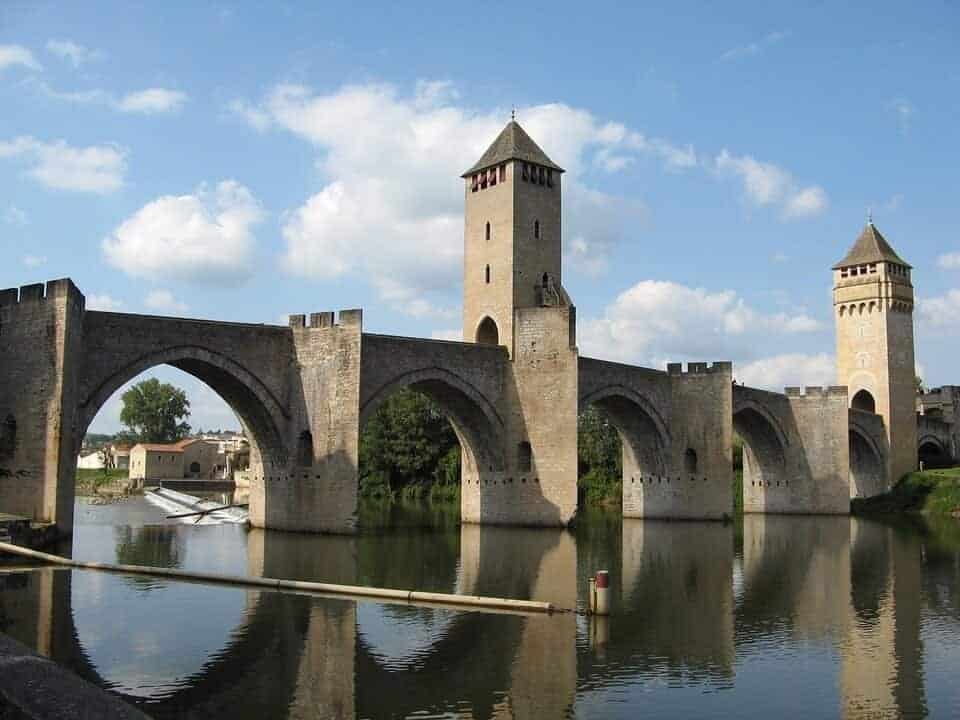 The enchanting old town of Cahors is truly one of the Camino's finest gems. The heyday for this glorious old town was in the 14th century when a local boy named Jacques Dueze, became Pope John XXII and set up his seat at the papal palace in Avignon. It was also under this Pope's powerful influence that architecture flourished. Notably, the city's signature building, the wonderful Pont de Valentré, was built at this time – which is said to be the most photographed building in France.
With its ancient quarters and medieval bridge, cobbled streets, secret gardens and leafy boulevards, wonderful cafes, restaurants and relaxed street life. It has it all.
Top tip – while you in the town make sure to sample some of the famous Black Wine of Cahors! An undiscovered French red wine, revered by Popes and Princes. Why black? Cahors red wines are reputedly the darkest in the world; they are also some of the strongest and richest and will keep for years!
3. Lauzerte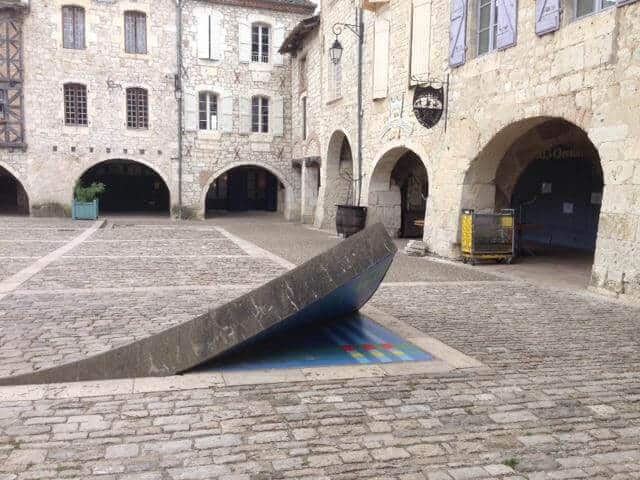 Lauzerte has been listed since April 1990 as one of the "Most Beautiful Villages of France". Perched above the valleys and hills of Quercy Blanc, this fortified village was founded in the 12th-century by the Count of Toulouse. It is located on the "via Podiensis", one of the pilgrimage routes to Santiago de Compostela. Many traces of its historical and religious past still remain intact, including the main square and its cobblestones, stone-built or half-timbered houses, and the pilgrim's garden.
One of the must-dos in Lauzerte is to visit Church of Saint Barthélémy. Located in the heart of Lauzerte, the church will make for a great visit.
It is also recommended to take a guided tour of the village, so you can immerse your self in the rich heritage of this historic village. Feeling thirsty? Make sure you stop at a restaurant and try the Coteaux du Quercy wines, which are the local speciality!
Learn more: Download your FREE Camino e-book!
Discover the routes and sections of the famous Camino de Santiago pilgrimage.
Download
4. Montcuq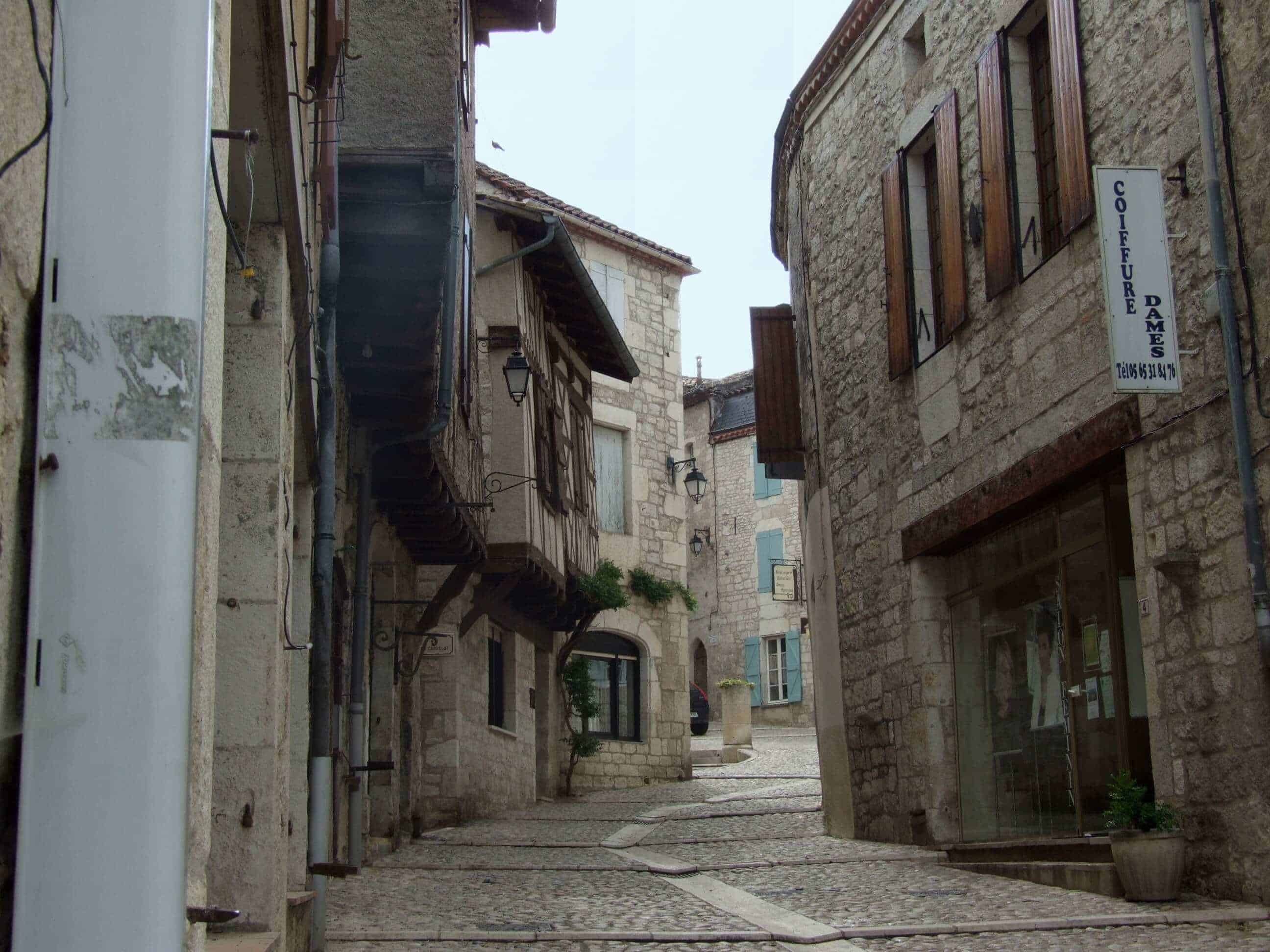 The town of Montcuq, is a vibrant agricultural community famed for its gourmet treats such as meringues and waffles. Lying in the beautiful Quercy countryside, Montcuq is a town that has considerable charm, with its old stone buildings, a 13th-century tower and dungeon, and traditional street market. Like many towns in south-west France, Montcuq was caught up in the Cathar tragedy, having its strongholds violated and its defenders massacred on more than one occasion. The town, whose history also dates back to Roman times, has been taken by the English and ransacked by the Huguenots, giving it a turbulent and interesting past! Montcuq still has an old tower and dungeon, marking its place in history.
Montcuq has a super street market every Sunday morning which is definitely worth a visit – nothing beats a leisurely stroll through the streets, browsing the colourful goods on offer and becoming acquainted with the locals. A town with a Sunday market has an added advantage too, as in rural France it is unusual to find shops that are open on Sunday! Buy some fresh fruit or bread to put in your back pack for the days walk.
5. Lectoure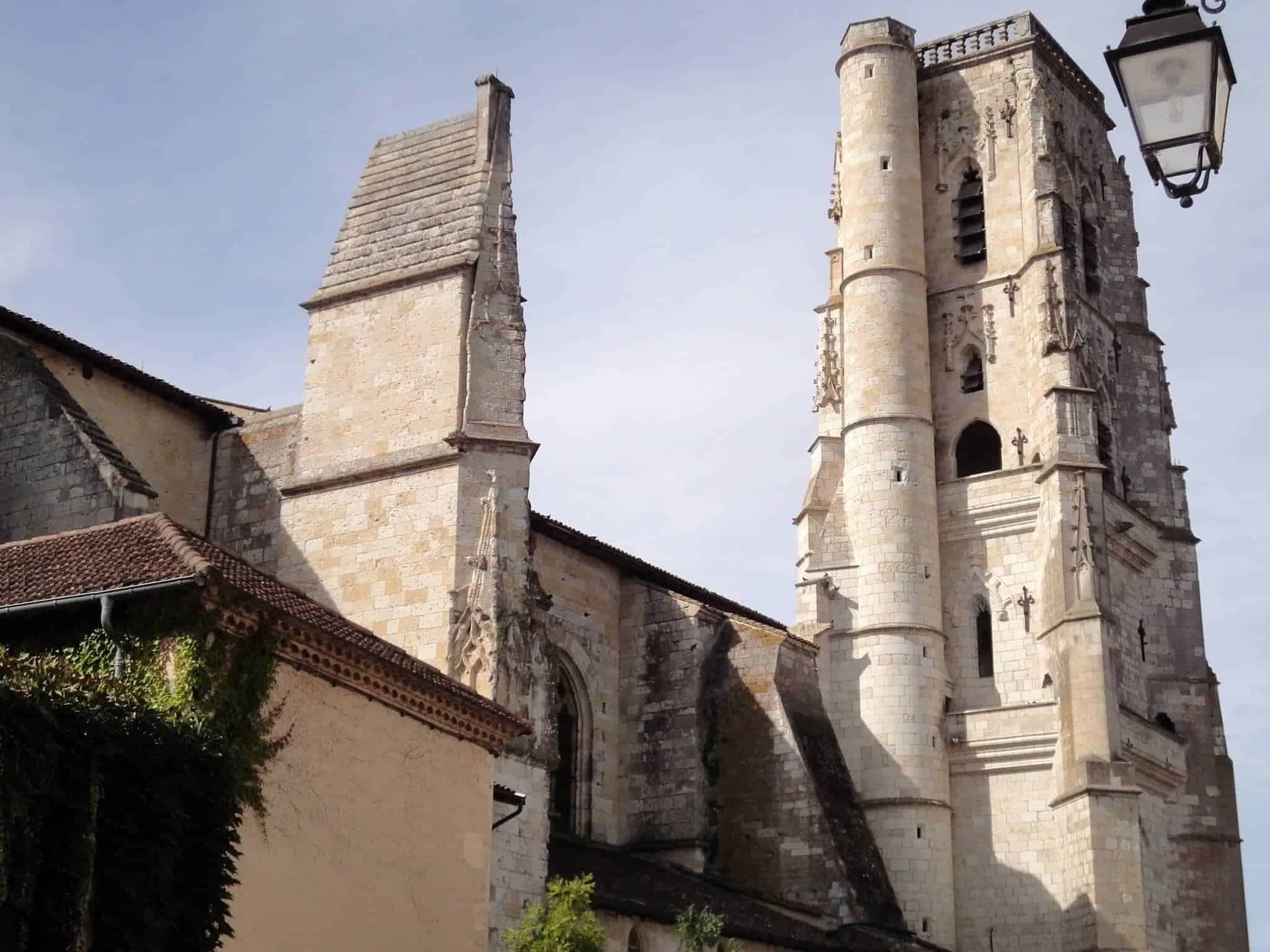 The town of Lectoure itself is essentially calm, with its buildings being gorgeous examples of old Gascon architecture, built in the distinctive pale stone of the region.
A lively and warm atmosphere awaits you in the town centre, which offers a good selection of shops, restaurants and cafes. Located in the region of Gascony, Lectoure has a proud gastronomic tradition. In Lectoure, you will find plenty of bars and restaurants offering Gascon hospitality and cuisine at its very best. Local specialities include duck, Foie Gras and, of course, Armagnac. It may not be the best place to be if you are on a strict diet, but if you enjoy excellent French cuisine then Lectoure is superb.
The town of Lectoure has been officially designated a town of art and history by the French minister for Culture and Communication. Once an important military town in Gallo-Roman times, Lectoure was a strongly fortified town, and if you look hard enough you can find parts of the ramparts still existing today!
To satisfy history buffs, the town also offers some interesting museums including an archaeological museum and a museum of religious art.
6. Moissac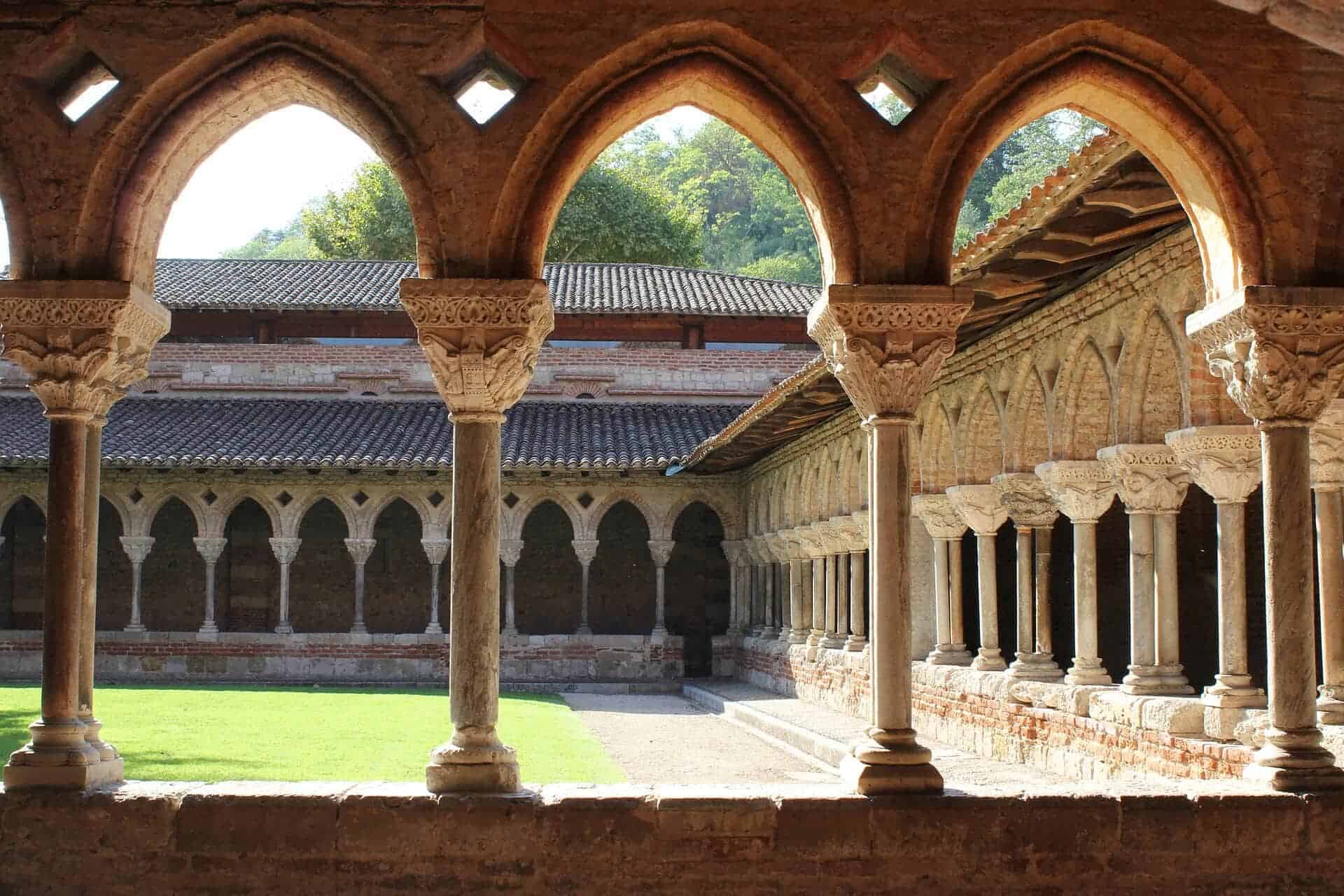 Moissac has become something of a household name for it's magnificent landmark the Abbey Church of St-Pierre. This is a masterpiece of Romanesque sculpture and the model for hundreds of churches and buildings elsewhere.
Indeed, the fact that it has survived countless wars is something of a miracle. During the French Revolution, it was used as a gunpowder factory and billet for soldiers, who damaged many of the sculptures. In the 1830's it was set for demolition to make way for a railway line but thankfully, was saved. In 1998, the site was named a protected UNESCO World Heritage Site, to save it from any further damage.
If you have any more questions about the history of the Camino, walking the Camino, the Camino de Santiago tours or anything else, please don't hesitate to contact us at info@followthecamino.com
The Camino is Open for 2024 Bookings!
Get in now to secure the best accommodation for your Camino!
Discover this empowering journey across Spain, Portugal and France for yourself.

Journeys from 3 to 90+ days available.
Flexible itineraries Luggage transfers Private rooms & bathrooms
Contact us