Pilgrimage: The Road to Santiago is a 3-part travelogue series broadcast on BBC featuring seven well-known celebrity figures who attempt to take on the Camino de Santiago, shedding their modern conveniences for a stripped-back life to get closer to their spiritual selves. The celebrity team consists of Irish comedian Ed Byrne, reality TV star Debbie McGee, investigative journalist Raphael Rowe, TV presenter and ex-soldier JJ Chalmers, 90's pop-star Heather Small, actor Neil Morrissey and reality TV star Kate Bottley. During Episode 1 of Pilgrimage, we saw the motley group starting off on the Camino Frances in scenic St Jean Pied de Port, struggling with the physical and mental challenge and meeting fellow pilgrims along the way. Episode 2 airs on Friday, 23rd March and continues for the final part the following week.
The Pilgrimage – Episode 2
Travelling through the Navarre region in the second of three episodes, we experience lots of fun, sad and poignant moments including Neil, Kate and JJ coming across a strange fountain and the whole team attempting the highest point of their journey. They continue to question their circumstances and their faith, keep the memories of their loved ones alive and also band together when Heather senses racism at a hostel.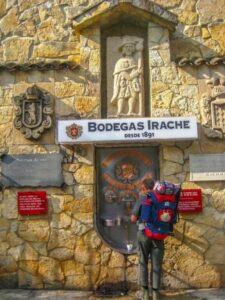 The Fountain of Wine – Bodegas Irache
As the team splits in two approaching the 650km mark, we hear Neil joke that he has many vices, explaining that he likes to drink but that Jesus also did too, hinting that he's therefore in good company! As they approach a small village, Neil wonders if his Spanish is correct when he sees a sign for Fuente del Vino and translates it to his fellow walkers as 'Fountain of Wine'. Reverend Kate spots that there is a tap in the wall with wine coming out of it but doesn't believe it will be real wine, perhaps blackcurrant juice while JJ notices that there's a guy 'necking it straight out of the tap'. As they approach the fountain, Neil wonders if there is a God after all and Kate proclaims that this is a sign that God loves us asking – when do you ever get free wine apart from Church and even then, they only give you a little bit! The tradition of offering charity to pilgrims on the route has been taken up by the Winery at Irache who supply 100 litres of free wine to passers-by each day.
After filling their bottles, Kate mentions that some believe a great understanding of God comes through pain, but accepts that her theology is based far more on indulgence. Heading out of Irache, they spot the rest of the team where Ed shows off the stick he and boasts about its price tag. When he hears from JJ that they came across the wine fountain of Bodegas Irache, Ed jokingly complains that he got a bad deal – meeting a guy giving out sticks while the other half of the group got a wine fountain!
Short Poem on the Bodegas Irache Wine Fountain
Behold! The 8th wonder of the world. The fabled Fuente de Vino!
Legend has it that the fountain makes you funnier, impervious to pain and more attractive to the opposite sex
Learn more: Download your FREE Camino e-book!
Discover the routes and sections of the famous Camino de Santiago pilgrimage.
Download
The Iron Cross on Monte Irago
With just over a week to go until the end of their walking odyssey, the pilgrims wake early for an uphill hike as a hot day is forecast. We see the ladies having some fun in the dormitory as they wake and banter. Debbie reveals she's only getting about two hours of sleep a night and Reverend Kate wakes the gents with 'room service' at 7.30am where we hear from Ed and Neil as they labour out of their bunkbeds, get up and get ready for the day. Kate is meticulously taking care of her toes to avoid blisters and jokes that the Camino is not a glamorous thing but that somehow Debbie is able to look splendid, despite the challenge!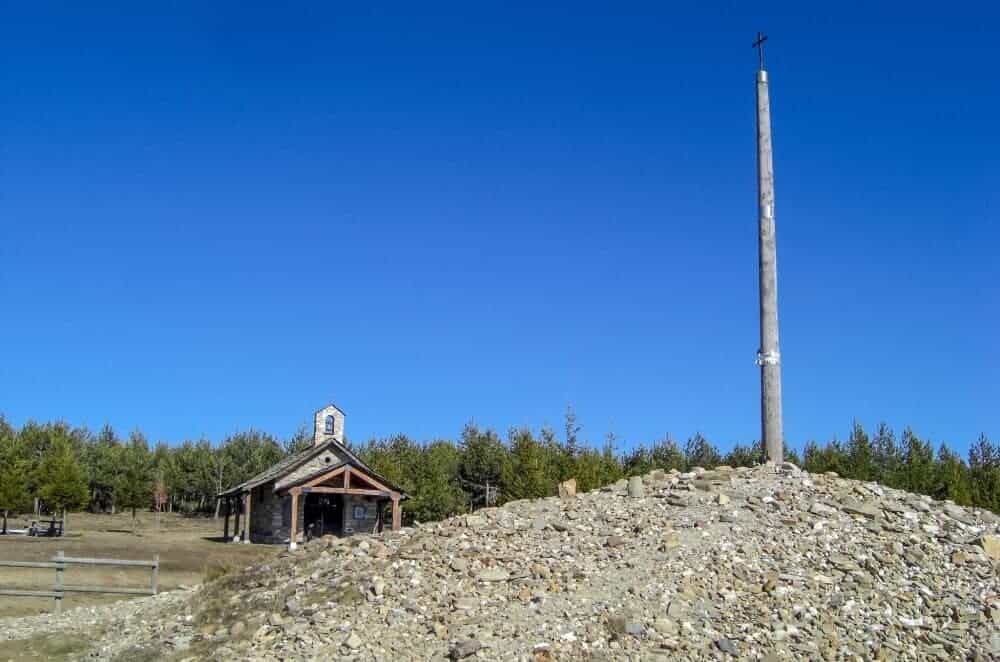 The team trek to the highest point on the Camino Frances at the Iron Cross of Monte Irago, about 240km away from Santiago. Here, planting a stone of gratitude is a tradition based on the old Roman tradition of leaving stones at high passes in tribute to their gods. The team inspects the other stones which have been left there and Kate explains that pilgrims also leave flags and bits of fabric at the Cross, so she leaves a piece of her red scarf which she has brought with her on the Camino.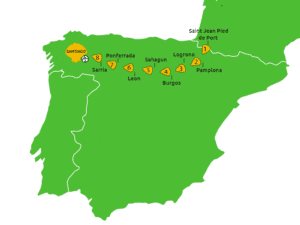 Neil leaves a stone in honour of his partner Emma and Heather ties a thread on the cross declaring that she's not leaving pain but is instead picking up joy. Debbie leaves a stone on which she has written – 'Paul Daniels, Magician, UK' and admits it's her first bit of keeping her late husband Paul's memory alive. It seems like a positive experience for her as she said it made her giggle thinking about him. Raphael signs 'Raphael was here' on a rock with a kiss and a smile, even though he doesn't have much religion or faith admitting he is only doing it to get in the spirit of things.
The Pilgrimage – Episode 3
Episode 3 sees the seven celebrities take on the Last 100km of the Camino Frances through Galicia. While Ralph starts to enjoy the pilgrimage route, Kate still has anxieties about the walk but relaxes when she comes across a group of river pilgrims and jumps into the water to join them. Kate and Heather share their beliefs about women in the Church and question Debbie's approach to effecting change in the institution.
The Camino is Open for 2024 Bookings!
Get in now to secure the best accommodation for your Camino!
Discover this empowering journey across Spain, Portugal and France for yourself.

Journeys from 3 to 90+ days available.
Flexible itineraries Luggage transfers Private rooms & bathrooms
Contact us