Cheryl, Kym and Tony from Australia open up about their Camino to raise awareness for mental health.
What was your idea behind walking the Camino?
When the three core people/organisers of this group (Cheryl McInnes, Kym Murphy & Tony Whyte) first started exploring the possibilities of walking the Camino de Santiago for the second time, we were excited about the potential for this but also saw there was an opportunity for achieving something of a greater good at the same time. Having read people's stories/blogs about having walked the Camino to raise money for a cause and charity dear to their hearts, we agreed that this was something we would also like to do and all agreed on walking to raise awareness and funds for Wellways mental health charity based in Australia.
We then approached Wellways to get a sense of whether or not they would be interested in partnering with us for this purpose. To perhaps raise money for the fantastic work they do as a mental health charity and perhaps anything else that appeared appropriate to them. Wellways is an Australian organisation that does a lot of work supporting people experiencing mental health challenges e.g. depression, anxiety, bi-polar, OCD, schizophrenia, etc. This happens in many different ways, including peer support groups and supports for carers also.
Wellways came back to us promptly with a very positive response and asked to meet with us to explore it further. Many meetings took place over the 12+ months preceding the commencement of our Camino de Santiago challenge for mental health awareness. At the same time we approached Follow the Camino to get a sense if they would be willing to support the cause as well. Cheryl and Kym had walked their 2014 Camino thanks to Follow the Camino having made all their travel arrangements for them, and we agreed it was worth going back to them a second time as the first experience had been flawless.
By the time we got ourselves organised, we had grown from 3 people in the group, to 8 people in the group and once all the travel details were sorted out, flights from Australia booked, final details and planning with Wellways completed, it was time to sit back and commence the countdown. We were all getting VERY excited.
Where did you start your Camino?
Members of the group arrived in Europe at different times, linking our Camino challenge for mental health with other holiday opportunities to make the most of a very long haul flight from Melbourne Australia, to Europe and our destination point of St Jean Pied de Port at the beginning of the French Way of the Camino de Santiago.
Tony began his Camino in Aire-sur-L'Adour, walking 162 kms before meeting the rest of the group in St Jean Pied de Port on 26th August. We take our hats off to him for tackling this before beginning the 900 km planned walk as part of the Wellways for mental health efforts.
And at last the group is all together and we're ready for the big adventure. After a rest day and last minute preparations, we begin walking our Camino for mental health awareness on 28th August, up and over the Pyrenees to Roncesvalles in Spain. What a day! It was misty most of the way, but still an awesome experience.
Each of us had prepared to be as physically and mentally fit as we could manage for this almost 900 km trek across Spain to Santiago de Compostela and on to Muxia on the Atlantic Coast. It's true to say though that you cannot fully appreciate just how physically and mentally taxing this amount of kilometres can be. None of us could fully be prepared to walk an average of 22 kms per day, day after day for 40 days, so of course it was hard going at times. Everyone had their own demons to deal with along the way, and despite preparations, there were some blisters, there was some tendon tenderness in the feet, sore knees and hips, headaches, lack of sleep, adjustment to diet and timelines, and sometimes just not in a good head space. But despite all this, our Camino trip was amazing in every sense and we would not change a thing.
The physical adjustments happened for most people after a week to 10 days, despite the extreme heat, and we settled into a routine of being up early for breakfast, having our bags all packed and ready to go, backpack organised, teeth cleaned and all that and then heading off with walking poles in hand. For the two in our group who were in albergues, their routine involved very early morning starts in the darkness in an attempt to beat the heat and ensure a bed at their destination. One of the many benefits of travelling with Follow the Camino extolled upon them daily as the two witnessed the others having the luxury of arriving to guaranteed accommodation at the end of every day.
The click, click, click, of walking poles became a comforting sound in the quiet of the early morning. Along with the "Hola" and "Buen Camino" between fellow Pilgrims, the Camino "family" was gradually forming with each day.
Over time, we learned to say "Adios" to some of them when we would stop for a rest day, knowing they would be ahead of us from that point on. And then new members of the Camino family would come along and we'd get to form bonds with them, enlarging the friendship ties as the days and kilometers grew.
Why did you promote mental health awareness?
And all the while we were mindful that we had a crusade, a mission to promote conversation about mental health and the great work that Wellways in Australia does to support people doing it tough. We had our grey "Wellways – a million steps for mental health" polo shirts and these were often the trigger for conversations along the way, and we know that through these polo shirts, we reached out to many pilgrims on The Way. Many spoke of people in their close family/friendship circles who had battled some form of mental health challenge, and they understood why this cause is so important. Many people along the way told us they were going to donate, or in fact HAD donated to the Wellways website, because it was something they too felt strongly about.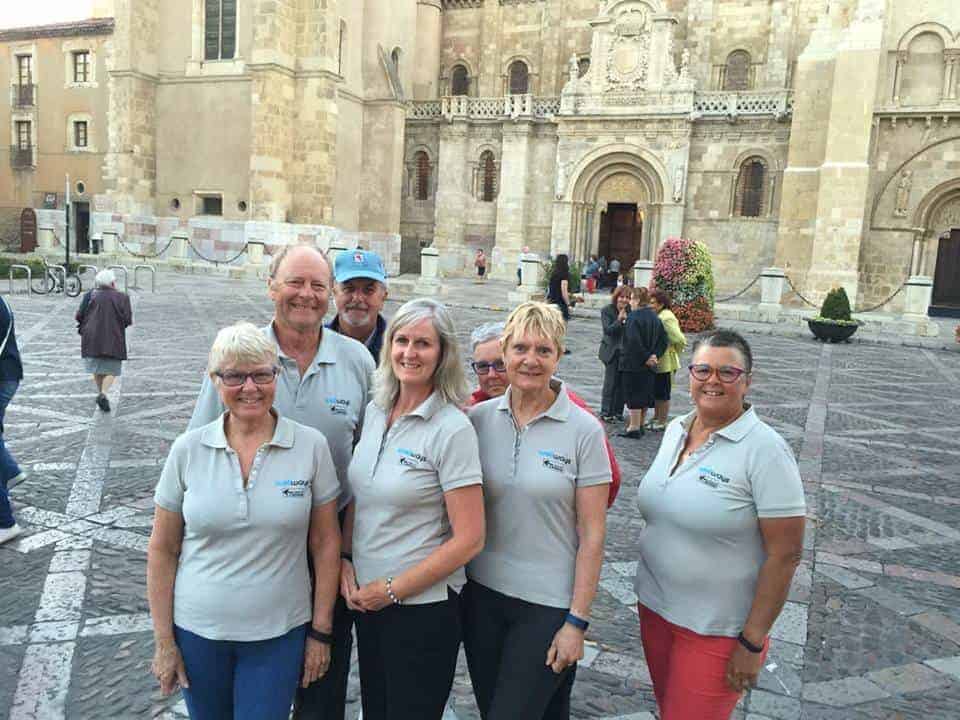 We discovered over time that our reputations had preceded us, word had spread about "the Australians walking for Mental Health, in the grey polo shirts". We were so thrilled to hear about that, not for any personal reason, but because getting the word out there was so important to us.
Do you think walking the Camino brought you closer as a team?
And it's true to say we had a lot of fun along the way as well. Happy Hour at the end of each day demanded we sit together and relax with a Vino Tinto, a Vino Blanco or Rosado, a Sangria, or a Gin and Tonic to rest and talk about our day. We didn't walk as a group during the day, but this had always been the plan from the very beginning.
People need to walk their own Camino. This is also a personal journey for each individual and it's vital to remember that. And people walk it for very different reasons. Sometimes it's for religious reasons or spiritual ones; for some it's just about a physical challenge, or something they just want to prove to themselves and for others the reason is to be discovered along The Way, and it's all perfectly OK. Every reason is legitimate because we are all "called" to walk the Camino or we wouldn't want to do it.
The weather was very kind to us along the way. We had lots of sunshine and very warm days, but also some cooler ones and a little rain too. We were prepared for all eventualities so nothing was going to stop us. We were a very determined bunch! And we met some awesome people along the way, some of them pilgrims, some of them locals, all of them were so friendly, helpful, gracious and kind.
What has it taught you?
And a lasting impression we have is that we too now have become part of the Camino pilgrim history. Our footprints, our steps and our spirits have joined the millions that have walked before us over a thousand + years and that is an amazing reality, almost hard to take in. When people in the future stop to ponder on the pilgrims that have gone before them, we too will be among those even if we are unknown by name.
Our spirits are with all those other pilgrims that welcome and encourage those who follow.
That is an awesome thought on which to finish.
If you are interested in walking the Camino for a charity you can find out more here.
The Camino is Open for 2023 Bookings!
Some of our top accommodation booked out in 2022, so get in now to secure the best accommodation for your Camino!
Discover this empowering journey across Spain, Portugal and France for yourself.

Journeys from 3 to 90+ days available.
Flexible itineraries Luggage transfers Private rooms & bathrooms
Contact us
Originally published on 27th November 2016
Don't forget to share this post!