Check out our top places to visit after walking the Camino!
Galicia
After completing the Way of Saint James many pilgrims are exhausted both physically and mentally and so decide to take some well deserved time off. If this is the case for you, then you are in the right place. Luckily the region of Galicia is located on the Atlantic coastal edge of Spain. This region gives travelers that walk the Camino a chance to head to a coastal town, relax and spend some time on the beach after their pilgrimage. Of course, you can also choose to end your trip once you reach Santiago. Or, you can go back and visit some of the sights you passed along the way. However, if you find the coast more appealing, then Baiona and Costa da Morte are wonderful places to visit. We can assist you with booking your accommodation in either of these places giving you a stress free end to your Camino.
Baiona
Baiona is located in the Galicia region and the province of Pontevedra and is a fantastic destination to head to after walking the Camino. This coastal area is beautiful and awaits tired pilgrims whose bodies are in need of some rest and relaxation. Baiona has a well-developed tourism industry and so can offer entertainment to suit any type of tourist. Not only are there many gorgeous sandy beaches to enjoy, but the town also offers an interesting medieval historical quarter. This old area of Baiona is not as busy as the sea front and so can make for a nice change of pace. Here in the cobbled streets you will find many cafes and restaurants hidden away, some of which are nicer and cheaper than those on the seafront.
Within Baiona there are many sights to visit. After the discovery of America, The Pinta,one of Christopher Columbus' ships, returned to Europe, specifically the port of Baiona. That made Baiona the first town to hear about the discovery of the New World. There is a replica of The Pinta in Baiona that is open to visitors. Another historical monument to visit is the Castelo de Monterreal. Situated just outside of the town, this castle has wonderful views over Baiona and the coastline. If you want to treat yourself to a well deserved meal in a stunning setting then there is no better place in Baiona than the Parador de Baiona. This is also one of the best spots to enjoy the sunset as it dips into the Atlantic Ocean.
If you start to get your energy back you might also like to take a day trip from Baiona to the Cíes Islands. Here you will have the opportunity to relax on white sandy beaches with clear turquoise water. There is also the option of taking a walk on one of the four trails through Monteagudo and O Faro Islands. With the longest trail to the lighthouse at only 7.5km this will be an enjoyable short stroll compared to the walking you will have been doing on the Camino.
Inspired? Download Our Camino Packing List!
Everything you need to pack to walk the Camino de Santiago.
Download
Costa da Morte
Costa da Morte is another coastal area in the region of Galicia. It is not as popular a tourist destination as Baiona. If you're not intimidated by the translation of its name, "The Coast of Death", we highly recommend a visit. The name comes from the difficulty it causes for ships because of the waves and rocky cliffs. There have been more than a few shipwrecks along this stretch of coast, the most infamous being the wreck of the oil tanker Prestige in 2002. The water is very rough and only recommended for stronger swimmers, but that does not mean this is not a beautiful area to experience. The Costa da Morte offers the opportunity to stroll in relative solitude along the magnificent cliff top coastline of Galicia. This coast has a very serene, peaceful and calming atmosphere. The coast is very refreshing for those who walk the pilgrimage routes as it is not as busy as some sections of the Camino.
On this Atlantic beaten coastline you can also visit one of the many fishing villages. All along the coast you will find many small working fishing villages where you can potentially try the daily catch of the day. Fisterra and Muxia are well known for their connection with the Way of Saint James but a little less known but lovely traditional fishing village is Muros. Here a stand out is the fishermen houses of the town. They feature arch covered walkways were the fishermen use to fix their tackle and salt their fish on slabs. You can also visit the Sanctuary of A Virxe do Camiño, where there is a sculpture of the Virgin Mary, which according to legend arrived by sea and was washed up on a nearby beach.
This is not the only legend along the Costa Da Morte, in fact it is rich with such seafaring stories. In Muxia you can visit Nosa Señora da Barca (Our Lady of the Boat) church. Legend has it that at this location Our Lady visited Saint James to encourage him on his mission of preaching the word of Christ in Iberia. Here you will also find an oddly shaped rock between the church and the ocean which is said to have healing powers.
The Costa da Morte is very accessible from Santiago. Whether you want to walk out to Finisterre and Muxia or even if you want to just go on a day trip we can help you organise both.
Way of Saint James – other routes?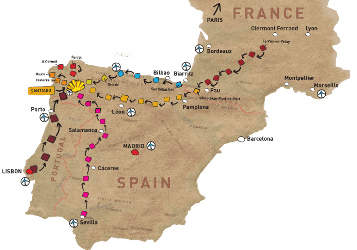 After you get home from your Camino walk, be this having walked an entire route or just one section, you may decide that you would like to try out a different route or section and we can assist you with booking this. With 8 routes to choose from and many sections within each route we will help you choose the next Way of Saint James walk for you.
Feel free to contact us at info@followthecamino.com to find out more about.
Sources:
http://www.spain.info/en_IE/que-quieres/ciudades-pueblos/otros-destinos/baiona.html
http://www.baiona.org/web/turismo/inicio
http://www.spain.info/en_IE/que-quieres/destinos-playa/costas/costa_da_morte.html
The Camino is Open for 2023 Bookings!
Book 3 months in advance to recieve a 5% discount!
Reconnect with your love of travel on the ultimate bucket list adventure through Spain.

Whether you have 5 days or 50 days – there is a Camino for you.
Flexible itineraries Luggage transfers Private rooms & bathrooms
Contact us