You are a longtime Camino fan and would like to introduce your child to walking the Camino as well? Or is it your first time and you would like your baby to accompany you on this family adventure? What you need is one of the best baby backpacks for the Camino. When taking your children on a walking holiday, safety and comfort are among the top priorities when it comes to planning and preparation.
To help you prepare, we have selected a number of child carrier backpacks for hiking. These baby backpacks were chosen carefully to find a match for you and your child.
What's important?
Before you go ahead and choose a Camino baby backpack, it is important to consider certain factors that meet your individual needs.
Cockpit
The cockpit describes the seat your baby sits in. Find a seat that suits your child and is especially comfortable. You also need to make sure to choose the right size as you need your baby to be able to breathe easily but also ensure that your kid cannot slip through the cockpit. Also, you want a seat that lets your child sit high enough for it to explore the adventure you are about to embark on.
Kickstand
Most framed carriers include kickstands that help the child climb the carrier easily when placed on the ground. Ideally the kickstand locks clearly into place when opened and is safe to use. Further, then the carrier is on your back, the kickstand should completely close again so that it doesn't interfere with obstacles along your way.
Leg Openings
The leg openings of a baby carrier should be the right size for your child ensuring health and safety. You want to have leg openings on your backpack that can be adjusted small enough so that your baby cannot slip out and also not too small so that it doesn't cut off your child's circulation and offer enough room to move. The more flexibility your leg openings offer, the longer you may use your backpack as you can adjust it as your baby grows.
Five Point Harness
As you are about to carry your child on your back for longer hiking tours, you want to make sure the carrier has an adjustable five point harness. This harness is an essential safety feature to look for and helps to evenly distribute the weight and therefore improve its overall comfort.
Fabric
The material of your backpack should be durable and simple to clean. At the same time, for hiking, we recommend finding a material that is lightweight. It should also provide proper ventilation in the back to keep you and the baby cool at all times. Furthermore, you want to consider reflective parts to ensure safety in case you want to walk in the dark. Finally, make sure that the material is soft in front of your child to ensure best possible comfort.
Storage
Obviously when you are traveling with children, you need to bring extra essentials for them. Snacks, toys, maybe diapers and anything else you or your child might require for happiness and comfort. In order to maximize the efficiency of carrying a baby and those essentials, you need a proper storage compartment. Most of the child carriers have a bottom storage area just below the baby seat. This compartment has enough room to ensure you have everything you need for a day hiking out. Keep in mind the total weight limit of the carrier including your child's weight of course.
Our Recommendations
Below you can find our choices for the best baby backpacks for the Camino.
Osprey Poco
Great extra storage volume, 3.5 kg, € 330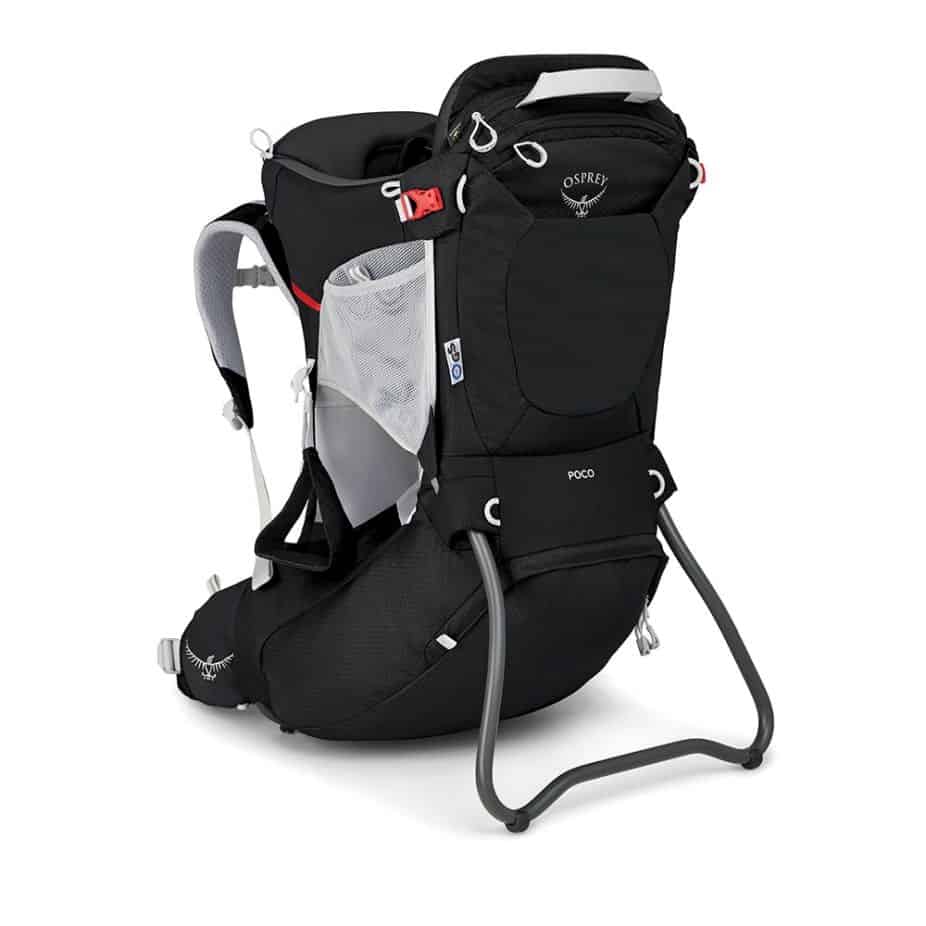 The Osprey Poco backpack is the ideal child carrier for those who need a little bit of extra storage space. It has a total of 20 litres of storage in addition to plenty of room for your child to feel comfortable.
This baby backpack comes with an integrated sunshade and rain cover, stretch mesh side pockets and an integrated kickstand, which keeps the pack upright and accessible at all times.
Finally, the Osprey Poco has an adjustable child safety harness, seat and foot stirrups and even comes with a removable and washable drool pad. The soft and ventilated saddle is offering extra comfort. The maximum weight (child + gear +pack) here is 22 kg.
Clevr Cross Country
Cross country model, 2.5 kg, € 100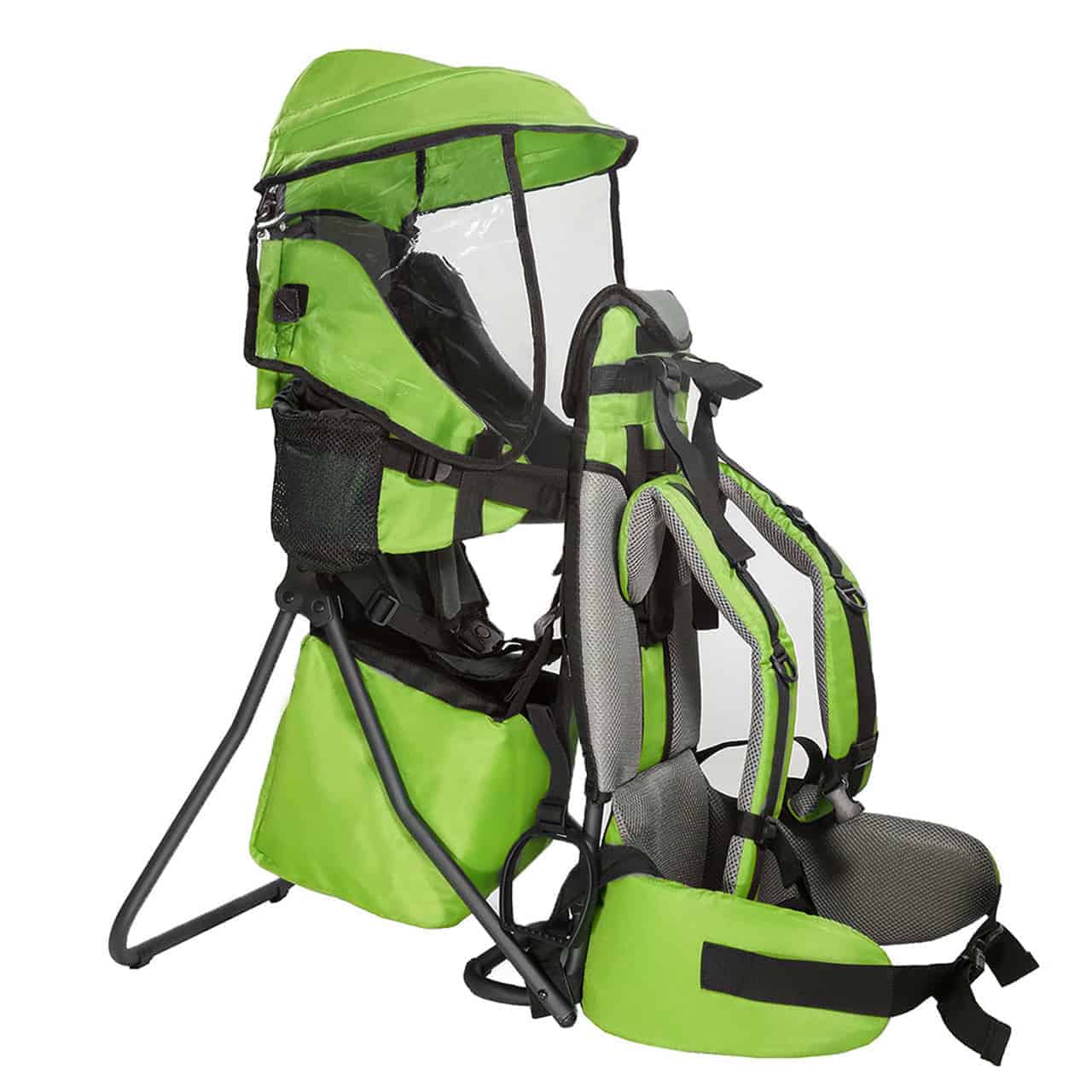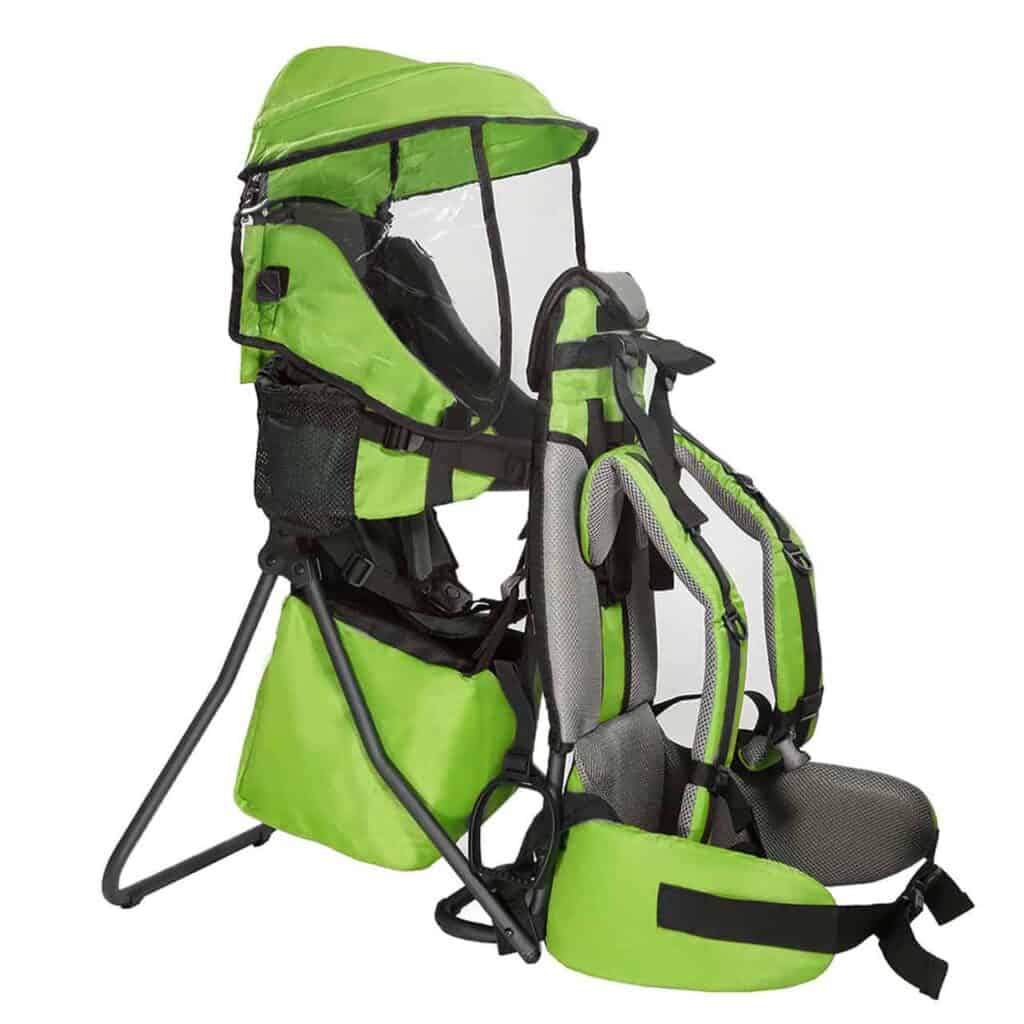 The Clevr Cross Country Child Carrier is made of a strong but light, foldable metal frame ensuring stability and comfort at the same time. The maximum weight (child + carrier + storage) is a total of 18 kilos.
The carrier is ideally for children between the ages of 6 months and 4 years and is a great budget option.
This backpack can stand easily on its kickstand while offering a great level of comfort with thick padded shoulder pads and bolsters.
Thule Sapling Elite Child Carrier
Extra comfortable, 3.6 kg, € 300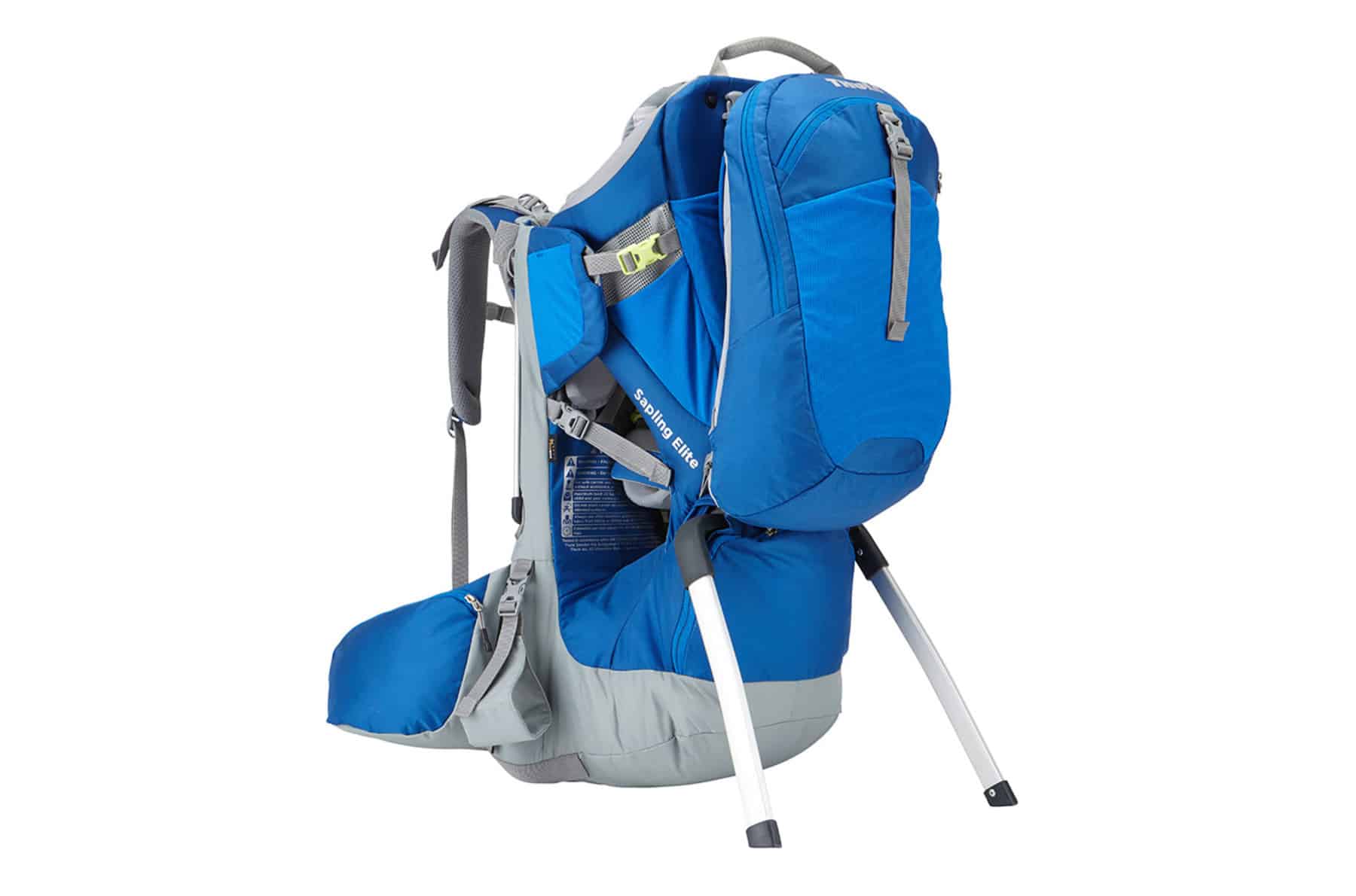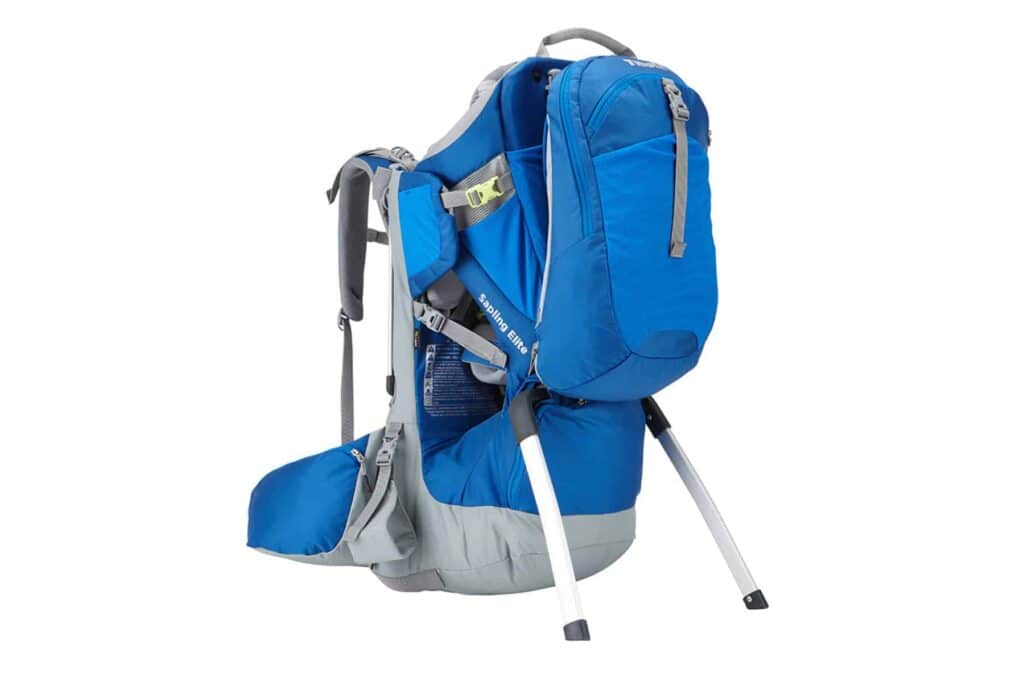 The Thule Sapling Elite Child Carrier is a great overall backpack to carry your child on the Camino. This backpack is quick and easy adjusting and can therefore be fitted to whoever is carrying it. The total weight for this pack is 22 kilograms.
The ergonomic seat is very comfortable with padding and an adjustable height ensuring the best safety and support for your child. It also optimises the distribution of your child's weight for to you.
Finally, you can keep all of your essentials close by with extra hip belt pockets to store toys, snacks and other gadgets. It also comes with a mirror to keep an eye on your lovely passenger.
Deuter Kid Comfort Active
Best lightweight, 2.5 kg, € 240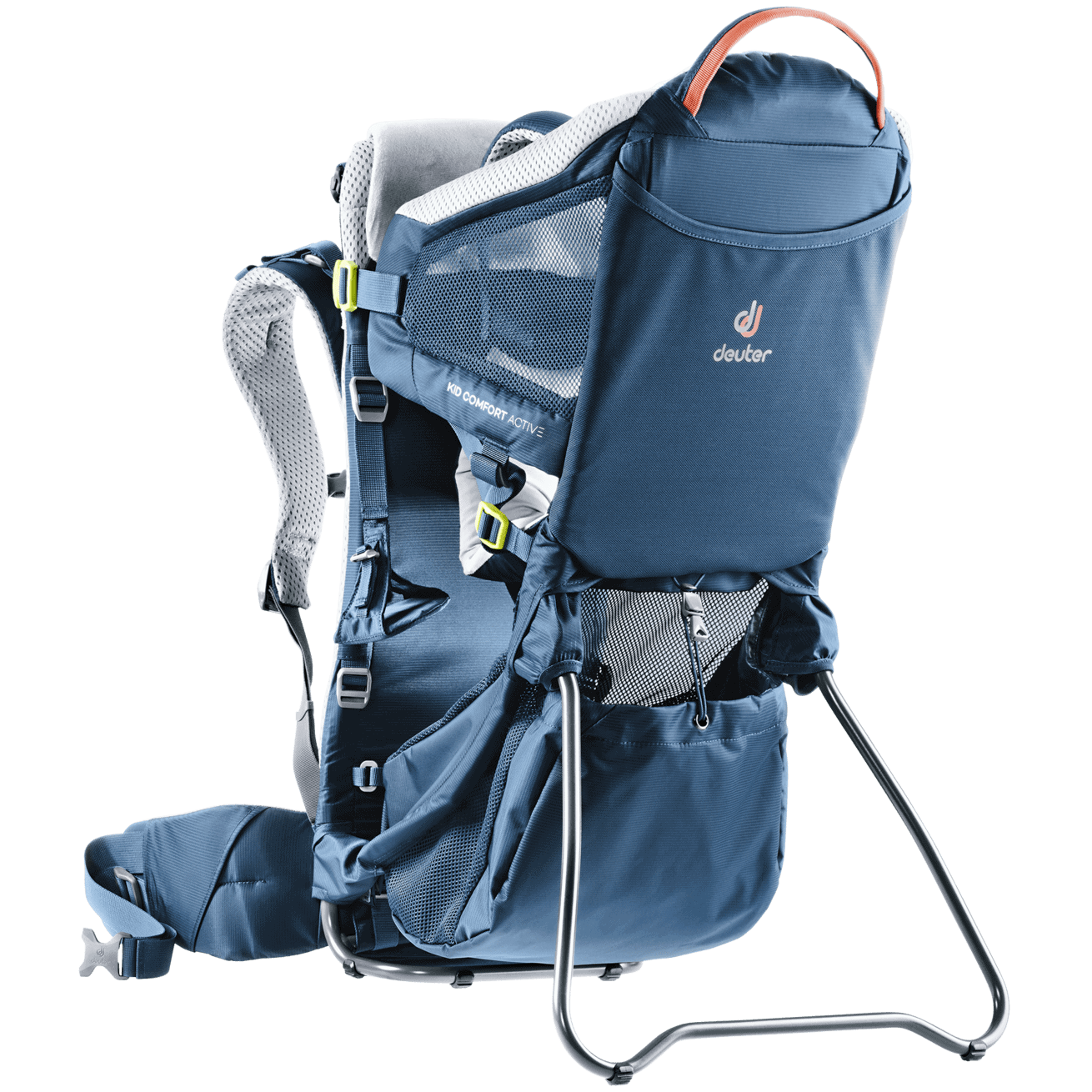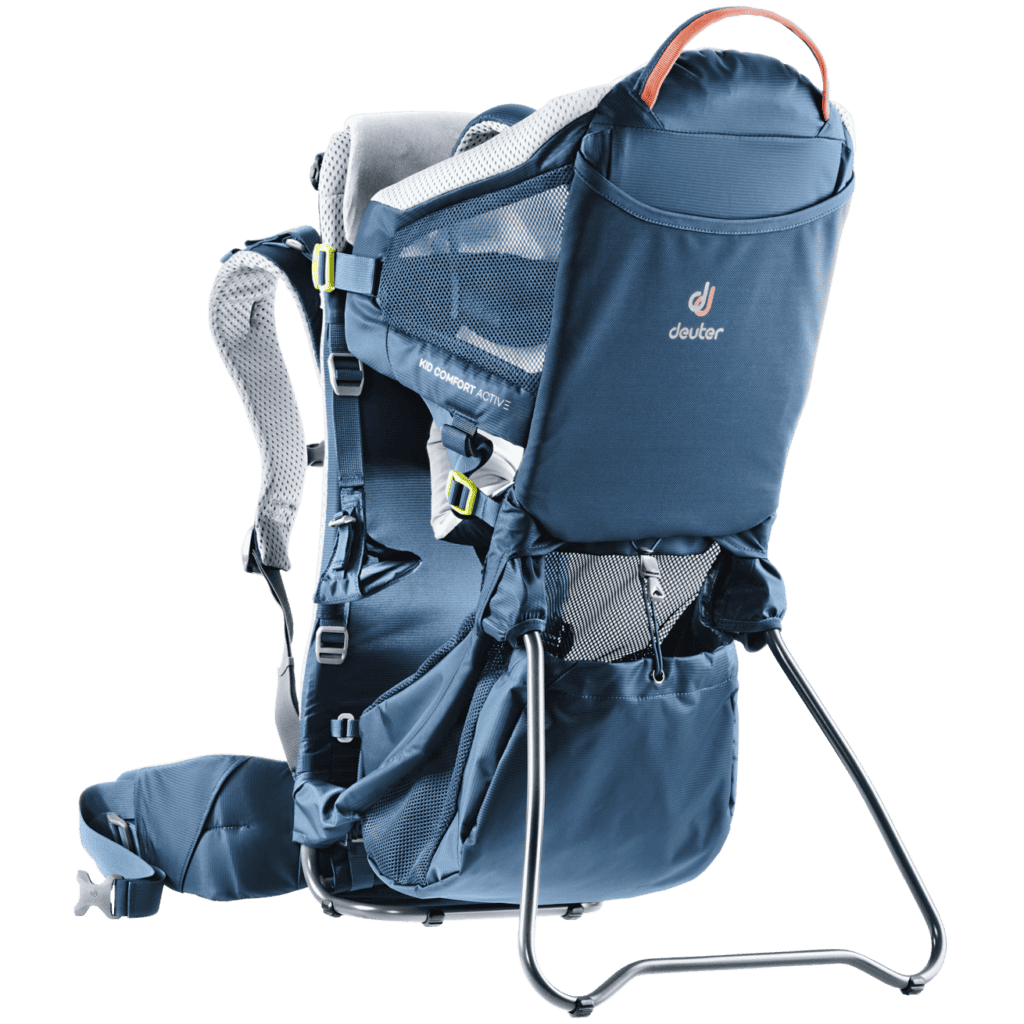 The Deuter Kid Comfort Active is an excellent, lightweight child carrier. It offers a maximum weight of 22 kg, but the backpack itself only weights 2.5 kg.
Although the Deuter child carrier only provides a storage volume of 12 litres, it offers all of the important features for your child's comfort and safety.
It comes with an additional sun and rain canopy, foot rests, a foldable base and adjustable belts. It also includes an extra mirror to check on your baby.
Ergobaby Omni 360 Baby Carrier All-In-One Cool Air Mesh
Best for newborns, total weight 20kg, € 185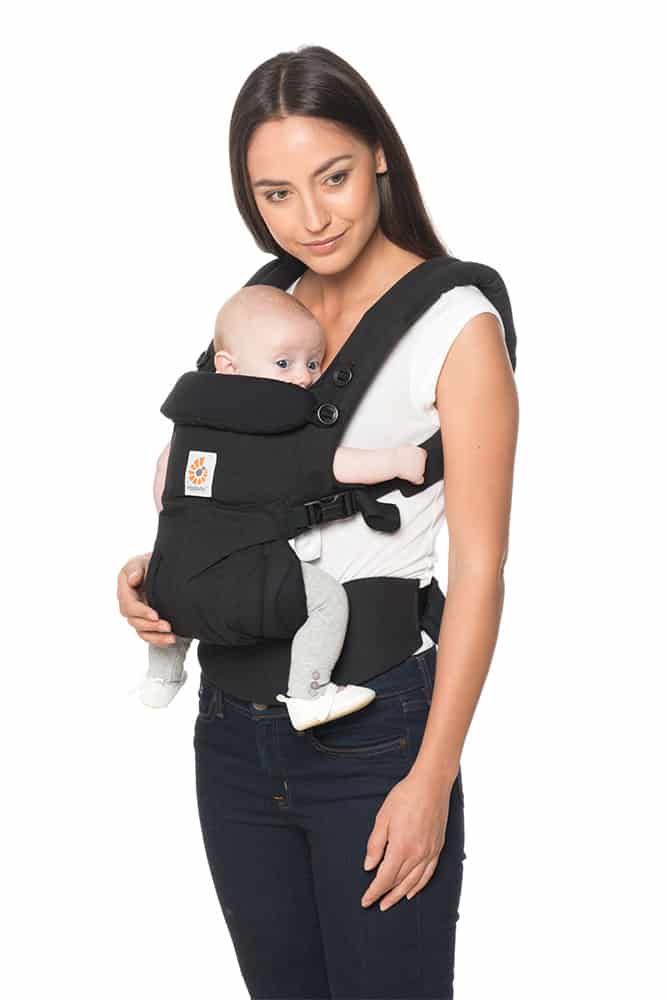 The Ergobaby Omni 360 Baby Carrier All-In-One is a great child carrier if you would like to take your newborn baby on the Camino. You heard right, this comfortable baby carrier fits your baby from week 1.
The Ergobaby child carrier allows you to carry your child over time as it grows thanks to its adjustable size and comfortable lumbar support and crossable straps.
It offers a baby privacy hood for breastfeeding and a breathable mesh. It is ergonomic in all positions providing ideal support for you and your baby.
Keep in mind that when walking with children, especially on your back, you want to adjust walking times and distances. To ensure you and your child can enjoy this walking holiday as much as possible, remember not to walk too long and regularly check on your child and both of your well-being. Our team from Follow the Camino is happy to answer your questions and assist in adjusting your walking schedule. Please feel free to reach out to contact us directly.
We also offer packing lists, a guide for best backpacks for adults, recommend the best footwear, training plans and more. Contact us today to start planning your next amazing Camino adventure!
Choosing the right backpack is definitely one of the most important things to do before your Camino adventure but you will need more than just a backpack! We have put together a list of gear we love 2021 to help you get ready for your Camino adventure!
Buen Camino!
Take the Family Holiday You'll Never Forget!
The ULTIMATE Family Adventure Across Spain, Portugal, or France.
Connect with your loved ones as you share this incredible experience.

From toddlers to grandparents, we can plan the ideal Camino for your family.
Flexible itineraries Luggage transfers Private rooms & bathrooms
Contact us
Originally published on 15th May 2020
Don't forget to share this post!