You are planning to do the Camino de Santiago with your kids or you just thinking about it but you want to prepare them before? Giving them Camino books for kids could help them understand the purpose of the pilgrimage…
We've created a nice selection of Camino books for kids. We also added some games and documentaries to help your kids learn what the Camino de Santiago is about. You can also show them what they will do during the trip and to answer all of their questions!
The first thing you need to know is that most of books for kids are in French or Spanish. However, with a lot of pictures and only little text, it's not too difficult to understand and the sentences are not too complicated to translate. Here is our selection of books for kids in different languages.
English Kids books for understanding the Camino de Santiago
The first book that we recommend is called "Spain's Pilgrim trail", written by Fran West. This book is a compilation of the best pictures from Fran's journey along the last 150 km of the Camino de Santiago. It's a good book for the smaller ones to first enjoy the pictures and to learn more about the travel and what they can see on the Camino.
This book is excellent to teach your children what a Camino mark is and what kind of people you can meet on your way.
The second book, also in English, is called " El Camino de Santiago: rite of passage". This book, by Wayne Chimenti, tells the story of the Chimenti family walking the entire Camino de Santiago. It started as the rite of passage of their 12-year-old daughter and her journey, the Camino was a challenge for the family! If you have teenagers and you want to bring them with you on the journey, this book will definitely help them (and you) to get an overview of the Camino!
French Books for Kids

The following books are all in French, but even if you're not fluent in French, it's quite ok and there are a lot of pictures to explain the text!
All these books have an animal as the second character, it's very funny for the kids to read it!
Let's start with "Les folles aventures de la famille Saint-Arthur. J'ai un cailloux dans ma chaussure…" The story of a family on their way to the Camino de Santiago who adopt a donkey on their way to accompany the family. A beautiful story of a family relationship, friendship, respect!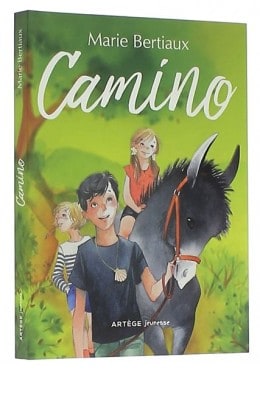 Further, you can have a look at another story starring a donkey! " Camino" by Marie Bertiaux tells the story of a family going to make the Santiago pilgrimage with Gribouilles, their donkey. This story is a little different from the first one as the pilgrimage spirit is more present.
Another story with a cow this time! This story is separated into two books, the one for the younger is "Mirabelle veut aller a Compostelle" and " Mirabelle et Augustin sur le chemin", written by Fabienne Sauvageot. It's a story of Augustin who offers to Mirabelle to go with him on the pilgrimage.
The last one is a comic called "Les Aventures de Clemence et Valentin. Le secret du Pelerin". Starting in Brittany, the comics mixed beautiful images and enigma. For the kids who love the mystery, it's the perfect book! A true adventure across France and Spain!
Learn more: Download your FREE Camino e-book!
Discover the routes and sections of the famous Camino de Santiago pilgrimage.
Download
Another way to teach them the Camino
Because they are children, at some point it may be easier to explain to them the Camino in a more funny way!
We've made a selection of funny things to help your children. Again, they are not in English, so you may need to make a little bit of translation.
Our favourite is a French game called "Le Chemin de Compostelle: le Jeux de Loupio", a game for the entire family through the pilgrimage! It's the most fun way to learn about the Camino event for the parents!
For those who want to learn about a true story, we invite you to watch the documentary « El pequeño Peregrino », which describes the story of a 10-year-old boy who walks the last 100 km with his big brother!
We hope that these books will help your kids understand the Camino and answer all their questions.
More Camino stories
Once you've worked your way through all of those, how about listening to one of our favourite podcasts about the Camino de Santiago or snuggling in to watch a movie about the Camino! We also have a list of Camino books for grownups.
If you still have any questions about why walking the Camino de Santiago with your kids, take a look at the article "Is the Camino de Santiago good for a family holiday?"
If you have any other questions, or if you are ready to start planning your next family adventure – get in touch with us for a free quote!






Take the School Trip You'll Never Forget!






The ULTIMATE Educative Adventure Across Spain, Portugal, or France.






Connect with your students as you share this incredible experience.



From accomodation to airport transfers, we can plan the ideal Camino for your class.






 Flexible itineraries    Luggage transfers   Private rooms & bathrooms




Contact us