The list of books about the Camino is huge, but there are some of them that are always at the top of the recommended list. Paulo Cohelo, Shirley MacLaine and Hape Kerkeling are just some of the most popular authors, and in terms of Camino guides, the John Brierley ones are like a bible for first-time pilgrims.
The books' storytelling is as diverse as the people who decide to embark on the Camino journey; from a father walking the Camino with his daughter, a couple sharing their love for Spain, to a solo female traveller finding herself and her Camino family.
If you are looking to get inspired and to know more about the amazing pilgrimage to Santiago de Compostela, here is a list of some of the most popular Camino books:
Recommended Camino Inspired Books
1. I'm Off Then by Hape Kerkeling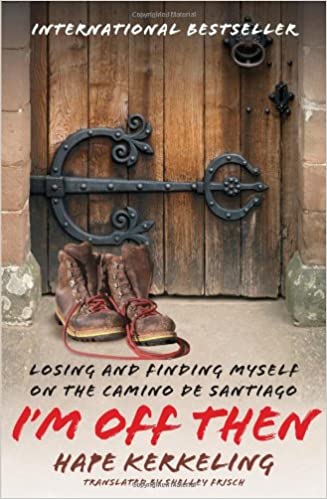 In the summer of 2001, the German comedian Hape Kerkeling decided to quit his sedentary life to embark on an 800km journey from St Jean Pied to Santiago de Compostela. In the book, he shares his experiences, the people he met and who stayed with him along the Camino. It is an emotional as well as a deep narrative that allows you to travel through his words.
Favourite quote from I'm Off Then:
I paid the price for ignoring the inner voice that had been hollering "TAKE A BREAK!" for months. When I forged ahead with my work, my body took revenge and shut down my hearing. An eerie experience! I was so furious at my own folly that my gallbladder exploded, and the next thing I knew, I was back in the emergency room with the symptoms of a heart attack.

Extracted from the book I'm Off Then
Comments from our followers:
Ryan Tandler: "I'm Off Then by Hape Kerkeling. It's largely responsible for the rebirth of the Camino at the beginning of this century".
2. The Pilgrimage by Paulo Coelho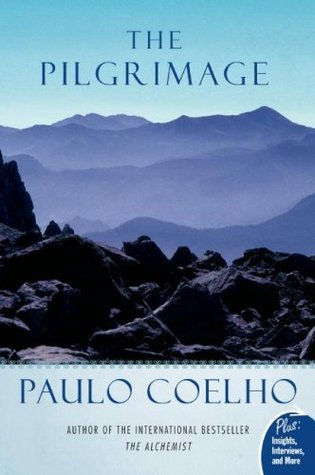 The Pilgrimage story is reminiscent of Paulo's experiences as he made his way in 1986 across northern Spain on a pilgrimage to Santiago de Compostela. The best-selling novel traverses the story and journey of a Brazilian man (himself) finding his own path, learning to be extraordinary through the paradoxical beauty of simply understanding what is ordinary.
This trip was the catharsis that made him stop dreaming about being a writer to finally becoming one.
We must never stop dreaming. Dreams provide nourishment for the soul, just as a meal does for the body.

Extracted from the book The Pilgrim
Reviews:
Patrick K.: "A great read! The strange road to Santiago and everything that happens on it is nothing but a mirror of each and everyone's life journey! This book is a reminder that life is brilliant and that we are capable of so much more than we believe we are".
Learn more: Download your FREE Camino e-book!
Discover the routes and sections of the famous Camino de Santiago pilgrimage.
Download
3. The Camino: A Journey of the Spirit by Shirley MacLaine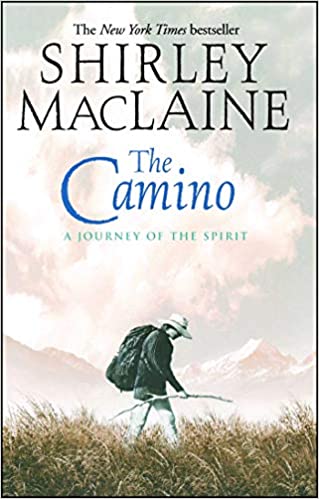 When the award-winning American film and theatre actress Shirley MacLaine decided to embark on the Camino, she was in her 60s. For her, this journey was an intense and physically challenging experience, but very rewarding.
The Camino book explores the ins and outs of everyday life as a pilgrim, providing valuable insights, lessons of humility and how The Way leaves you marked forever.
Without the recognition of the soul's journey within us, we are lost and only part of what we were intended to be

Extracted from the book The Camino: A Journey of the Spiri
Reviews:
Sophie Clarke: "I enjoyed this journey with Shirley Maclaine, I couldn't imagine being in her shoes dealing with paparazzi, especially on a quest for inner peace and spirituality".
4. The Way, My Way by Bill Bennett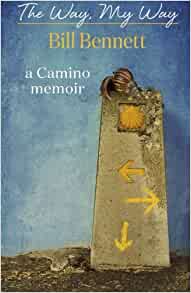 This deeply moving as well as laugh-out-loud story is based on Bill Bryson's and Eric Newby's travel memoirs. When Bill Bennett, an Australian-based film director, decided to embark on this 800-kilometre pilgrimage he had no clue about why he was doing it.
But in the middle of his journey, the pain of his injured knee, and all the experiences that occurred on the Camino, he was able to find his own way.
I'd never done anything crazy like this before – a pilgrimage walk. I was not a hiker, and I wasn't a Catholic. In fact, I wasn't even sure I was a Christian.

Extracted from the book The Way, My Way
Reviews:
Sally Desbois: "The Way, My Way by Bill Bennett. It was the first of many books I read about the Camino and the one I most enjoyed".
Mary Murphy: "From all the Camino books that I've read this is one of my favourites to date. The Australian film director reports on his journey in a way that is both humorous and inspiring. I'd love to meet someone like Bill on my own Camino journey".
5. Buen Camino: A Father and Daughter Journey from Croagh Patrick to Santiago de Compostela by Peter and Natasha Murtagh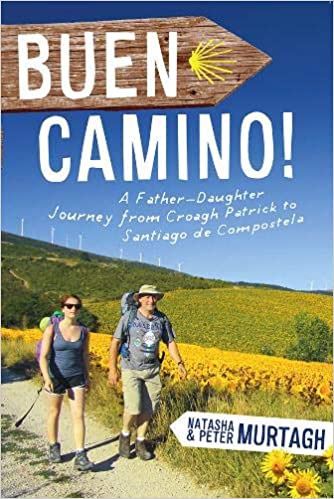 This is a beautiful book written jointly by a father and daughter who embarked together on a spiritual journey along the Camino Francés from St Jean Pied all the way to Finisterre. They started their adventure in Ireland by walking up Croagh Patrick on St James Day, 2010. When Peter found two scallop shells near the sea, he and his daughter attached them to their backpack and officially proclaimed themselves to be pilgrims. 
A wonderfully warm story about the bond between a loving adventurous father and his daughter ready to embrace the world.

Irish Mail on Sunday
Reviews:
Rob Murphy: "My favourite Camino book is 'Buen Camino' by Peter and Natasha Murtagh. A truly honest, realistic and exciting account of a father and daughter's spiritual journey on the Camino. Superbly written and beautifully illustrated by photos from the Murtagh's own collection. A definite read before you begin your pilgrim's journey!"
6. Travels with My Donkey: One Man and His Ass on a Pilgrimage to Santiago by Tim Moore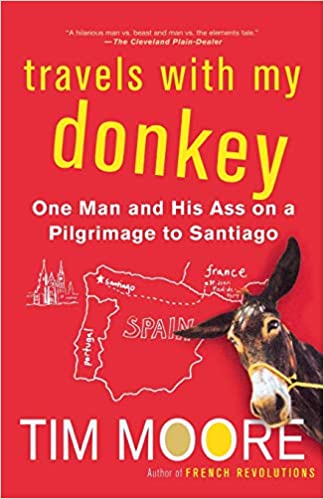 This is one of the most entertaining books about the Camino. It recounts the story of the British travel writer Tim Moore, he walked the Camino from Valcarlos to Santiago de Compostela having as a travel companion a donkey named Shinto. Tim was looking to release his load by using Shinto as the carrier of his cargo without knowing that he was just adding a 200-kilogram package of obstinacy, phobias, and more or less stoic forbearance to his load.
No man can ever have felt more proud of a donkey as I did watching Shinto crap atop the Cruz de Ferro. It was, indeed, his pilgrimage too.

Extracted from Travels with my donkey
Reviews:
Aidan Rice: "This book was hilarious and irreverent, it's by far my favourite book about the Camino de Santiago".
7. It's Your Camino: One Couple's 500-mile Pilgrimage Across Spain by Kenneth Strange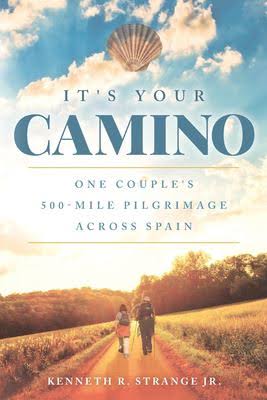 This is about an American couple that share a profound love for Spanish history, culture and gastronomy. Kenneth Strange and his wife embarked on a 31-day journey along the Camino Francés travelling over the Pyrenees and across northern Spain to Santiago de Compostela. This book accurately and entertainingly shows what a Pilgrim might expect when walking the Camino.
Reliving their journey in "It's Your Camino" is an inspiration, a joy and a must-read!

Martin Sheen, actor in the movie "The Way."
Reviews:
Kim Smith: "After having experienced walking the Camino I can proclaim that every chapter in Ken's book is right on the money. His recounting of historic churches and places, local experiences and his "characters" of the Camino were all so unbelievably precise and not to mention very FUNNY!"
Inspired? Download Our Camino Packing List!
Everything you need to pack to walk the Camino de Santiago.
Download
8. What the Psychic Told the Pilgrim: A Midlife Misadventure on Spain's Camino de Santiago by Jane Christmas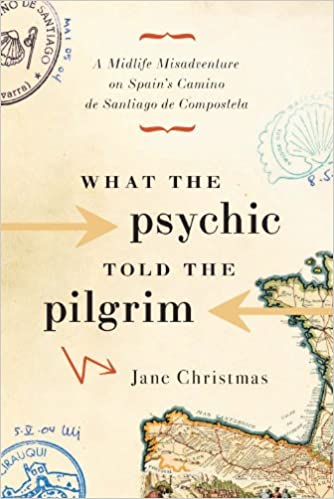 A Canadian divorced mother of teenage children joins a group of 14 women to celebrate her 50th birthday by hiking the Camino de Santiago. She describes, in detail, what it is like to walk the Camino, and what it meant to her. It recounts her battles with loneliness, hallucinations of being joined by Steve Martin, as well as picturesque villages and even the fair-haired man.
Impulse is intuition on crack.

Extracted from What the Psychic Told the Pilgrim
Reviews:
Margaret C.: "I was walking the Camino Francés when I read this book, so it was particularly relevant, and I shall take on board her advice about vaselining feet before walking if I ever do another section! I like her honesty and lively style of writing".
9. Call of the Camino: Myths, Legends and Pilgrim Stories on the Way to Santiago de Compostela by Robert Mullen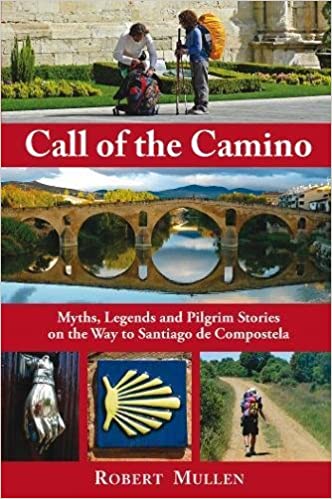 This book is about the experiences of an ordinary man who walks the Camino Francés from St Jean pied to Santiago and then on to Finisterre, the westernmost point of Spain. The author philosophises and interprets people's characters, myths and legends that he finds on his way.
Mullen brings a lovely blend of humour that always feels relevant and authentic . . . the Call of the Camino . . . might be the most important wake-up call of your life.

John Brierley, author, The Camino Guides
Reviews:
Sam Gibson: "Call Of The Camino: Myths, Legends and Pilgrim Stories on The Way To Santiago de Compostella by Robert Mullen. An appealing blend of humour and erudition mixing historic Camino lore with tales from the author's own pilgrimage".
10. The Only Way is West: A once in a Lifetime, 500 Mile Adventure Walking Spain's Camino de Santiago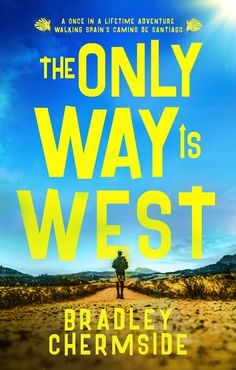 Bradley Chermside walks Spain's fabled Camino de Santiago to ponder some profound life changes.
Hiking nine hundred kilometres on the Road to Santiago, he discovers the utopia of his fantasies, befriends a Hungarian who speaks English in song titles and has his raison d'être revealed to him by a barefoot Mayan mystic.
Bradley is currently working on a sequel which is called The Only Way Is North, due for release in 2020! Also, if you're interested in Bradley's life story, go check out the interview we did with him!
An inspiring, uplifting, heartfelt and funny memoir that made me howl with laughter throughout. A wonderful read.

Kevin Hand, BBC
Reviews:
Annika: "Absolutely loved it! The book made me laugh, feel sad and most of all feel proud of the author. Very well written. Recommending it to everyone!"
And of course, a special mention to our favourite Camino guide books –
A Pilgrim's Guide to the Camino de Santiago by John Brierley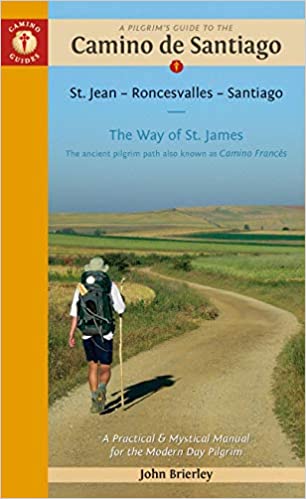 There's no doubt, John Brierley is one of the most well-known Camino guidebook authors. This practical and comprehensive Camino book encloses all the information required by modern-day pilgrims wanting to walk the ancient pilgrimage to Santiago de Compostela.
Even if you don't think you will ever make this pilgrimage, you will enjoy the books because they help you feel like you are right there, making the journey along with the many travelers on the paths.

New Spirit Journal
Reviews:
Jennifer Callaghan: "A fantastic guide book to lead you on your Camino. Great descriptions of the various villages and towns that you are walking through, but even more so the terrain that you are undertaking while walking in the mountains".
Worth mention is definitely the oldest guidebook for the Camino de Santiago pilgrimage – The Codex Calixtinus. Many of the things that we know about the history of the Camino and the pilgrimage to Santiago come from this set of 5 books, so they are very important.
More Camino stories
Once you've worked your way through all of those that are always at the top of the recommended list, don't forget that there are plenty of other Camino books that you could enjoy! How about Elizabeth Musser and her Promised Land – wonderful works of fiction? If you enjoy the spoken word more, how about listening to one of our favourite podcasts about the Camino de Santiago is a great way to find out more about the Camino as well?
If you're trying to inspire your kids to come with you (yes, you can walk the Camino with kids!) then try reading them one of these.
Is your favourite book not on the list?
Let us know what Camino de Santiago book has inspired you the most to walk the Camino:
Make 2021 your Camino year!
Bring your family, bring your friends, or walk the Camino solo.

It is an experience you will never forget.
Flexible itineraries Luggage transfers Specially selected hotels
Contact us