Follow the Camino are supporting a very worthwhile initiative this year – a pair of avid runners are hoping to become the first married couple to run the entire French Way carrying their own luggage! If you think its tough enough walking the Camino, imagine what it will be like for this pair running the whole way!? And no, they're not crazy – they're doing this for a very worthy cause and will be in training for this monumental mission over the next few months. The 10-day run from the Pyrenees to Galicia will be gruelling, however, we've backed these two tough cookies to pull it off without too much difficulty, especially considering the story behind it.
A Challenge to Run the Full French Way on the Camino
Agnieszka and Marek are going to run 500 miles (or 800 kilometres) along the Camino de Santiago as a personal challenge, and also to raise funds for treatment of their wheelchair-bound friend so that he might walk again someday. Agnieszka and Marek are hoping to raise money and awareness for their friend Mirek who has a spinal cord injury from a motorbike accident he was involved in.
The couple first heard about the Camino three years ago in their local church. A lady told them about her walking journey through the French Way over a couple of years in stages. Being quite new to ultra-running, Agnieszka thought – 'I will run the Camino one day'! A few years behind Agnieszka, Marek progressed his running regime from becoming a marathoner, ultra-runner and Ironman, falling in love with ultra-running, and trail-running in particular.
In trying to plan something big for 2018, they had some long races on their minds but places like Egypt and Morocco seemed too dangerous. Then, recalling their conversation at the Church, Agnieszka suggested the Camino as a project they could do by themselves, in their own time. They talked about the Camino idea for some time and then agreed to do it, deciding to help somebody else to give something back during the process. Last year at the Clonakilty Marathon, Marek met his friend Andrzej who pushed another friend in a wheelchair to support Mirek's cause. Inspired by this they decided to contact Mirek directly and amazed with his positive thinking and strong belief, the couple agreed to do the Camino on the Run to raise funds for him.
A Very Worthy Cause – Mirek's Story
Mirek's full name is Miroslaw Hetmaski. He's 37 years old and lives in Katowice in Poland. Seven years ago, his life changed dramatically. While riding his motorbike, he hit a car and suffered multiple organ injuries, spinal fractures and a severe spinal cord injury resulting in quadriplegia.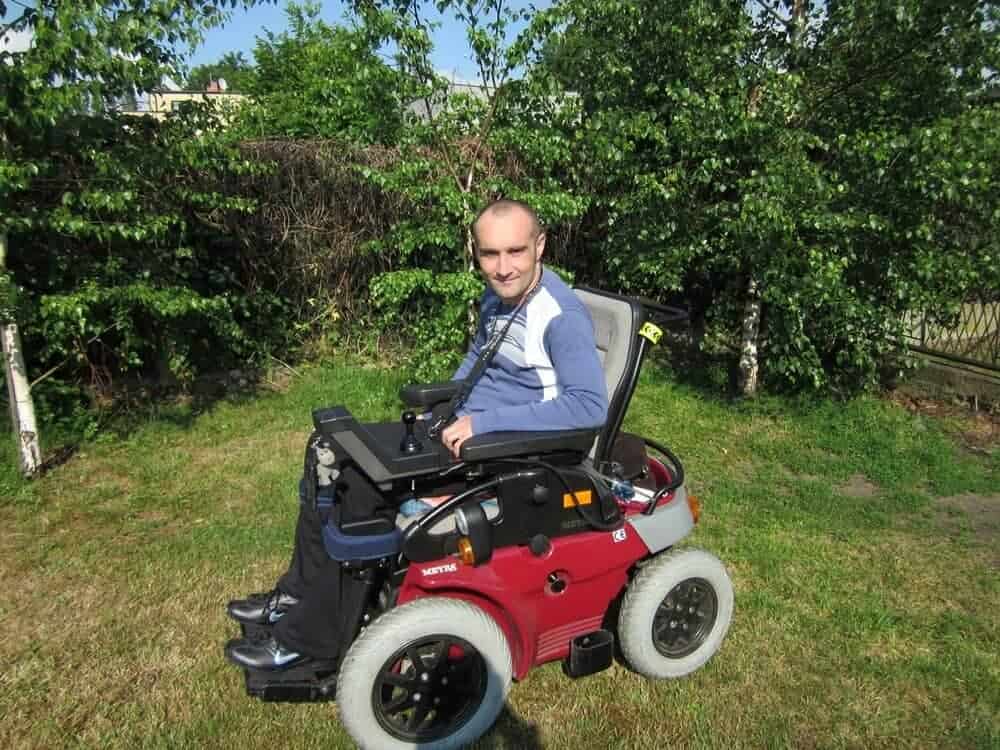 Since then, Mirek has been confined to a wheelchair and needs assistance every day. To improve his condition, he needs expensive rehabilitation and unfortunately, he can't afford the €750 monthly cost. His only income is from state benefits which barely cover day-to-day bills and expenses.
Until he was 31, his life was totally different from what it is now. He had plans for his future, was hoping to have a family some day and was interested in many things like sports, motorbikes, music and helping others. Every day he tries to exercise as much as he can on his own, however, he needs professional treatment to have a chance to stand on his own feet again. His dream is to be able to walk again, even with support or crutches – so that he can live independently. He strongly believes this will happen one day and hopes he'll then be able to help others in need.
Learn more: Download your FREE Camino e-book!
Discover the routes and sections of the famous Camino de Santiago pilgrimage.
Download
Meet the Ultra-Runner Couple
Agnieszka and Marek Pamula have been running marathons and ultra-marathons for years. The married couple hail from Poland originally and currently work in the pharmaceutical industry in Dublin – Agnieszka working for Pfizer and Marek for Bimeda.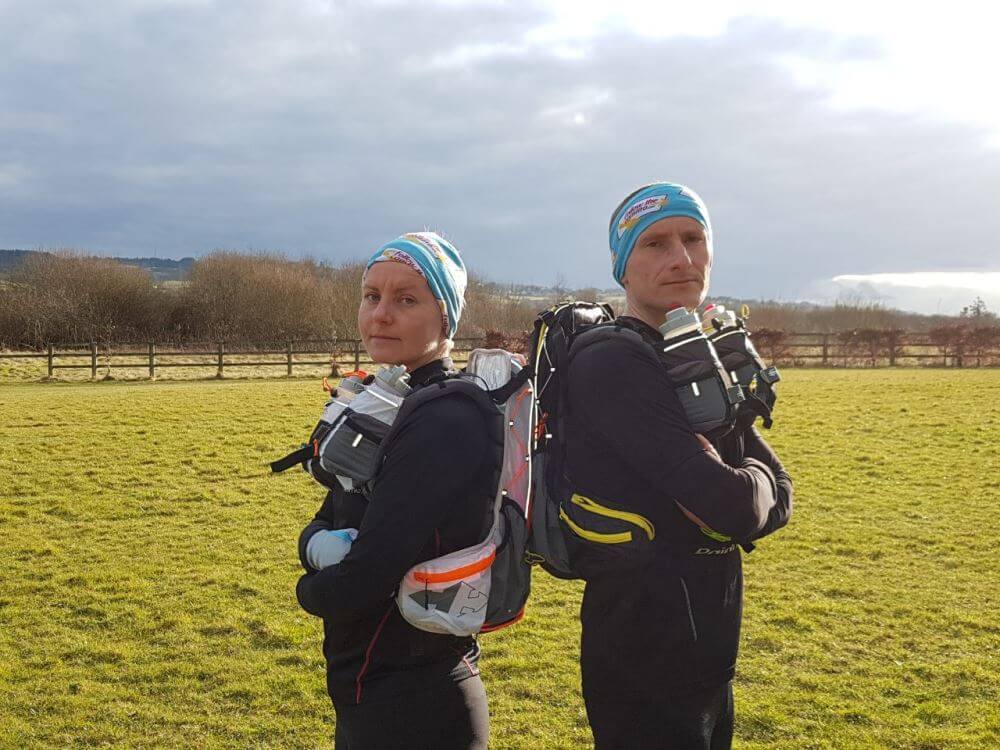 Marek only started running four years ago but is already hoping to complete his 50th marathon in December this year in Clonakilty. If he achieves this, he will be awarded a Silver Medal from the Marathon Club Ireland. Last year, Agnieszka ran 100 miles in 24 hours at the Connemara 100.
Training runs start in earnest this year with the Tralee Marathon on 18th March, followed by the Western Way marathon the following week (both 42km long). April brings the Connemara Ultra Marathon which is 63km long and then the couple will take part in the Cork Marathon on June 3rd when they will push Mirek the whole distance with the help from some of their friends. These are only a selection of the runs they are taking part in this year.
All the races they are running together are in preparation for the Camino Run apart from two which they will race for time – the Cyprus Ultra Marathon in May (107km) and the Wicklow Way Ultra Marathon in June (127km) – although they'll certainly help with getting some mileage on the clock!
The French Way Camino Route in 10 Days
The Camino de Santiago is a network of medieval pilgrimage routes throughout Europe which culminate in Santiago de Compostela in Galicia in Northwest Spain at the Cathedral of Saint James. Nowadays, many people walk (or cycle) the route for religious, spiritual and cultural reasons and it has now become one of the most popular walking holiday destinations in the world.
Follow the Camino's Expert Camino Planners have devised a plan for Agnieszka and Marek so they can run an optimal distance on the Camino Frances each day, given the terrain and gradient, to get them to their destinations on time. They'll stay in hand-picked accommodation, so they can refuel and rest their weary bodies each day and will be wearing lightweight ultra-runner gear, carrying lightweight backpacks with all their gear for the whole Camino packed in.
The Camino on the Run training started in March 2018 and Agnieszka and Marek will fly to Biarritz in France on August 18th. Two days later, they will start their run from the quaint old town of St Jean Pied de Port in the magnificent French Pyrenees. The couple hope to reach Santiago de Compostela ten days later on August 29th and will fly back to Dublin after a well-earned couple of days rest and relaxation.
How You Can Support Camino on the Run
If you'd like to track their journey, Follow the Camino will be sharing updates over the next few months. You can also go to their Facebook Page or Instagram Page where information on training runs, marathons and fundraising events will be published. Remember to shout Buen Camino to them if you're at any of their training marathons and they might even have a surprise for you!
Agnieszka and Marek are hoping to raise €5,000 which will provide rehabilitation support for Mirek for six months. Mirek's belief is that doing good always has a way of coming back to you so please help Mirek to realise his dreams. If you'd like to support him and donate to this cause, please go to https://www.gofundme.com/running500milesformirek
The Camino is Open for 2023 Bookings!
Book 3 months in advance to recieve a 5% discount!
Reconnect with your love of travel on the ultimate bucket list adventure through Spain.

Whether you have 5 days or 50 days – there is a Camino for you.
Flexible itineraries Luggage transfers Private rooms & bathrooms
Contact us