---
In this episode of our talk series, Sean from Follow The Camino did some Camino Talk with Tom Friesen. Tom is a passionate Camino Walker and the coordinator of the London (Ontario) Chapter of the Canadian Company of Pilgrims, a non-denominational and volunteer-run association. Tom and many others work together to support Canadians interested in the pilgrimage of Santiago de Compostela.
Due to his work as a Hospitalero, Tom experienced the pure Camino lifestyle, leaving him with a rich treasury of knowledge and stories.
Who is Tom Friesen? What is your role within the Canadian Company of Pilgrims?
I finished my working life as a teacher at a school for the deaf. I did that for over 30 years and had a great time. When it ended, the Camino was there for me. I always enjoyed hiking in a group and found out about the Camino. There's a local support group here in Ontario, Canada. We have local chapters across the country and each group operates on its own. It's coordinated naturally, but very loosely. We're more enabled than actually controlled at all. I'm a local chapter coordinator and have been for a number of years because I love this kind of conversation, this kind of community.
I worked as a Hospitalero in Spain in 2006. Then, I worked a couple of postings. We usually had a Hospitalero training with trainers from Spain, a joint meeting of the Americans on the Camino and the Canadian Company of Pilgrims. The people from Spain were not sure if that's going to continue because there weren't enough people responding to the training to justify sending people over from Europe. So that training they offered had ended up in North America. I then approached Mary Virtue, who was a friend I met in 2005 and who worked as a Hospitalero herself. She and I decided that we will run our own training here in Canada. Over the last 13 years, we've been offering training sessions to people and had about 30 training walks here in Canada.
What is an Albergue? Why are they important?
To me, the marvellous hospitality of Spain makes the Camino possible as a route that is accessible to everyone. Most of the Albergues or Pilgrim Shelters are private enterprise operations. Somebody has basically opened a part of their home or a building, specifically to give people hospitality and to earn a living. I worked at a private Albergue and that was an interesting experience. The other options are Donativos, which are less frequent. They can be a part of a church or a city building that's been turned over to make space for pilgrims. The Donativos do not charge a fee. We only ask people for a donation to keep the accommodation open and do not base their entrance on what they give us. So, that's something we do to hopefully convey the hospitality and the spirituality of the Camino.
Are Hospitaleros people that volunteer to help out and operate these accommodations?
Yes. In many of the Albergues, the Hospitaleros are actually the owners. Often the charge might be around €10 for a night's stay, in Spain. In France, Portugal and Italy they are usually more expensive. The group I work with has volunteered to be with the Donativos. Sometimes, we take in less money that way because people will come and decide that "Donativo" means free. We try to convince them that it doesn't. But having volunteers is the only way to keep this kind of system open and available.
So, it's more than just a Youth Hostel?
Exactly. The Albergues usually have a welcome reception area. Also, there is a kitchen and dining room, sometimes the Hospitaleros will organize a meal, often with the help of the pilgrims. The pilgrims are also welcome to go out and eat in the community. By having the Albergue there, the community often has a basis of financial support to keep going. As a member of the community for the half-month that I volunteered to work, I learned that you get quite popular. They recognize that you're enabling subsistence for the community. One difference to a hostel is, though, that you're expected to stay for only one night and then move on unless you're sick or injured. It depends on the time of the year how flexible the host will be about that.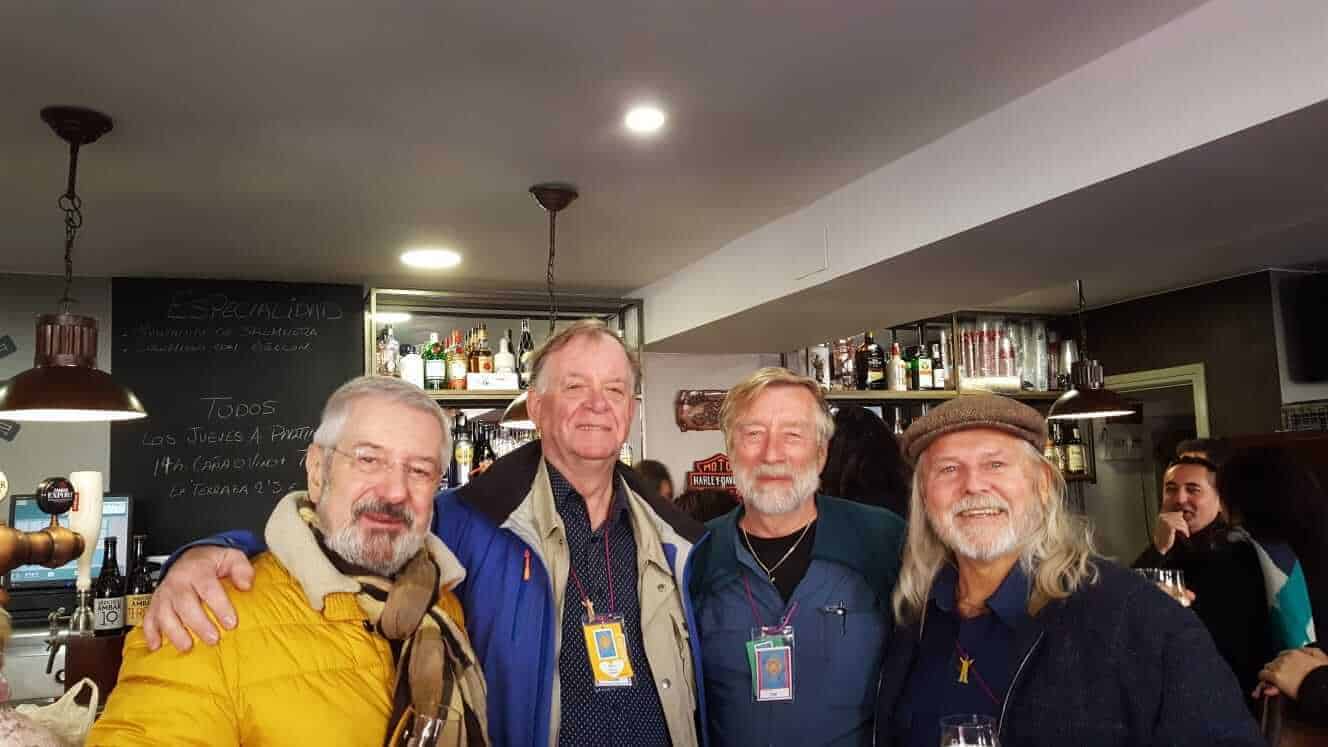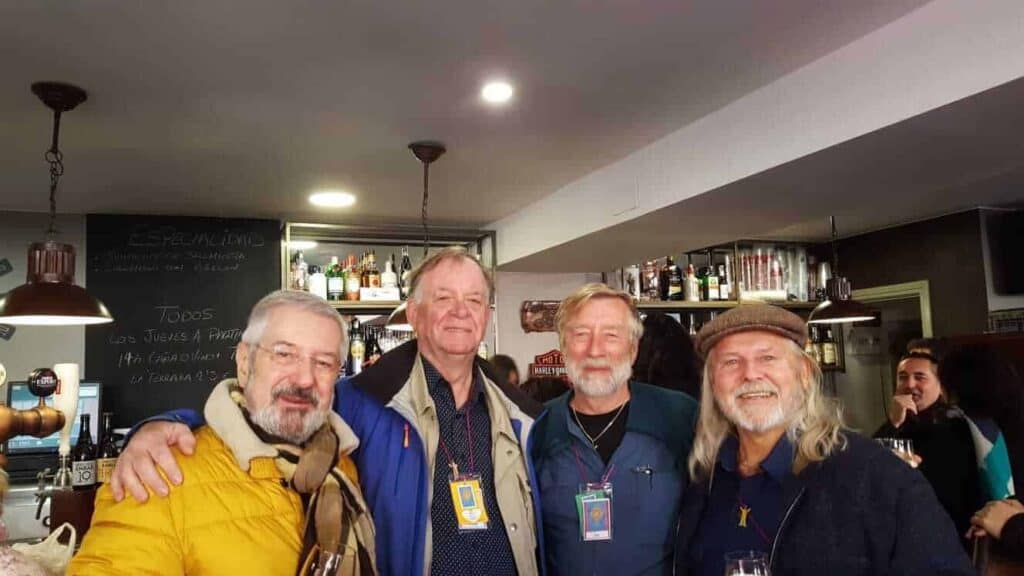 It's all part of the onward movement of the pilgrimage…
I should also say that to stay at an Albergue, you need a credential, which is like your pilgrim passport. It is stamped and dated nightly at the Albergue as part of the check-in. And it's also a requirement to get the Compostela in Santiago. They require actually two stamps per day for the last hundred kilometres. In fact, they're only looking at the last hundred kilometres for walking pilgrims and at the last 200 kilometres for cyclists or people who are on horseback.
Why did you work on the Camino and not a trail in Canada? What is special about the Camino?
I think there's a number of things that make the Camino unique. I do recognize that there are other pilgrim routes in the world. We have some in Canada and, certainly, other countries have their share of them. For me, due to the tremendous sense of hospitality the Spanish have, there is a sense of feeling welcome and honoured. You're doing something that feels having this true value. I think the other element is, you have left your own place. And I describe a pilgrim as a person who leaves home to find himself. When you step away from your job, from your role in your family and your community, you are free of the expectations that other people place on you. You give yourself a gift of time to explore what is really important to you; what is really valuable to you.
Walking for several hours often brings up the endorphins in people, so there's a natural Camino high that builds under the physical. We often joke that people look like pilgrims after a couple of weeks because their clothes are a little more loose-fitting.
But I think beyond that, there is this sense of community that you're walking with people from all over the world. And their racial background, their faith, their culture, their language doesn't matter. You can connect. And we often see what we call either teams or Camino Families of people travelling, taking on roles where they actually work and support and help each other. One person is the medic and one is the guide. Someone is a translator, a cook, or a social director. Someone is the intervener or peacemaker. You find that you're walking with people that you care deeply about. And people often form friendships that last way beyond the Camino.
What is the Holy Year and why is it important for the Camino?
On a year when St. James Day, which is July 25th, falls on a Sunday, it becomes the Xacobeo or a Holy Year, which has special meaning in Santiago. Most Catholic saints have a specific day to celebrate their life and what they achieved. So July 25th is the holy day for St. James. And many people have a St. James activity they will do. The Holy Door at the back of the cathedral will be open, which is only happening during Holy Years. Your Compostela has extra meaning when you arrive there. You may get more time in purgatory shaved off than in a normal year.
It certainly creates a bulge of people coming to Santiago. In normal years, about half the people who arrive in Santiago are Spanish, and the other half come from hundreds of countries around the world. They may have less religious intent. I certainly feel that there is a lot of people, probably a third in my estimation, who are walking with some religious faith. But the Holy Years are special. They happen every five, six or 11 years. Next year is going to be interesting because I don't know if the Camino will be fully back in operation by then. Probably, the numbers will be somewhat muted by the current crisis we're having.
Is there going to be a rush or challenge to get a bed?
Certainly, in the busy times of the year, there is a preoccupation with getting beds. In the last Holy Year, which was 2010, we sent 35 Hospitaleros or more from Canada to Spain. And I think people said, it's going to be tough to walk, I think I'll go volunteer instead. So that actually was our highest year of Hospitaleros to help in Spain. We usually send between 20 and 30 but in 2010, we had not only been training people for a couple of years, but we also sent many people to work.
They really tried to bump up the infrastructure for the Camino in 2010. I heard that they were actually surprised that on the Frances there weren't as many people as they thought there was going to be. Referring to the Camino Frances as only The Camino is not actually accurate. The Camino, in general, is a network of several different ways to get to Santiago. I like to think of the Scallop Shell. It's a radiating fan of spines, like all the routes arriving at the centre in Santiago. So, there are many different routes to Santiago and the other routes took the pressure. People were thinking that the other routes would be quite quieter but everybody had the same thought. So the people in the Frances who had bumped up their services to try and take this load were a bit surprised that they weren't more stressed.
The Camino will be extra special to us after this lockdown.
Yes. One of my current interests is how to keep the Camino alive and available for people when we can't physically go there. Sadly, I had to cancel our spring meeting. That was just for safety and to meet the rules that they're now demanding in terms of limited meeting spaces. But I'm trying to keep contact using Zoom as a major way to chat with people, to extend information, to provide resources. And there are lots of podcasts, blogs and books.
Why should returning pilgrims "Unpack the Camino"?
I think people go to the Camino and they find it to be this amazing experience. When they come home, they try to talk to their friends about it who haven't done it and who are not too interested in doing it. Their friends ask a couple of questions, but then the conversation quickly turns to the current sport championship because people have no referent for it. And here somebody has come back with a burning desire to talk about something that's been central and critical in their life. And they don't have a community or a connection for that. That's why we have meetings.
We're having a virtual meeting tomorrow. We'll take the opportunity to let people see who's walked, which routes and when. So the people can exchange phone numbers or e-mail addresses, get together and have a conversation afterwards. Very often, we have what we call an "Unpacking your Camino". It's quite simple. In general, we ask people something like, what were your expectations ahead of going? What were the surprises you had? The challenges? What are you remembering the most? How are you keeping your Camino alive in your life when you can't be on the Camino? We share these stories.
What effect does the Camino have on people?
I agree with Arthur Borse who said something very interesting in his book "Living in the Focus". His idea is that in our commercialized competitive advertising world, we lose sight of what we really want to do, where we plan to go in life. And when we get to the Camino, we suddenly find that we're doing something that just seems totally integrated with our personality, with our goals and the people we want to be with. And he talks about attestations you can answer yes to: There's no place I would rather be. There's nothing I'd rather be doing. There's no one I would rather be with. This I will remember well, and I think the Camino has that effect on people. They go, yeah, that's exactly what I was supposed to be doing right then.
Do you notice a difference in the type of people that do the Camino?
Well, I first walked in 2005, so I've got a 15-year perspective, not a thousand-year-old perspective. It's interesting to look at the towns along the Camino. Some are starting to re-energize. My very first posting as a Hospitalero was in a tiny village which back then had only one woman living there full time. And that's changed. Now there's more Albergues or businesses open. The Camino has re-energized because the numbers have consistently built since 2000 with a steep uptick in the number of people going.
But I think there's some commercialism to the Camino. It has been like that 500 years ago, too, because there were a million people walking to Santiago. And they, of course, walked back home, too! People obviously required services that the locals were happy to provide. I talked to Spanish people and they say, I'm doing this job because this gives my family some employment.
There are more commercial aspects that give people more options now. Sometimes people get dropped off at the beginning of town by a van, and they walk through this historic town and get their pilgrim passports ready and knock on our door. They come in for the stamp and then they go out of town and back on the bus. And that's their Camino. I don't put any judgment. I think the Camino hopefully makes you less judgmental because you don't know what people are carrying in their backpacks or what their body is going through. So, it's not for us to judge. It's just for us to be open to welcoming people and giving the smile of hospitality when they arrive.
What do you think about non-traditional Caminos in other parts of Europe and the world?
One of the other hats that I wear as a volunteer is, I was a president of an overall umbrella group that helped to facilitate and organize hiking trails across our province. The fact that people can step on a volunteer-managed trail and walk six or eight hundred kilometres by themselves in the part of the province, is a tremendous source of pride to me. So, I'm glad to see this opening up. I don't know if we get the same kind of open hospitality as in Spain. Their sense of hospitality goes back to thinking they can make a good living doing that. But they're not gouging, they're trying to enable. I think if we do that, then there are real authentic operators in other places and with other religions. And I see that as very healthy.
Sometimes when I've been on the Camino, I've seen for example a Korean walking with a Japanese friend. And for them to be friends, if you know the tortured history of those countries, that's a wonderful thing. I've seen other friendships that cross over what would have been old folks. You often hear people say, go get the world leaders walking into the Camino, we'd have world peace. And I think if we extend the Camino to other places, it can only be a good thing.
What did you learn about the Spanish culture?
I love the Camino, and I think it's a spectacular experience, but I don't think it does a very good job of orienting people to what's going on in Spain. One of the advantages of being a Hospitalero is that you're staying in one place as a citizen of the town for an extended period time. The second time you go into a place as a customer, the Spanish open up their hearts to you and start to recognize you as somebody who has worth to talk to. You get to know the place, the Spanish people and their rhythm. The pilgrims get up early in the morning and out of town before it gets too warm. So they've left the place before the shutters come up in the stores and people come on the street.
In the morning, Spanish people are greeting each other, having coffee and are not in any hurry at all to transact their business. The social connectedness is much more important. I love that lesson for us. The markets typically are open until like 1 o'clock in the afternoon and then shut down for the siesta hour. That's when the pilgrims arrive in town. I remember on my first Camino, when I came into a town, I thought, nobody lives here! Where is everybody?
Pilgrims also go to bed early and miss the evenings when the Spanish are out in the streets. Spanish people will drive to their downtown parking lots and walk around till late with the kids dressed in their finery, meeting and greeting each other, admiring the children and having a wonderful time socially. They don't have dinner until nine or 10pm. Spain has a very interesting set of cultural expectations and differences that are significant and that have been, in some cases, tragic for them and for other countries, but are tremendously interesting and worth understanding. And the pilgrims, in their occupation with their pack and their feet, don't see it as widely as I'd like them to.
What is your favourite memory or place of the Camino?
Well, my favourite Camino is always the Camino I'm on right now. I've been very lucky to walk a number of routes. I walked across the country from Roncesvalles to Santiago and on to Finisterre in my first year, in 2005. The next year I only walked a part of it for two weeks, with my Mallorcan friends so we could finish the Camio together in their holiday. I love the path past the Cruz de Ferro, walking into this beautiful valley. You should see the towns there: Molinaseca, Ponferrada… You're also walking downhill, which is harder on your body but easier physically. But I love each of the Caminos.
What is this pendant you are wearing?
It's called a Muñequito and it's the emblem of us Hospitaleros. It is a person holding out their arms, a welcoming gesture. The idea behind it is, we are offering hospitality to all. Inside the emblem, there are a bunch of other people with their arms similarly stretched. That hospitality is a very strong feature of my life, along with my family, friends and the Camino.
Thank you for this great conversation, Tom!
Embrace the Camino
Solo, with friends, with family or as part of a guided group – Let us help to create your dream trip!
Reconnect with your love of travel on the ultimate bucket list adventure through Spain.

Whether you have 5 days or 50 days – there is a Camino for you.
Flexible itineraries Luggage transfers Private rooms & bathrooms
Contact us
---
About Camino Talks
Camino Talks is a collection of interviews about the famous Camino de Santiago. We talk to the people that make it so special and share their stories with you. By Follow the Camino
---
16th April 2020
Don't forget to share this post!