---
The Camino Spirit in Canada
In this episode of our talk series, Sean from Follow The Camino did a Camino Talk with Mary Virtue. Mary is the coordinator of the Victoria Chapter of the Canadian Company of Pilgrims. She is also a Hospitalero and has walked and cycled the Camino de Santiago multiple times.
At home in Victoria, Canada she is actively working with the Canadian Company of Pilgrims to support future pilgrims, welcome back those who finished their Walking Holiday and to organise training walks and other meetings. Due to her volunteering work and her numerous Camino experiences, she has great stories to tell.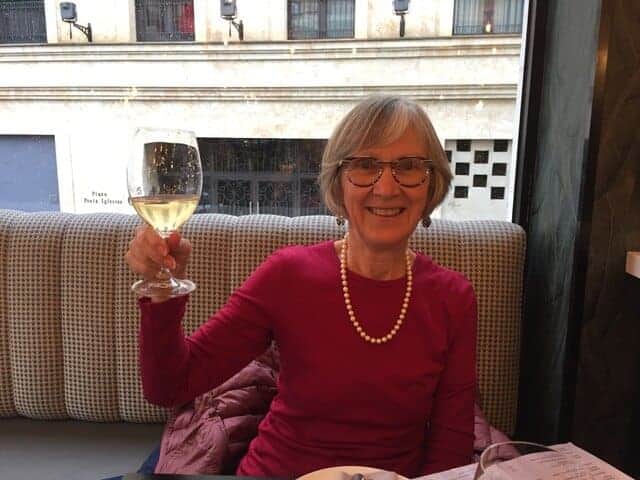 The Camino is Open for 2023 Bookings!
Some of our top accommodation booked out in 2022, so get in now to secure the best accommodation for your Camino!
Discover this empowering journey across Spain, Portugal and France for yourself.

Journeys from 3 to 90+ days available.
Flexible itineraries Luggage transfers Private rooms & bathrooms
Contact us
How did you get involved with the Canadian Company of Pilgrims on the Camino?
Mary (00:28):
I'm a retired librarian. However, when I wasn't so retired and working, I visited a friend in Kelowna. Her son walked through the room looking quite thin and I said, Oh, he's lost weight. He said, yes, I've just walked 800 kilometers across Northern Spain. I was amazed because this was 1998 and not a lot of people heard about it. So, I decided that next year for my 50th birthday, I would do the Camino by bicycle. Why did I choose the bicycle? Because I felt that I can't be away for more than three weeks because I had an eight year old, an 11 year old and a 15 year old at home. I would be leaving my husband with three young kids.
By day three of that cycling trip in 1999 I knew that I had to come back. My first opportunity to come back to the Camino was a notice from the American Pilgrims Camino Group, saying there was going to be a Hospitalero training in Toronto. This was in 2005 and my way to get back. I could get back! Why do we have that feeling? I think some people walk or cycle the Camino and then check it off their list. Then they go to Machu Picchu or Shikoku, they do something else. For others, it is: I have to get back, I have to get back, I have to get back.
What did people think when you said you were gonna go to Spain on your own, on a bike? Did they think you were crazy?
Mary (02:28):
My 15 year old was giving me lectures: don't use any earphones, always wear your helmet and remember to use your light at night, all the things that I had been telling him for years. Some people thought I was crazy. One friend, well: When I told her I was going to cycle across Spain, there was this long pause. Then I asked, do you want to come with me? So she said, can I? And I said, yes, you can because you're older than me. I'm doing this for my 50th, I don't want any young chicks along the way.
Many people who do this celebrate something or find themselves in a space in their life where they need something. For instance, a Victoria woman walked in 2015 to celebrate her 80th birthday. By herself. Carrying all her stuff. Never took a taxi. Never had her stuff carried for her. It's absolutely amazing. You know, she's my hero.
I met lots of people who I've been laid off, for example a 50 year old accountant: "I'm walking the Camino to see if I want to go back to accounting or if I actually want to become a chef. Cause I've always wanted to become a chef." Two years later my husband and I went to visit them in Melbourne and sure enough, he was a chef now. It gives people enough time to think.
It seems many people are doing the Camino because their life has radically changed. They are looking for answers or work out what to do next…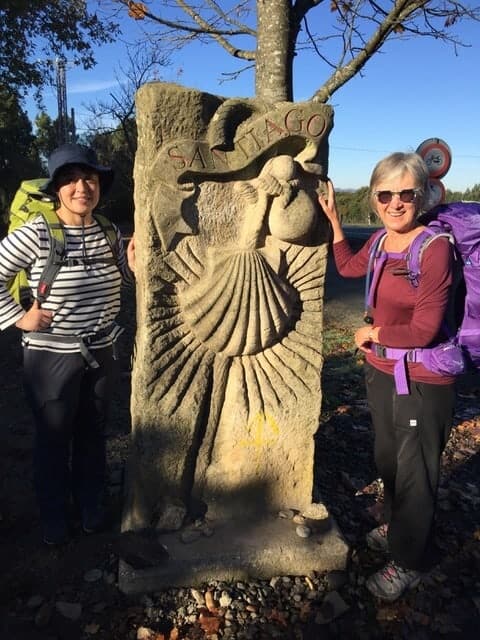 Mary (05:24):
Yeah, I was once walking up a path from the Cruz de Ferro in winter and I had my hood on. I like walking off season. I'm often interested in why people walk. For about a week, I had walked on and off with this guy from Portland. Finally, I asked him why he was walking. He said "I'm reenacting 'The Way'". And my heart just fell. I realized, that he has lost his son. And he said, "Yes, I have, and my mother died the year before. I'm carrying their ashes." He was going to throw their ashes at Finisterre. I don't know why but after Santiago, I didn't see him. And as with most things on the Camino, you don't get last names, you don't get emails. They aren't important. That kind of social networking is really not important.
For many people, the first contact with the Camino was the movie "The Way" by Martin Sheen?
Mary (07:10):
Yes. When the comedian in Germany wrote his book, "I'm Off Then", all of a sudden there were Germans on the Camino. When the Japanese chap wrote a guidebook in Japanese, the same; you get different nationalities. But two years after "The Way" was published, it was like the Americans had really discovered the Camino. I've never seen anything like it. I was walking from mid April to mid May then and I heard the funniest comment from over the wall in an Albergue. Early on, maybe the third day. This woman was talking about: "This isn't like the book at all. The book didn't say anything about blisters". It was really funny.
You're in the Victoria Chapter, in British Columbia. What is the chapter and what role does it play in the overall organization in Canada?
Mary (08:24):
In Canada, we didn't have an overarching association. It was a group in Toronto. If someone was interested in starting a group in another city, they just did. In 2002, two of my friends, Wendy Lawley and Marian Graham returned from their Camino and wondered if anyone wanted to see their pictures. The next year they did some public service announcements and put up posters in the library. 75 people came to see their pictures, this was in 2003/2004. In 2006, they somehow heard that I had served as a Hospitalero, so they asked me if I would do a presentation. So I did. I was very interested and I liked these women what they were doing. And so I just started to help them.
For maybe two years, they had run an evening thing. And I said, why don't we book something for the whole Saturday and run a couple of different programs? 150 people came and there were three of us that made banana bread, it was all very low key. But the chapter just got bigger. Wendy was in charge of the chapter. There were only a few activities and a couple of evening things. Our big meeting is called Spring Gathering. We also had a November "Welcome Back" in my house. The first time we welcomed back 30 pilgrims who had been on the Camino that year. In the second year there were 45, the third year 55, and then we decided we'd rent a hall because we were up to 80 to 90 people every November.
How did so many people get involved in this?
Mary (11:28):
The word was traveling, like when you throw a pebble into a pond. This young man threw a pebble in Kelowna and I rippled out in Victoria. People would ask, well what did you do? So you talk about how you walked the Camino. Ever since my cycling ride, I've gone back and walked different routes and they want to hear about it. You start to tell them and their eyes glaze over. This is what we provide that "Welcome Back" for in November. We say, please come because we want to listen to your stories.
What meetings do you organize?
The same thing applies to our spring gathering with about 250 people. Several speakers would be there, usually an international speaker or someone we fly in from somewhere in Canada. We try and get authors, so we had John Brierley two years ago. He gave a wonderful presentation for about an hour and didn't mention his guidebook once. He talked about the Camino as a family, it was fabulous. We always have someone nice like that who will give an opening remarks for about an hour. And then we have three, four or five people who have 45 minute presentations on different groups. We also have breakout sessions, how to prepare for the Camino and the latest gear on the Camino from the local store.
How did you become Chapter Coordinator?
The person who was running the Canadian organization wanted to step down. There were a lot of changes that had to be made. We were getting bigger and needed a constitution. The whole Canadian system was getting bigger. We then had 12 to 15 chapters across Canada. We needed to have some sort of cohesion. I said, "I think you should do that, Wendy. You're the only one who has their hand up right now. You could do a great job." And she turned to me and she said, "I will only do that if you take over the Victoria chapter." That's why I'm chapter coordinator, there was no election. I've been doing this for about five or six years now.
Do your chapters have any connection with other countries and people on the Camino in Spain?
Mary (15:01):
We have a personal connection. A woman that I met years ago, who had found me on Google as a Hospitalero, was over for an education conference. She asked if I could meet her in Vancouver. So I took the ferry over and met her for an hour. And we've become friends. I always stay at their Albergue, their home, when I'm in Santiago. We keep in touch with them. She has also gone involved with an organization and she and her husband provide translation services for us. I think there are other chapters in Canada with their own connections. I know that Tom Friesen, who you spoke with as well, has a connection with the priest in Monasterio. We all have kind of favorite chapters, favorite things that we run.
Our gathering day is a very cheap and cheerful day to attend, $25 for the whole day including food plus all the materials you're going to get. But we still manage to have money to support people in Spain. We've provided a kitchen renovation in one Albergue on the Camino del Norte. We repaired the chimney and installed a new heating system and a stove last year. This is a couple of thousand dollars that we send over each year to one thing or another. This is what we like to tell our membership. We have about 600 people on our mailing list for Victoria and we let them know what we're doing. When they're walking their Camino, they can stop in these Albergues and say hi and leave some Canadian pins or something else. There's a connection there, which is great.
What sort of age ranges and backgrounds are there in your chapter?
Mary (18:36):
I would say, I would say most of the people would be 50 plus in age. Some are younger because they've gotten involved with their parents at some point. We have a variety of backgrounds. Personally, I work closely with Jim Rondeau. He calls himself a recovering politician. He was a member of the legislature in a province of Manitoba for years. We have doctors, lawyers, plumbers. It's just exactly like the Camino, where you can walk with the president of General Motors one day and a plumber on the next and you have no idea who they are. And it doesn't really matter. Half the time, you don't even know their first name. It's a whole cross section of people. I think that's the magic of the Camino. I believe it's the only route where people walk in the same direction for totally different reasons.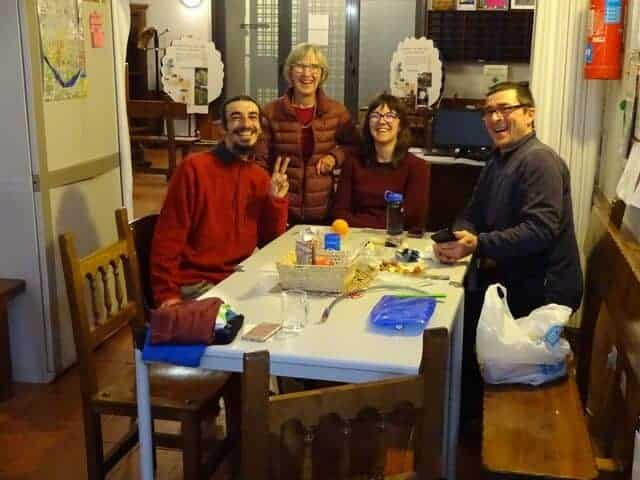 It's a really social community.
Mary (20:36):
Yeah, it is. And, you know, 21 years ago, the Camino was multi-lingual. You had to be able to speak some Spanish or try. I didn't speak hardly any Spanish at the time and I used to end up with some very interesting things on my dinner plate. But now, English is basically the language of the Camino, so it's quite different. It's really changed a lot.
Changed for the better or just changed differently?
Mary (21:19):
It's changed differently. I find in the off season, from November to March, it's quite different. In the towns, people are very welcoming. They're happy to see you. You may be the only one in the bar having breakfast that morning. Now, there a lot of people in high season, May to September. More "Tourogrinos", more tourists. I like to think that the Pilgrim accepts, the tourist expects. A Pilgrim is usually happy with whatever they can get.
I'm not talking about a Pilgrim who is a devote Catholic. It a Catholic pilgrimage, but I'm not Catholic. Yet I feel I have the Pilgrim spirit, especially when I am walking the Camino and I'm happy for anything that happens to me that day. If the sun is shining, I'm happy that day. If it's raining and I'm going West, I'm thinking, well it's pretty good it's raining. Otherwise the sun would be in my eyes. I'm happy for everything.
Is there some rivalry amongst the people who do the Camino? As in how many routes and how often, how long, how they've traveled the Camino?
Mary (23:06):
I don't know if it's a rivalry. It's more of pride and admiration for those. We have a couple of people in Victoria who have walked various routes 14 or 15 times. They are my go to when I have a person who is interested in a certain route. I just mediate and suggest to contact them. I know a lot of the people now and what routes they've walked. They love being a resource. People who have walked the Camino want to talk about it. I mean, look at me!
It's so much more than just a "walking club"!
Mary (24:54):
Exactly. When we do our monthly walks, we get about 20 to 40 people. It's always a 10 km at least, sometimes 15, and we say, this is like a high school dance. You know, the girls on one side, the boys on the other. Here we've got the experienced pilgrims and the ones who want to go. Put up your hand if you've walked the Camino Portuguese, for instance. Those of you who are going to walk the Portuguese, look over there, find your dance partner. Basically it's a walk and talk. As opposed to trying to walk 10 kilometers as fast or as hard as you can. There's still the whole training aspect in it, but you can also talk about boots, look down and say: "Are you really gonna walk in those?
Is it physically challenging to do the Camino?
Mary (26:12):
Some are more physically challenging than others. I found the Camino Del Norte was the toughest one that I've walked, but that was in 2007 and there weren't a lot of facilities on the way. One morning it was 15km before any food. That day I was walking with a couple and at the 10km mark we stopped talking to each other because whatever would come out of our mouth would be not nice. Our blood sugar so low. The one bar that we did find open on a beach had no idea what happened. We would take it all, whatever we could see in that place, some of this, some of that. It was a very bizarre kind of brunch.
I think anybody can walk the Camino as long as they don't expect to walk at the same pace. As someone who's been training for two years to walk, I say that you can't just get up from your desk and walk the Camino. You have to break in your boots and break in your pack. A lot of people don't understand the pack part. You have to have walked with a pack on your back, with the stuff you're going to take. You will see if it's going to be too heavy. The other thing people don't realize is, you walk differently with a pack on your back than you do without one. Your whole posture is different, so you have to get used to that.
One of the joys of walking the Camino is, you'll never eat alone if you don't want to.
Mary (29:37):
There are women who get the bug and they decide they're gonna walk the Camino. And I'm often asked: "I'm planning on walking the Camino, I will walk alone and my family's very worried. Will I be safe?" And I say, you'll be alone for about a minute and a half because when you start, at Saint-Jean-Pied-de-Port or Roncevalles, any of these key starting points, you're not alone. As soon as you check in, there's somebody in the bunk above you or beside you. You're not alone. And I think that's most of the year. Even walking in the winter time, I found there were people on the Camino.
Do you have any funny memories or funny stories?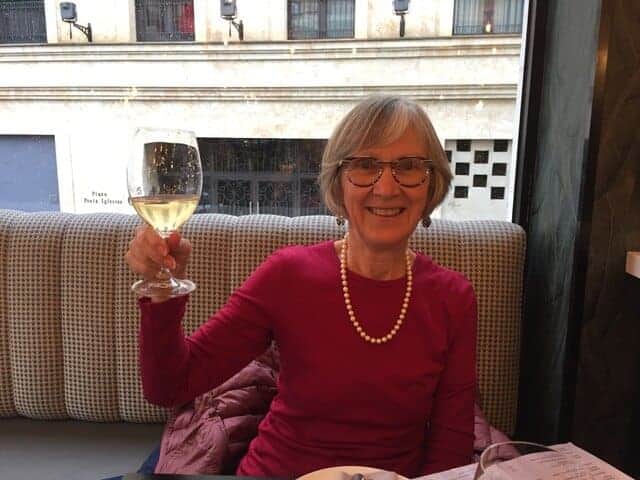 Mary (30:36):
When I was a Hospitalero in 2005, there was always wine at dinner. First, there would be the salad course. Then, the dinner course would come out with a bottle of wine, spaced out to every few people. One chap grabbed the wine, pulled the cork off and he poured himself a little soupçon and did this whole tasting routine. He pointed to his friend: "Can you pass me that bottle?" It had a different label on it. So he reads the label and pours it the same way, the same routine. He said, "Oh yeah, I like this one much better. It's got that certain…" He goes on with this convoluted description of what this wine was. And all I could do was to not belly laugh because earlier that afternoon, the priest and I had taken the carboy of his cousin's wine and funneled it into the bottles. All the bottles were the same.
There's humor every day, that's for sure. People basically laugh at themselves, like why did I bring so much stuff? And a woman who pulls a hairdryer out of her pack goes, what was I thinking? I think the best example of carrying too much you get in Roncesvalles. They've got two or three huge tables in the hall and it's full of new gear that people have carried from Saint-Jean-Pied-de-Port over the mountain and then discarded. Beautiful socks because they didn't need six pairs of socks, gloves, hats, an extra this, an extra that. People just bring too much stuff.
So your tip for new Camino walkers is to stock up in Roncevalles?
Mary (33:27):
Yeah, take an empty pack. You can get it all free! I was always just blown away by all this stuff thinking aren't people going to need this? But they don't.
So, 2021 is a Holy Year on the Camino. Could briefly explain why the Holy Year is important?
Mary (34:11):
It's a Holy Year when Santiago's birthday, the 25th of July, falls on a Sunday. If you walk the Camino in any year, you are forgiven of your sentence when you have taken communion along the way and arrived in Santiago. This is for Catholic people. If you do the same thing in a Holy Year, you're apparently forgiven of all future sins. But they also do more celebrations in Santiago during a Holy Year. The pilgrims are allowed through a different door of the cathedral.
My first year in 1999 was a Holy Year, and it was a huge shock for the Spanish that so many people came. In 1999, I think 140,000 people walked, which is nothing in today's figures, but for instance in O Cebreiro, the Galician government had put up huge tents for the overrun. In a town outside of Burgos, we stopped at an Albergue and the woman said, I'm sorry we're full, but don't worry, we can find a bed for you. The town's folks were opening up their homes.
2021 may get chaotic. I'm not quite sure what it's going to be like. If the Camino is open in 2021, will people be more hesitant? How about travel? I think this whole Covid-19 has brought us up short. We're realizing we travel too much. I get on a plane now like getting on a bus. It has really slowed me down a bit, in my thinking. I don't know what's going to happen next year. Will people be opening up their homes like they've done in other Holy Years? It's obviously a way for the villagers to earn a little money. I think we've all got our fingers crossed that Spain recovers. That's the first. And then we go from there.
How will you spend your time on the chapter this year with the current situation, the pandemic and lockdowns?
I sent out an email just last night, reminding people that our Spring Gathering was canceled and encouraging them to go out and walk. That's it. A few of us have decided we're going to walk the Camino in Canada. So we're going to keep track from today on of how many kilometers we walk and we'll be in touch just the same way that you and I are. We'll let each other know, okay, I'm at Logrono now, or I'm at Burgos. We're going to try and make it fun and keep track.
What a great idea!
Mary (39:41):
Our public health official has said walking is good. Certainly in Victoria, people are very kind. Also, on a lot of our streets, we have the sidewalk in front of our homes and then a Boulevard. So we can keep that two meters distance. We're encouraging people to walk. They have to decide where in Spain they're imagining to start. If they start at Saint-Jean-Pied-de-Port, there's only one really good Hill in Victoria. So I say, climb up and down Mount Doug a few times, but other than that, the Camino is flat, right? Anyway, that's what we hope to do. Keep walking, because otherwise there're going to be a lot of chocolate addicted alcoholics at the end of this.
Thank you so much, Mary! Buen Camino!
Mary (41:27):
It's been a pleasure. Buen Camino!
---
About Camino Talks
Camino Talks is a collection of interviews about the famous Camino de Santiago. We talk to the people that make it so special and share their stories with you. By Follow the Camino
---
15th April 2020
Don't forget to share this post!