Eco-travel, slow travel, and sustainable travel are becoming more of a priority for many people, including pilgrims on the Camino de Santiago. The Camino itself is a relatively sustainable holiday option, but travel to your Camino starting point can make up a large portion of the carbon footprint of the trip. This is where public transport options like trains and buses come in for your Camino!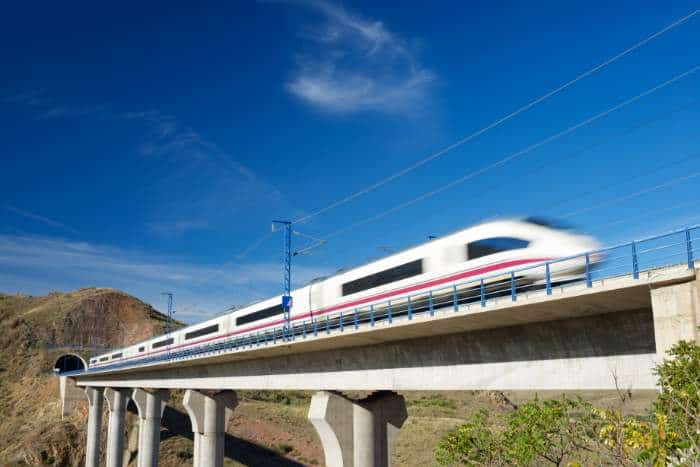 Can You Catch a Train or Bus to the Camino?
Yes! You can catch a train to many of the main starting points of the Camino routes. If you aren't able to catch a train all the way then there will be a bus connection from the train station to the town or city that you are aiming for.
Some of the smaller towns on the Camino may take longer to get to by bus and rail, but if you are willing to take it slow then you can do it.
Public Transport in Spain: Trains and Buses
As you can see, there are a number of train lines in Spain, most of which connect to Madrid. If you go via Madrid you can get to almost any Camino route by public transport.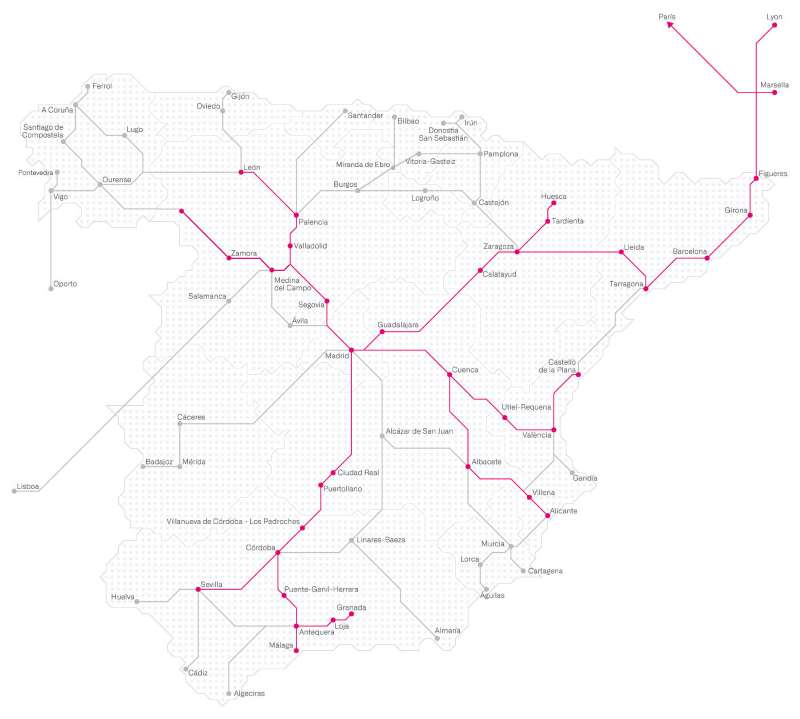 This map is from Renfe, Spain's train provider. You can book your tickets directly through their website, or you can use a service like Omio or Rome2Rio to plan your journey.
Omio and Rome2Rio will also let you know about bus options and combos that might suit you better. They will also often work better for journeys between multiple countries.
For buses, there are many more providers. ALSA, Agreda, Andorinha, Bus Almeria Madrid BAM, Daibus-Interbus, Damas, Dainco, Flixbus, Linebus, Lycar, and OUIBUS and more all offer inter-city bus options. It is much easier to navigate these options through a third-party app. The biggest provider is ALSA, so you will see this one a lot.
Inter-city buses in Spain often have a high level of service. It is common to have WiFi, USB and plugs, reclining seats, and a more comfortable "superior seat" option on board. Some buses even have meals, personal movie screens, and a hostess on board!
The other option for trip planning is Google maps. Simply put in your starting point in Europe and the town that you are starting your Camino in and see if Google can suggest a public transport option to get you there.
Public Transport in Portugal: Trains and Buses
The national rail service in Portugal is CP – Comboios de Portugal.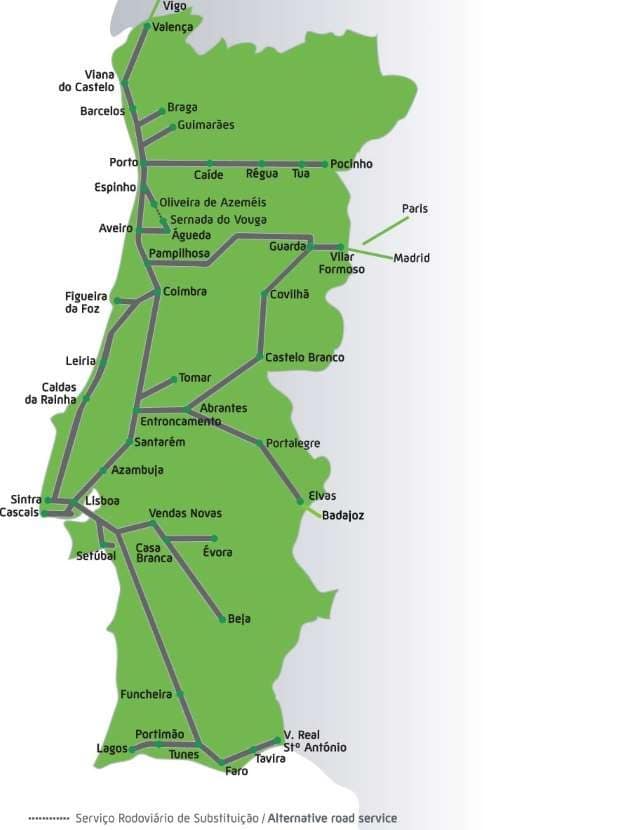 The main Lisbon to Porto train line is great for access to many of the main starting points along the Camino Portuguese.
There are a large number of bus companies that operate between cities in Portugal too. Rede Expressos and Flixbus are two to check.
Public Transport and the Camino
Whether you are heading to the Camino from the UK or from Germany, there is definitely an option to get there by public transport. If this is an option that you are considering, get in touch with us! We would love to help you out and make sure that your Camino matches up nicely with your transport choice.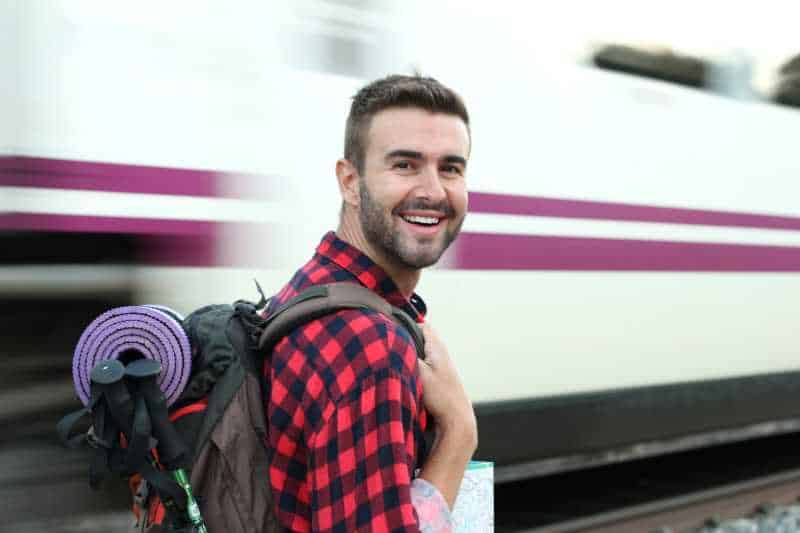 Follow the Camino is passionate about eco-tourism and has been working to become more sustainable for over a decade.
You can read more about the actions that we are taking to become more sustainable on our blog. We are passionate about slow travel, and we love being part of the eco-tourism movement.
As part of our commitment to sustainability, we offset the carbon footprint of the travel done with us. You can read more about that here.
If you are interested in making your next trip more eco-friendly, check out these tips.
We would love to help you to plan your next adventure – so get in touch with us for a free quote! We are ready to help.
Buen Camino!
The Camino is Open for 2024 Bookings!
Some of our top accommodation are already booked out for 2023, so get in now to secure the best accommodation for your Camino!
Discover this empowering journey across Spain, Portugal and France for yourself.

Journeys from 3 to 90+ days available.
Flexible itineraries Luggage transfers Private rooms & bathrooms
Contact us