The Camino de Santiago runs through many incredible cities and towns, including León! The historic and bustling city of León is the endpoint of the 5th section of the Camino Frances and the beginning of the 6th section. This makes it an excellent place to stop for rest days or to start your Camino if you don't have time to walk the full French Way.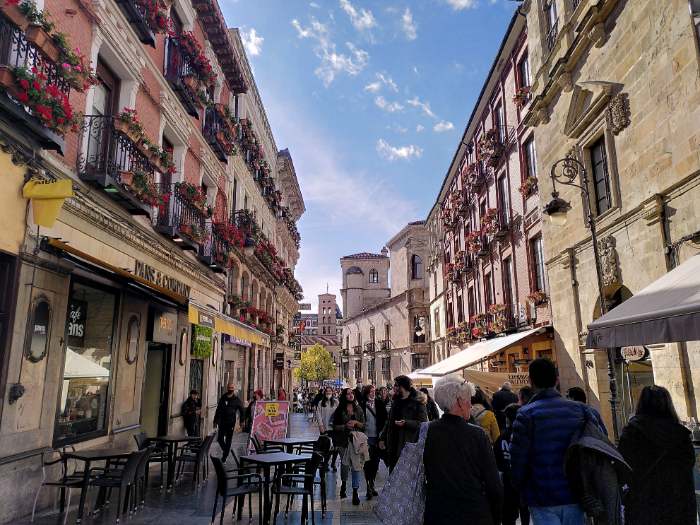 History of León
León is a city and municipality of Spain that was founded as a Roman military encampment by "Legio VI Victrix". It was part of the final stage of the Roman conquest of Hispania.
Its modern name, León, is derived from the city's Latin name "Castra Legionis".
In 910 AD, the Christian prince of Asturias shifted their main seat here from Oviedo and León became the capital of the Kingdom of León. The kingdom took an active part in the "Reconquista" against the Moors, becoming one of the fundamental kingdoms of medieval Spain. In about 987 the city was sacked by Almanzor. It was later reconstructed and repopulated by Alfonso V.
In the middle ages, the Leonese kingdom joined with the Crown of Castile and the city's prominence began to decline again. In 1833 León acquired the status of the provincial capital of the now combined Castile and León region.
León was one of the first cities to hold an uprising in the Spanish War of Independence. On 20 July 1936, a successful military coup d'état took place in León, marking the beginning of the Spanish Civil War.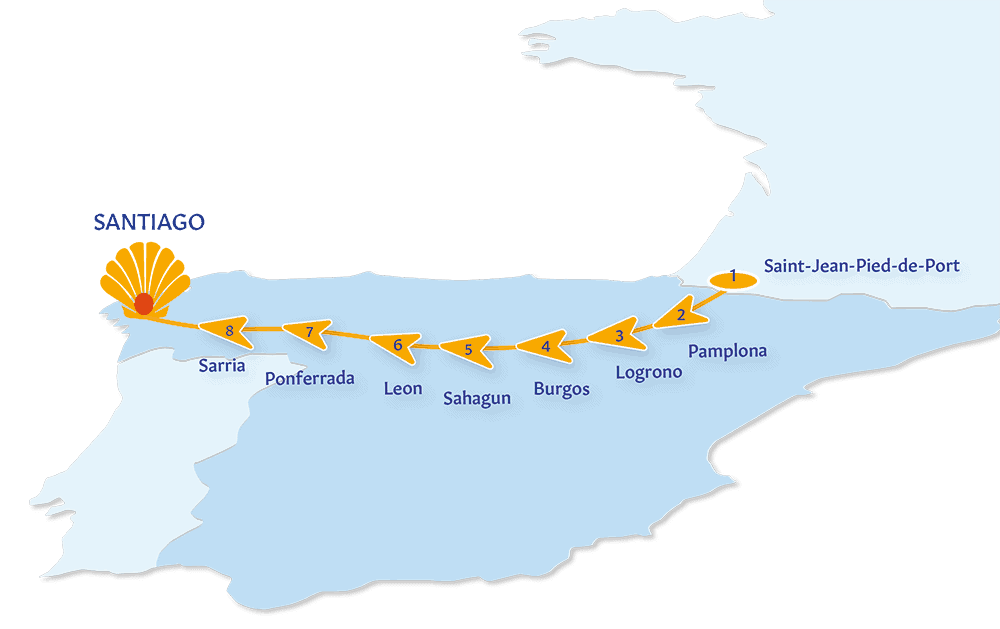 The City of León Today
Today, the city of León is a thriving hub with a population of about 125,000 people. It is by far the largest municipality in the province.
As well as being one of the biggest cities on the Camino Frances, León receives plenty of traffic from all across the north of Spain. Several train lines, bus routes, and major roads converge here.
There are a huge number of activities and sights in Leon for everyone to enjoy. There are also several excellent festivals. To enjoy the atmosphere like a local, take a stroll in the Barrio Húmedo district, and stop in one of the many restaurants.
Top Things to See and Do
León Cathedral and Museum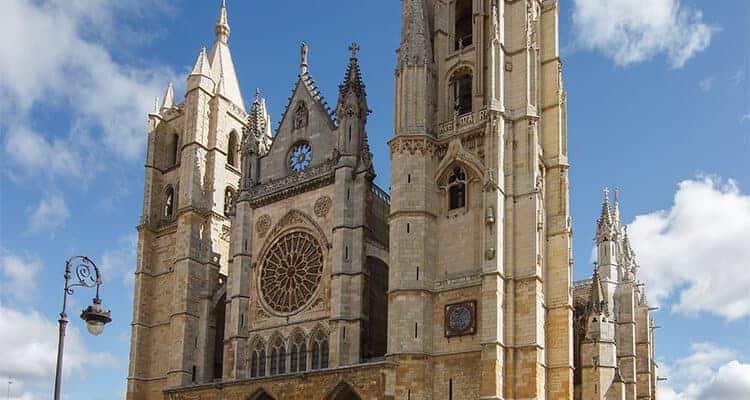 Leon's Cathedral is one of the best known and most visited sites of the city with good reason! The French gothic style Catedral de Santa María de Regla de Leon was built on the site of King Ordoño II's royal palace. It is said that the cathedral was built after the defeat of the Moors to give thanks to God. The buttressed facade is lovely and is lit up at night. The huge rose window and stained glass windows are a real highlight. On the inside, visitors can listen to an informative self-guided audio tour while wandering the impressive space. After your visit, learn more about it and some of its exquisite objects on display at the museum.
Museo de León
León Museum is packed full of fascinating objects from the history of the province of León. You will find things dating from the Bronze and Iron Ages, the Roman period of the city, and more recent periods. There are also artefacts from Las Médulas, the ancient Roman gold-mining site. For pilgrims, there is an area dedicated to the Camino and the connection between León and the Way of Saint James.
La Casa de Botines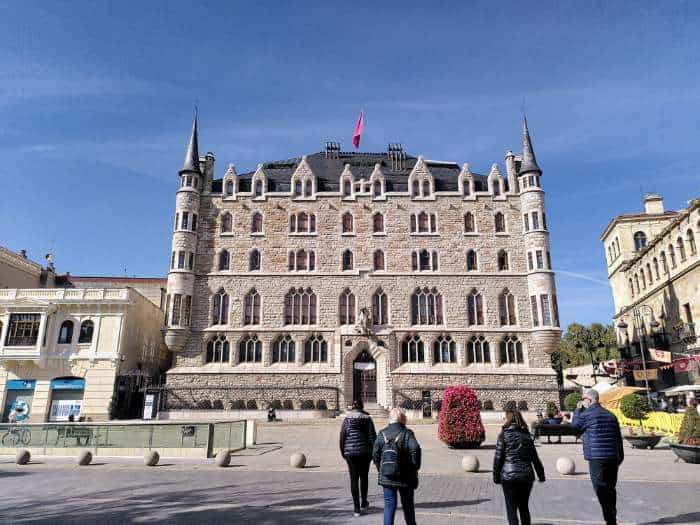 Architect Antoni Gaudí might be best known for his work in Barcelona, but his buildings are found in northern Spain, too! León's Casa Botines is a striking Art Nouveau building, built between 1891 and 1892. The building is less quirky than some of Gaudí's other works and looks a bit like a medieval fortress or castle. It was actually inspired by León's magnificent gothic cathedral.
Los Guzmanes Palace
To the right of Casa Botines, you will see a grand Renaissance building that is the seat of the provincial government of León. The Palace of the Guzmanes was built in the 16th century and was designed by the architect Rodrigo Gil de Hontañón. Construction on the palace stopped before it was finished, and it ended up being abandoned for many years. In 1882 the provincial government purchased the buildings and completed and restored them.
Museo de Arte Contemporáneo
Also known as MUSAC, the Castile and León Museum of Contemporary Art houses more than 1,650 works by around 400 Spanish artists, as well as many international works. The outside of the building is also a treat, with hundreds of coloured glass panels covering the outside. The glass colours were chosen to mimic the colours in the stained glass windows of the cathedral.
The Basílica de San Isidoro
This gorgeous Royal Collegiate Church stands on the edge of the Old Town in León. Consecrated in 1063, this stone building comprises a fresco-filled Royal Pantheon; a museum; and a library. It is also a luxury hotel! Dine in among the ancient cloisters and look down on the fountain-filled courtyard from your bedroom.
The Convento de San Marcos
The convent of San Marcos is a stunningly beautiful collection of buildings in Leon. It's made up the convent itself – now a luxury five-star Parador (hotel); a 16th-century church; and an excellent archaeological museum.
The Parador de León is one of the most iconic Renaissance buildings in Spain. It was built starting in the sixteenth century with a donation from King Ferdinand. The buildings replaced a deteriorated medieval pilgrims' hospital on the route to Santiago de Compostela from the time of Alfonso VII.
Gastronomy of León
Whether you are in León for a visit, or because you are passing through on your Camino de Santiago pilgrimage you are sure to work up an appetite while here. Luckily, the food scene in this wonderful city is thriving.
Pinchos and Food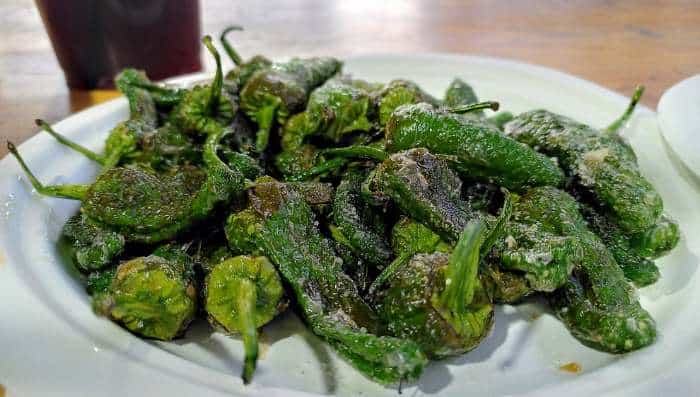 You will find a wide range of lovely Spanish wines, all served with a "pincho" to snack on in the Barrio Húmedo district.
Some of the top dishes to seek out are morcilla, very tasty pork and blood sausage at La Bicha; the charcuterie tapa at El Tizón; and creamy fried potato croquettes at El Rebote. You will also find delicious garlic soup at El Rincón del Gaucho, a dish that is well-loved by pilgrims during the cooler months!
The other part of the city that will delight foodies is Barrio Romántico, nearer the cathedral. Some of our favourite spots here include El Jouja for delicias (delicacies) from León; El Cid for tapas, try the squid and bacon brochette or chickpea broth; El Trébede for picadillo, fried ground pork seasoned with salt and pimentón and served with French fries; Camarote Madrid for paella; and Monalisa which has a lovely range of wine to accompany the squid or fried chorizo pinchos.
A popular sharing option to accompany your drinks is a cheese platter. Spain has a wide range of delicious cheeses, so this is a lovely way to taste several of them!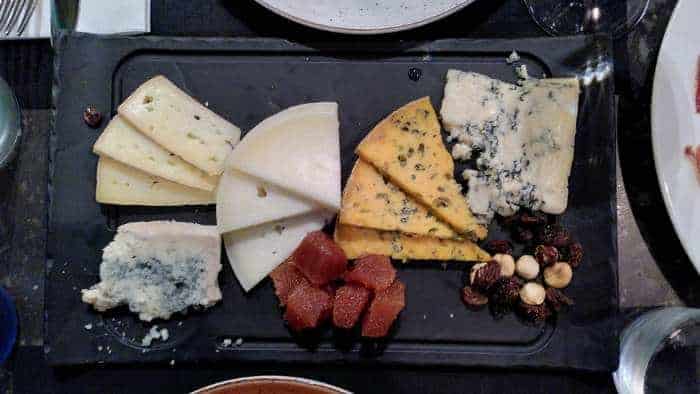 If you are looking for a larger meal, find one of the many restaurants offering Castilla-Leon's best-known dish, roast suckling pig or lamb. Other specialities include trout, Zamora soup, Maragato cocido stew, Botillo, a wide range of tasty sausages, and cured meats.
Wines
When it comes to wine, León has some brilliant local options. Look for wines from DO Bierzo and DO Tierra de León for fruity reds, crisp rosés and aromatic whites.
The best part? The wines are incredibly affordable! Fantástico!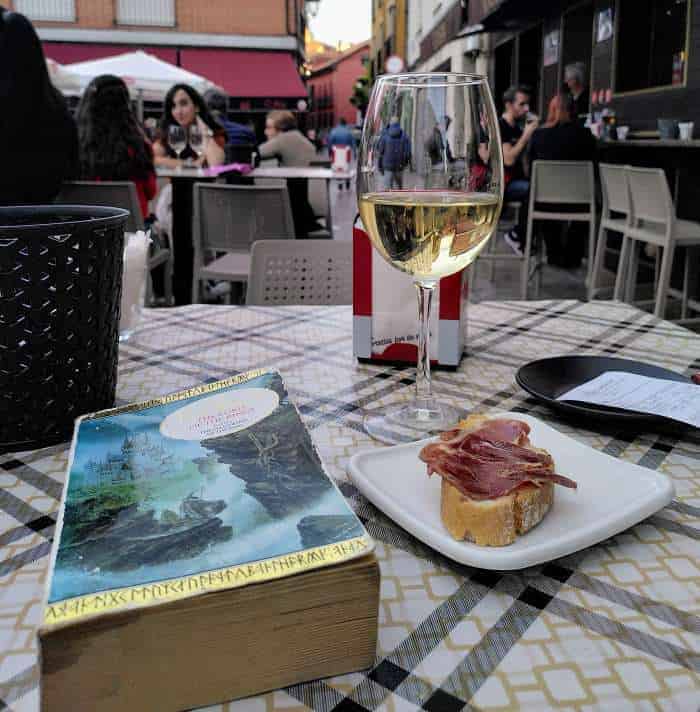 Deserts and Sweets
The sweet treat options in Leon are also excellent. You will often find that your coffee comes with a free small cake or pastry, similar to the pintxos that come with your wine! Seek out places that offer some of the classic sweets of the region.
These include "lazos de San Guillermo" (bow-shaped pastries), "yemas de Santa Teresa" (egg yolk confection), "toscas de la Virgen", "bizcochos de San Lorenzo" (sponge cakes), and "virutas de San José" (fritters).
These excellent sugary snacks have been satisfying the hunger of the pilgrims on the Camino de Santiago for decades!

Make León one of the Highlights of Your Camino
Discover León for yourself on your Camino journey! Add an extra night or two here to give yourself time to recover on your Camino Frances pilgrimage. Even if you aren't planning on walking the section of the Camino de Santiago that runs through León, you can always add a few nights here before or after your Camino.
Follow the Camino has been providing tailor-made tours on the Camino de Santiago since 2006. We love putting together customised itineraries for guided or self-guided walking and cycling trips for our clients. When you book your Camino with us we will be with you from start to finish, from dreaming to planning to walking! Your dedicated Camino planner is here to help with any questions you have and to add anything you might need.
Start your Camino today with a free quote! If you have any questions, get in touch with us.
The Camino is Open for 2023 Bookings!
Some of our top accommodation booked out in 2022, so get in now to secure the best accommodation for your Camino!
Discover this empowering journey across Spain, Portugal and France for yourself.

Journeys from 3 to 90+ days available.
Flexible itineraries Luggage transfers Private rooms & bathrooms
Contact us