Pintxos on The Camino
Travelling in a different country should not only include site-seeing and shopping. If you want to truly enjoy the flavour of a new country you have to mix with the locals, learn about their culture, their history and heritage, absorb their daily lifestyle and most importantly try their traditional food. In northern Spain – that means pintxos!
When walking the Camino routes that run through northern Spain where Pintxos are most prevalent – never miss an opportunity to try them! You will find them all the way along the Camino Frances, the Camino del Norte, and the Camino Primitivo. If you are walking the last 100km of any of the Camino routes into Santiago de Compostella there will be many pintxos options to choose from in Galicia.
What are Pintxos?
Pintxos is one of the most popular snacks in Spain; it is more prominent in Northern Spain. It is usually served in the cafes and bars of northern Spain like La Rioja region, Navarre, Basque Country, and other northern regions.
Spain has 17 regions and each of them has different culture and traditions.
Pintxos is a food that cannot be considered as a meal, but it can solve the hunger in between lunch and dinner.
People often get confused and mix two traditional foods, Tapas and Pintxos. Well, they are kind of similar but not the same. Pintxos are smaller in size and have a different origin. The word Pintxos originates from the Spanish word "pinchar". It means to stab or poke something.
Pintxos; pronounced "Pinchos" in the northern regions and in the Basque country. Pintxos or Pinchos is found all over the northern region but La Rioja, Navarre, and Basque country are famous for their variety of pintxos culture.
Where Will You Find Pintxos?
Just walk into any bar and you will find the counter decorated with a variety of pintxos. You will find the most conventional tortilla pintxos as well as different cuisine experiments on this food item.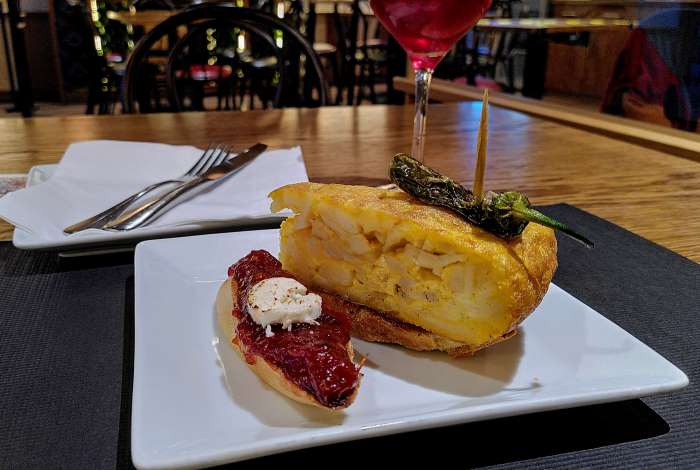 Most of the bars and taverns will offer you cold pintxos. Some will warm them up after your order. But if you want to get the real taste of pintxos, you should go to a specialized pintxos bar. Don't worry, this kind of bar is very available in each corner all across the north of Spain.
These specialized pintxos bars have special menus where food is cooked freshly and you will get the fresh and warm taste. It goes without saying they are costlier but well worth it!
Are You Vegan Or Vegetarian? Download our Ebook!
Our Vegan on the Camino Ebook is full of tips for our plant-based clients, from restaurant recommendations to useful phrases!
Download
How Do You Eat Pintxos?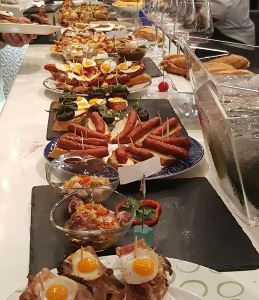 In the pintxos bar, they usually follow two ways of serving. The first one is self-serving. Take an empty plate, select the pintxos you want from a buffet-style selection, and at the end tell the cashier or waiter the total number of pintxos that you had. The bill will be made according to how many and what type of pintxos you ate.
In some bars, you have to tell the waiter what you want and how you want it. The waiter will serve it to you once it is made up.
The Camino de Santiago covers much ground and many regions of Spain so you can have a delicious journey with different traditional Spanish foods from breakfast to dinner.
Pintxos is considered a snack or appetizer which people have in the bar with a drink. They are similar to tapas but generally smaller in size and more detailed.
If you want to try pintxos on the Camino we recommend stopping off in some of the authentic bars along the route. This is the most real and authentic way to sample the culture and the pintxos on the Camino.
Pintxos in the smaller towns might only be a snack of a few olives or nuts, or a slice of classic potato tortilla on bread. The big cities like Santiago de Compostela, Pamplona, Logrono is famous for their variety and taste of pintxos on the Camino.
You will find both cold and warm pintxos with different ingredients according to your taste, like seafood, cheese, vegetables, egg and sometimes decorated with tasty sauces or garnishes.
Things You Should Know Before Going To Have Pintxos on the Camino: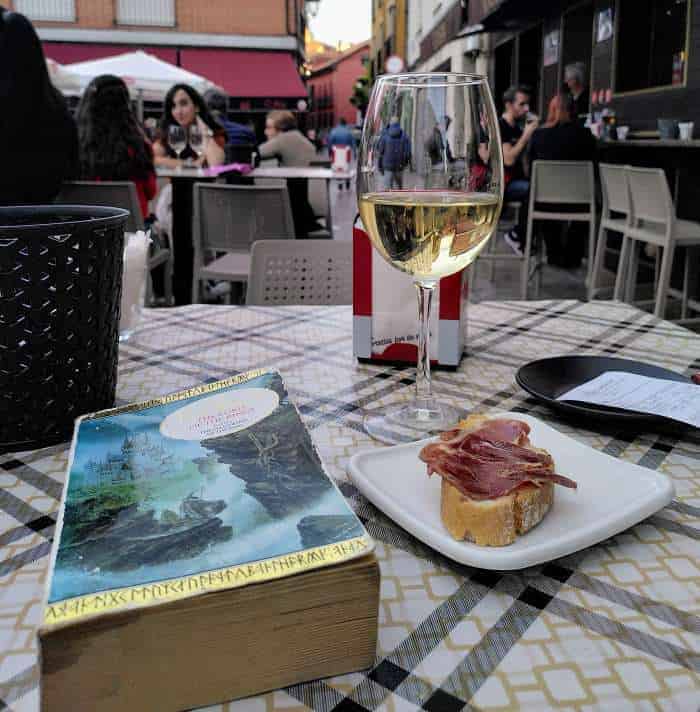 1. Pintxos bar crawl:
Pintxos is a very small snack; a person can usually eat a 3 to 5 piece in one sitting. The Spanish culture recommends going with friends and family to such bars and sharing the experience!
If you want to enjoy the real pintxos on the Camino, you have to hop from one bar to another bar. There are a number of bars, just have one or two pintxos in each. Thus, you can try out different flavours and places along Camino de Santiago.
Every chef wants to do some experiments with their pintxos and thus new exquisite pintxos come in front of you. Every flavour has its own characteristics not to be missed.
2. Tapas And Pintxos are not same:
Pintxos and tapas are similar but not the same. The basic difference is, pintxos are a local dish of northern Spain and are served on a stick that holds them together. They are usually pre-made and arranged on the counter.
Pintxos are more similar to a posh version of a finger food whereas tapas are bigger portions that are great to share.
3.Tip Not Necessary:
In Spanish culture, it is not always necessary to leave a tip. You can tip a waiter if he shows extraordinary attention to you and provides exquisite service. Like many countries in the world, it is not a must in Spain.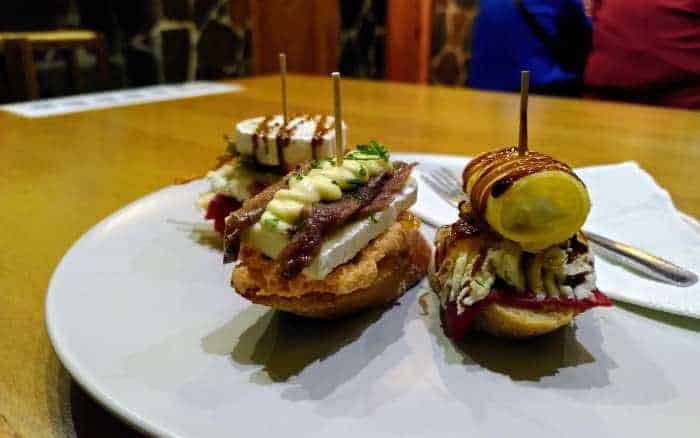 Start Planning Your Next Trip to Spain!
When travelling, you absolutely have to try plenty of delicious local food! Especially a place like Spain, where the local food has international admiration for awesome flavour and marvellous taste.
If you visit the Camino de Santiago, do not forget to step into different pintxos bars as every bar will offer you different pintxos. Pintxos on the Camino de Santiago is one of the many great attractions for international as well as local tourists.
Visit Spain to experience the joys of pintxos for yourself! The Camino de Santiago is the perfect way to see some of the smaller towns and really connect with Spanish culture.
Crawl through the bars, try out different appetizers, talk with the locals and have some chats with them.
Try the start of the Camino Frances to visit Navarre and La Rioja, or the last 100km to experience Galicia! To try the unique food of Basque Country, Cantabria and Asturias – walk the Camino del Norte!
Buen Camino!
The Camino is Open for 2023 Bookings!
Book 3 months in advance to recieve a 5% discount!
Reconnect with your love of travel on the ultimate bucket list adventure through Spain.

Whether you have 5 days or 50 days – there is a Camino for you.
Flexible itineraries Luggage transfers Private rooms & bathrooms
Contact us