If you have been to a service in a Catholic Church before, you probably have seen someone swinging a metal container of smoke. This container is called thurible and filled with Incense. Filling the church with fragrant smoke is a usual practice in the Catholic liturgy. The smoke of burning incense is considered an oration, with the rising smoke symbolically carrying the people's prayers to God. El Botafumeiro is doing exactly that, but with more grandeur through its massive size.
What's special about the thurible in Santiago?
In the Cathedral of Santiago de Compostela, this practice of burning incense can be an impressive spectacle. Like in other Churches, they swing an adorned metal container to spread the smoke. The difference: Theirs is a lot bigger and swings a lot higher.
They even gave it a unique name: El Botafumeiro, which means "the Smoke Expeller" in Galician. It is about the size of a slender, pretty barrel and is attached to a pulley system in the ceiling.
Because of its size and weight (it can weigh up to 150kg) it takes eight people to properly swing it. These men are called "Tiraboleiros" ("Incense Carriers") and they wear festive red robes.
Their job is not easy at all! Handling the ropes requires a lot of precision and strength. If they do it right, El Botafumeiro reaches its maximum speed of 68 km/h in under 90 seconds and almost touches the ceiling with an angle of 82°! It swings back and forth exactly 17 times and is then carefully lowered and stored for the next use.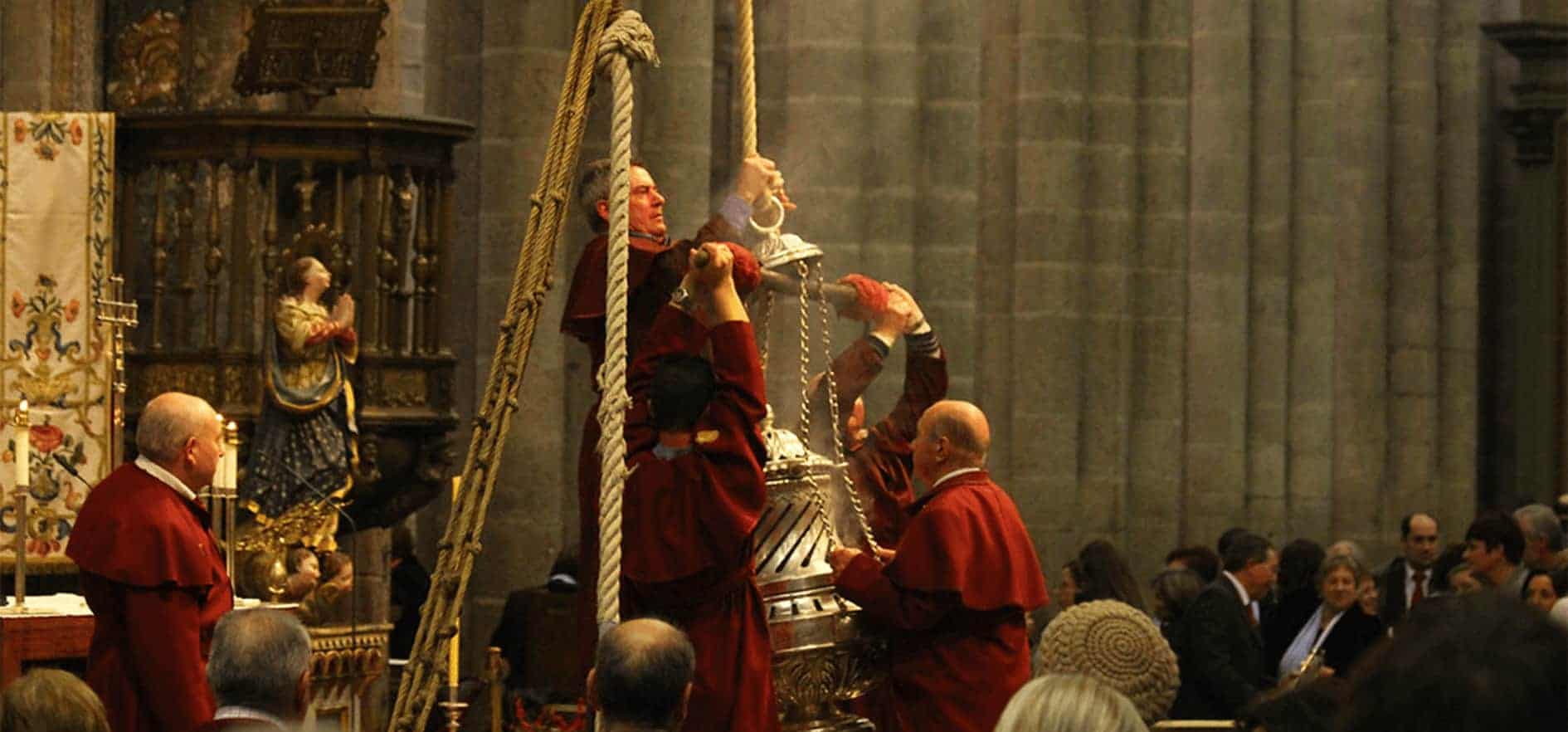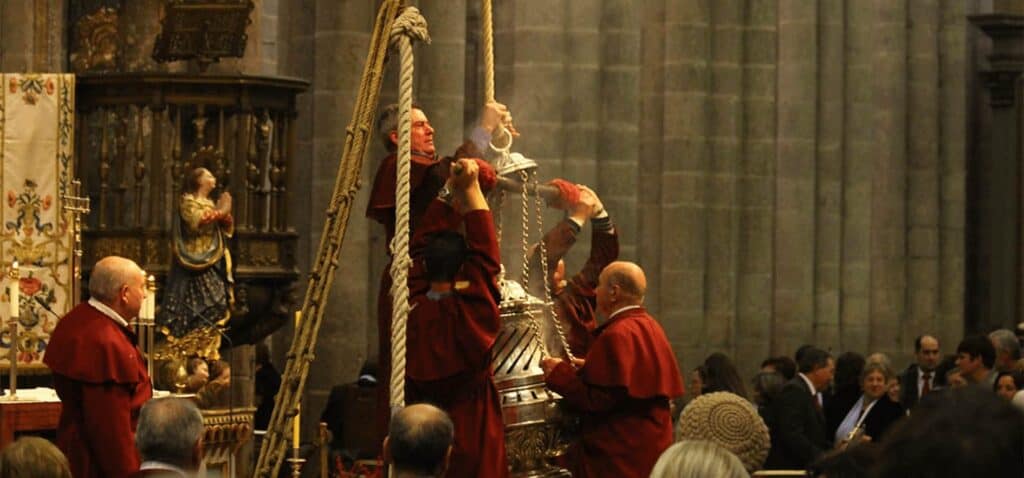 It's an old tradition!
El Botafumeiro has been a part of the service in the Cathedral of Santiago since the 11th Century and is still used today. However, the current El Botafumeiro is not that old. It replaced the last huge incenser in 1851 with a short restoration break in 2006, and again at the moment.
But why?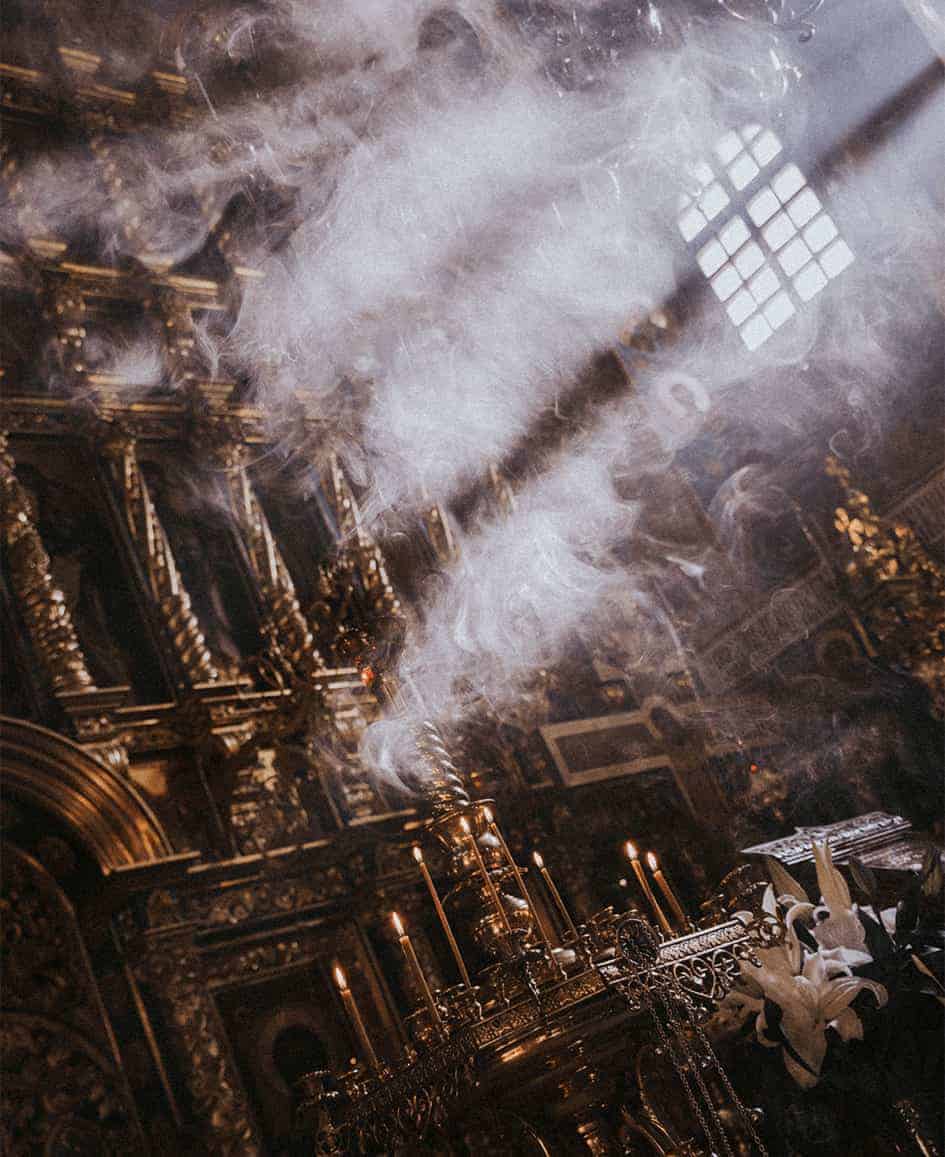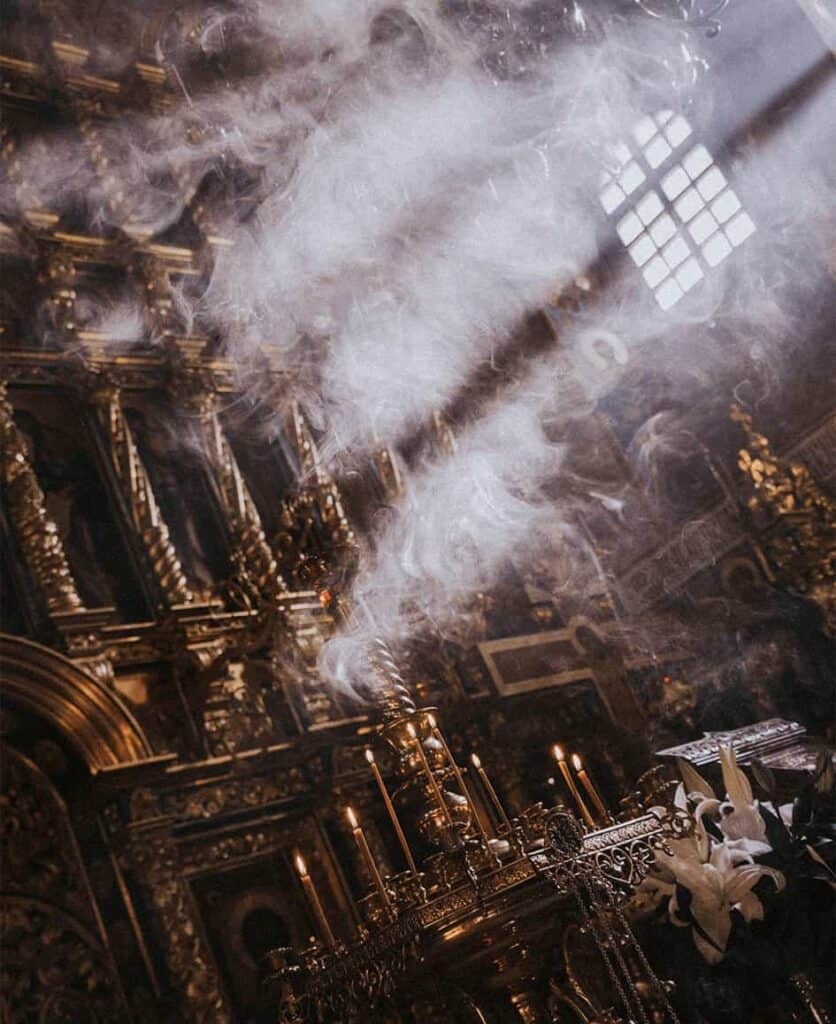 Why did Santiago get such a large incenser in the first place? The Cathedral of Santiago de Compostela is, without doubt, a famous and important Church. Many people arrive there every day and attend a mass to complete the religious aspect of their pilgrimage.
Stepping into the Cathedral and celebrating together with many others who experienced a similar journey is a special moment. The clerics of the Cathedral were aware of this and established an unusually big incenser worthy of such an important moment in the pilgrims' lives. The Swinging of El Botafumeiro is supposed to show a grand scale of praying and offering incense to God.
But in the past, priests probably had a more earthly need to fill the Cathedral with scented smoke: To cover the smell of the pilgrims. Even if their souls were pure and clean, the people surely weren't. They had walked for weeks and probably could only wash when they came across a river or lake. En suite accommodation sadly wasn't a thing back then. Thankfully, pilgrims can wash regularly nowadays and El Botafumeiro isn't needed to cover the stench. We are glad that it is still used nevertheless because it is entrancing to watch!
Are you curious? Watch the swinging of the Botafumeiro in action –
Is watching El Botafumeiro safe?
Some of you may be worried about safety. That is totally understandable; being struck by a bucket of metal filled with hot coal would not be nice. But relax. For centuries, El Botafumeiro has been swinging without any major accidents.
One of the most famous incidents happened in 1499 when Princess Catherine of Aragon visited the Cathedral. Then, of all times, Botafumeiro somehow escaped his ropes and flew through a window. Thankfully no one was hurt. Rest assured that today the ropes get checked and replaced regularly and the incenser is fastened with special knots and techniques.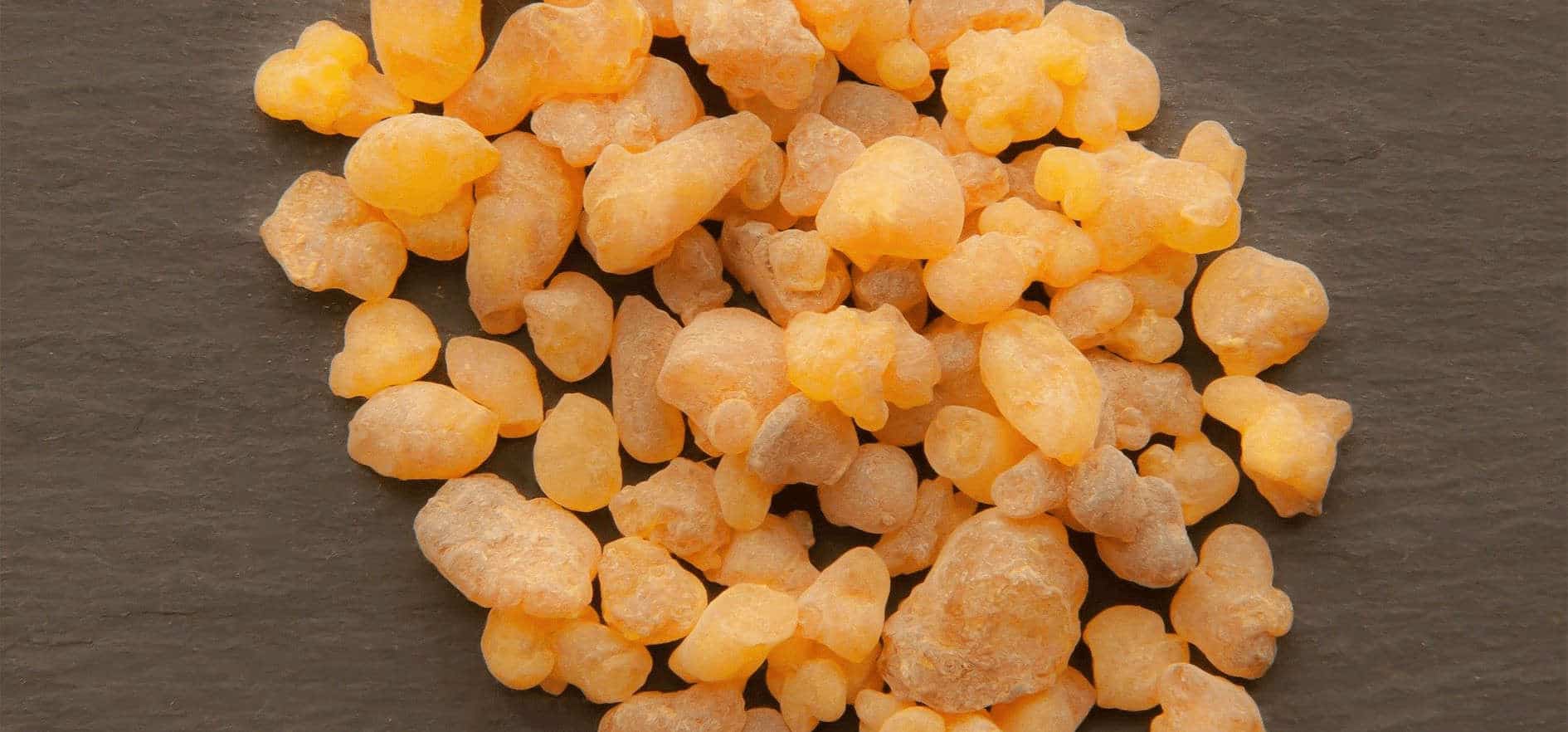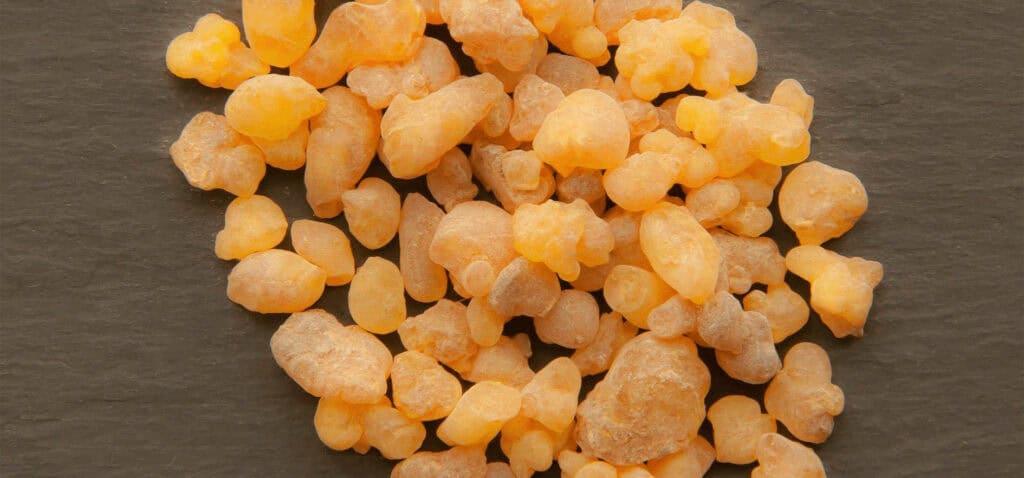 I want to see it!
Are you hyped and want to see El Botafumeiro live? The incenser is not being used in 2020 at all because it is being restored and polished for the Holy Year 2021. In general, El Botafumeiro is swung at a number of liturgical festive events and occasionally at random. If your Camino happens to end up in Santiago on none of these days and you just have to see it in action, don't worry. You can request an extraordinary use of El Botafumeiro by calling or emailing the Pilgrim's Reception Office or the Cathedral's office. It is absolutely mesmerising, but you will need to pay for the spectacle if you request it especially for yourself.
Pilgrims on the Camino Portugues have another chance to see a huge incenser: Tui Cathedral has a really big thurible, too.
Regardless of your beliefs or religion, seeing the huge incenser swinging through a Cathedral is an unforgettable experience. If you happen to be in Santiago on one of the special liturgical days, you should definitely attend a mass to witness it. On the other days, El Botafumeiro will be on display in the Cathedral so you can still pay it a visit.
So, what are you waiting for?
Walk the Camino in 2021!
Join the flow of pilgrims walking the Camino De Santiago in the 2021 Holy Year.

You've never seen anything like it!
Flexible itineraries Luggage transfers Specially selected hotels
Contact us