The famous statue commemorating Pope John Paul II was removed from the top of the Monte do Gozo in Santiago de Compostela. This famous sculpture will be missed by pilgrims on the Camino de Santiago's French Way.
The Monte do Gozo (Hill of Joy) is a famous location along the Camino de Santiago. It is the last hill that pilgrims reach before their final destination of the Cathedral of Santiago de Compostela – and the first view they get of it!
The Sculpture on Monte do Gozo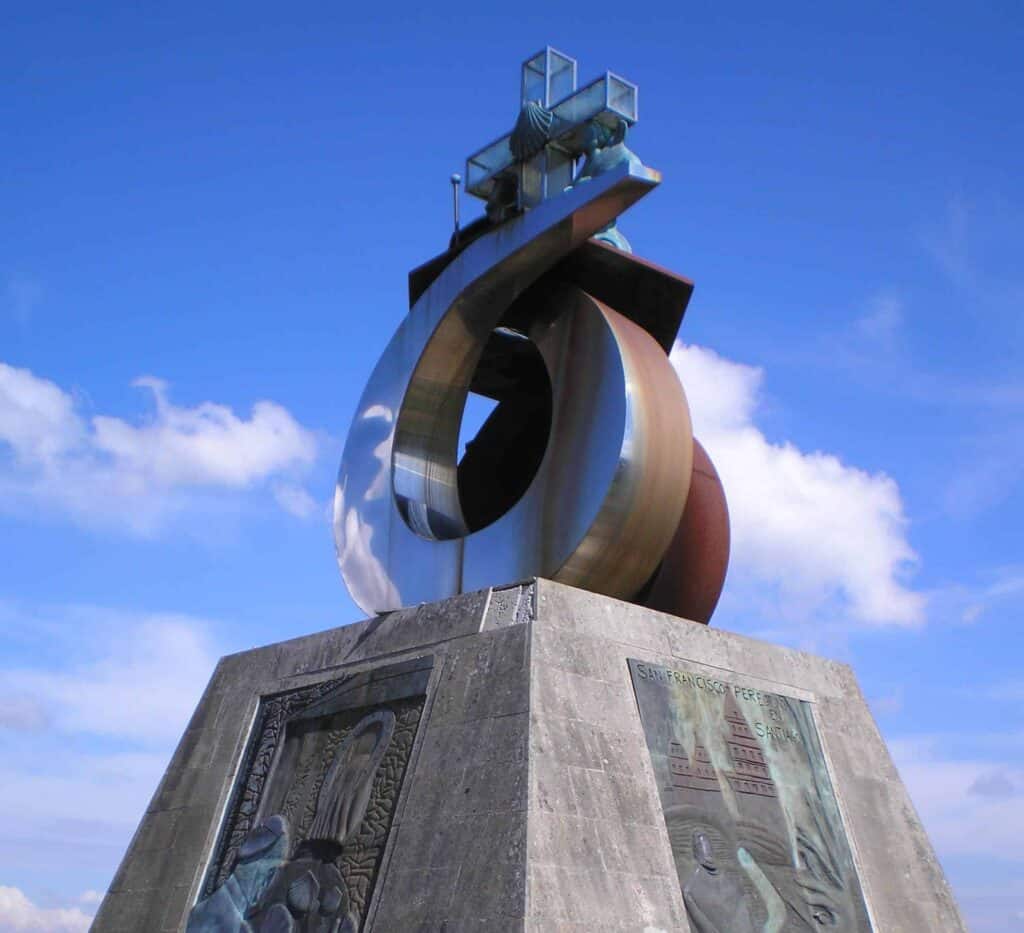 Before last year, an abstract statue commemorating Pope John Paul decorated the top of the Monte do Gozo.
The sculpture had a large pyramidal base with a spiral design on top, and each side of the base also had a plate depicting different events.
The strange design of the statue generated mixed opinions. Some people were fans of the contemporary artwork, but others thought it looked out of place. As well as that, the sculpture actually blocked the view of Santiago de Compostela.
Whether fortunate or unfortunate, the government removed the statue in 2021 for repairs. This is because many parts of the statue have sustained damage from weathering and erosion.
Although the Xunta intended to only remove it temporarily, it will not return to Monte de Gozo. Although it's not entirely clear why, it may be because there is now a better view of Santiago de Compostela.
What is left on Monte do Gozo?
Although they removed the pyramidal base and spiral sculpture, the plates from each side of the base still remain. These plates now lay flat on the ground where the statue previously was.
And, if you're an art-lover willing to take a short 600m detour, there's another popular statue close by! This statue is of two giant pilgrims pointing to the Cathedral with joy, and it's a great tourist spot!
Visit Monte do Gozo on the Camino de Santiago's French or Original Ways
Monte do Gozo is just outside of Santiago de Compostela, and pilgrims pass it on both the French Way and the Original Way. It provides stunning views of the city and is a great place to stop off while on your journey!
See it yourself with Follow the Camino, the walking holiday experts with over 15 years of experience creating Camino itineraries!
Get in touch today for a free Camino itinerary and quote!
The Camino is Open for 2023 Bookings!
Some of our top accommodation booked out in 2022, so get in now to secure the best accommodation for your Camino!
Discover this empowering journey across Spain, Portugal and France for yourself.

Journeys from 3 to 90+ days available.
Flexible itineraries Luggage transfers Private rooms & bathrooms
Contact us
Originally published on 25th February 2022
Don't forget to share this post!