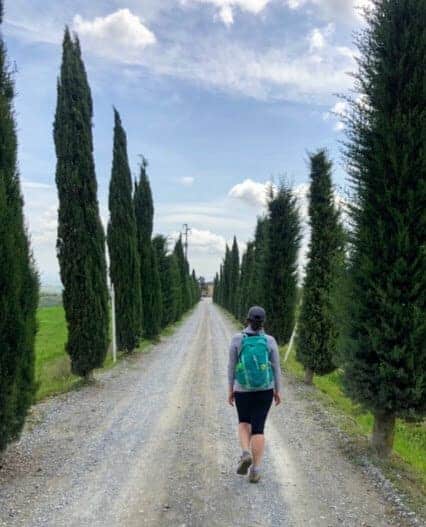 When imagining a walking holiday through Tuscany, following in the footsteps of ancient pilgrims on their journey to Rome, it is easy to get lost in daydreams of rolling hills, cypress trees, jugs of Chianti, gelato, and endless pasta. I am pleased to report that anyone considering this route should happily indulge in these daydreams because the Via Francigena between Lucca and Siena does not disappoint.
The experience of walking the historic Via Francigena route through Tuscany was magical. It was wonderful and surprising as I hoped it would be. Before you embark on this adventure yourselves, I want to share a few of my tips & tricks. I've also added a couple of 'unmissable' places to ensure a fantastic experience.

Trips & Tricks for Your Via Francigena from FTC Consultant, Katherine
Tip 1: Make sure to do hill training
The best tip to prepare you for walking the Via Francigena is to commit to serious hill training before you depart. Part of the magic of this route is the rolling countryside. The medieval walled towns that sit atop the hills in the distance are your daily destination.
These towns, such as San Gimignano and Monteriggioni were strategically built on high ground. They are surrounded by fortress walls to protect them from their old enemies. However, it means your hotel is also waiting for you on top of these steep hills. Your long day of walking will finish with a final push straight up.
The experience makes a carb-heavy, pasta dinner that much more enticing, and well earned.
In particular, I would recommend trying Tordelli Lucchese. It is a traditional pasta dish originating in your starting point, Lucca. However, you'll see it on menus all the way to Sienna.
This dish is similar to a ravioli, pasta stuffed with beef or pork and raisins, bread, spices, and grated cheese.
It is served with a hearty meat sauce and a sprinkle of grated parmesan cheese. Delicious!
Tip 2: Plan, plan, plan!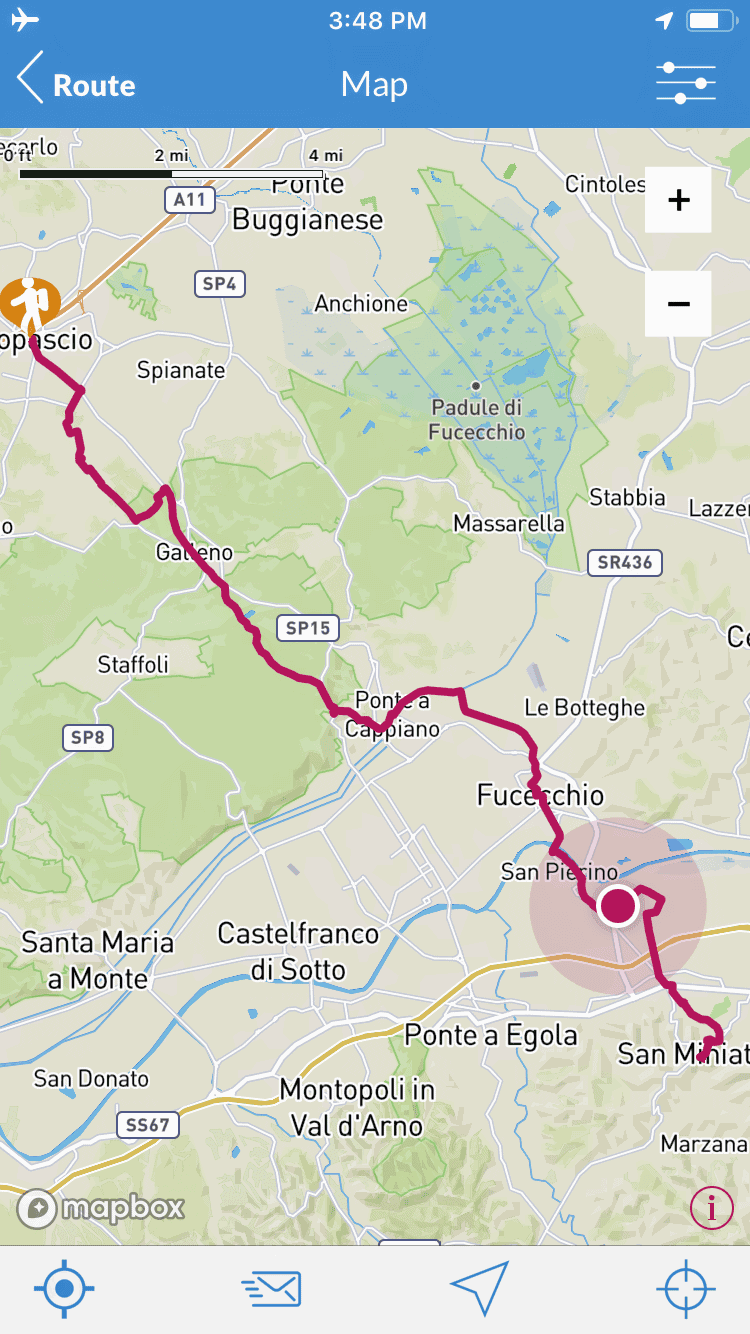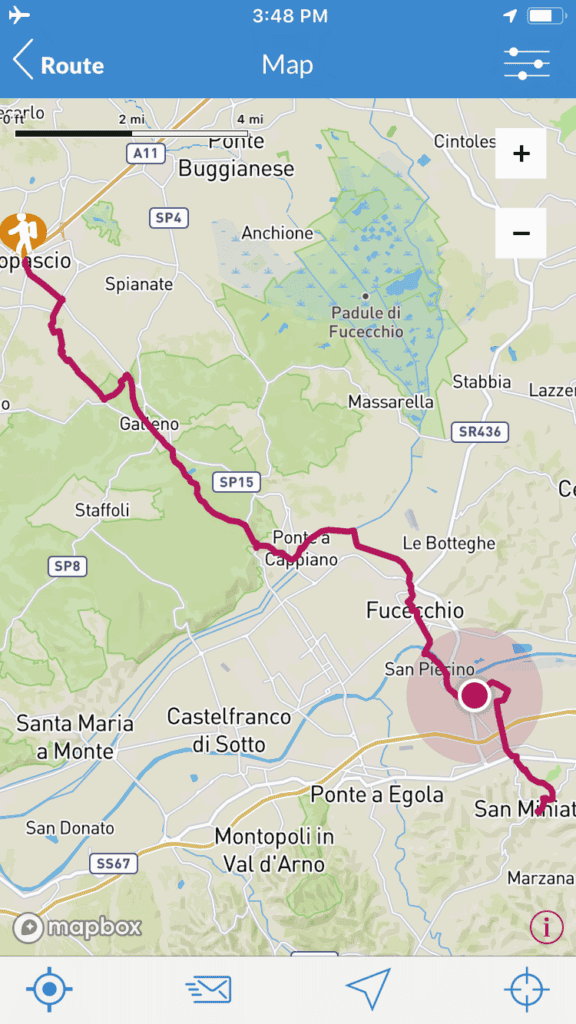 As with all active holidays, it is important to take note of what to expect each day.
Several of your walking days along the Via Francigena will take you deep into the Italian countryside. On these days you'll pass only a few farmhouses and some friendly sheep. So, planning your lunches and snacks ahead of time will be important.
Your walking notes will alert you to days where there are fewer services for pilgrims. The official Via Francigena App will also help and I highly recommend downloading it.
Grocery stores and bakeries are frequent and heavenly, so you can stock up on bread, meats, cheeses. You'll also find my favourite Italian snack food 'Fonzies' for your walking days.
However, on days where you do pass a coffee shop or bakery, I would argue it is akin to criminal not to purchase a pastry and espresso to keep you going.
Look out for some of the incredible fresh fruit and vegetables of the region too. It will change depending on the time of year you are travelling.
Tip 3: Be prepared for rain on the Via Francigena…
If you, like me, hope to avoid the heat of Tuscany in July and August as well as crowds in September, and are planning to walk at the beginning or end of the season (April/May & October/November) it is best to also plan for some rain.
This is definitely one of the most important Via Francigena tips out there. It actually applies to all active holidays!
With taxis infrequent along the route, once you are out walking it is difficult to finish early. So, if it rains, it is best to be prepared with a pair of rain pants you can quickly pull on as well as a waterproof jacket.
If you have opted for luggage transfer, then you'll have extra room in your backpack to keep these with you each day. Additionally, the heavy downpours that can occur in the springtime will transform the hilly dirt paths to mudslides of harrowing potential. On the plus side – it cools things down and gives the air the most gorgeous "fresh rain" smell.
If you need to stock up on any extra outdoor gear at the start of your trip, there is a great running store and outdoor gear store in San Miniato Basso. You'll see them before you climb to your hotel in San Miniato Alto. We were caught on a particularly rainy day in San Miniato and found everything we needed here.
Tip 4: …but pack a swimsuit!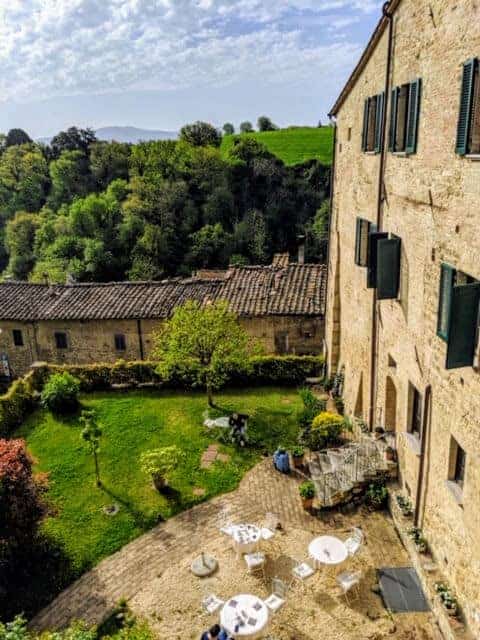 Several of our first choice accommodations between Lucca and Sienna are fabulous country villas with pools!
The outdoor swimming pools typically open around the first of May. They provide a welcome respite for your tired muscles after so much hill walking. Remember to pack your sunscreen too, for the beautiful sunny evenings.
Even in places without a pool, there are usually lovely patios and gardens to relax in.
Tip 5: GELATO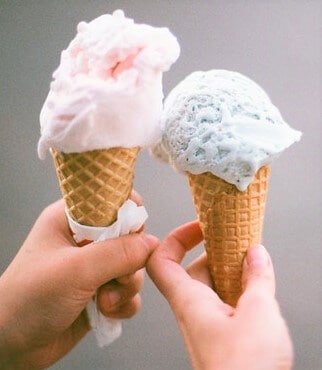 You will want to follow this special tip for the Via Francigena… While you are in San Gimignano, it is absolutely essential you try the gelato in the main square. You'll know it's the place by the long queue stretching across the square. It is well worth the wait, and the queue moves pretty quickly.
The flavours are highly unusual and genuinely remarkable. I personally sampled pink grapefruit with sparkling wine and blackberry lavender and was quite literally blown away! We will be returning here just for gelato.
There is also plenty of gelato in other places in Italy, so keep your eyes open for a refreshing treat.
Tip 6: Get the PERFECT photo to commemorate your journey in Siena!
At the end of this section of the Via Francigena, there is a little place called San Paolo Pub. This absolute gem (somewhat) secretly has the best views of Piazza Del Campo!
It has a hidden little balcony at the back of the pub where you can sit and gaze over the Piazza with a bellini or beer in hand. They also serve quite decadent sandwiches.
So, settle down in this gorgeous hidden spot with a cold drink. Rest your legs, grab a photo of the Piazza, and cheers to the completion of your journey!
I absolutely loved my time walking on the Via Francigena through Tuscany and experiencing a taste of Italy. This walk is simply wonderful and full of excellent memories. I hope you've learned something useful from my list of Via Francigena tips and tricks!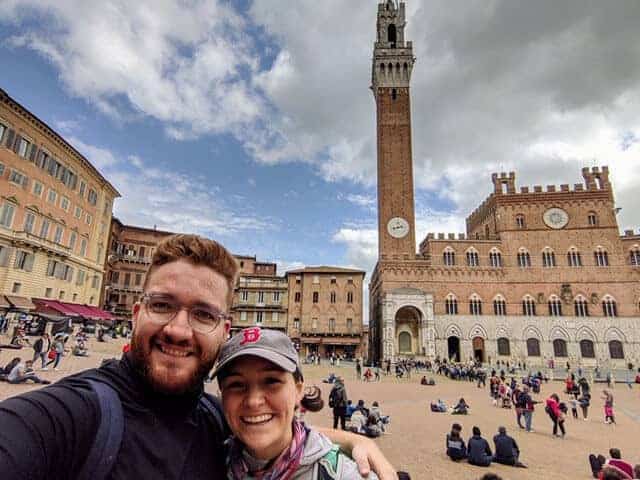 If you'd like to learn more about walking a stage of the Via Francigena through Italy – get in touch with us! We'd love to help you plan your next favourite holiday.
Explore the Via Francigena!
Escape from your normal life and take on a new adventure.

Reconnect with yourself and escape to the wonders of Italy!
Flexible itineraries Luggage transfers Specially selected hotels
Contact us