If you decided to walk the Camino Portuguese Coastal, make sure to visit this beautiful village of Baiona near Vigo.
Baiona village is an important yachting port and it has a lot to offer. From good restaurants, bars, cafes to beaches, marinas and so much more.
Walking along the seaside promenade with a cup of coffee from a local café is a really enjoyable moment and it will definitely make your day a lot better.
Where to look for Baiona
Baiona is a historical medieval village located in the region of Galicia in Spain on the Portuguese way.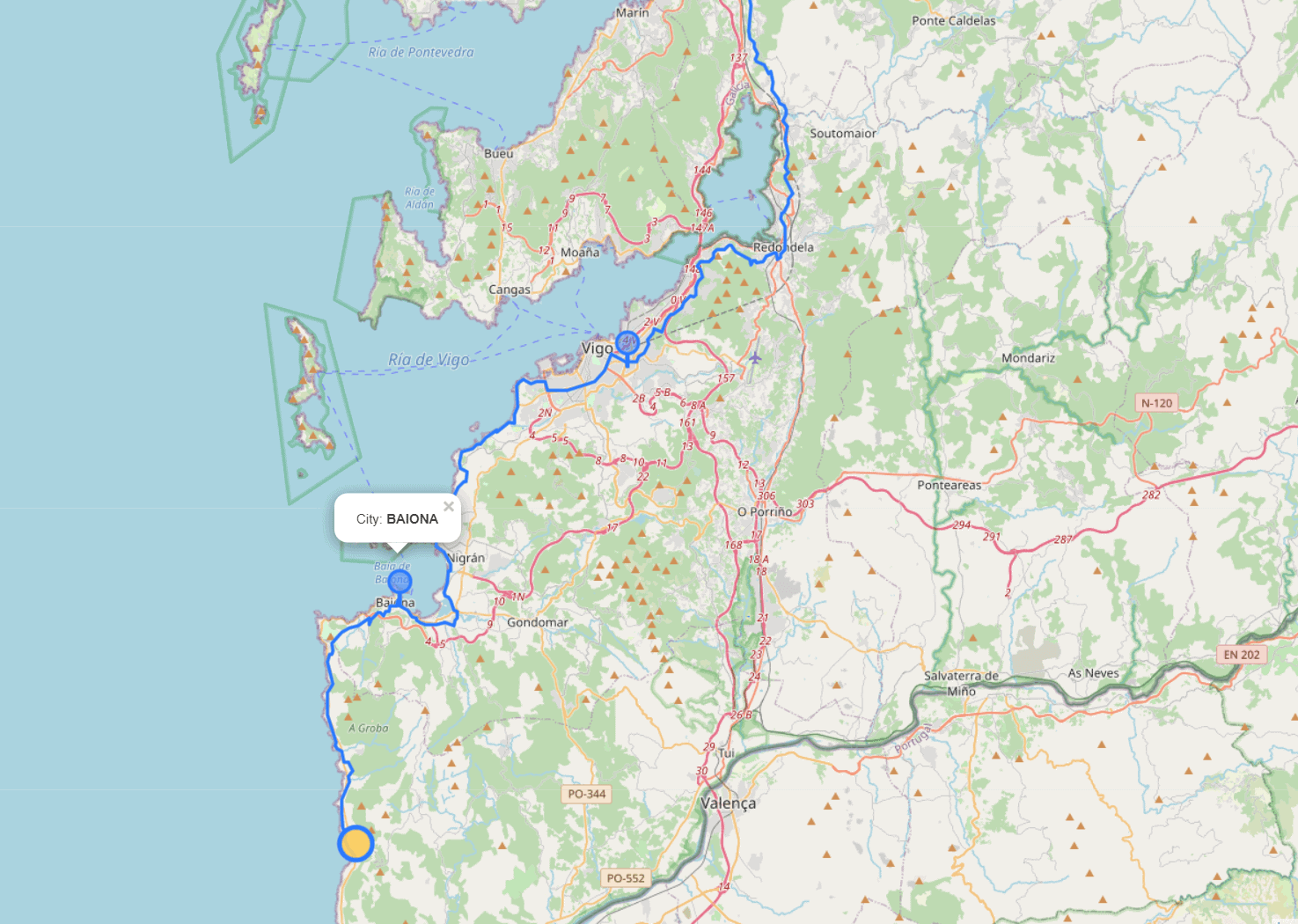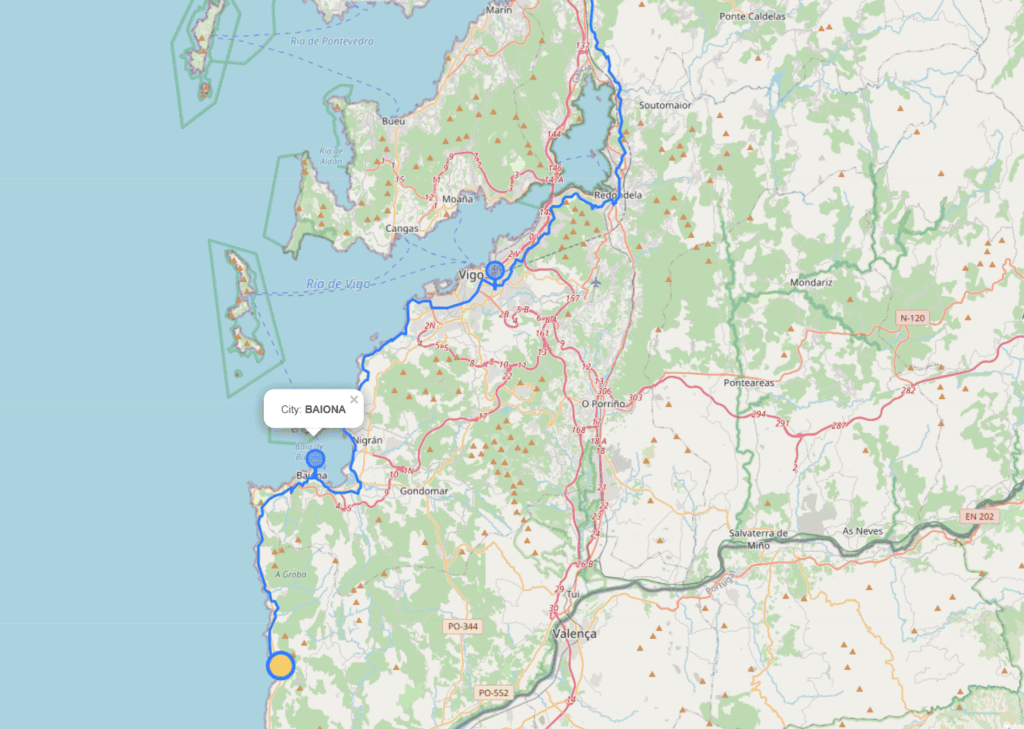 It is located 127 km from Santiago de Compostela. The walk to Santiago is along the Atlantic coast heading towards Vigo.
If you walk the Portuguese way, then together with Baiona you will also walk through the cities of Redondela, Pontevedra, Caldas de Reyes and Padrón. Continue walking to your final destination, Santiago de Compostela.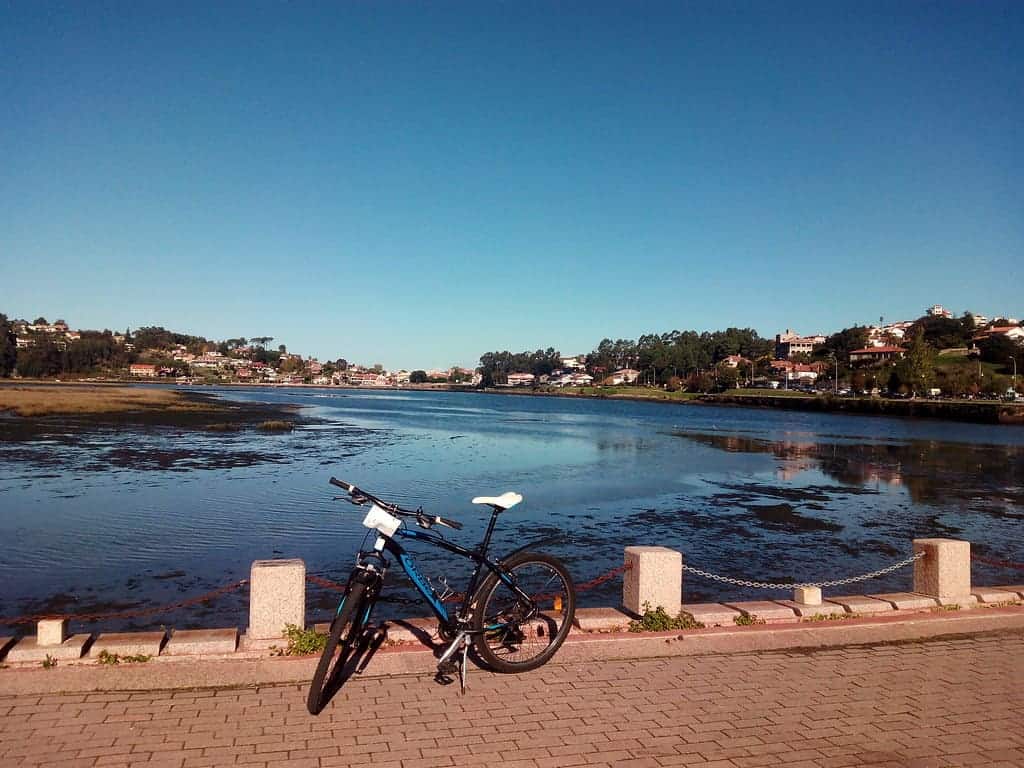 Learn more: Download your FREE Camino e-book!
Discover the routes and sections of the famous Camino de Santiago pilgrimage.
Download
Food and drinks in Baiona
Start your day with a fresh cup of coffee from one of the seafront cafes and enjoy the walk along the coast.
Baiona is famous for its white wine and delicious seafood. The restaurant Naveira offers exquisite seafood and traditional wines for reasonable prices.
If you like tapas, some of the best tapas in Baiona can be found in Taperia San Xoan. This tapas restaurant is a lovely place to dine. It will charm you with their delicious food and a great selection of Galician wine.
If you want something sweet, make sure to visit Churreria Emilin where you will find delicious churros, pastry and ice cream.
Beaches of Baiona
There are many beautiful beaches in Baiona. If you want to walk or swim, the beach of Ladeira is definitely worth a visit.
Ladeira beach has a wonderful view of the Atlantic ocean. We recommend taking a rest here to enjoy the peaceful atmosphere of this beach.
Another beautiful beach is Praia de Barbeira in the shadows of a medieval castle surrounded by crystal clear water. This beach is a perfect spot for swimming with family and friends.
Places to visit in Baiona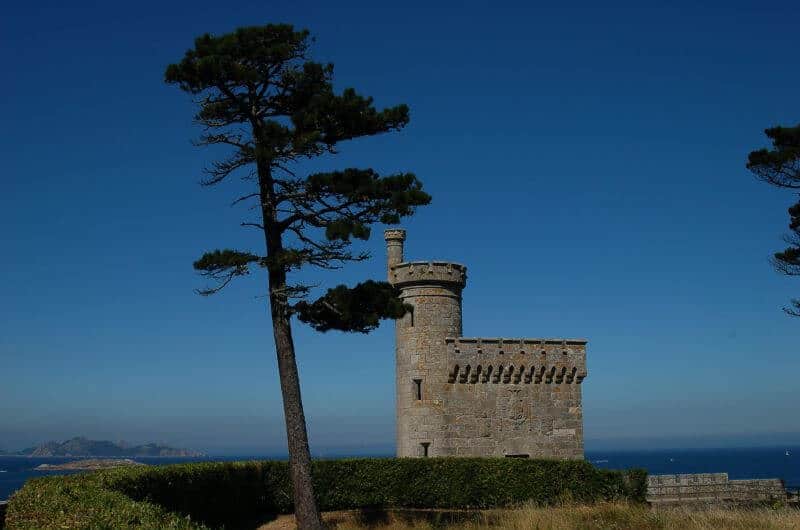 You will find a lot of attractions in Baiona, one of them being Monterreal Castle. Monterreal Castle was built in the 16th-century and now serves as a hotel Parador.
One of the most beautiful places is a promenade. This pathway is a walk along the entire peninsula of Monte Boi. The promenade starts at the Beach Cuncheira and is about 2 km long.
Virxe da Rocha is a stone sculpture that represents the Virgin Mary holding a boat in her right hand. The boat can be accessed from inside the building and when you get to the top, you will be presented with a pleasant view of the Galicia and the Cies Islands.
Visit Baiona with us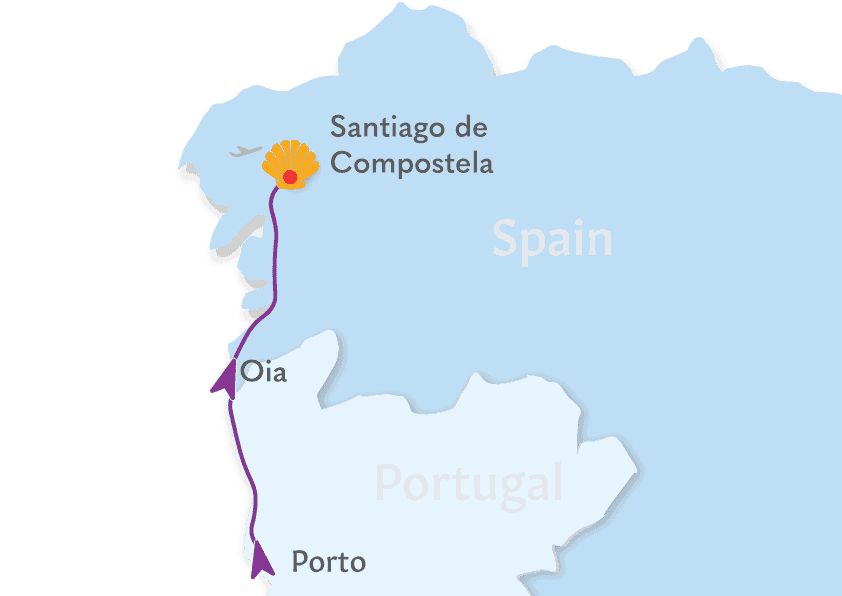 Would you like to experience the beautiful nature and magnificent monuments of Baiona village? Walk the Camino Portuguese Coastal route! Follow the Camino has been offering customised Camino trips through this area since 2006.
We offer a range of manageable walks and cycles for all age groups on the famous Camino de Santiago. Contact us for a free quote and book your next adventure!
The Camino is Open for 2023 Bookings!
Book 3 months in advance to recieve a 5% discount!
Reconnect with your love of travel on the ultimate bucket list adventure through Spain.

Whether you have 5 days or 50 days – there is a Camino for you.
Flexible itineraries Luggage transfers Private rooms & bathrooms
Contact us