Kenneth Strange, Ippy Award-winning author, private investigator, and former FBI agent, is back on the Camino with us again! This time he and his wife are walking the Camino Portuguese Coastal route from Baiona to Santiago de Compostella. This wonderful seaside pilgrimage through Portugal and Spain is also partly a book tour. Kenneth's book "It's Your Camino: One Couple's 500-mile Pilgrimage Across Spain" won the prestigious Ippy Award, and he is visiting a few book shops along his journey.
As he walks, Kenneth is sharing snippets of his travel journal with us. Glimpse what it is like to be walking the Camino Portuguese in July 2021 through his eyes.
Kenneth's Travel Journal – The Camino Portuguese Coastal Route 2021


Getting to the Camino during COVID-19
We've never worked harder in our lives than in trying to make this second Camino work. In just 72 hours we have experienced one challenge after another as we make our way to the Camino Portuguese during this new world of COVID in 2021.
People are travelling with a vengeance. It's the summer holidays but the airports in Los Angeles, Dallas-Ft. Worth and Madrid were jam-packed with travellers heading everywhere. People are hell-bent on making up for lost time during last year's lockdowns.
COVID Travel Restrictions are confusing. The airlines will not permit foreign travel without the destination country's seal of approval. Our vaccination records seem to carry less weight in Europe. Most foreign airport and immigration officials are looking for a negative 48-hour antigen or 72 hour PCR COVID test result. We have seen a number of disappointed travellers turned away at the boarding gate for not being in sync with the requirements.
When You Arrive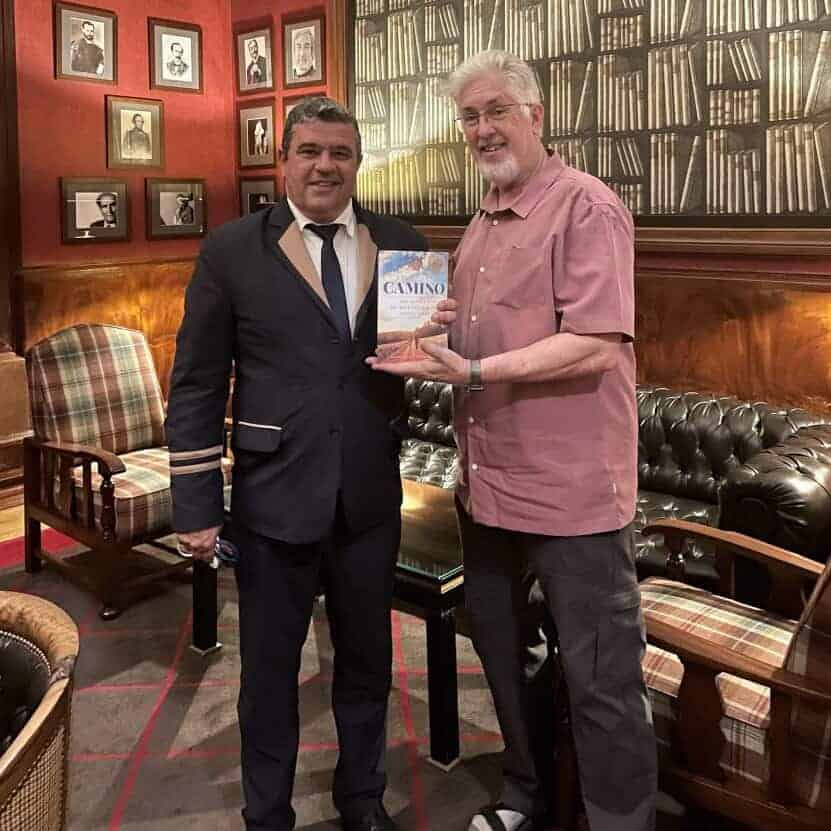 Even some hotels require a negative antigen test from the last 48 hours. Due to travel delays, ours were expired when we arrived. The hotel clerk at our first hotel, Fernando, pulled out a pair of Euro 'rapid tests' which we eagerly submitted. "Just like a pregnancy test," the clerk winked and then upgraded our room for the inconvenience. We fist-bumped Fernando as the tests turned out negative. Please note, some restaurants can turn you away if you cannot produce your COVID paperwork.
Oh yes, I almost forgot—the Camino. This is the card up our sleeve. Say 'Camino' and even the visage of the coldest bureaucrat will be replaced with a smile as he/she waves you through one line or another while uttering "Buen Camino!"
We settled in at an outdoor restaurant in Oporto, Portugal and raised our glasses of Albariño wine in a toast. We were grateful to have made it this far.
Day 1: Baiona to Vigo
This first section of our Camino Portuguese from Baiona to Vigo was long (27 kilometres) but the degree of difficulty was slight. The scorching heat encountered in Porto had abated and was replaced by thick humidity, early morning fog and cool temperatures. The day's cloud cover was a blessing from above.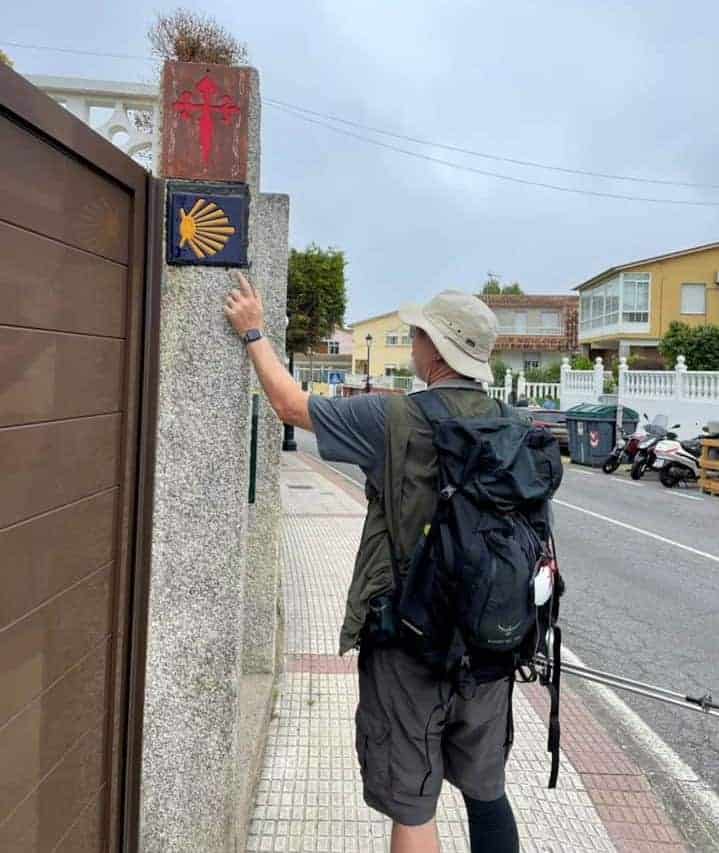 The Camino led us to a coastal beach where we briefly lost our way but found a friend named Carmen. "Follow me on this beach, I know the way". Carmen shared with us she had a daughter living in Chicago and had graduated from the University of Madrid where I, too, had studied for one year. Later we came upon a scuba diver named Antonio and his catch of the day, an octopus that resembled an alien creature. He insisted we pose for a photo. Tomorrow, Vigo to Redondela. Buen Camino & God Bless.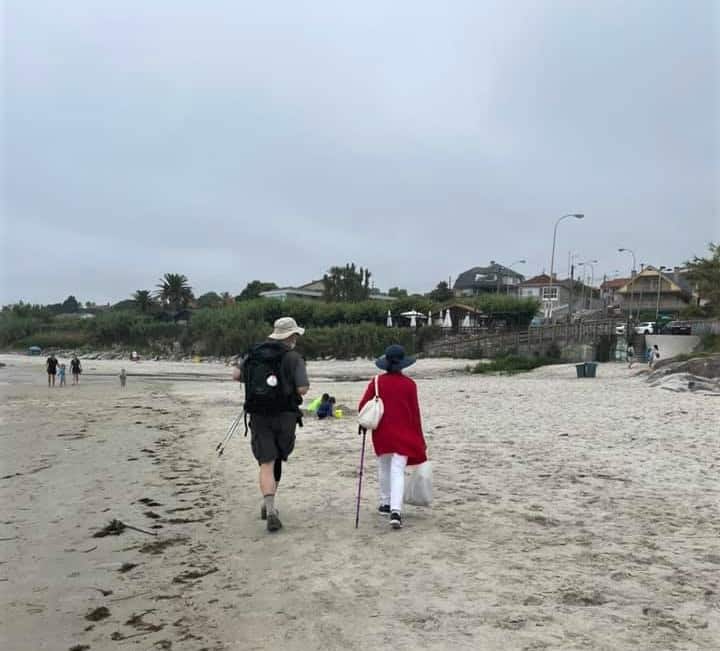 Day 2: Vigo to Redondela
The climb from the city of Vigo was challenging. Perspiring in the heavy humidity, we counted ourselves lucky for both the cloud cover and cooler temps. Soon we were on level ground passing through quiet neighbourhoods and forests. We saw expansive views of the harbour, mussel farms and the iconic Rande Bridge. En route to Redondela, we encountered more pilgrims than in the previous days, something which boosted our spirits and validated the camaraderie that can only be found on the Camino.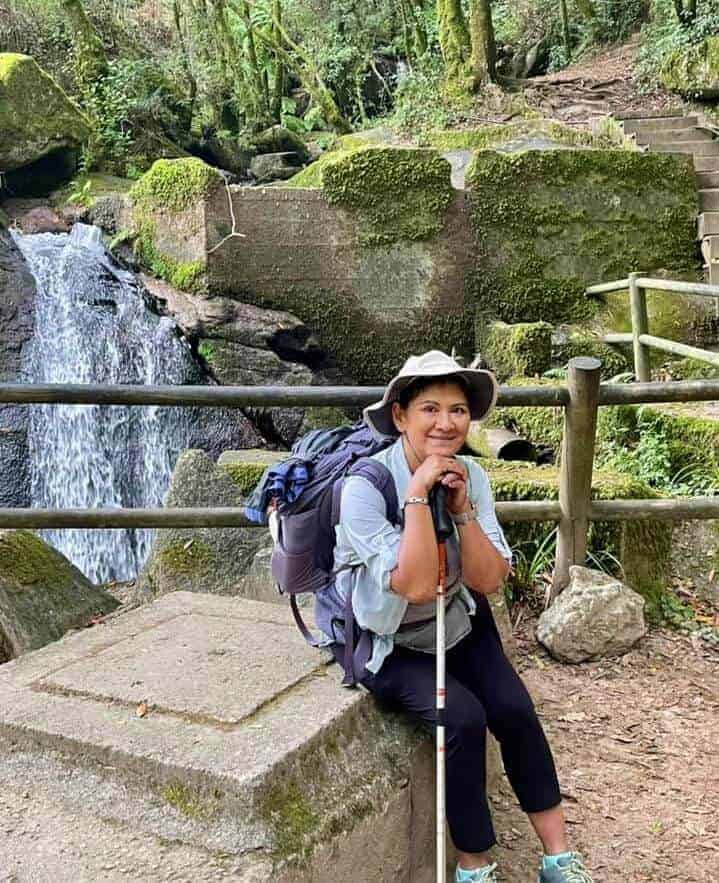 One thing which we can depend on during our journey is Follow the Camino. Our luggage is there to greet us at every destination and the hotel accommodations are more than adequate. Today, FTC surprised us with lodging at the Antolín Hotel, a hotel with a panoramic view of the Ría de Vigo. The treat was in watching the kite surfers until sunset. On the Camino Portuguese tomorrow to Pontevedra.
Day 3: Redondela to Pontevedra
Yesterday a Spanish friend asked me if I had had a spiritual experience or awakening since returning to the Camino. And it caused me to reflect on spirituality during today's challenging section from Redondela to Pontevedra, Spain. The trek was a mix of coastal scenery and arboreal fern forests coupled with a never-ending series of hills. Exhausting.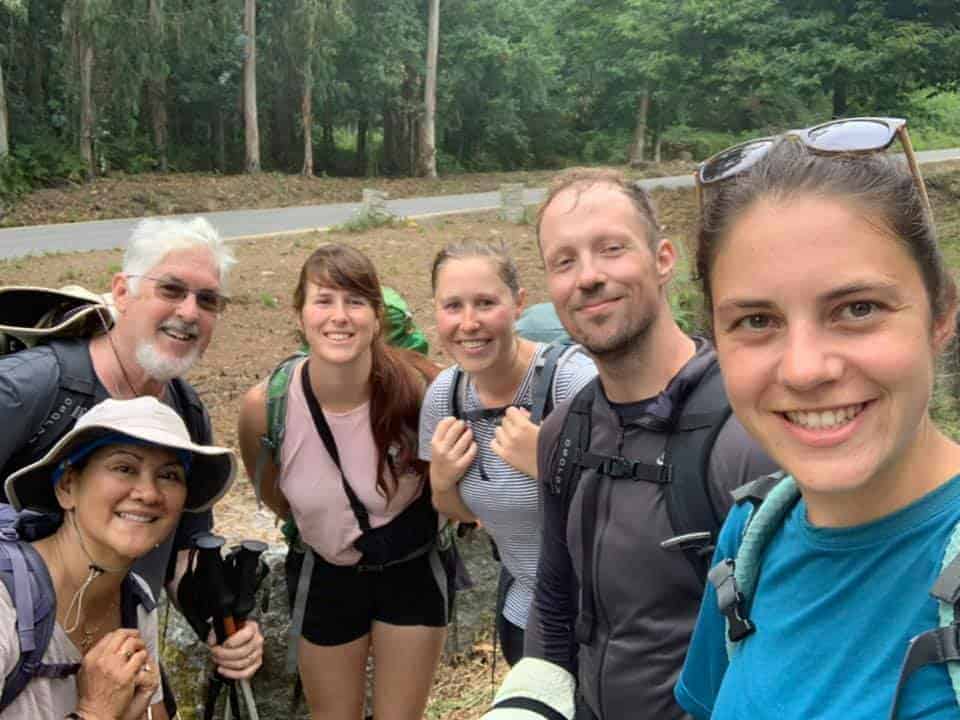 However, for the first time, we noticed a spike in pilgrim traffic and that warmed our hearts. When we arrived in Pontevedra we managed to tap into reserve energy to find two bookshops willing to entertain my Spanish version of "It's Your Camino." Yet something was still missing.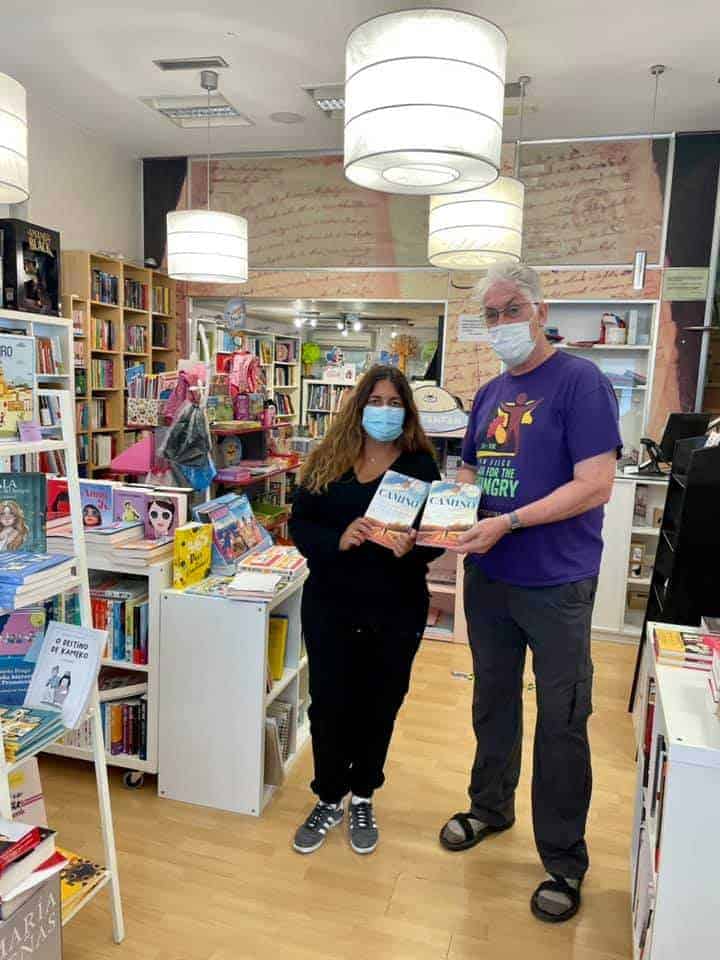 Then it happened. While poking around in the city centre we came upon the Sanctuary of the Pilgrim. Rory found a pew to reflect and pray while I stood off to the side. An elderly sacristan came forward and touched my arm, "Could you help?"
Half an hour later I found myself at the Pilgrim's Mass standing in front of the congregation of pilgrims and Pontevedrans doing the First Reading from the Book of Exodus 14:21-15:1…in Spanish! The experience was an emotional jolt, a personal message… and it rocked me to the core. The Lord works in mysterious ways.
Day 4: Pontevedra to Caldas de Reis
We're seeing more and more pilgrims since the first day in Baiona when we counted only seven. Since the Coastal and Interior Caminos merged outside Redondela, we've observed a steady stream of pilgrims on the Camino. We're actually seeing a few Americans although most pilgrims are from Spain, Portugal and other parts of Europe.
Today we witnessed some 30 'bicigrinos' (pilgrims on bicycles) headed in the direction of Santiago de Compostela. Pedestrian Pilgrims, be aware of your surroundings—those bicycles can be on top of you in the blink of an eye.
Weather is everything on the Camino
Since leaving Baiona and until this afternoon as we were making our way to Caldas de Reis the weather had been optimal for hiking. While Galicia is a humid region we have had pleasant temperatures, breezes and cloud cover.
However, this afternoon the sun broke through the clouds with a July intensity we were little accustomed to. This made a long hike that much more challenging. Our advice—wear a hat or some type of protective headgear, use sunscreen and, above all, hydrate.
Along the Portuguese Coastal Camino, at least outside the towns and cities, restaurants, bars and eateries are few and far between. Forewarned is forearmed. Today we were treated to a visual cornucopia of leafy forests, vineyards and fertile farmland. Yet when the sun appeared and the water gave out, we were still miles away from the nearest cafe bar. You can imagine the bar owner's surprise to see us guzzling several Kas orange sodas and ravenously consuming one ice cream bar after another. Carry extra provisions to avoid such episodes.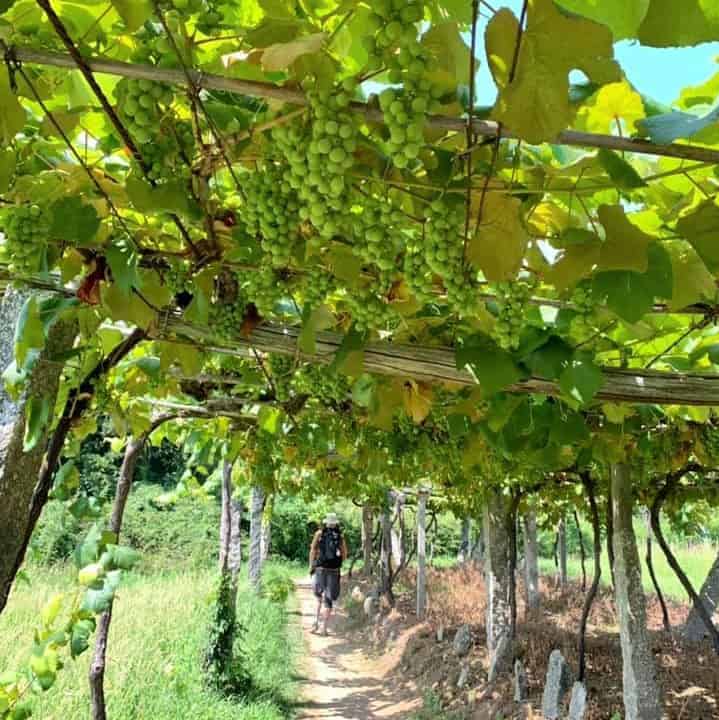 COVID-19 on the Camino Portuguese
COVID has made some relationships awkward between pilgrims. Case in point. During the walk to Pontevedra, my wife, Aurora, in the spirit of the Camino, befriended a young woman. During their time together the woman acknowledged not being fully vaccinated. This can pose a dilemma. Honesty is probably the best policy. Your health depends on it.
It's Your Camino Book Tour
Marketing my book while travelling the Camino has been pure joy! It has been a great icebreaker talking to pilgrims on the Camino Portuguese about my book, " It's Your Camino" and the Spanish version "Es Tu Camino." Perhaps the most satisfying moments are in the small bookshops in the villages and towns where there's real interest…and conversation. Teresa, a bookshop owner, having read Martin Sheen's cover quote on my book, beamed with pride, "Martin Sheen may not be aware but we love him in Galicia. His roots are here."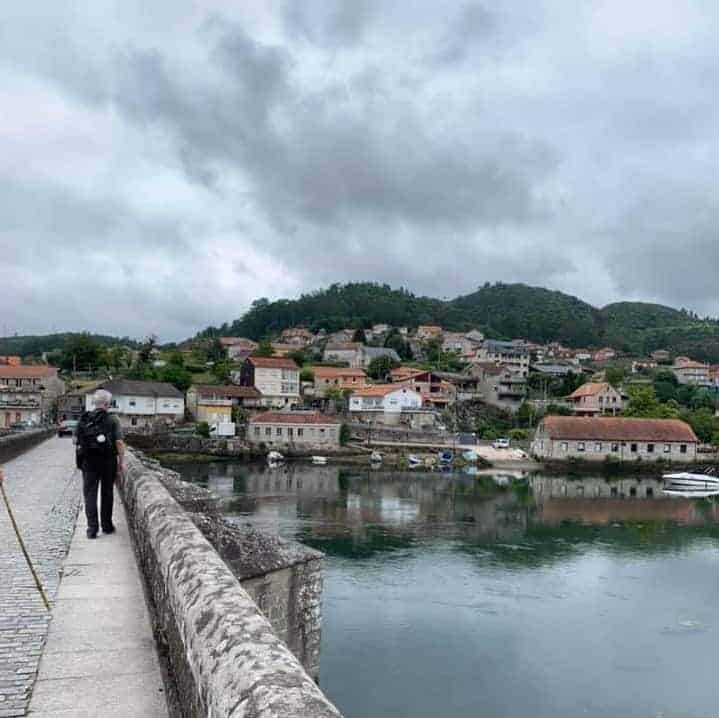 Day 5: Caldas De Reis to Padron
Leaving Caldas de Reis we soon entered this Celtic Fairyland of leafy green forests of moss and lichen, babbling brooks and chirping of birds in hiding.
It is hard not to notice the women of Galicia. We saw four different women of various ages toiling on their small but fertile plots of earth. One digging out potatoes, another cutting wood, still another on a mini-tractor and a fourth feeding the horse. They are strong, marvellous women who are the backbone of this land.
We chatted with Señora Rosa, an elderly woman, who was being led about by her St. Bernard dog, Perla. A recent widow, she talked about raising her children and four cows, about losing her husband, and her daughter's cancer.
"I fell into a depression. I don't cry anymore but it hurts."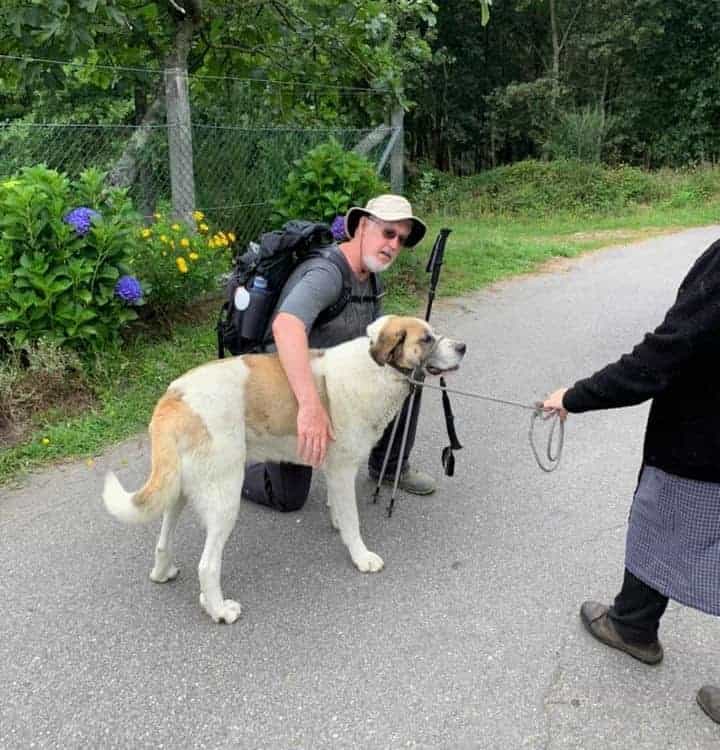 Yet she continues to eke out a meagre existence. These women left a profound impression and we thought about them often during the mostly gentle 12-mile stage.
Padron
Once again our friends at Follow The Camino had placed us at a wonderful lodging called Hotel Chef Rivera in Pádron, Galicia. Madame Pirriette from France and her husband, the renowned cook, José Antonio Rivera, aka Chef Rivera, run the place and as I gifted them a pair of my books they gifted us his cooking book. Their sons, Alejandro, also a cook, and Richard with Galicia Tourism, round out the family. Richard at one time was a consultant for Martin Sheen on a scouting trip to Santiago for the movie "The Way."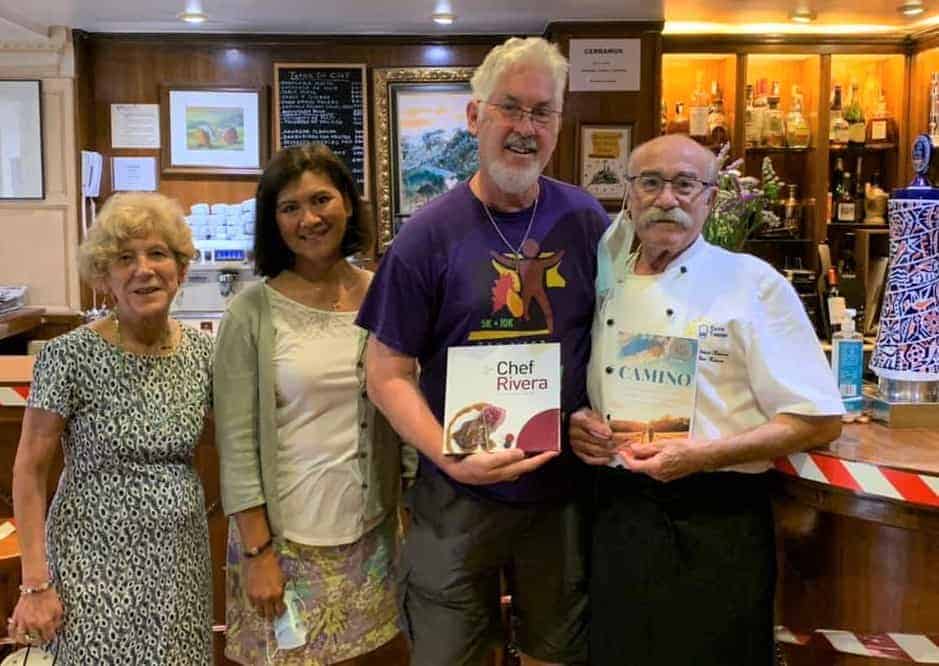 Oh yes, one last thing we met a wild boar with tusks somewhere in between. Except he appears to be tamed! We are now within one day of reaching our goal on the Camino Portuguese —Santiago de Compostela, Spain.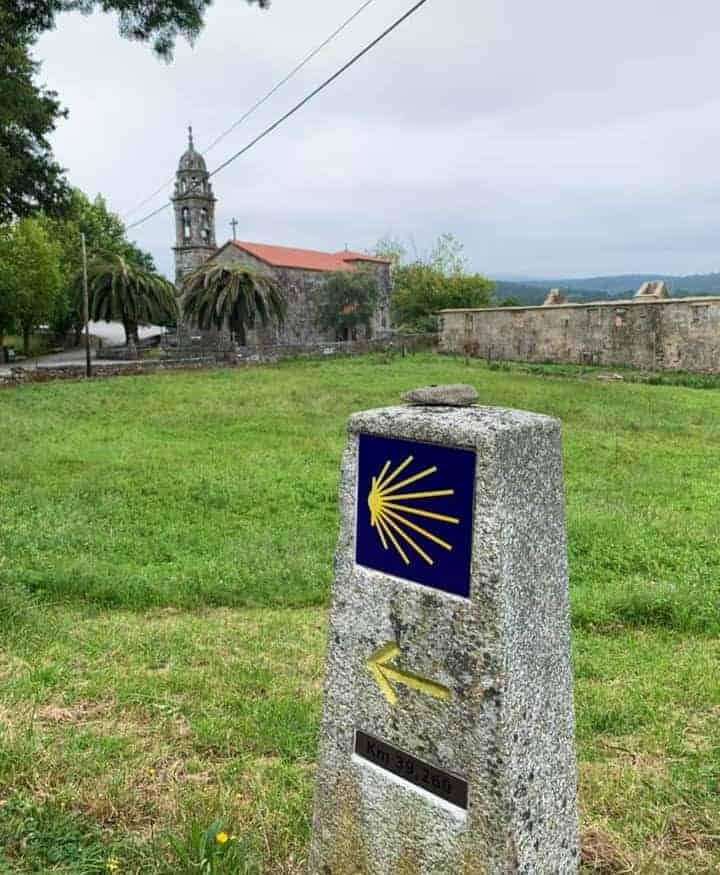 Day 6: Padron to Santiago de Compostela
Eighteen miles on foot is a long way, especially in Galicia where the summer weather can be fickle. This would be the first time on our pilgrimage where it rained. And halfway through the final leg 'Mother Nature' reminded us who was in charge. While the rainstorm was short in duration, our shoes and socks were soaking wet and we'd have to complete the journey with damp feet. Undaunted, we continued on to Santiago.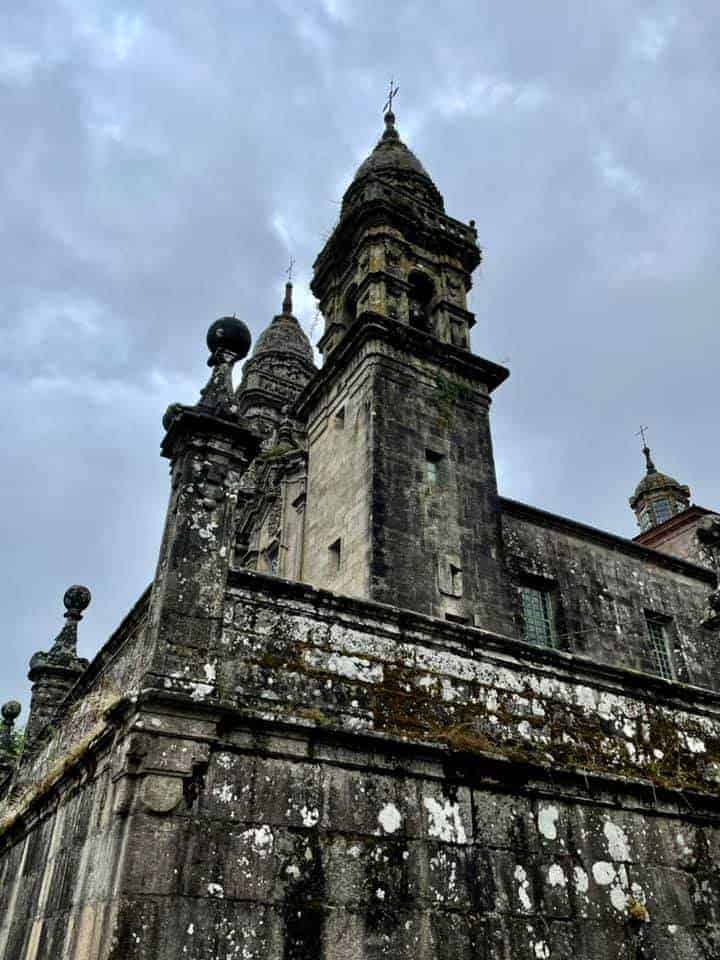 On this, the sixth day, nagging injuries were also taking a toll. Slow turned into slower, yet it gave us more time to savour the beauty of this green landscape, the fog rising up out of the hills and forests, the rustling of the leaves, the sun's breathtaking images of "hide and go seek" with the clouds.
We were not meant to be solitary human beings. Without our fellow pilgrims, we'd still be working our way to the finish line. There was Daniel, the young man from the Czech Republic, who filled the first hour of the trek with his reason for being here—trying to figure out a complicated life in a peaceful surrounding, Nikki the black girl from London with the easy smile. I can still hear her calling out to us in the distance, "I'll see you on the next hill." There was Mike from Chicago on one crutch because of a twisted ankle. There would be no denying him the final prize.
That's the Camino for you. When we thought we could go no further, when we thought our wheels would go out from under, we came into contact again with our new friends the Darka Girls Club from Lisbon. Their youthful energy was contagious and without it…I'm not so sure. To see their faces when the cathedral's spires came into view, to hear their joy…well I look back on it now with a tear (or two). As we posed for photos in front of the great cathedral and said our goodbyes, I felt a peace I have never felt…the peace of passing the baton of hope and dreams to the young. Buen Camino!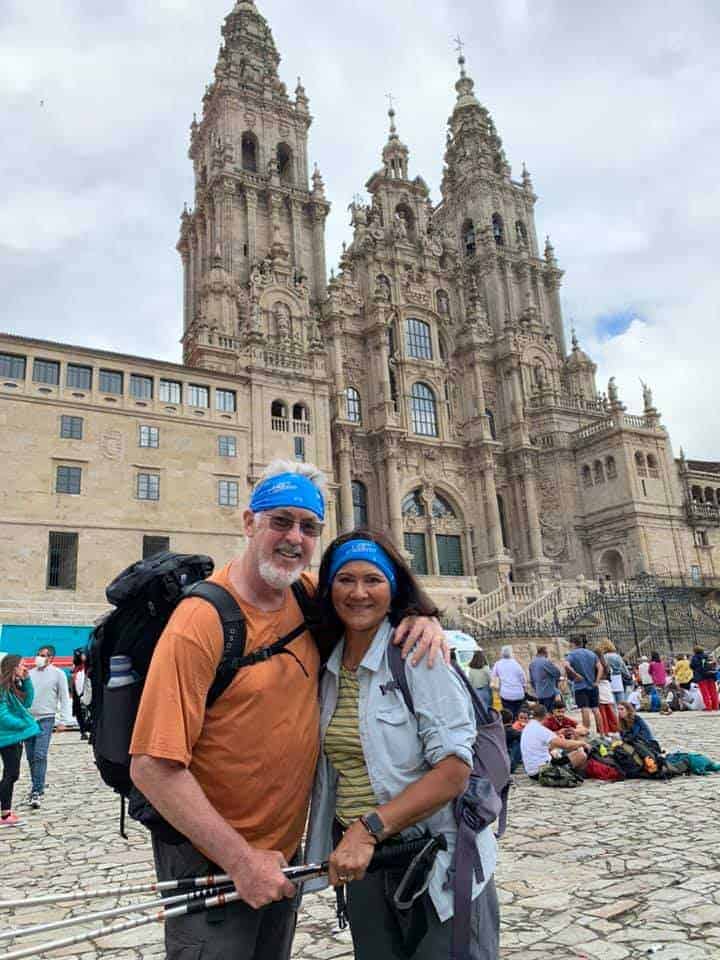 An Added Adventure – A Day Trip to Finisterre
Night (and Day) without end. It started with a short trip to Finisterre or Land's End, the westernmost point in Spain where the ancients thought they would fall off the face of the earth. The 0.00 Kilometer marker was also the end of the line for Martin Sheen in his Camino movie "The Way."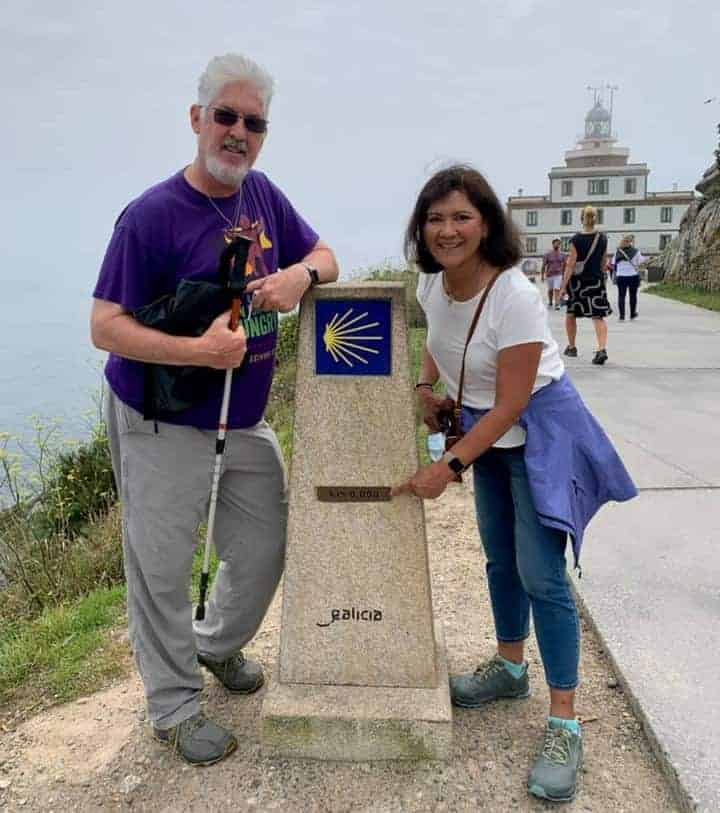 Returning to Santiago we had an emotional dinner reunion with Rory's four sisters (Carroll, Suzen, Nancy and Girlie), two of their husbands, Mike and JL, and a friend (Alice) all of them on a Camino of their own from Sarria to Santiago, all of them Pilgrims, some for a second or third time.
Santiago was on fire tonight with a full moon and a fireworks display ringing in the Jubilee Year celebration of Saint James for July 25, 2021. The King and Queen of Spain will be on hand at the Cathedral for the Saint's feast day.
Oh, I forgot to mention, it's also our 40th wedding anniversary. ❤️
Kenneth Strange is an interesting person with an even more interesting story. That's why he joined us in Camino Talks where we discussed his whole life.
Inspired? Download Our Camino Packing List!
Everything you need to pack to walk the Camino de Santiago.
Download
After the Camino – Reflection Interview
We are thrilled to have had the opportunity to work with Kenneth and Rory again. It is always wonderful to have past clients travel with us on their second, third, or even fourth Camino. You can find Kenneth's book about his first Camino on the French Way of Saint James here. You can follow Kenneth on Facebook and on Instagram for more updates and photos of his pilgrimage.
To start your own journey on the Camino de Santiago through Spain or Portugal – get in touch! All of our itineraries are customised for you, from duration to the number of kilometres that you cover each day. If you have any questions, or if you are ready to start planning your Camino contact us.
The Camino is Open for 2024 Bookings!
Get in now to secure the best accommodation for your Camino!
Discover this empowering journey across Spain, Portugal and France for yourself.

Journeys from 3 to 90+ days available.
Flexible itineraries Luggage transfers Private rooms & bathrooms
Contact us