Every year we welcome Spring with open arms and good intentions. After facing the darkness of Winter, Spring is a promise of outdoor time, adventures and personal awakening. That's why walking the Camino in Spring is such a great idea!
Spring is one of the most popular seasons to walk or cycle the Camino de Santiago. Temperatures get warmer but not too hot, and the amount of rain decreases too! Nature starts to wake up and the fields are green and lush. Spring is the perfect season to walk the Camino de Santiago!
Why should I walk the Camino in Spring?
Spring is the most popular season to walk the Camino, and there are plenty of reasons for that!
The weather is Ideal
The average daytime temperature goes from about 13°C (55°F) in March to 18°C (64°F) in May. This is perfect walking weather as it isn't too hot or too cold.
As days get longer, you'll enjoy warmer temperatures while still staying out of the heat waves. This means you can start walking a little later, as you won't have to stop during midday hours to escape from the high temperatures.
However, when you pack your bag don't forget the Spanish saying "En Abril, aguas mil" – it always rains in April! The rain is usually not too heavy though, so it is absolutely fine to walk in.
Visit our Camino Weather Map to know more about the weather in the Camino.
Your Backpack can be Lighter
Pack your raincoat, but forget about the thermal shirts or down jackets – they can stay at home!
Instead, go for breathable T-shirts, shorts or detachable pants and trekking shoes. Check our Ultimate Camino Packing List to learn more about what to pack and what to leave at home.
Sociable but Not Packed Trails
If you are walking the Camino solo, or you'd like the opportunity to make more friends, Spring is a great time to walk the Camino. The routes are not crowded, but they are definitely not quiet either!
Spring is the perfect season for those who want to meet new people, make Camino friends and enjoy the company of others. While most of the routes of the Camino won't be crowded, a lot of pilgrims choose these pleasant months to walk their Caminos, so there will be plenty of opportunities to connect with others and learn about their stories.
Unlike the peak of summer when the trails can be very busy, you won't be waiting in long lines for every bathroom or risking not getting a table. It is a great balance.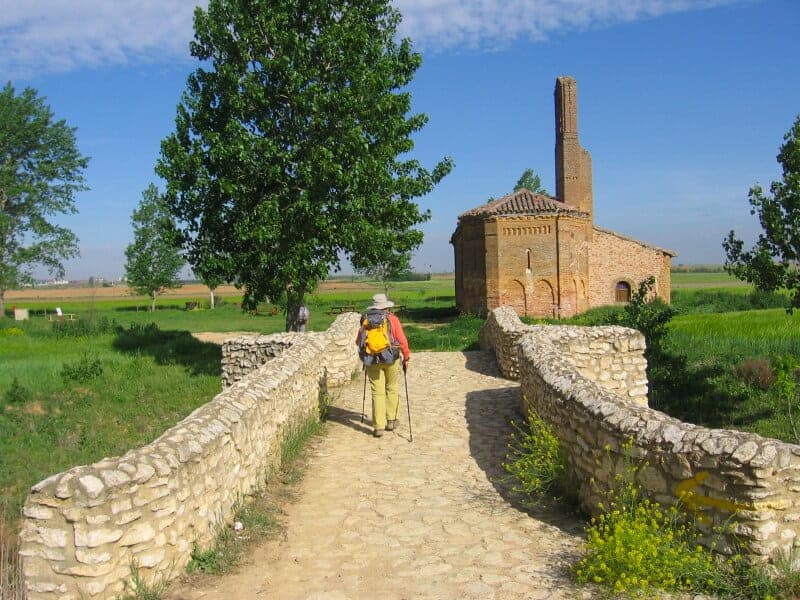 Which Camino routes are better in Spring?
All of them! Spring is a great season to discover France, Spain and Portugal. You'll enjoy nice weather and beautiful landscapes no matter which route you choose.
That being said, here are the most popular routes for this season of the year –
Camino Frances is the most popular route of them all, so it comes as no surprise that it's also a favourite in Spring!
Temperatures are warmer, which is great for pilgrims… and for wine! You'll be able to enjoy the sprouting stages of the vines, adding an alternative touch to your experience.
Both of these routes start in Portugal, where temperatures are usually warmer than in Galicia. This will allow you to begin your journey enjoying the sun and the beautiful landscape both of these routes cross.
As beautiful as this route through the North of Spain is, it is also the one with more rain probability! If that doesn't scare you away, you'll be rewarded with stunning green landscapes and beautiful white beaches.
As in the routes that begin in Portugal – If you are in search of warmer weather, head south! Choosing Via de la Plata will offer you higher temperatures and less rain. The first section of the Via de la Plata (Seville to Monasterio) is a wonderful and less-explored option, giving you the opportunity to enjoy some introspective time before getting to more popular ways.
What should I wear for the Camino in Spring?
On the Camino, quality beats quantity every day of the week. The choices you make will be key to guaranteeing your comfort during your walks! You won't need a lot of clothes, but the ones you take should be top-notch and well worn in.
Get ready for your Camino using our Ultimate Camino Packing List where we recommend the best gear for every occasion. This Camino packing list will help you ease your load so you can fully focus on experiencing the journey! You can get more detail about shoes and footwear here.
When walking in Spring, there's something you can't forget – to rainproof everything!
Your best bet includes Gore-Tex and Paramo, but other similar fabrics are easy to pick up. Gore-Tex could well be the most famous brand on the Camino as it is well known for its waterproofing. Paramo is a newer fabric that imitates animal fur to keep water away from the body. Ask in a reputable outdoor store for the best option for you!
One extra tip – Thin plastic ponchos can stay at home, they won't keep you dry and will become an awful mess! Umbrellas may be useful around towns, but they are a pain to carry while walking.
Walk the Camino this Spring
Walking the Camino in Spring is definitely a great idea, and choosing this season can your walks easier and more enjoyable. Book through a Camino provider like Follow the Camino to keep things simple and to make sure your Camino is a pleasant one, tailored to your wants and needs.
Travel worry-free this Spring with Follow the Camino. Contact us to start planning!
Make 2022 YOUR Camino Year!
Which route is your next Camino?
Embrace a new adventure and reconnect with yourself.

Let us help you to turn your dreams into reality.
Flexible itineraries Luggage transfers Private rooms & bathrooms
Contact us