The COVID pandemic has had huge impacts on the way we work and travel. With remote and hybrid jobs more feasible than ever, people are asking "Could I work while walking the Camino?" Escape the confines of your home and discover the Camino de Santiago without the need for taking long holidays with a Camino workation! It's a working walking holiday!
What is a Workation?
The term workation is a hybrid of the words 'work' and 'vacation.' It refers to a form of telecommuting to your job from a holiday destination. If you decide to take a workation, you'd be fulfilling all or most of the duties of your regular job while staying in a holiday destination. Workations, or "bleisure travel" (a mix of business and leisure), are not a new concept. They have, however, become much more widely accessible with the rise in untethered workers who do not need to come into a physical office. If you can work from home, you can probably work from abroad!
'A workation can be defined as a holiday, during which a substantial amount of time is dedicated to work.'

Dr Hayley Stainton (2020)
"Laptop luggers" bring their work with them and split their time on their vacation between work hours and play! Some people may also call this a working holiday.
What do you need to work from abroad?
The absolute minimum requirements for most jobs these days are a laptop and an internet connection. Many of us can do at least part of our normal jobs with these two things.
Spain and Portugal have good wifi in most hotels, BnBs, and libraries, as well as some cafes and public buildings.
If you are planning on doing more than a couple of days of work, then a desk or table and comfortable chair become more important. Coffee shops, hotel meeting rooms, and public libraries are all options if you need somewhere to sit and work for a few hours at a time. Your hotel room may also have a desk and chair, but check this with each hotel.
If you plan to stay for a few months, then you may need a remote working visa. Both Spain and Portugal have options for these!
Other things that might be useful:
Headphones (for busy shared workplaces)
External Hard Drive (if you need to back things up locally as well as in the cloud)
Powerbank (if you plan to work from the middle of nowhere!)
Documents in a protective folder if needed (they will get squished otherwise!)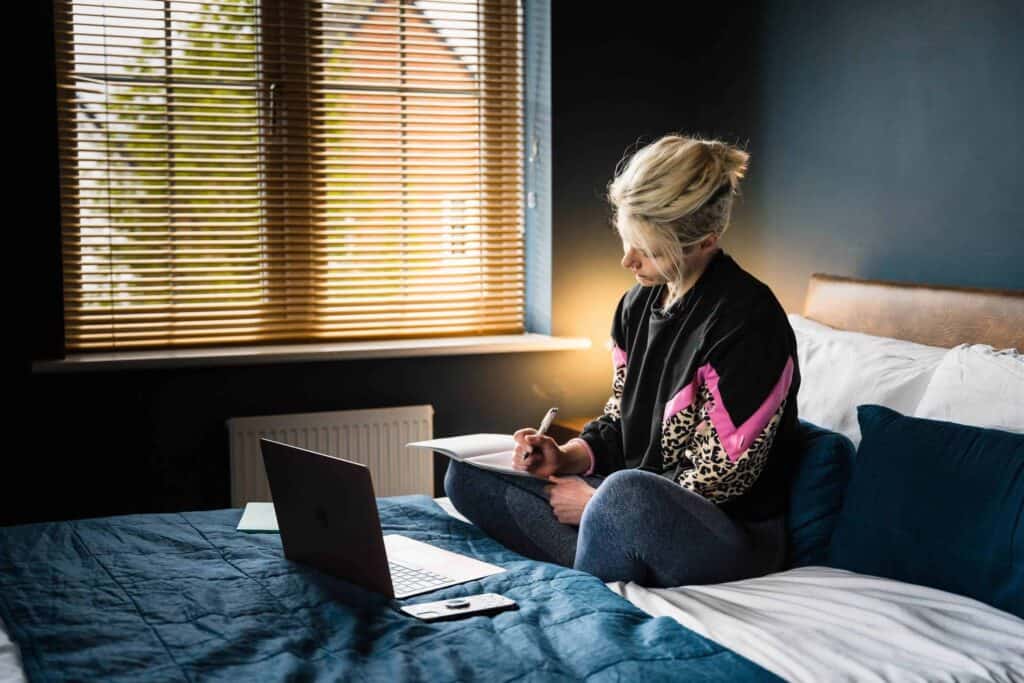 Can You Do a Workation on the Camino?
Absolutely! Spain and Portugal are excellent options for people looking to work from abroad. They have good infrastructure and a wonderful climate.
The Camino de Santiago routes are generally well serviced along the most popular sections, with many places to spend a few extra days working and exploring.
Our favourite sections for longer stays are the Portuguese Coastal route from Porto to Santiago, the Camino Portuguese from Tui to Santiago, and the Camino Frances from Ponferrada to Santiago. Each of these offers larger hubs along the way with excellent services for your Camino workation.
Our recommendation when combining walking the Camino with work is to plan walking days and working days or to shorten your walking days.
You can add an extra night at each location to make sure that you have time to arrive and rest before turning your laptop on. After a long day on the trails, it can be difficult to engage your mind!
Alternatively, reducing your distance each day means that you will be less tired when you arrive. We have several great short walking day Camino itineraries, and all our trips can be fully customised to suit you.
Add the Camino to Your Work-Abroad Holiday
If you'd rather base yourself in one spot and then commit all your headspace to the Camino you can also plan to stay in one location for a longer period, with blocks of walking days in between. The best thing about the Camino is how flexible it can be – which is why a workation on the Camino is so easy!
For example, you could work in Leon for a week, then take the next week off to walk to Ponferrada. You can spend a few more days working in Ponferrada before walking to Sarria, and so on.
Are you already travelling to Europe for work? Add an extra week to the end of your work trip and walk the Camino!
The combinations are endless!
Should you take a Workation on the Camino or a Vacation?
There are pros and cons to workations. You can spend time getting to visit a new area, while still managing to stay on top of your work and support your team. For some people, this may be their only option if they have very few days available.
Breaking out of your routine will also help you clear your mind and renew your motivation. Enhanced inspiration and creativity generally have a positive impact on your work.
Workations, when done well, allow people to recharge their mental and emotional batteries in their downtime while still earning. However, if you aren't able to set clear boundaries between "work time" and "me time" then you might find that your trip is just as stressful as normal work.
Vacations allow people to fully disconnect from work and focus entirely on the experience without interruption. Holidays are important to our well-being, so always try to take a complete break when you can.
Whether a Camino workation or vacation is right for you is up to your own headspace and style of working. You can always try one out and see how it goes!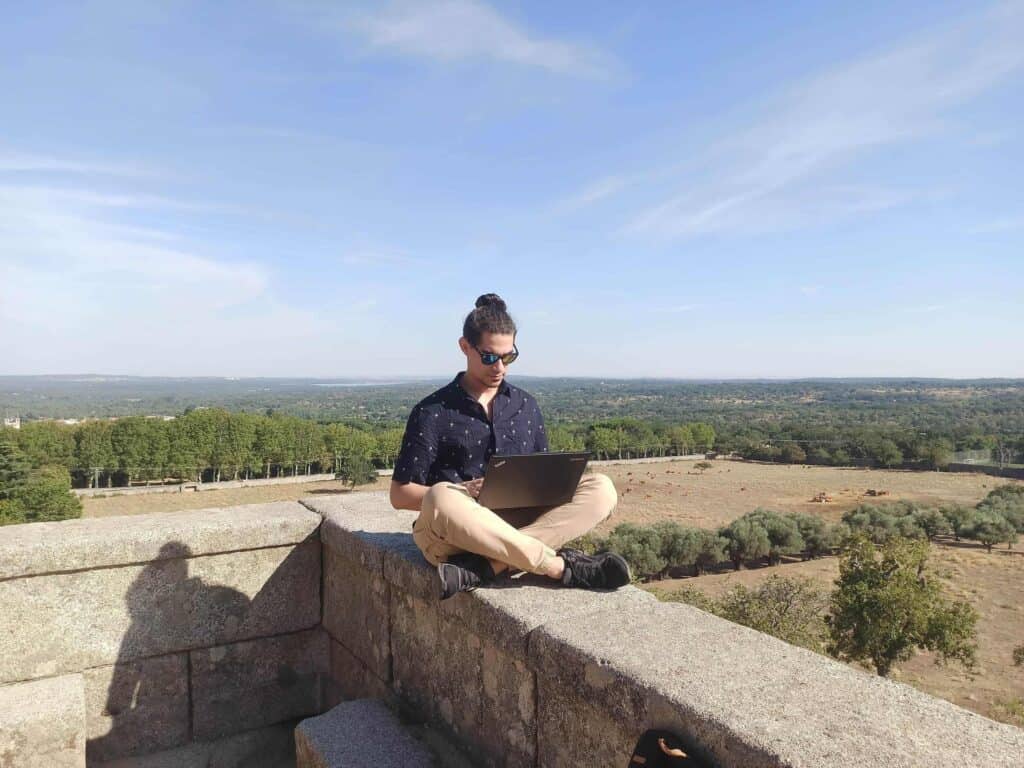 Tips for Planning Your Camino de Santiago Workation
Plan well ahead
If you are planning on booting up the laptop along your Camino you will need to be sure that you have an appropriate place to do so. You might even like to look for WeWork or Regus locations to give you a fully catered working environment.
Arriving somewhere and hoping that a good spot will present itself is probably going to let you down more than you would like. Especially in smaller towns on the Camino, there can be limited options unless you plan and book ahead.
If you book with Follow the Camino, we will help you pick the appropriate accommodation and ensure that your laptop is transferred safely between your accommodations.
Work with your manager to set expectations
Laying the ground rules is incredibly important for a successful workation on the Camino. Agree with your employer on availability, working hours and goals. Check the timezones and make sure that your manager understands where you are.
Set your "available" and "unavailable" hours clearly – for example by blocking out this time in your calendar that they can see. You do not need to be available 24/7!
Establish a routine and stick to it
Having a set schedule will help you stay organized, align any meetings across time zones, and plan your day better. It also helps to make sure that you have a set time when the clock stops and you can get out and explore!
Some good options to keep you productive and motivated on your Camino workation are "time blocking" and "task batching". If you don't control your schedule, it will control you, so get on top of it!
"Time blocking is a time management method that asks you to divide your day into blocks of time. Each block is dedicated to accomplishing a specific task, or group of tasks, and only those specific tasks. This helps if you are jumping between tasks and getting distracted.

Task batching is when you group similar (usually smaller) tasks together and schedule specific time blocks to complete all at once. By tackling similar tasks in a group, you'll limit the amount of context switching you have to do throughout your day, saving precious time and mental energy."

Laura Scroggs, Todoist.com
Automatize as many tasks as possible
From setting an automatic reply in your inbox to scheduling certain messages to go live at specific times – the internet offers hundreds of ways to automatize tasks, helping our minds to free some extra space.
While this might be something to implement in your everyday routines, or to only use during your workation, identifying those tasks that you can automatize pays off. You'll get more free time and the calm that comes with knowing that everything is being taken care of.
Letting your clients or coworkers know when they can expect an answer from you with an automatic replay, or adding this information to your email signature, can help them to adjust their expectations and further respect your boundaries.
Choose your Camino workation companions wisely
What might be a workation for you could be a vacation for them. This can be tricky to balance if your companions are children or particularly keen to share every experience with you. Communicate clearly and let your travel companions know your schedule. They can explore and relax while they're waiting for you to finish your work.
Have a backup plan
No matter how much you plan for it – sometimes things don't go as you wanted them! Things like finding yourself without an internet connection, misplacing the documents you needed, or dealing with a hardware problem can be nerve-wracking!
Although you can't anticipate every kind of problem, you can – and definitely should – add a backup plan to the major issues that may arise. For some people this might mean uploading everything to cloud storage, getting insurance for your equipment, or having a helpful coworker on the other side of the line. These decisions will allow you to further relax and enjoy your vacation time!
Discover the Camino on Your Workation!
Start planning your next great adventure with a Camino workation! Our wonderful Camino Planners can customise the perfect itinerary for your vacation. Extra days, luggage transfers, specialist accommodation and more – we have what you need.
Get in touch with us today to start planning your walking-working vacation and take the break you need.
The Camino is Open for 2023 Bookings!
Book 3 months in advance to recieve a 5% discount!
Reconnect with your love of travel on the ultimate bucket list adventure through Spain.

Whether you have 5 days or 50 days – there is a Camino for you.
Flexible itineraries Luggage transfers Private rooms & bathrooms
Contact us