Spending quality time with your kids is a precious experience. What better place to spend hours together talking and learning about each other than the Camino?
Kids get to explore a new country and culture, while parents get to witness their kids grow in confidence and knowing after a long day of activities they will sleep well that night!
Walking the Camino with your kids is a great family adventure. Discover new surroundings, plants, animals, and people, with time also to relax and play in a pool or on the beach afterwards.
Many kids nowadays don't get uninterrupted time outdoors playing and experiencing nature, but on the Camino, they will!
On the coast explore rock pools, looking for starfish, crabs and other sea creatures.
Passing through towns and cafe's your kids will love stamping their pilgrim passports to document their travels. Keep an eye out for animals and birds as you walk through forests, and for frogs and fish in the streams.
With all this excitement to look forward to, you might want to bring their grandparents or cousins to join in the fun!
Create precious family memories that will stay with you all forever.
So are you ready for a family adventure on the Camino?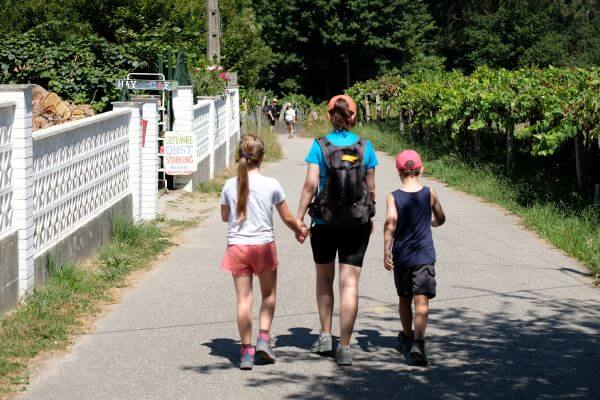 Follow the Camino have been organising customised family holidays on the Camino since 2007! We know what families need on their Caminos and we love working with our clients to find the best options for everyone.
Our family Camino packages take all the stress out of your next active family holiday. Your personal Camino Planner will get to know what your family needs and will put together a customised trip just for you. We organise everything, from detailed route notes with short walking days, to child-friendly accommodation, luggage transfers, and more.
Start your next family walking or cycling holiday with us with a free quote! If you have any questions about the services we offer, please get in touch.






Take the School Trip You'll Never Forget!






The ULTIMATE Educative Adventure Across Spain, Portugal, or France.






Connect with your students as you share this incredible experience.



From accomodation to airport transfers, we can plan the ideal Camino for your class.






 Flexible itineraries    Luggage transfers   Private rooms & bathrooms




Contact us