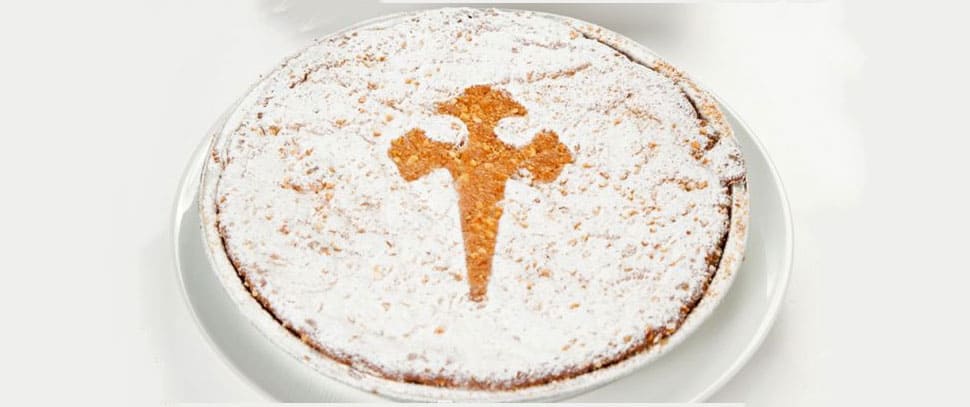 Jan 27 · Umberto
Focus on the Torta de Santiago
There are multiple delicious and famous dishes that will you come across while walking the Camino. One such dish is the Tarta de Santiago. It is a Galician almond cake and one of the most typical Camino specialities. Pilgrims have been enjoying Tartas since the Middle Ages where it was appreciated for its sustenance and durability. The cake could be kept for up to 3 months without perishing as it is Gluten-free.
History 
Saint James is the patron saint of Spain. His remains are located at the Cathedral of Santiago de Compostela July 25th is the fest day of Saint James, celebrated nationally in Spain. The pilgrimage to Santiago is one of the most famous voyages in the world. This trek has been popular since around 1100 A.D. For more on the history of the Camino de Santiago, read here.
The top of the pie is usually decorated with powdered sugar, masked by an imprint of the Cross of Saint James which gives the pastry its name. Want your own?
Recipe
Easy – Prep 15min – Cook 45min
  – 5 eggs
– 215g caster sugar
– 300g ground almond
– Icing sugar, to dust
  – 1 tbsp. finely grated lemon rind
– 1 tbsp. ground cinnamon
–  2 tbsp. lemon juice
Baking Instructions for your own Torta:

Preheat oven to 180°C.
Use an electric mixer to whisk eggs and sugar in a large bowl until thick and pale.
Add ground almond, lemon rind and cinnamon; use a metal spoon to gently fold until just combined.
Grease and line base of a 20cm Springform pan with baking paper
Pour into prepared pan
Bake in preheated oven for 45 minutes or until a knife inserted into the centre of it comes out clean.
Cool in pan for 15 minutes.
Brush top with lemon juice.
Transfer to a wire rack to cool completely.
Dust with icing sugar to serve
This cake is best enjoyed with good company. We also suggest washing it down with a great cafe Americano or Espresso!
Wine Pairing: try Spanish Sweet Sherry
Check out our review of Tapas, Drinks and Gastronomy in Santiago de Compostela here
If you have any questions about Spanish food recipes, the Camino de Santiago tours or our services, then please don't hesitate to contact us at info@followthecamino.com
Follow the Camino organises walking and cycling holidays in Europe for adventure seekers from all over the world. Since 2006, we've offered a great range of manageable walks and cycles for all age groups, in particular on the famous Camino de Santiago. We were the first ever tour operator to operate the Camino de Santiago by creating manageable sections along the main routes to Santiago de Compostela. We are often copied but never equalled!
To find out which route might be best for you, contact our Camino Planners through the form on the top-right-hand side of the page to get your free customised Camino itinerary.