2022 is around the corner and it's time to take up some New Year's Resolutions! Here are 10 popular resolutions that you can bring with you on the Camino next year, whether you are just planning a short trip or a full Camino route!
10. Go on a Digital Detox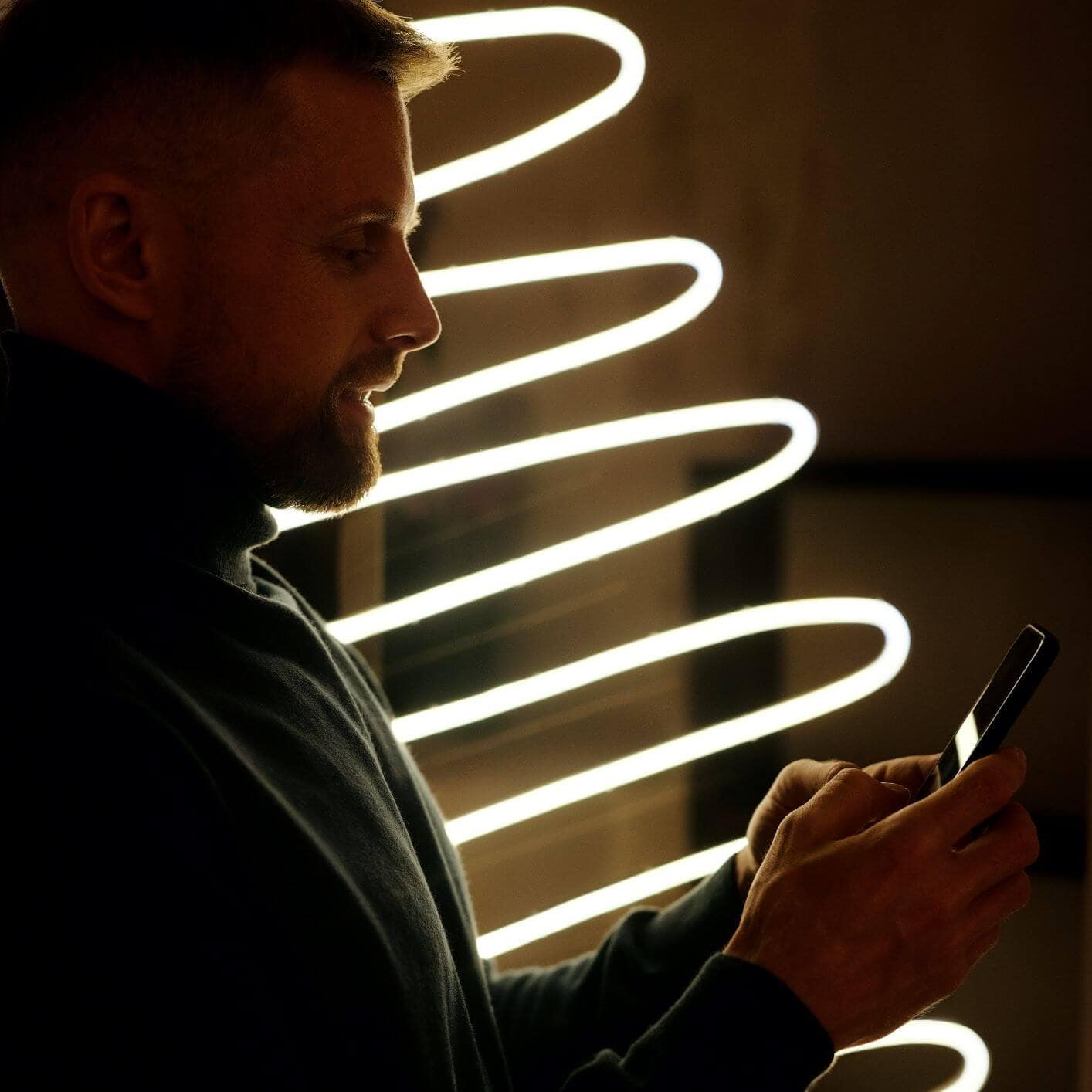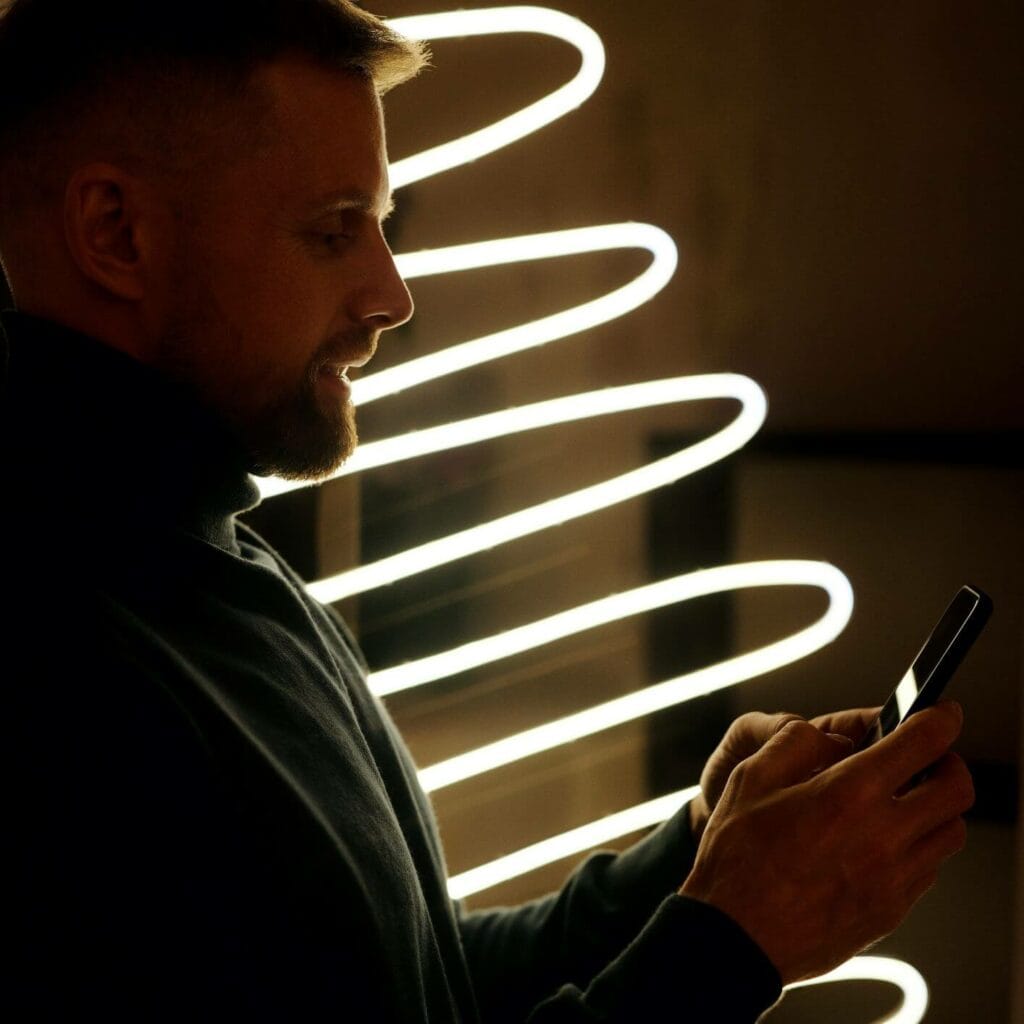 People were navigating their way to Santiago long before the existence of Google Maps.
Be more like the original pilgrims and go on a digital detox in 2022!
Today's world of constant connection and social media saturation can leave you feeling drained (especially with all the news in 2020 and 2021!).
Hit the pause button on this digital deluge and connect to what really matters instead.
9. Reconnect with Nature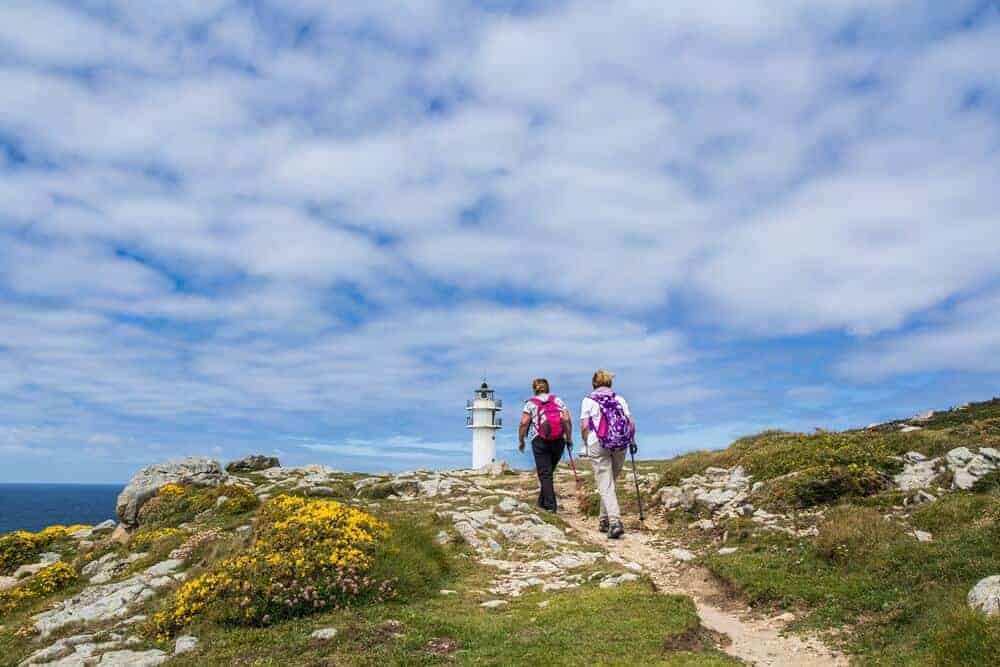 If you're wondering what to do with all the spare time that used to be spent online, this is a great one! Being outdoors in green spaces has been shown to reduce stress and improve health.
To get back into the swing of things, take to one of the Camino's routes and surround yourself with mature forests, unspoiled beaches, and more flora and fauna than you can shake a pilgrim's staff at.
Spending time outdoors will remind you of the natural beauty that exists outside whatever level of lockdown you spent 2020 and 2021 in. Escape your four walls and embrace the beauty of the world!
8. Take Up Yoga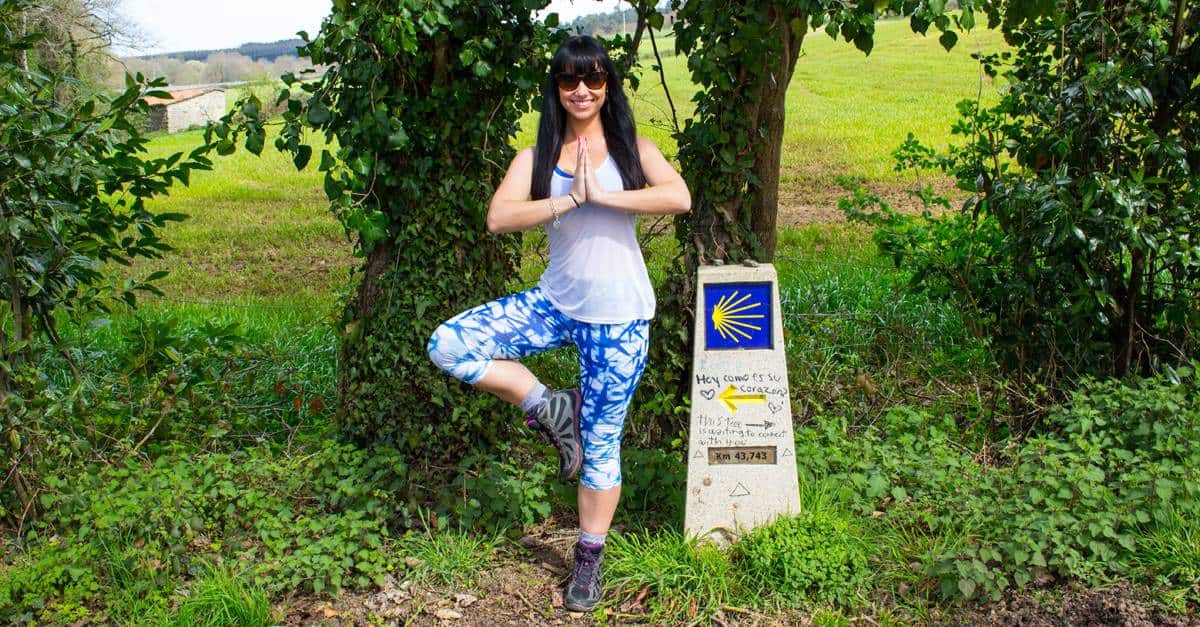 We know a lot of you have probably already done this at some point, but we want to encourage you to step onto the mat again!
Like the Camino, there are loads of benefits to adding yoga to your 2022 routine. It's a great way to reduce stress, get in shape, build strength and stability, and connect with new communities. It is also an excellent gentle training style to help you to get Camino ready!
If you are already in the yoga flow, you can bring this all the way along the Camino with you! Stretch out after a long day of walking. Warm-up with a few downward dogs and warrior poses, and keep everything moving.
For the true Yogis among us – you can now go on yoga-themed tours along the Camino, starting and ending each day with sun salutations and walking sections of the route in between. Namaste!
7. Broaden your Horizons
There's a whole world waiting for you outside your window, so why not explore some of it in 2022? Travelling to new places can be a humbling experience. Dip your toe into another country's geography and culture in a hands-on way.
On the road to Santiago, you can pass by rugged coasts, snow-capped mountains and ancient forests. You will also meet the locals and get a feel for life outside your comfort zone.
You've waited long enough! It's time to plan some travel again!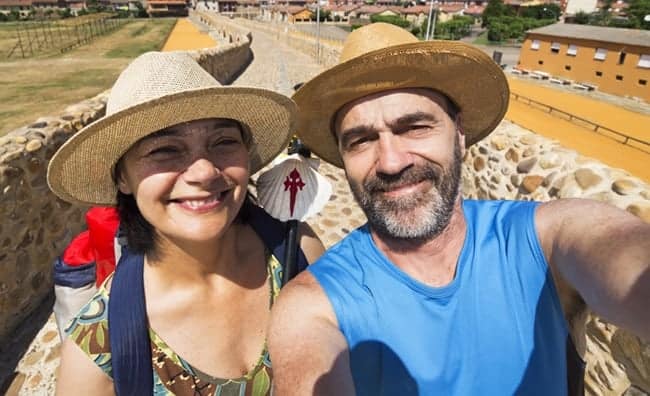 6. Spend More Time in the Sun
Combat those January blues by planning to spend some time soaking up the sun on the Camino in 2022.
Feeling the sun on your skin will give you much more than a warm feeling. It's also known to reset your body's natural circadian rhythms. By waking up with the sunrise each morning and getting early nights, you should feel more energetic and sleep better!
Be sure to keep the sunscreen and sunhat close by though, especially in the middle of the day and on coastal routes like the Camino Portuguese Coastal Route.
Learn more: Download your FREE Camino e-book!
Discover the routes and sections of the famous Camino de Santiago pilgrimage.
Download
5. Make New Friends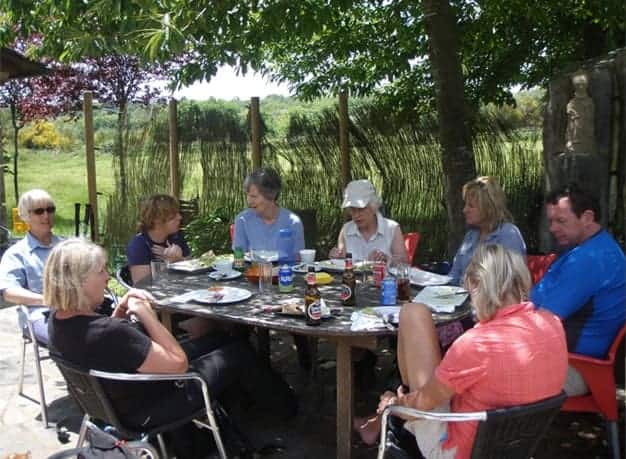 Join a group of like-minded pilgrims, or peregrinos as they're called in Spain, on the Camino. You'll discover how friends who walk together, stay together!
With hundreds of thousands of people from around the world doing the Camino each year, it's easy to make new friends on the way to Santiago. Whether you strike up a conversation in a restaurant over tasty tapas or get chatting about books in a quaint guesthouse, don't be surprised by the lifelong relationships you form.
The shared goal of reaching Santiago ignites a camaraderie not found on other trips. Even in moments of silence and reflection, you're never really alone on the Camino.
4. Get Fit and Healthy
Is getting moving one of your New Year's resolutions? Of course it is!
Consider the Camino and our Camino Training Plan as part of your 2022 fitness regime by walking or biking your way to Santiago. Tackle 20+ heart-pumping kilometres each day across undulating hills. It will be a welcome challenge for your bones and muscles!
Both walking and cycling are gentle on joints, increase endurance, and bring long-term health benefits like lowered blood pressure and reduced risk of heart disease. Trust us, your body will thank you!
3. Connect with Your Spirituality
Regardless of your chosen religion (or lack thereof), spirituality can be an important part of your life. Start the year by reevaluating what brings you value and peace.
There is no better place to do this than on the Camino!
Spiritual and religious reasons are one of the main motivators for pilgrims going on this ancient pilgrimage. Each day gives you time to reflect and chat with others who are doing the same.
For those with religious inclinations, the centuries-old religious monuments, including cathedrals, statues, and churches are bound to inspire you.
2. Get Cultured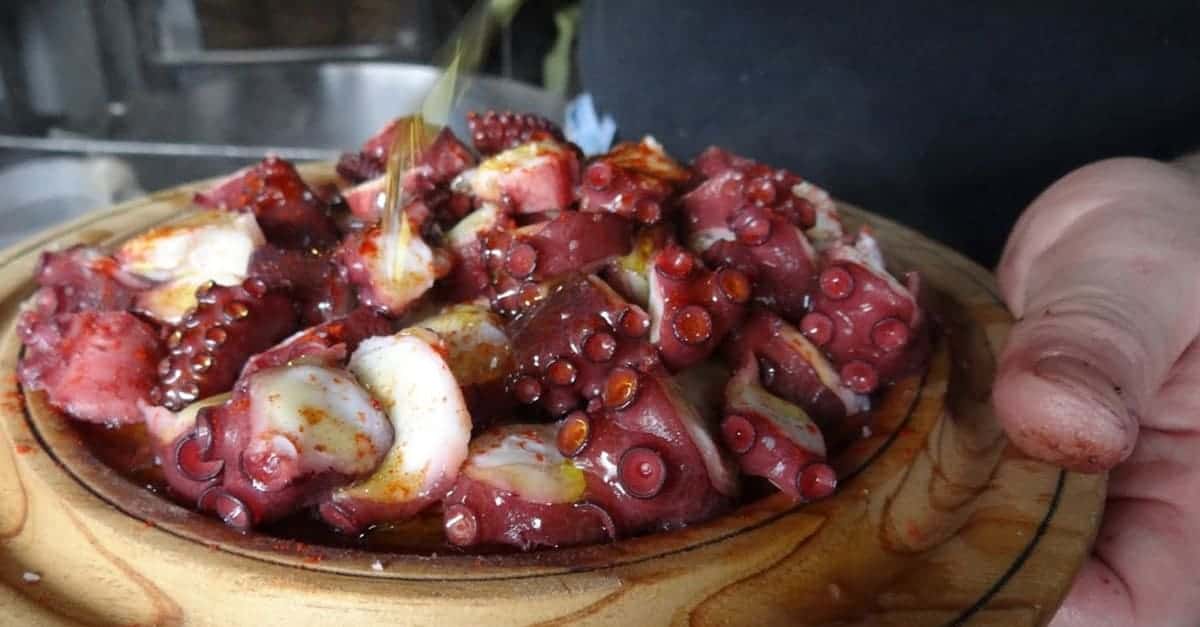 With its ancient Roman roads, epic tales of gods and monsters, and lip-smacking delicacies, culture is in no short supply on the Camino.
Experiencing other cultures is hugely rewarding and gives us a greater appreciation of the diverse world we live in. Recognising other perspectives and differences can bring us closer together and help us to understand people from other backgrounds. On the road to Santiago, you're constantly meeting people, seeing new places, and trying new things.
Speaking of new experiences, make sure you sample pulpo – octopus – in Galicia, and see how their seafaring ancestors dined!
1. Take Care of your Mental Wellbeing
2020 was a really tough year for many of us. 2021 has been tough as well! That makes it even more important to take time to look after your mental wellness. We should be doing regular check-ins with ourselves, meditating, and reflecting on how we are feeling and where we are in life. Unfortunately, so many of us don't find the time.
Walking a Camino gives you all the time you need to get connected with yourself again.
This act of self-care can make a big difference. It can help to improve your self-image, boost creativity, and develop your problem-solving abilities. You'll have plenty of opportunities to take stock and consider what you are grateful for. Starting with your own two feet, dutifully stepping you along the Camino!
For more on mental wellness, check out A Lust for Life.
What are your 2021 New Year's Resolutions?
We would love to hear which of your New Year's Resolutions you'll be bringing on the Camino with you. Get in touch with us and let us know what your goals for 2022 are! We would love to help you achieve them.
The Camino is Open for 2023 Bookings!
Some of our top accommodation booked out in 2022, so get in now to secure the best accommodation for your Camino!
Discover this empowering journey across Spain, Portugal and France for yourself.

Journeys from 3 to 90+ days available.
Flexible itineraries Luggage transfers Private rooms & bathrooms
Contact us