In the North West coast of Spain there's a place called A Coruña with a beautiful claim: it is said to be "the city where none is a foreigner"! As such, A Coruña welcomes all, and it offers a variety of options to enjoy for everybody.
With exceptionally strategic locations, the port of A Coruna was one of the entry points for pilgrims coming by sea from the north. If you'd like to walk the Camino Inglés, you can start your way in A Coruña (know as the "glass city") passing through O Burgo, Sergude, and Bruma before joining the Camino Inglés (English Way) from Ferrol.
This route is shorter than the 100 kilometers that are needed to get the Compostela certificate upon completing your walk, but that's not the end of it! You can walk a certified 25 km pilgrimage in your home country and add those kilometers to the 75 you'll walk from A Coruña to Santiago. This alternative way is perfect for people who don't have the time to walk the 100 km required to get a Compostela.
A Coruña is a vibrant coastal city well known for its excellent food, great beaches, historic monuments, and culture. If you're stopping here for 24 hours, here are our top recommendations:
Have hot chocolate and churros
A Coruña is home to Bonilla a la Vista, the most famous chocolate and churros brand in Spain. There are a few different locations in the city, so just find the closest to you and enjoy! Remember that hot chocolate is not a dessert in Spain, but a breakfast or mid-afternoon snack!
Pro tip: Bonilla a la Vista is also famous for their potato chips (shown in the picture), fried in olive oil and sold all over the world! While you visit their location, make sure you buy a bag (or a bucket!) to snack on it later!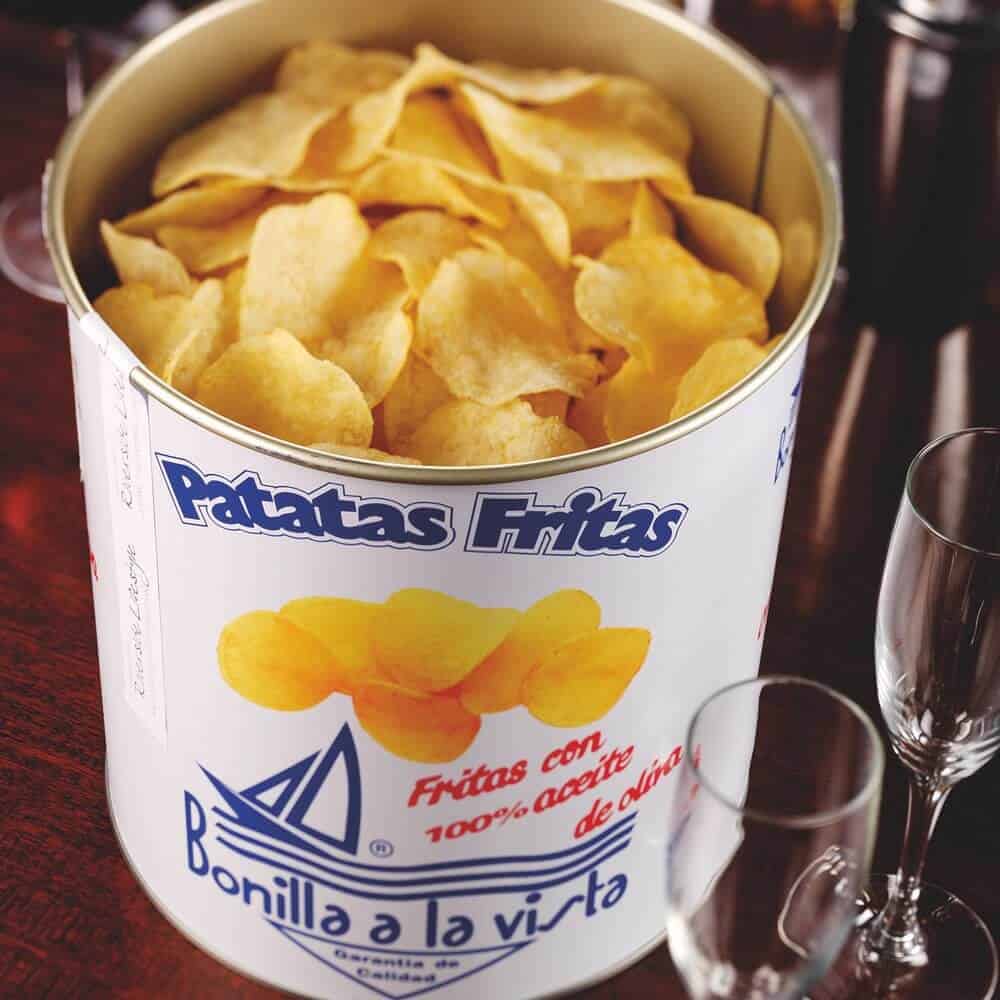 Taste some octopus, like a local
There are great places to have pulpo á feira all over Galicia, and A Coruña gathered them all in the city! There are octopus delegations from the most important towns: Pulpeira de Melide and Pulpeira de Arzúa. If you are looking for something just a bit fancier but still traditional, visit La Caseta de Aurora. It is not in the city center, but trust us – it's worth the walk!
Walk around the promenade
A Coruña is home to the longest urban promenade in Europe. That's more than 13 kilometers (over 8 miles) non-stop by the seashore! Make sure to walk at least a part of it. You'll discover one of the most relevant points of the local life in A Coruña!
Pro tip: Stop to enjoy the amazing views while enjoying a drink or a bite. Here are some of our favorite options: Atlantico 57, Moom, or Tita Rivera.
Have some tapas where the locals go
Right in the city center, you'll find three streets perfect for a tapa session – immersed with the locals! Try Calle de los Olmos, Calle de la Barrera, and Calle de la Galera. Just grab a spot when you see one – most of the places offer delicious bites!
Enjoy science like never before!
A Coruña has 3 science museums that focus on offering an interactive experience for the public – Casa de las Ciencias, Casa del Hombre, and Aquarium Finisterrae. Schedule two or three hours for any of them, they are worth the time!
Pro tip: Casa de las Ciencias is inside a beautiful but not-so-known park, called Parque de Santa Margarita. If you're eating octopus at Caseta de Aurora, you'll probably pass it by on your way there. If you're more into Casa del Hombre and the Aquarium Finisterrae, both of them are quite close to our last stop for the day!
Don't skip the most touristic part of A Coruña!
The Torre de Hércules is famous for a reason – it is the oldest still-functioning lighthouse in the world! It was built by the Romans in the first century of our era, and it is surrounded by stories and myths worth investigating during your visit!
Pro tip: Even if you don't have enough time for a guided visit, you'll definitely enjoy the views and the beautiful park that surrounds the lighthouse.
Make 2023 your Camino year!
Bring your family, bring your friends, or walk the Camino solo.

It is an experience you will never forget.
Flexible itineraries Luggage transfers Specially selected hotels
Contact us