The Celtic Camino is a series of pilgrimage routes in Ireland and the UK that are linked to the Camino Inglés in Spain. So you can basically start your Camino in your home country!
But this is not something new. Since the Middle Ages, people have started their Camino from their home country. That's why different pilgrim's routes that cross most of Europe are linked to the main Camino trails.
Ports like Ferrol and A Coruna on the northern coast of Galicia were the preferred sailing points for pilgrims arriving from Ireland, England, Scotland and other northern European countries. Then, they would have continued their pilgrimage on foot to Santiago de Compostela.
Even though A Coruna is a traditional starting point, it is only 75km away from Santiago de Compostela so it doesn't cover the 100km required to obtain the Compostela certificate at the end of the Camino.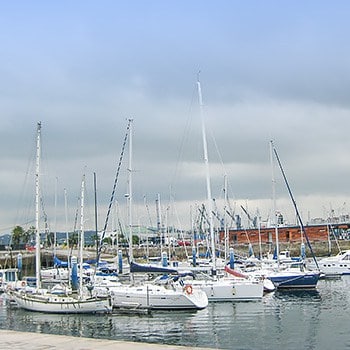 Given the close historical connection between the Celtic countries and the Camino Inglés, there is an allowance for starting in the UK or Ireland. The Cathedral of Santiago has agreed to grant a Compostela to people who can prove that they have walked a certified 25km route in their country of origin and then walked the Camino Inglés from A Coruna to get their certificate.
That's why today you can find different certified walks in Ireland and the UK that are the starting point of the Camino Inglés in Spain.
Celtic Camino from Ireland to A Coruna to Santiago
In Ireland, the Camino Society of Ireland is the organisation in charge of designating new authentic pilgrim's routes, known as the Celtic Camino.
To be designated as a Celtic Camino, the route must be a minimum of 25km in length. It also needs to have a stamp system in place, so people can get their pilgrim passport stamped at the stops along the Camino.
In addition, the Camino Society gives preference to routes that are linked to a pilgrimage.
How does the Celtic Camino work?
To start the Camino in Ireland you can choose from different Celtic Camino routes already in operation, located in counties like Dublin, Meath, Louth, Mayo, Kerry, Cork, Tipperary and Waterford.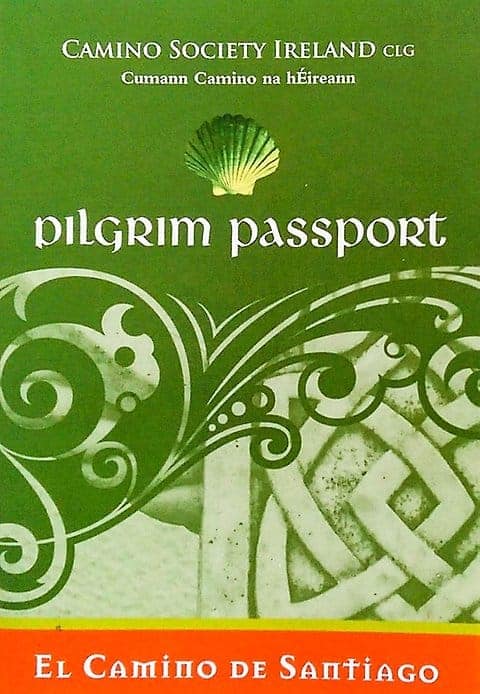 For that, you need to have an official pilgrim passport to collect the stamps along the way. This passport can be ordered from the Camino Society website. The official regular passport is also valid.
Once you have completed your walk, the next step is to bring the stamped pilgrim passport to the Camino Society information centre, located in Dublin. They will certify that you have walked a 25km route by issuing a free Celtic Camino Compostela. When you're in Dublin to validate your stamp, don't miss the St James's Gate, adjacent to the Guinness brewery door!
Then, when you decide to continue your Camino from A Coruna to Santiago, at the end of your journey you just have to present your pilgrim passport to the Pilgrim's Office. In addition, you have to present your Celtic Camino Compostela and the stamped passport, and voila! A Compostela certificate will be issued in your name.
Celtic Camino Routes in Ireland
Some of the Celtic Camino routes in Ireland include St. Declan's Way (part of the Waterford Camino), Kerry Camino, St. Finbarr's Pilgrim Path, St. Kevin's Way, Boyne Valley Camino, Bray Coastal Route, Tóchar Phádraig and Croagh Patrick Heritage Trail.
Even though the Celtic Camino routes can be done as self-guided walks, you can also join one of the guided tours organised throughout the year by different organisations.
Discover the route of the Celts!
Follow in the footsteps of your Irish and British ancestors by walking the Celtic Way.


Pilgrim's Routes in the UK
In the UK, some of the spiritual routes that provide a pilgrim passport and stamps which would provide proof for the Pilgrim Office in Santiago are the Way of St. Andrews, the Pilgrims Way (Winchester or London to Canterbury) and St Michael's Way (Lelant to Mazarion).
Distance: 100km (62 miles)
Duration: 3-8 days
Start: Edinburgh to St Andrew's Cathedral, Scotland
Difficulty: Moderate

There are ten different routes that you can do to reach St. Andrew's Cathedral in Scotland but the most popular one starts in Edinburgh.

Known as St. Margaret's Way, this route starts in the centre of Edinburgh and is 100km (62miles) in length and can be split into three to eight-day pilgrimages.

This route follows the footsteps of Scotland's patron saint, St. Andrew. This Camino takes you on bike paths and quiet roads to the Forth Road Bridge, then spectacular scenic coastal tracks and former pilgrim trails through local communities, to the famous ancient town of St Andrews.

Find more information here.

The North Downs Pilgrims Way from Winchester to Canterbury

Distance: 246km (153 miles)
Duration: 15 days
Start: Winchester to Farnham
Difficulty: Moderate

This is one of the most well-known British pilgrim paths. It offers a great mixture of wood, farmland and great views across the Weald. This Medieval pilgrim path is a great opportunity to get you started on your Camino.

Find more information here.
Celtic Caminos are an excellent way to begin your journey closer to home while seeing parts of the UK and Ireland that you might not have seen before. If your trip to Spain has been delayed or if you can't quite get there yet – start with a "staycation" in your own country.
When you are ready to take your next step on the journey to Santiago de Compostela – we'll be here ready to help!
Embrace the Camino in 2021!
Escape the lockdown and reconnect with yourself.

Let the Camino change you.
Flexible itineraries Luggage transfers Specially selected hotels
Contact us