It is not very common for people walking the Camino to have to take time out to do an interview for a national broadcaster. It's even less common to be interviewed about a missing person investigation. But this is exactly what happened to Kenneth Strange while walking along the Camino Frances in May 2018 with his wife Aurora.
Kenneth, a former FBI agent in the Joint Terrorism Task Force and more recently a California-based Private Investigator who specializes in missing person cases, was contacted by a journalist from RTE, the national broadcaster in Ireland, to speak about the ongoing investigation to try and locate the remains of Annie McCarrick – an American student from Long Island, New York, who went missing in Dublin in 1993 and was never found. The Irish police force had recently revisited their investigation as part of a cold case review and there was significant media attention. Kenneth himself had previously lived in Long Island and had known the McCarrick family who were neighbours of his at the time.
So why was Kenneth walking on the Camino and what did he make of the experience? We made contact with him over Skype and had a very enlightening interview. Here are some of the questions we put to him and his responses.
When did you first hear of the Camino?
I spent a year studying at the University of Madrid in 1975 and learned to speak Spanish.

I read a book called Iberia from the great American author James Michener and that gave me my first real introduction to Spanish culture and also the history and significance of the ancient pilgrimage routes along the Camino de Santiago. It also acted as a kind of guidebook for me throughout the years as I visited different places mentioned in the book.
What motivated you to walk the Camino?
I suppose there were three main reasons that provided the motivation for me to finally walk the Camino.
Firstly, my great love of Spain and all its culture and history.
Secondly, my wife Aurora is from the Philippines, which is a very Catholic country, so being able to do follow the historical pilgrimage route to Santiago de Compostela had significant religious importance to her.
Thirdly, and perhaps the main reason to go in 2018, was the fact that I was at a transitional stage of my life, having retired from the Department of Justice and other corporate employment. It was the right time for both of us to undertake this challenge.
What were your expectations before walking the Camino?
I had no real expectations, I wanted to take things as they came. To experience the grandeur and beauty of the countryside, meet people and hear their stories.
How did you prepare for the challenge of walking the Camino?
Both Aurora and I are in our early 60s, but we have always been active and been on many hiking vacations, both together and with our twin daughters as they were growing up. I have also done a reasonable amount of mountain walking in a number of countries around the world.
We started our training and exercise for the Camino about 3 months beforehand.
What part of the Camino did you walk and how were the first days?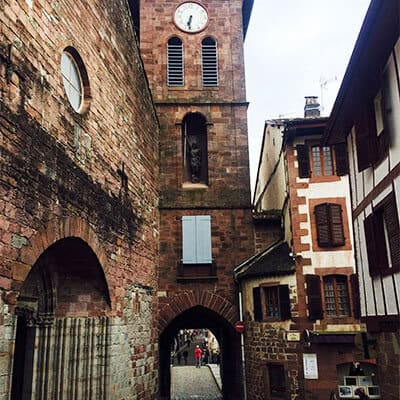 We decided that we would walk the full Camino Frances (or the French Way) from the border of France and Spain to Santiago de Compostela. This was a journey of 500 miles (800kms) and would take us over 30 days to complete.
I have to say that the first day was the toughest for me. The journey started in France is a small village called Saint-Jean-Pied-de-Port and we had to walk across the Pyrenees Mountains before descending into Spain and spending the first night in Roncesvalles.
I suffer from tendonitis in my right knee and as the first day wore on, I was in more and more pain. This was exacerbated by the steep inclines and declines of the mountains. I really thought that I could not make it much further and thought I would have to give up. Luckily my wife is a trained nurse and she was able to patch me up and give me the encouragement needed to carry on.
Thankfully walking became easier in the following days.
Where did you stay every night?
We planned to stay in dormitories in the local albergues (pilgrim hostels) and we did that for the first 3-4 nights. These can have up to 20 people in a single room and we quickly realised that, while dormitories might be great for younger people or those on a tight budget, we found it very difficult to get used to sleeping together with so many strangers.
After the first few nights, we generally booked a private room with shared bathroom in guesthouses or hostels along the way.
You have recently published a book about your experiences on the Camino. Why?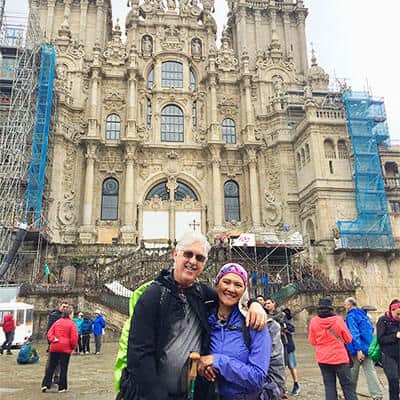 I have always wanted to write a book and have written many articles for different newspapers and magazines about travel in different parts of the world and also my experiences while working in the FBI.
While walking along the Camino, we heard so many different and inspiring stories from pilgrims of all nationalities and walks of life. When I came home to the United States I just felt that I had to write a book to share these stories and experiences with everybody.
Was it difficult to write the book?
Writing the book was very enjoyable and it felt like it almost wrote itself. I found myself reliving my pilgrimage and the stories I had heard. It took 4 months to complete and I think doing the Camino was actually more difficult than writing about it.
I have had great support and encouragement from many people. I especially want to mention the inspiration, encouragement and assistance I received from Martin Sheen, who of course starred in the 2010 movie called The Way. I think this movie is what first introduced the Camino de Santiago to a lot of Americans and is the reason why the pilgrimage continues to become more and more popular.
Martin is actually a neighbour of mine in California and we have met a number of times. He is a really lovely man and was very kind and helpful to me as I was completing the book. When the first draft was finished, I sent it to him and asked would he be willing to provide some feedback. Even though he was such a busy man with lots of projects and other commitments, he came back to me within 4 days with very helpful feedback.
What are you doing now since returning from the Camino and having written your book?
The past few months have been a whirlwind of talks and publicity events to promote and sell the book. I am travelling to different parts of the country and meeting people at city libraries, bookshops, church groups and other venues. I am really enjoying this and it is extremely satisfying to see the interest that people have in hearing about the Camino and perhaps planning their own pilgrimage.
I am also in the process of writing a second book about my experiences working in the FBI, but as they say – that is another story.
What advice do you have for people planning to walk the Camino for the first time?
My main piece of advice is to make sure to buy good quality equipment. Good, well-fitting footwear and socks are a must – go to a specialist outdoor activities store (such as REI in the US) and get advice from their experienced staff.
Light-weight clothing and a good, lengthy poncho will make sure you are prepared for all weather conditions.
Walking poles are also very important. I find that walking downhill for several hours can be quite challenging and painful, the poles make it much more comfortable and manageable.
And your top tip for while they are on the Camino?
Be open to what's around the corner – just walk and see what happens. You will meet so many different people, every day will be different. Let yourself be in the moment.
What was the most memorable moment on your pilgrimage?
It was when we were perhaps halfway through our journey, after passing through the town of Rabe de las Calzadas on the way to the village of Hornillos del Camino and our final destination that day of Hontanas. We looked back along the path and saw a couple walking behind us holding hands. You don't see many public displays of affection on the Camino, so we thought that was nice to see.

Later in the day, that couple caught up with us and I was amazed to see both the man and woman were blind. Their names were Russell and Lori – both from the United States. We got into a conversation and spent the rest of the day walking together, getting to know each other. We had dinner with them in Hontanas; that is the last time we saw them on the Camino.
Near the end of our time together we were at a beautiful viewpoint and Russell asked me to describe what I saw. I described the scenery – the flowers bending in the breeze, the trees, the little stream with it's bridge, the blue sky. I felt very humbled that this couple were seeing what I could see through my words alone.
Would you go back?
Yes, I would really love to go back and walk some part of the Camino again.
Before then I plan to go on a hike up Mount Whitney (the highest mountain in the United States, outside of Alaska and Hawaii) with my wife and two daughters.
---
Keneth Strange has written a book about his experiences on the Camino called "It's your Camino. One Couple's 500-mile pilgrimage across Spain". You can find out more about his book here.
The Camino is Open for 2024 Bookings!
Get in now to secure the best accommodation for your Camino!
Discover this empowering journey across Spain, Portugal and France for yourself.

Journeys from 3 to 90+ days available.
Flexible itineraries Luggage transfers Private rooms & bathrooms
Contact us