The wonderful Blanca Valencia, Spanish gastronomy expert and wonderful cook, has shared this recipe with us for potatoes with chorizo from La Rioja! Known in Spanish as Patatas a la Riojana, this delicious stew is a real crowd-pleaser.
One of the simplest most wonderful stews you can find in Spain. Originally from La Rioja, it is a popular menu del día o menú del peregrino meal. There are two basic types of cures for Spanish chorizo; soft for cooking and hard for slicing and eating without any further preparation. The soft cooking chorizo is used in this recipe which releases its juices and flavors the potatoes.

Blanca Valencia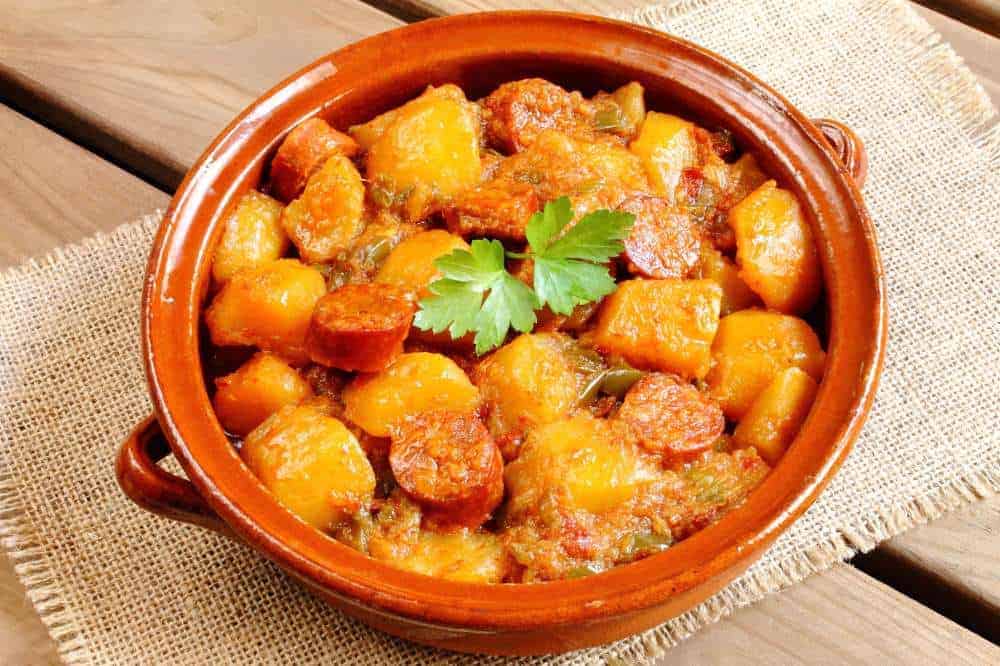 Patatas a la Riojana Recipe
Serves 4-6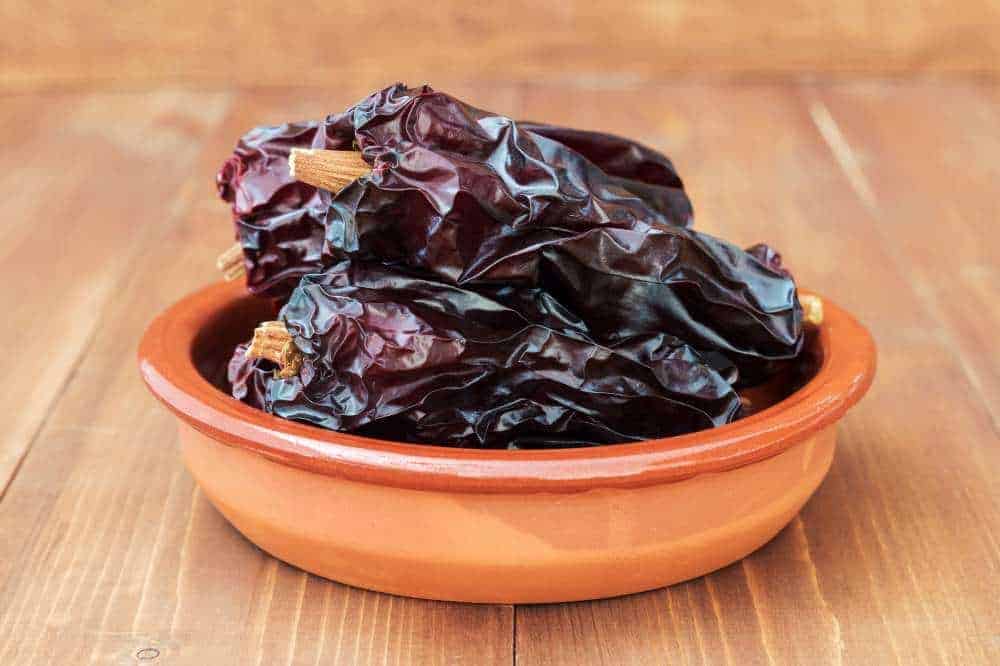 3 tablespoons olive oil, plus more if needed
1 pound potatoes, peeled and cut into 1 inch-thick chunks
½ pound chorizo, cut into 1/2 – inch slices
½ cup onion, minced
1 cup small-diced red or green bell pepper
3 large garlic cloves, minced
1 large choricero dried pepper, soaked, seeded and cut into small pieces*
½ cup water or white wine, as needed
2 bay leaves
Salt and freshly ground black pepper, to taste
Chopped parsley, to garnish
*You can also use Mexican ancho dried chile. The Mexican ancho chilli will give the dish a different spin than if you use choricero dried pepper which is the standard in Spain.
Rioja Style Potatoes and Chorizo – Method:
In a large frying pan, heat 3 tablespoons of olive oil over medium heat. Add the potatoes and sauté until pale gold, 10 to 15 minutes. Add chorizo and fry over medium heat until sausage begins to brown. Using a slotted spoon, transfer the potatoes and chorizo to a plate.
Add onion to the oil and sauté until golden, 5-7 minutes. Add the bell pepper, garlic and dried pepper and continue to cook, stirring occasionally, for 5 minutes to blend the flavours.
Return the sausage and potatoes to the pan and add the water or wine. Add the bay leaves. Cover and cook over low heat until the potatoes are tender, about 20 minutes. If the pan seems dry, add more liquid.
Remove from the heat, season your Patatas a la Riojana with salt, and transfer to a serving dish.
Sprinkle with parsley and serve hot!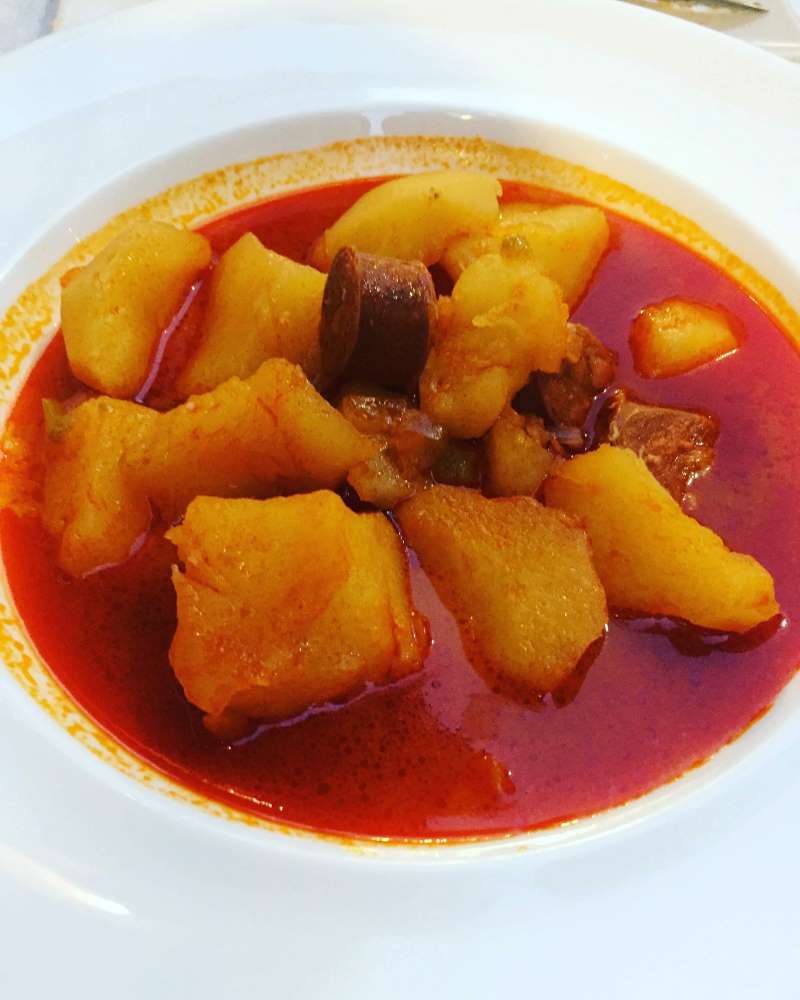 A Bit About The Chef – Blanca Valencia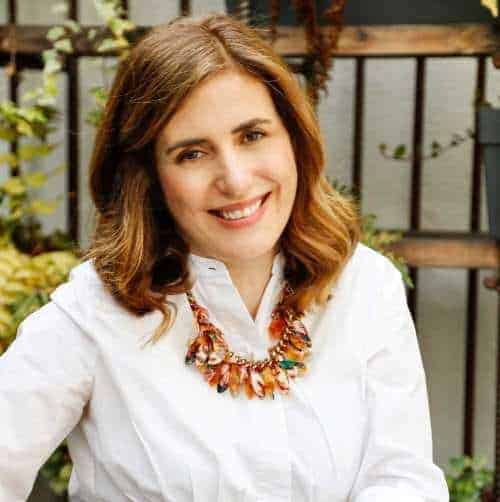 Born in Spain, Blanca Valencia grew up in Central America and has lived in London, China, France and the U.S. She is a cook, teacher and speaker and a former management consultant. Blanca has a Grand Diplome from London's Le Cordon Bleu and her experience includes running the test kitchen Books For Cooks (London), a stage at elBullihotel (Seville, Spain), and running the school at Alambique (Madrid). She collaborates regularly with the Spanish Commercial Offices and Cervantes Institutes in the U.S. and Ireland.

Blanca loves teaching people to cook. Her volunteer experience includes Common Threads, Purple Asparagus, the City of Madrid, and the Chicago Cultural Center. Currently, she is doing a Masters in Gastronomy and Food Studies at TUD.

Follow her on Instagram for gorgeous food and travel photos: @blancsvalencia
Experience the Cuisine of Rioja Yourself!
We hope that you enjoy making this delicious recipe from Spain and that it reminds you of the wonderful food of the Camino! To taste this dish in Rioja – visit Spain and walk the famous Camino de Santiago. We promise it tastes even better after a lovely day of walking between the grapevines.
Contact us to start planning your next Camino!
The Camino is Open for 2024 Bookings!
Get in now to secure the best accommodation for your Camino!
Discover this empowering journey across Spain, Portugal and France for yourself.

Journeys from 3 to 90+ days available.
Flexible itineraries Luggage transfers Private rooms & bathrooms
Contact us