Many people dream about travelling to Spain to walk the Camino de Santiago. The Camino is associated with dirt tracks across golden fields, rural Spanish villages and the bright sun on a clear blue sky.
As every Camino route ultimately ends in Santiago de Compostela, you will see this landscape when you walk a full Camino. But the network of different routes is not limited to Spain. Camino trails traverse all of Europe, so you can basically start your Camino at your front door: For example, on the Waterford Camino in Ireland.
Did you know that a part of the Camino de Santiago leads through Ireland? This section in the Emerald Island's Ancient East lets you discover some of the country's most magical locations. Generally called Waterford Camino, it consists of different beautiful sections in the south-east of Ireland that are easily reachable from Waterford.
Comeragh Mountains
Only a 45 min drive from Waterford, the Comeraghs just wait to be explored. Some of Ireland's most beautiful natural features can be found here. Formed by a glacier, two spectacular mountain ranges reach into the sky and form a corrie. In between, a clear lake adorns the valley.
With a little bit of fantasy, you can imagine a giant cooking a potion in this natural bowl! When you hike the Waterford Camino in the Comeraghs, the age-old trail will lead you through woodland and over bare hills with rocks peeking out of the ground. Look forward to charming waterfalls and a cathedral of rock, too. Magical!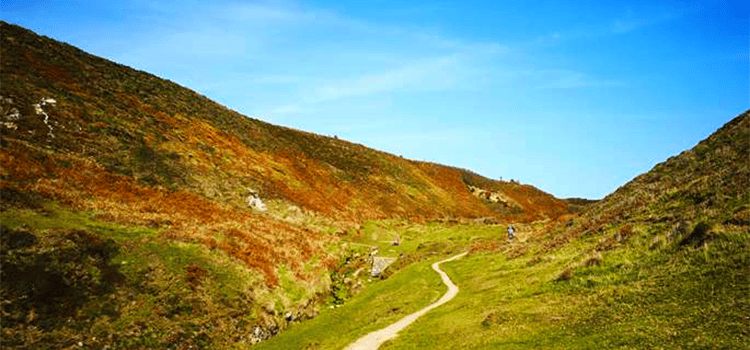 St Declan's Way
This ancient pilgrim path is the route that St Declan walked in the fifth century to meet Saint Patrick in Cashel. For more than a thousand years, pilgrims walked in the other direction to visit Saint Declan's monastery, the holy well and his grave in Ardmore.
Now part of the Waterford Camino, you can start your journey to Santiago de Compostela on the legacy of St Declan and St Patrick. This walk has more to offer than history: Around Ardmore, a stunning cliff walk will spoil you with gorgeous views of Ireland's rough coast and the sea, while Lismore awaits you with timeless forests and meadows.
Waterford Greenway
On an old railway line, a new and well-maintained cycling and walking trail are just waiting for you!
To the backdrop of the towering Comeragh Mountains on one side and the Atlantic Ocean on the other, this trail offers a journey through time. Hop on your bike or tie your shoes on the quays of Waterford and make your way through Irish heritage to the historic port of Dungarvan.
History can be found everywhere: Waterford's Viking origins, medieval ruins, a Norman castle, deserted railway stations, an ancient aqueduct, an Ice Age rock with presumably magical powers and a heritage train that still runs along part of the track are only some of the amazing sights along the Greenway.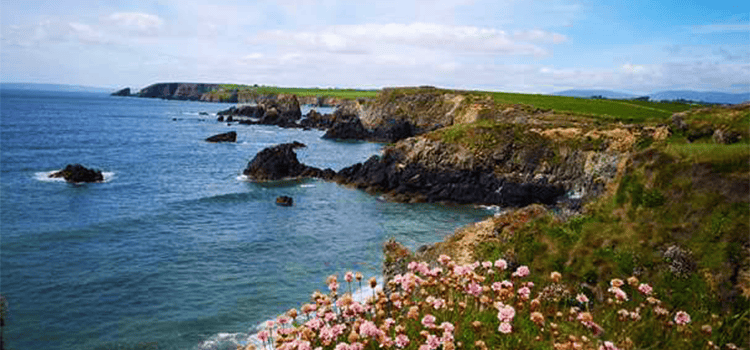 Copper Coast Geopark
Who said a museum has to be a building? The Copper Coast UNESCO Global Geopark is an outdoor museum of geological sights, covering the coastal area from Kilfarassy Beach to Ballyvoile Beach near Stradbally to the west.
The impressive scenery there has been formed over years and years by a combination of volcanoes, oceans, deserts and ice fields and boasts various "geosites". These either show the geological story or the human heritage combined with the geological history to tell us about the creation of the Copper Coast and the people that depended on this land.
These sights include beautiful coves and bays, castle ruins and an ancient dolmen. When you join us on the Waterford Camino in Ireland, we will not only take you for a hike at Copper Coast, but you can also enjoy the surrounding area with a beach walk in Tramore and a cliff walk and boat trip in the fishing village of Dunmore East.
Glendalough
In the Wicklow Mountains National Park a magical natural and cultural treasure awaits. Nestled between green mountains, the two beautiful lakes and the Monastic City take you on a journey to the past.
This valley must have always impressed people: St Kevin founded his monastery here in the 6th century. Now, different fascinating ruins welcome visitors in the valley, most of them dating back to the 12th century. After you soaked in the mystical atmosphere of this place, hike parts of the Wicklow Way around the lakes and enjoy amazing views of this special National Park.
Your Camino can begin anywhere
The Waterford Camino is a great way to get to know Ireland in all its beauty and to keep up the Camino spirit until 2021.
What is so special about 2021? It is a Camino de Santiago Holy Year, as the Day of St James falls on a Sunday. Special events and celebrations are held in Spain, making it an unusual and unforgettable experience to walk the Camino that year.
If you live in other parts of Europe, don't worry, you won't have to wait until next year either. Your local pilgrim associations can help you find a Camino that is close to you. Explore nature at your front door to keep up your Camino spirit and fitness until you can travel again!
Get ready for 2021 – your Holy Year on the Camino.
Buen Camino and happy St Patrick's Day!
Walk the Camino in 2021!
Join the flow of pilgrims walking the Camino De Santiago in the 2021 Holy Year.

You've never seen anything like it!
Flexible itineraries Luggage transfers Specially selected hotels
Contact us