Finding the best backpack for the Camino de Santiago, or any walking holiday can be quite a challenge. The options online and in stores are endless. Maybe you are an experienced hiker, but your old backpack doesn't do the job anymore. Perhaps you have had bad experiences with the one you have. Or you could just be a newbie who just wants advice on which new backpack to get for the Camino.
Regardless of why you are looking for a new backpack for the Camino, you've come to the right place.
We have carefully selected a few backpacks that we believe will be loyal companions on your Camino journey.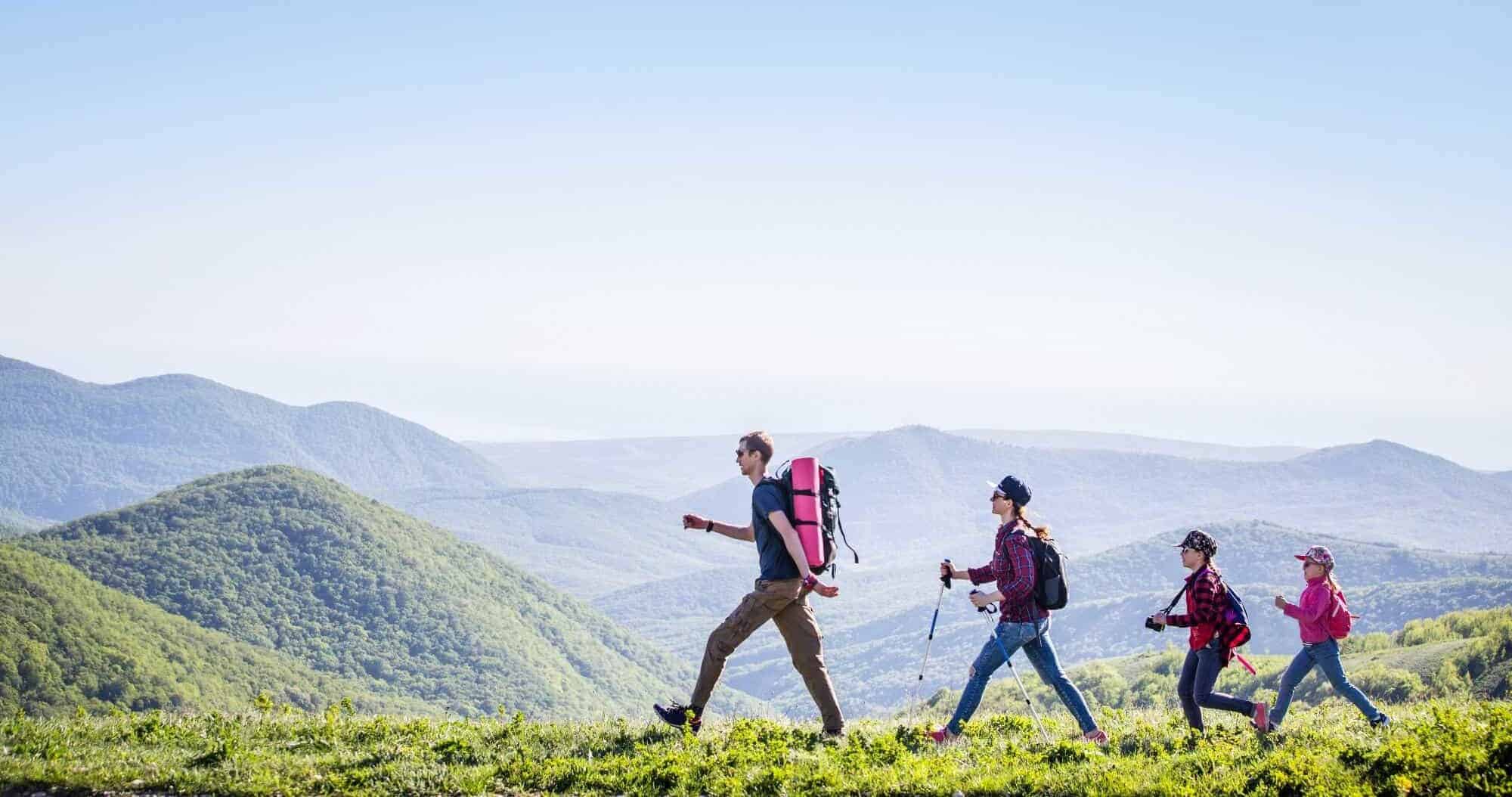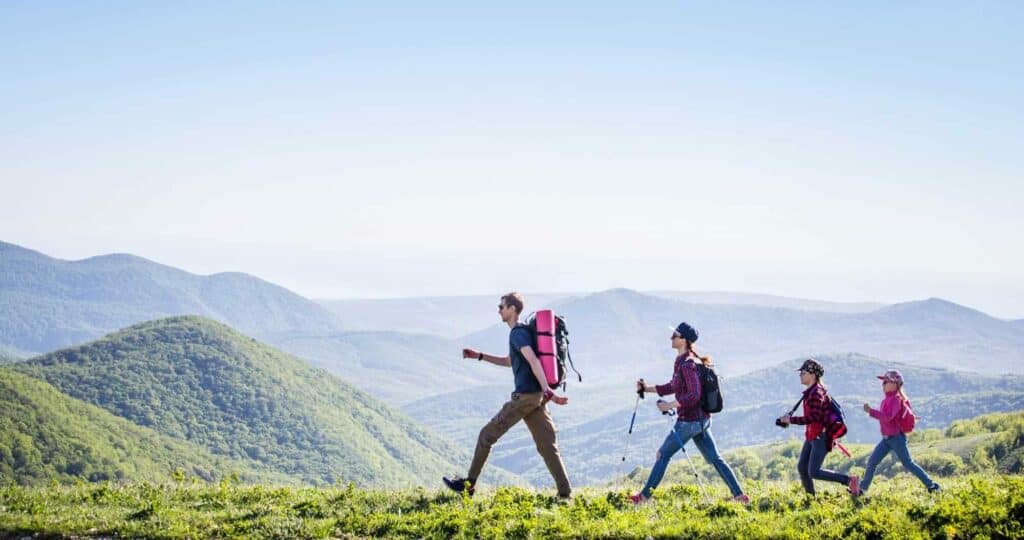 Learn more: Download your FREE Camino e-book!
Discover the routes and sections of the famous Camino de Santiago pilgrimage.
Download
First things first…
Before you go ahead and choose a Camino backpack, it is important to consider certain factors that meet your individual needs.
1. Comfort
This is probably the most important factor to consider. Always make sure your backpack is comfortable enough to carry all day and test it with weight in it. As the majority of the weight lies on your shoulders and your hips, you want to make sure your backpack has a padded hip strap and good, wide shoulder straps. Spend some time working out the right size for you. Your gender and hip build will play a big role here.
For more stability along your journey, your backpack should have a rigid back frame. It will make a huge difference once you are hiking 20-30km per day with a full backpack (or 15-20km per day on our short walking day options). Most backpacks these days will have an internal frame that keeps the bag's shape and allows air to move behind it.
The Camino can get very hot, so a good ventilation system on your backpack is important!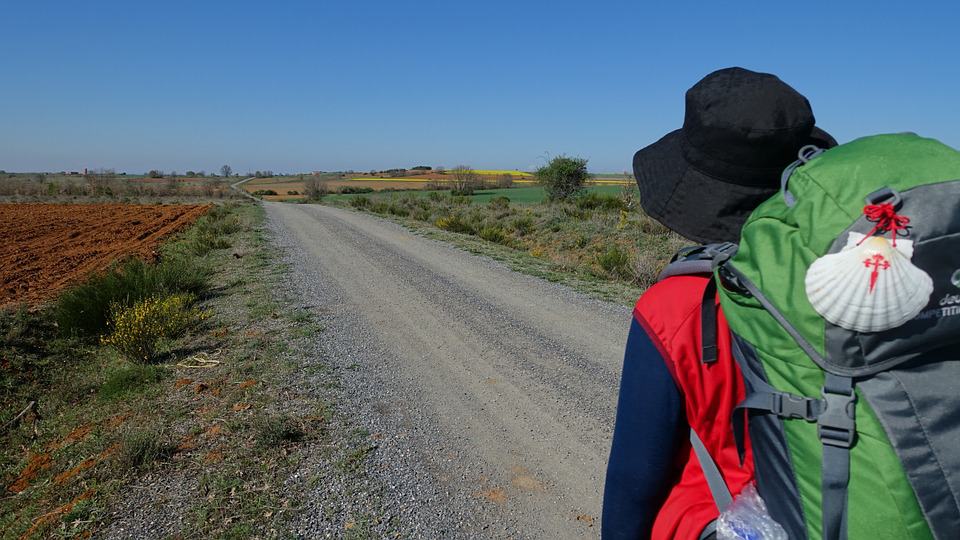 2. Quality
You want your backpack to last for many hikes to come. Especially if your bucket list includes multiple Camino routes or other walking holidays.
Some manufacturers even offer lifelong repairs if you buy their backpacks. Plus, having a good quality backpack for many years is much more sustainable for you and the environment.
We are only recommending Camino hiking bags that have a great record on quality and comfort. You'll see plenty of people with the same brands on your way too!
There are many other brands out there, so if you can't find these ones then look for other reputable brands. We also like Macpac, Patagonia, Berghaus, Northface, and Gregory. If you still aren't sure, you can talk to the people at your local outdoors shop about what options they have.
3. Weight
When you are hiking for many hours and have packed your backpack with all your essentials, you don't want the backpack itself adding too much extra weight. We recommend taking the weight of the backpack into consideration when looking at backpack options for your Camino de Santiago hike.
Make sure to test your backpack with some weight in it in the store to make sure it fits correctly. Most gear shops will happily let you put some heavu products into the bag to get the feel of it.
4. Size
In terms of the size of your Camino backpack, it is important to keep in mind which distances you plan to hike and how long your overall journey will be.
On the Camino and some other big hikes, you can have the majority of your things transferred between accommodation for you. This means you will only need to carry a day hike sized bag for the Camino. You can have a suitcase or other bigger bag for the rest of your things.
Inspired? Download Our Camino Packing List!
Everything you need to pack to walk the Camino de Santiago.
Download
Bag volume is usually measured in litres. In general, these estimates can help you decide the best backpack size for your journey:
Day Hike: 15- 30 L (this is what we recommend if you have your main bag transferred)
1-3 nights: 30-50 L
3-5 nights: 50-80 L
If you are travelling with a buddy you might even be able to carry a smaller bag, as you can share things like your first aid kit and your phone battery pack.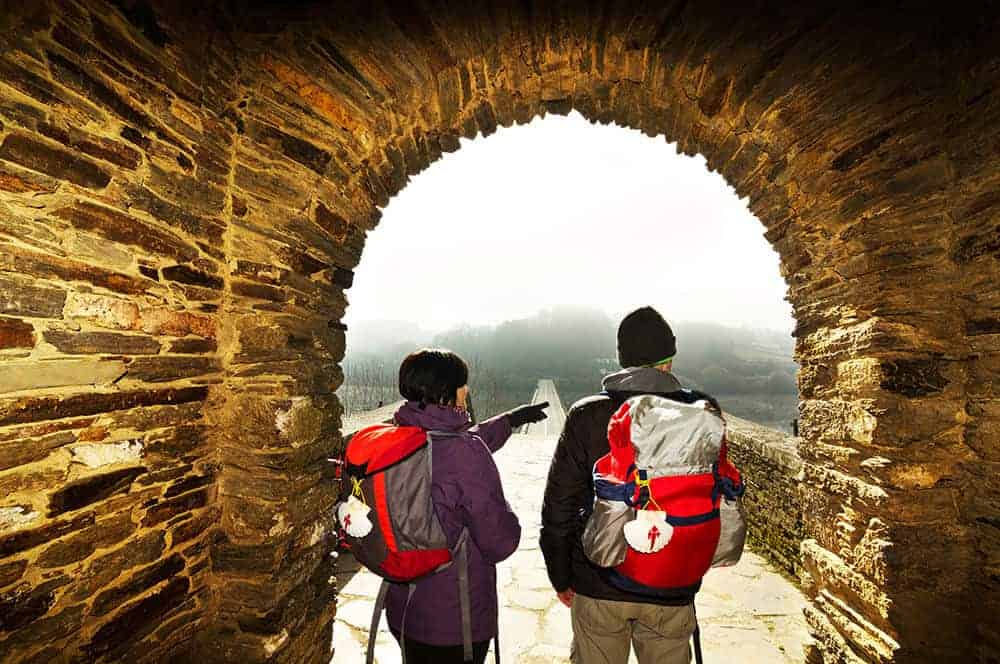 This podcast from Adventure Travel Show has some more advice on choosing the best backpack for your Camino – or any other active holiday. It also talks about how to fit the bag correctly!
Our Recommendations
Here are our choices for the best Camino de Santiago backpacks in each of these categories:
Best Light Hiking Backpack – Osprey Eja 58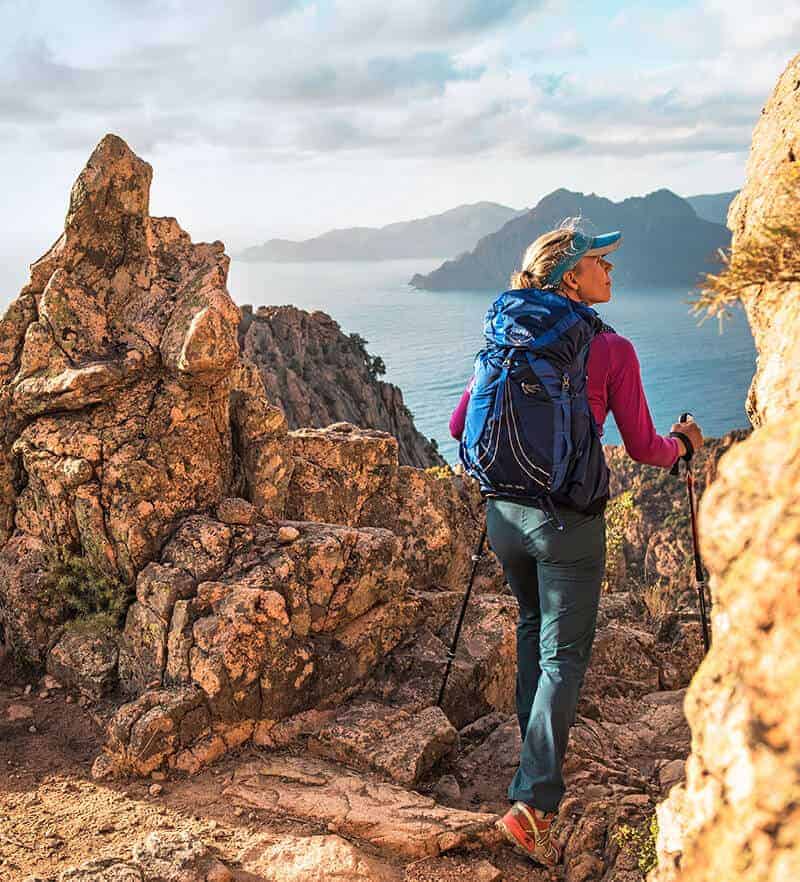 58 litres, 1.2 kg, €200
This is a pretty big bag that would suit pilgrims who are carrying their things rather than having them transferred.
With a good ventilation system to keep your back cool and ultralight materials, the Eja is an excellent choice for anyone who has decided to carry all of their luggage on the Camino. It is a multi-day pack, which means it is a bit bigger. The men's fit version of this backpack is the Exos 58.
We like that this bag is so light, and it has great features, like compression straps and pockets.
It is also set up to hold a 3-litre hydration bladder so if you prefer these to water bottles this bag will work for you.
Best Small Daypack for Hiking – Deuter AC LITE 14 SL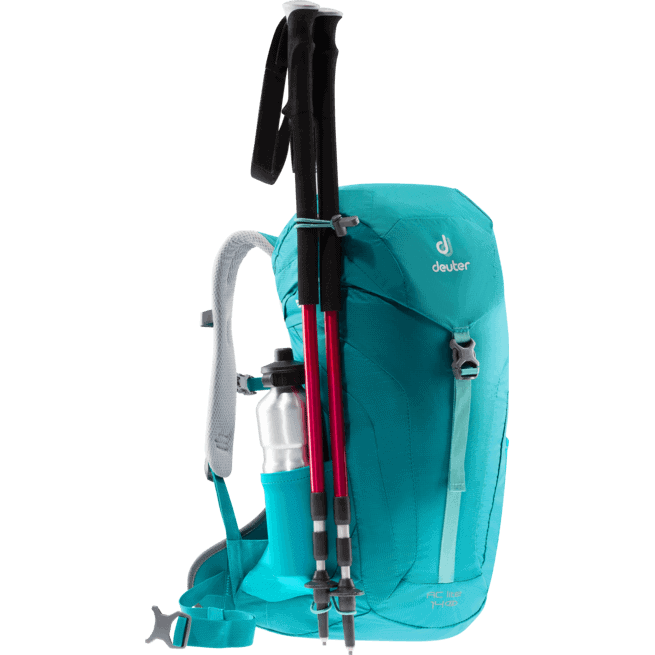 14 litres, 0.8 kg, €75
This little pack is great for the compact traveller. If you are having your main bag transferred on the Camino and just walking with a day bag then this is an excellent option. They even offer a lifelong repair service!
At just 14 litres, you will be limited to just the essentials like snacks, water, and a raincoat, but that also helps you keep things light.
It still has a good support frame and hip strap and can carry a 2-litre water bladder as well.
Best Women's Camino Backpack – Osprey Tempest 20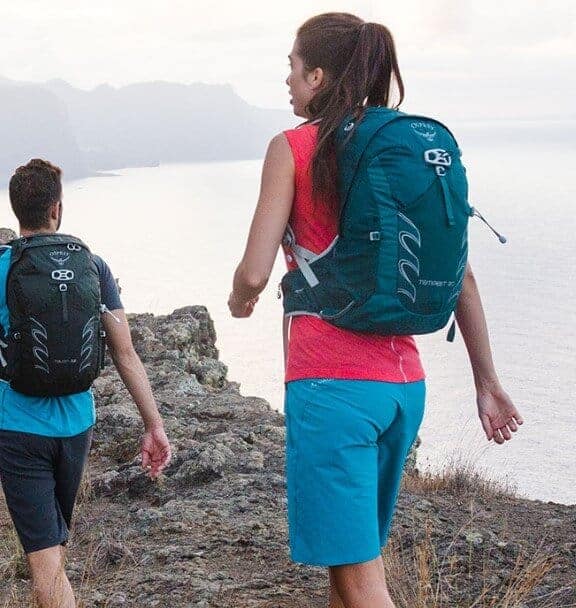 20 litres, 0.7 kg, €130
You will see a few bags from Osprey on this list – that is because they are excellent quality and very comfortable. They also have a really good sustainability policy!
Our pick for the best women's backpack for Camino de Santiago is the Tempest 20.
It's light, specifically fitted to women, and will last for many years. You can see a Tempest in action in Katherine's blog about walking the Via Francigena!
This is an excellent day bag to use on the Camino de Santiago if you are transferring your main bag between your accommodation.
Best Men's Camino Backpack – Osprey Talon 22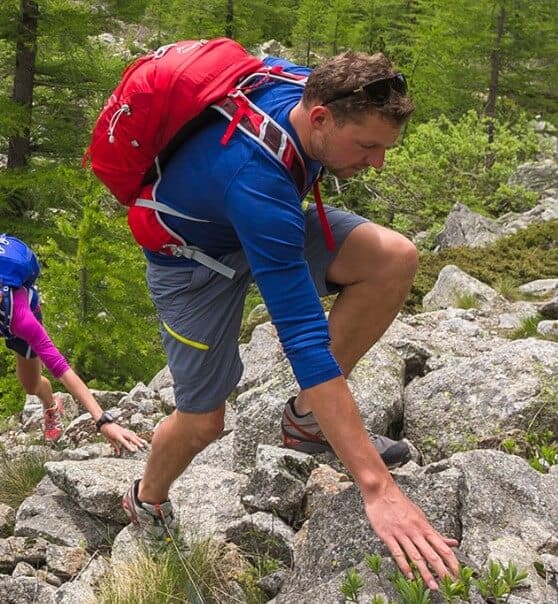 22 litres, 0.8 kg, €130
This is the men's version of the Tempest, and it is just as iconic.
The Talon has all of the same features as the Tempest as well. A mesh back for airflow, a pocket for your hydration system or Camelback, and a comfortable, hugging hip strap.
On both the male and female versions, this bad has handy little pockets on the hip strap which are great for snacks and small electronics.
As with the Tempest, this is suitable for people who are having their main bag transferred on the Camino de Santiago and are just carrying the basics.
Best Backpack for Children – Deuter Junior Pack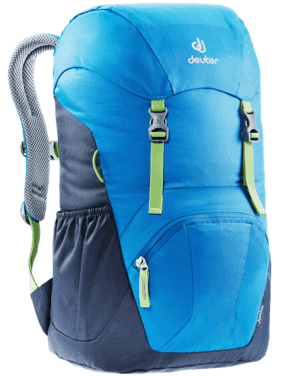 18 litres, 0.4 kg, €40
This bag is great value for money, and it can withstand all the bumps that come with being attached to a child. As with all other Deuter bags, it comes with a lifelong repair service.
We love the Junior pack's pockets to help to keep your kids things organised. It has several adjustable straps to help you fit it to them.
This bag will suit a child who is at least 5 years old and who has a back that is at least 14 inches long.
If your kids are under that height then you might want to consider a much smaller backpack for the Camino, if they carry one at all.
Best Backpack for Carrying a Child on the Camino – Poco and Kid Comfort
There are some incredible souls out there who actually carry their young children on the Camino in a backpack! If this is you – congratulations – you are basically superhuman!
Osprey Poco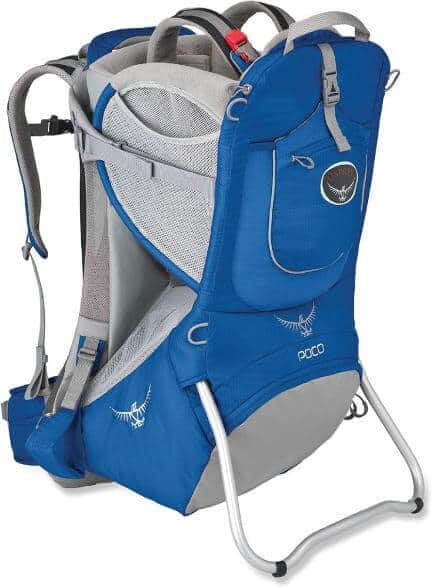 20 litres, 3.5 kg, €330
The Poco is the heavy-duty toddler carrier for people who need a bit more space. It has a massive 20 litres of storage, as well as your baby section. The frame on this carrier is an adapted version of what Osprey use on some of their hiking bags, so you know it works well.
The integrated sunshade and rain cover will keep your little one safe on your Camino adventure.
The bar at the bottom lets you take it off and stand it up so you can load and unload your child easily.
Deuter Kid Comfort Active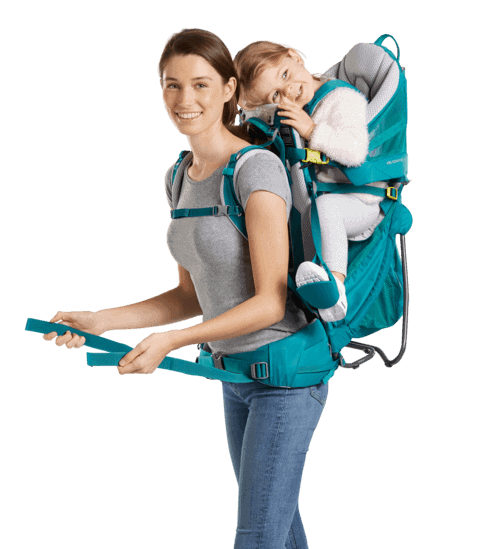 12 litres, 2.6 kg, €240
The Poco might be a big heavy for some, so if you are having your bags transferred and don't need the extra space, the Kid Comfort Active is an excellent alternative.
It's adjustable to your child and also has rain and sun protection. Another addition that we enjoyed on this kid carrier is the mirror that is included so you can check on your passenger without having to take your bag off.
This bag also has attachments so you could add a small bag to the front.
We hope this has helped you to choose the best hiking bag for your Camino de Santiago walking holiday. If you have any questions, please get in touch with us. We are happy to help you to prepare for your next Camino adventure.
We also offer packing lists, advise on the best footwear, training plans and more.
Contact us today to start planning your next amazing Camino adventure!
The Camino is Open for 2024 Bookings!
Get in now to secure the best accommodation for your Camino!
Discover this empowering journey across Spain, Portugal and France for yourself.

Journeys from 3 to 90+ days available.
Flexible itineraries Luggage transfers Private rooms & bathrooms
Contact us