The Camino de Santiago is a great place to experience food and wine festivals throughout the year. From tapas to cheese, and apples to wine – there are incredible flavours for everyone. For the food and wine lovers among us, these are a real highlight of the trip. Here are some of the best foodie festivals to plan your next Camino around!
La Rioja: Festival of San Mateo, Logroño, September
If you find yourself in the great wine-producing region of La Rioja in mid-September, make your way to the Festival of San Mateo in Logroño. This is also the week-long Rioja Wine Harvest Festival!
During the food and drink-filled festival, people descend on this vibrant city to take part in a celebration where wine and grapes take centre stage.
There are numerous activities on offer, including the traditional foot-crushing of grapes and the offering of the first must (freshly crushed fruit juice) to the Virgen de Valvanera.
Logroño is on the Camino Frances between Pamplona and Burgos. It is the end of our second Camino Frances section and the beginning of the third. It is also a fantastic spot to take a few rest days if you are walking the full French Way.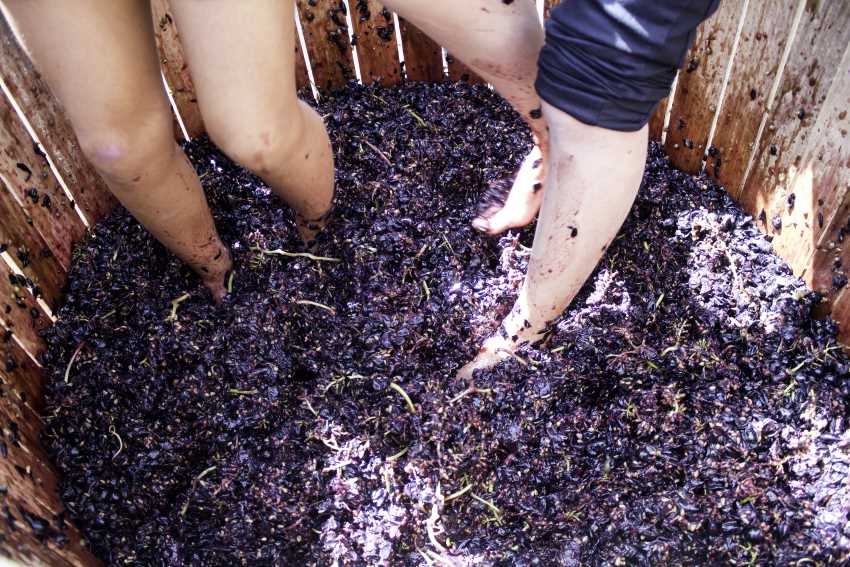 Lugo: Festa da Augardente, Portomarín, April
The Festa da Augardente (Grape Spirit Festival) is one of the most popular gastronomic festivals in Galicia.
This foodie festival on the Camino is every year on Easter Sunday. It features plenty of events paying homage to the traditional grape liquor for which the town is renowned.
Liquor is distilled and served throughout the day. Sip it while watching the wonderful dancing and performances.
Olite Wine Festival – Early September
Olite Wine Festival is held every September. Here you can enjoy concerts, tasting sessions, yummy food and desserts especially made from grapes.
There is also a shop window-dressing competition for wine harvest themes.
The dreamy and historic Olite is located in the Region of Navarre, in Northern Spain. The Camino Del Norte route passes by this lovely town.
Olite has two medieval churches – Santa Maria and San Pedro. These two beautiful churches are definitely worth a visit while you are here enjoying the amazing Olite Wine Festival.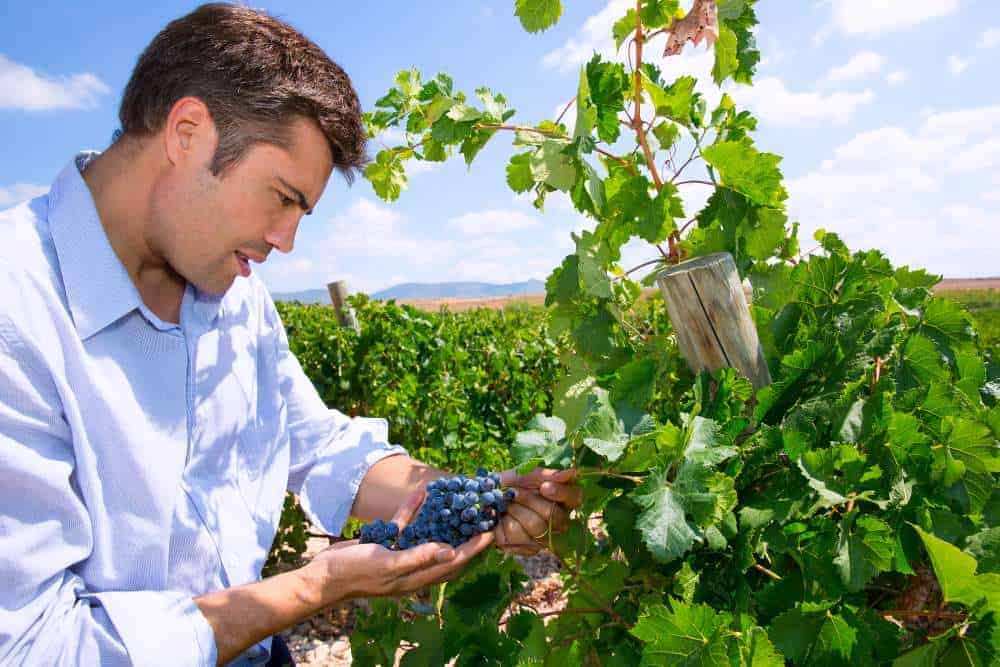 Learn more: Download your FREE Camino e-book!
Discover the routes and sections of the famous Camino de Santiago pilgrimage.
Download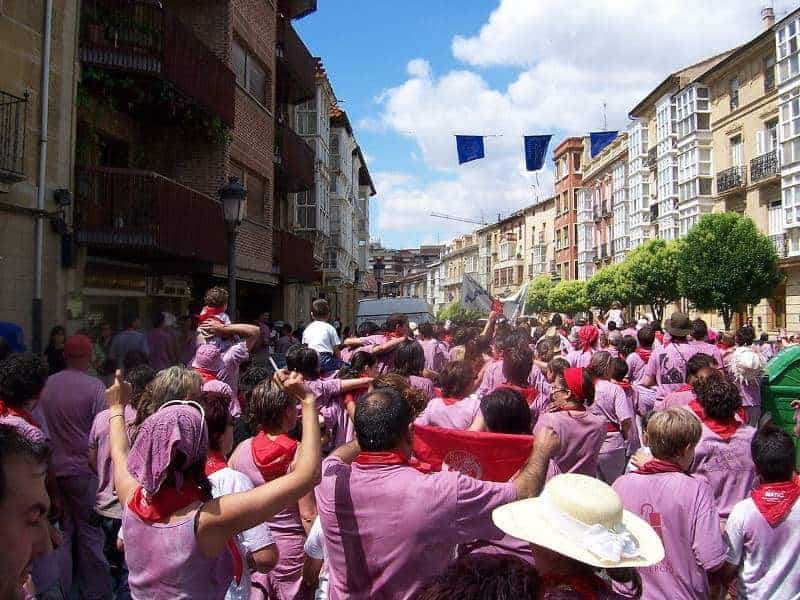 The Haro Wine Festival takes place on June 29 every year in the heart of the La Rioja winemaking region.
It culminates in an enormous 'wine battle' leaving everyone soaked with red wine!
The festival continues at the Plaza de la Paz in Haro where you can see "bullfights" in the town bullring. The "bulls" are heifers and no animals are harmed during these performances.
Haro is well known for its fine red Rioja wine and architectural and cultural heritage.
This festival in Haro is one of the best known food and wine festivals on the Camino!
Santiago é Tapas – Santiago's Food Festival at the End of the Camino
The City of Santiago de Compostela holds its tapas competition in Galicia in November. In this competition winners are chosen by the public!
Discover the incredible gastronomy of Santiago de Compostela. This city is filled with bars, restaurants and taverns.
Pick up a copy of the "Tapasportes guide", which divides the city into several routes. The routes offer a wide selection of tapas to try, and you get a stamp for each of them – much like the Camino! Everyone who finishes the whole route is eligible to win a prize as well!
Wine and Food Festivals in Redondela
The Redondela Apple festival is usually held on the first Sunday in October. Redondela is a lovely town on the Portuguese Way. During this food festival the food and dishes are mostly prepared from the delicious apples of the area!
Redondela also hosts a festival called the Cuttlefish Festival in May. If you are walking through here on the Camino Portuguese, make sure to try the traditional cuttlefish dishes. One of the classics is cuttlefish in their own ink, with rice, potatoes or grilled.
At this festival you will not only find food but also a lot of music, lovely beaches, and short walking routes.
These two food wine festivals are so unique -be sure to add them to your Camino bucket list!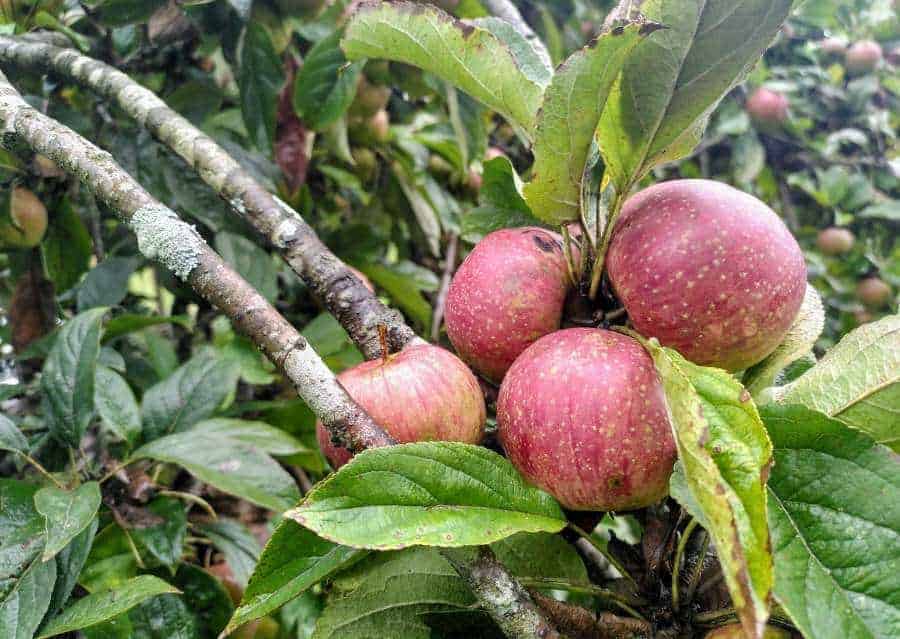 Experience Wine and Food Festivals on the Camino de Santiago
If you are interested in any of these festivals on the Camino de Santiago, check out more information on our wonderful Camino routes!
Follow the Camino has been offering customised Camino trips to thousands of pilgrims since 2006. We have decades of Camino knowledge between us and we would love to help you to plan your next Camino.
Whether you are looking for a classic walk, a cycling holiday, or a gastronomic journey – we have options for you. Get in touch to let us know what you are dreaming of!
The Camino is Open for 2023 Bookings!
Some of our top accommodation booked out in 2022, so get in now to secure the best accommodation for your Camino!
Discover this empowering journey across Spain, Portugal and France for yourself.

Journeys from 3 to 90+ days available.
Flexible itineraries Luggage transfers Private rooms & bathrooms
Contact us