The Camino de Santiago has been walked by pilgrims since its inception in the 9th century. It is a pilgrimage that draws pilgrims from countries across the world for personal growth and spiritual fulfilment. Here are a few tips to find out which Camino route is for you!
1. Camino Frances – the Most Popular!
The Camino Frances or French Way is the most popular of the nine other main Camino de Santiago routes. The route traditionally starts in St. Jean-Pied-De-Port in France before entering Spain via the Pyrenees mountains and brought French pilgrims to Santiago. If you want a flavour of France and Spain, this route is for you! You will go through the regions of Aragón, Navarre, La Rioja, Castile and Leon, and Galicia. The route is 791km almost 500 miles long but can be broken into stages and done in several trips if you prefer.
Choose this route if you like sweeping hilly landscape views, dense forests with abundant wildlife, and vineyards full of tasty treats!
2. Camino Del Norte – Most Scenic!
The Camino Del Norte also referred to as the Northern Way is often considered the most scenic of all the Camino routes. Some of the most beautiful scenery can be seen along this route. The route starts from the food mecca that is San Sebastian. It follows the stunning north coast of Spain passing through the regions of the Basque country to Cantabria, Asturias, and Oviedo in Galicia. The route is 466 km and almost 300 miles long but can be done in a couple of trips, or you could do just a section of it.
It tends to be a quieter route with more time to switch off from the hustle and bustle of daily life. This route is a photographer's paradise with high and low coastal walks, amazing views, and strolls on sandy beaches. There is also a reason they call Northern Spain the Green coast due to its abundance of countryside and forest walks.
Inspired? Download Our Camino Packing List!
Everything you need to pack to walk the Camino de Santiago.
Download
3. Camino Portuguese – A Cultural Camino!
The Camino Portuguese or the Portuguese Way starts in the capital city of Lisbon. It goes northwards through many beautiful towns and historic villages before entering Spain to get to Santiago. With this route, you can sample both Portuguese and Spanish cultures, which are remarkably unique and different. Some of the towns on the route include Santarem, Tomar, Coimbra, and Porto in Portugal and Pontevedra, Padron, and Santiago in Spain. There are opportunities to visit several UNESCO World Heritage sites as well!
The Camino Portuguese is 598 km and almost 370 miles long but you can do as little or as much of it as you like. It is a very scenic route perfect for any pilgrim wanting to escape the busyness of life. This quieter route brings you along ancient paths, running through woodlands, villages, farmlands, olive groves, vineyards, and historic towns. If you are looking for some busier spots, you always have the cities of Lisbon, Coimbra, and Porto.
If you love trying different foods, absorbing the culture, and a quieter but still well-serviced way, this Camino is for you!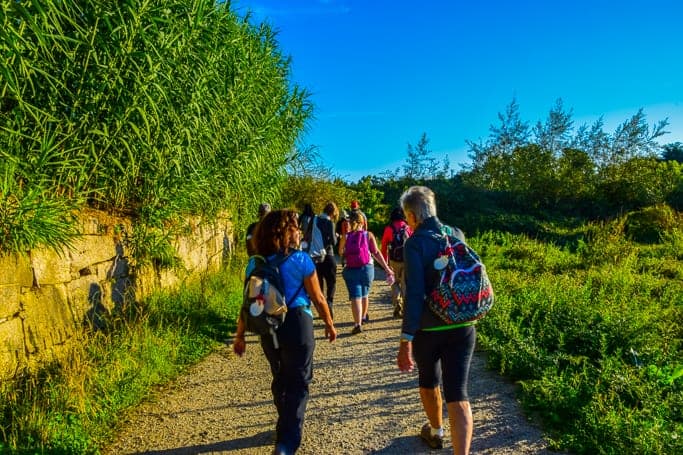 4. Portuguese Coastal – Most Suitable for Kids!
The Camino Portuguese Coastal Route is an alternative take on the traditional Portuguese route. It starts in the seaside city of Porto and makes its way along the Portuguese coastline to Oia. This route is fantastic to complete with kids as you will pass beaches, walk on boardwalks and see some spectacular oceanic views. The Portuguese Coastal route is 178 km and almost 110 miles long and there is a great short walking days itinerary for small legs.
After Oia, the route veers inland to rejoin the traditional Camino Portuguese at Redondela and onto Santiago. This is a quiet and peaceful route, you will get plenty of time to swim in the Atlantic, walk and play on the beautiful beaches with your kids and eat fresh delicious seafood.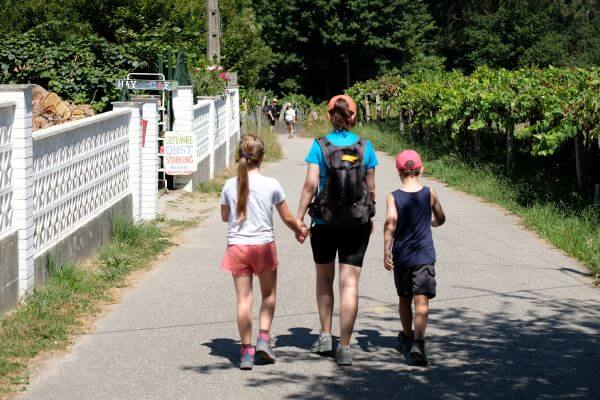 5. Camino Primitivo – Most Challenging!
The Camino Primitivo is also referred to as the Original Way. This is due to its origins of being one of the world's first Camino Jacobeo pilgrimage routes. Starting in historic Oviedo, Asturias region, the route crosses the Cantabrian mountain range to Lugo, before ascending to the green hilly countryside of Santiago in Galicia.
The Camino Primitivo is 315 km and almost 200 miles long but can be broken into stages. The walk is one of the most beautiful but also challenging as you pass through a mountain range 1100m above sea level to descend to the hilly countryside of Galicia. The route joins back up with the Camino Frances at Melide for the final stretch to Santiago.
If you love stunning scenery, spectacular views with the challenge of climbing steeper paths, and the opportunity to have a real in nature experience this could be your next challenge. The climbs will reward you with spectacular views of the Embalse de Salime, the River Navia, and of course the towering surrounding mountains.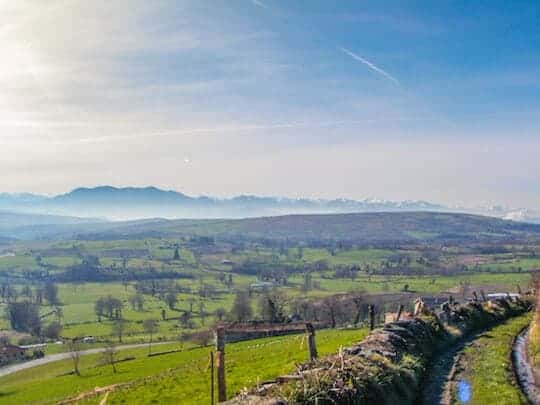 6. Camino Ingles – the Shortest Route!
The Camino Ingles or English Way was the traditional route used by seafaring pilgrims. Traditionally, English and Irish pilgrims arrived by sea at Ferrol. The English way starts following the rugged hilly coastline, then moves inland to the lush, wooded countryside. Passing through the medieval village of Betanzos is like travelling back in time with its hill-perched marketplace.
Today's pilgrims on the Camino Ingles route begin in Ferrol or further back along the coast in A Coruna. A shorter route through Spain, this walk links up perfectly with Celtic Caminos in the UK and Ireland. The Ferrol route is 115km in length but the A Coruna route is 75km long. This is short of the 100km distance required to get your certificate. However, you can start your Camino on a certified route in Ireland or the UK to make up the shorter distance of 25km and obtain your Compostela certificate.
If you are stuck for time and looking for a shorter route, this Camino is for you. It is quieter than other routes so for those who are trying to get away from the more popular French Way, the English Way presents a great alternative to reach Santiago and get your pilgrim certificate within a week.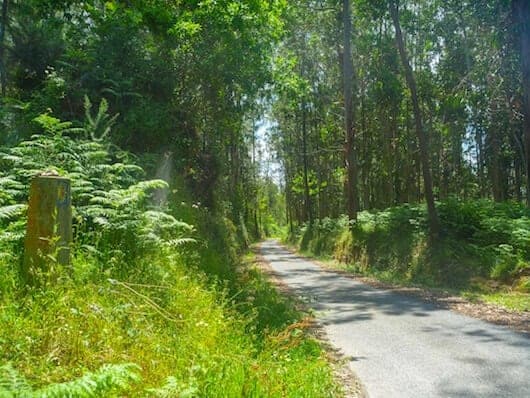 Whatever pilgrimage you choose or whichever one chooses you, you can be assured there is a Camino route out there for you.
If you have already decided which Camino route you would like to walk, here are some useful tips from 5 seasoned Camino de Santiago experts!
One of the most important aspects which play a huge role in choosing the right route for your Camino adventure is the difficulty. The really important thing is whether or not you can do it. The answer is YES!
Still not sure which route to walk and how? Then follow our guide to choose the right one and find out which itinerary suits you the best!
If you want to embrace the spirit of the Camino you can get in contact with one of our Camino planners here. They will be happy to help design a tailer made Camino just for you. Start planning the trip of a lifetime today!