The Camino Portuguese is a gastronomic delight with plenty of incredible restaurants along the way – including many with Michelin Stars! Take your pilgrimage to the next level with a foodie twist and a range of new flavours. If cuisine is one of the reasons that you travel, these are some of the places to look out for on the Camino de Santiago.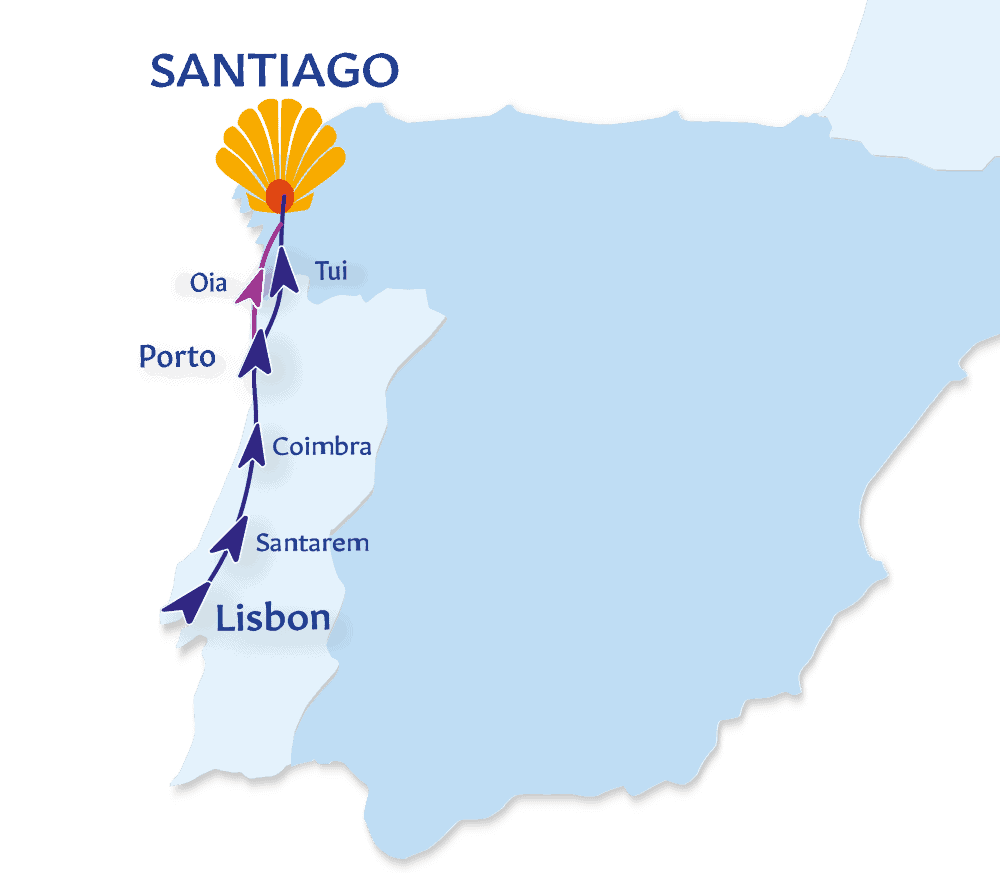 Michelin Star Restaurants in Lisbon – the Start of the Camino Portuguese
Lisbon is filled with plenty of wonderful cafés and restaurants for you to stop in while on the Camino, including many single (and double!) Michelin Star, Bib Gourmand, and Plate restaurants! Here is a list of some that we would recommend as you start your journey to Santarém and beyond.
Loco
First on our list is Loco which has just one large dining hall with the kitchen on full display. Located next to the Basílica da Estrela, this restaurant has incredible views in every direction, and high-quality seasonal food to match!
EPUR
Surrounded by traditional architecture, cathedrals, and arches, this restaurant's creative designer vibe comes as a pleasant surprise. Both the delicious food and gorgeous views are not to be missed!
Fifty Seconds
Situated in the famous Vasco De Gama tower 120m in the air, Fifty Seconds has an incredible panoramic view of the city. The high-quality menu is crafted with many contemporary techniques, resulting in delicious but modern dishes!
Eleven
Home to gourmet Mediterranean cuisine, this restaurant found in the Jardim Amália Rodrigues focuses on recreating traditional dishes. The chef, a master of southern-European cuisine and holder of multiple Michelin stars, is currently celebrating 50 years of his career with a special menu!
Eneko Lisboa
The Eneko Lisboa, an incredible Michelin star restaurant near Alcântara on the Camino Portuguese, features two very distinct parts: informal Basque, serving cuisine from the titular Northern Spanish region; and the stylish "Eneko Lisboa" which is named after and focuses on the dishes of famous Spanish chef Eneko Atxa. Regardless of which side you're on, this restaurant is a must-visit!
CURA
Located in the Ritz Four Seasons Hotel, CURA is a contemporary restaurant with an open-view kitchen. The chef focuses on using just two or three ingredients at a time (all of course from small local suppliers!), ensuring that they are of superb taste.
100 Manieras
A creative restaurant showcasing the imagination and personality of the chef, 100 Manieras is a delicious restaurant all about breaking the rules. The food often nods to his Hungarian origins, and dishes are as creatively crafted as they are named (seriously, their pun-filled menu is sure to impress!).
Belcanto
Looking for a classy meal in the fun-filled Bairro Alto district? Belcanto is the place to go! Boasting 2 Michelin stars and ranked as the 42nd best restaurant in the world, Belcanto is an incredible experience that would thrill any foodie. With an á la carte and two set menus matched with some of the best wines Portugal has to offer, this restaurant is sure not to disappoint!
Alma
Just a 3 minute walk away from EPUR, Alma is also situated in the heart of Lisbon and is surrounded by many tourist spots like the Praça Luís de Camões and Carmo Convent. Featuring two set menus and an á la carte, this two-Michelin star restaurant showcases traditional Mediterranean dishes and tastes, accompanied by an incredible selection of wines catered towards their cuisine.
Feitoria
You'll need to take a slight detour to get to Feitoria, but it's only a 15-minute taxi ride from the heart of Lisbon, and the incredible food makes it totally worth it! Just like its coastal location, the dishes here are mainly sea-food based. But, if you're vegetarian, no need to fret – their delicious set menus have their own vegetarian versions!
Restaurants in Santarém
The area between Lisbon and Santarém on the Camino Portuguese isn't very populated and doesn't have any Michelin star restaurants. However, once you get to the gorgeous city of Santarém, there is a Bib Gourmand option waiting for you!
Ó Balcão
In the centre of Santarém, we have Ó Balcão, a small, informal, taverna-style restaurant that feels incredibly welcoming. The menu is an á la carte of regional dishes expertly prepared, intending on introducing new flavours to guests.
From Santarém to Coimbra
While you might not pass by many Michelin star restaurants on your walk or cycle from Santarém to Coimbra, there are many popular detours with restaurants to impress!
O Convite
When passing through Tomar, why not book another night? Fátima is a popular detour from Tomar with some stunning sights – and gorgeous dishes. We recommend O Convite, a Michelin guide restaurant in the centre of Fátima. Their menu provides a large range of dishes and a diverse wine list, making an incredibly enjoyable meal!
Tia Alice
Looking for more in Fátima? Just a five-minute drive away from O Convite is Tia Alice, a family-run restaurant serving delicious traditional cuisine that has tastefully been brought up to date. The restaurant also has a delightful garden!
Casa Chef Victor Felisberto
Craving somewhere different? A 30-minute taxi journey in the opposite direction from Tomar will take you to Abrantes, where you can have a delicious dinner at Casa Chef Victor Felisberto, a Bib Gourmand restaurant that focuses on flavour and traditionality. Some specialities include meat cooked over a wood fire, high-quality homemade desserts and bread made with the chef's own recipe. All of the meat is cooked slowly, resulting in amazing flavours and textures that you don't want to miss!
Restaurants to visit in Coimbra
With a wide range of cuisines and styles, Coimbra is a great spot if you want variety! This charming region has many brilliant restaurants with an option for everyone!
Solar do Bacalhau
If you're keen to try the famous Portuguese bacalao you won't find a better place than Solar do Bacalhau! This Bib Gourmand restaurant in Coimbra has many cod dishes cooked in different ways and a few other regional specialities! The restaurant also has an absolutely stunning interior with stone walls and a glass-enclosed interior.
Spaghetti Notte
Italian food might not be your first thought while on your Portuguese pilgrimage, but Spaghetti Notte is a game-changer! Located in a residential district of the city, they offer Italian-inspired dishes that also highlight the chef's Brazilian origins.
Casas do Bragal
Near the centre of Coimbra is Casas do Bragal, a bohemian-style restaurant filled with art and serving traditional cooking. Their starters are delicious, and they even have a dessert buffet!
Arcadas
Arcadas in Coimbra/Santa Clara is located in a beautiful building with a gorgeous garden view! The chef here creates contemporary cuisine with influences in traditional and international cooking, showcased through their interesting set menus!
From Coimbra to Porto
This gorgeous stretch not too far from the coast is completed by a few gastronomic spots to stop in and have a delicious meal!
Marquês de Marialva
If you're up for a 15-minute drive, Marquês de Marialva is an excellent Bib Gourmand restaurant in Cantanhede, just a short way from the first stop on the way to Porto. They have three intimate dining rooms, one with a large fireplace. They have a delicious á la carte menu, as well as a few tasting menus. Make sure you try the "lagareiro-style" cod!
O Típico
At the second stop of your journey, you should find O Típico in the heart of Águeda. A charming unpretentious restaurant with a single dining room decorated with antiques, they serve 100% Portuguese cooking with authentic and delicious flavours. This Bib Gourmand restaurant run by a married couple has some excellent options, like the octopus "à lagareiro" and gorgeous cod gratin!
Casa Mattos
Just outside of Albergaria-a-Velha (the 3rd stop on the way to Porto), is Casa Mattos, an elegant Bib Gourmand restaurant run by a married couple. The menu is varied, with a lot of tapas-style starters. The main courses are limited, with only one meat and fish available each day.
Mário Luso
On the final part of your trip, you might just pass by the excellent Mário Luso restaurant outside of Porto. This renowned family-run restaurant was established in 1942 and has only gotten better since! We'd recommend the Mirandesa veal, Mirandesa chops, or the sea bass!
Are You Vegan Or Vegetarian? Download our Ebook!
Our Vegan on the Camino Ebook is full of tips for our plant-based clients, from restaurant recommendations to useful phrases!
Download
The Best Gastronomic Spots in Porto
Porto is an amazing spot for good food. This stop on the Camino Portuguese hosts many impressive Michelin Star, Bib Gourmand, and other Michelin Guide rated restaurants. Here is just a small list of some of the highest-rated ones:
Vila Foz
In the Vila Foz hotel is the incredible restaurant of the same name, which has been awarded a Michelin star for their efforts! Their contemporary cuisine is showcased on several menus, one of which is vegetarian. The real treat of the Vila Foz, though, is the "Kitchen Seat"; available to only two guests at a time, you can interact with the chef himself while enjoying your meal!
The Yeatman
Just south of the Douro River is the incredible Yeatman, which has earned itself not one but two Michelin stars! The restaurant has stunning views of Porto, a delicious tasting menu focused on seasonal ingredients and incredibly balanced flavours. The wine cellar here is also one of the best in Portugal. For any foodie, this excellent restaurant is a must-visit!
Antiqvvm
Yet another extremely high-quality restaurant in the area, Antiqvvm sits in the centre of the city. With perfectly matched ingredients, the flavours of the dishes here combine beautifully. They have a stunning garden with gorgeous views of the River Douro.
Pedro Lemos
Close to the west coast is Pedro Lemos, an elegant restaurant with an attractive rooftop terrace. The first restaurant in Porta to receive a Michelin star, this establishment surely deserves it. They focus on contemporary-style cooking through their many tasting menus and different courses.
Le Monument
Surrounded by multiple tourist spots in Porto, Le Monument is a classy but comfortable restaurant. The chef began his career in Paris, picking up elements of French-style cooking which influence his incredible Portuguese dishes. The menu, either 10 or 14 courses, are a showcase of the culinary heritage of Portugal.
Euskalduna Studio
Euskalduna Studio, not far from Le Monument, is an intimate dining experience. Their menu, composed of 10 "moments", also includes some surprise dishes that aren't listed, but are definitely worth it. The restaurant includes two tables, but the main feature is the Japanese-style marble counter that allows you to properly interact with the chefs through a personalized experience.
Restaurants between Porto and Tui
This stretch of the Camino Portugues has a few cosy and relaxed restaurants that serve brilliant food, as well as some interesting Michelin-recognised restaurants with unique features, like show-cooking and sushi menus!
Ferrugem
Situated just a 10-minute drive from Arcos (the second stop on the way to Tui) is Ferrugem, an attractive restaurant in an old barn. Experience creative modern cuisine in a rustic high-ceiling dining room. They are also focused on sustainable agriculture, using almost all indigenous Portuguese ingredients.
Dona Júlia
While you're in Arcos, why not spend an evening in Dona Júlia? This modern restaurant with a contemporary interior serves mainly Portuguese cuisine, except in the evening when they also have a sushi menu!
Turismo
The third stop on the way to Porto is Barcelos, where you'll find Turismo, a classy modern restaurant with a great view of the river. Their Portuguese menu has a wide variety, with vegan and gluten-free options available! There are also surprise menu options available!
Cruz Sobral
Cruz Sobral sits in the heart of Arcos and is a family-run restaurant. If the cosy atmosphere and brilliant seafood weren't enough, it's also a unique and personal experience, as they cook many of their dishes on a wood fire in front of guests! They also have an excellent wine cellar, with a wide range of options.
Petiscas
A cute restaurant with gorgeous views of the Lima and an impressive á la carte menu, Petiscas makes for an incredible meal! Their menu is mainly regional and traditional Portuguese cooking, with a wide range of dishes to choose from!
Açude
Just across the bridge from the heart of Ponte de Lima is Açude, a restaurant with a rustic interior and incredible view. Their seafood-based menu includes a lot of traditional cooking, and they also have seasonal dishes like lamprey. They also have a large dessert menu and an impressive range of wines!
Tui to Santiago De Compostela
The final stretch of the inland Camino Portugues, this area in Galicia is filled with some excellent restaurants, including a lot of tapas bars perfect for dinners with family or friends!
La Ultramar
La Ultramar is a relaxed tapas bar in Pontevedra. The informal restaurant serves mainly fusion cuisine, and many 'raciones' dishes, meant to be shared – although you might want them all to yourself!
Loaira
The next on our list of restaurants in Pontevedra, Loaira is a tapas bar. They also have a bistro-style dining room upstairs. In general, they serve delicious regional meals, perfect for sharing with family and friends!
Eirado
Our final stop in Pontevedra is Eirado, a Michelin star restaurant serving modern cuisine that uses only the very best seasonal ingredients. They have multiple set menus available, as well as an á la carte! Delicious!
O'Pazo
When passing through Padrón, O'Pazo is a must-visit! Focused around traditional Galician cuisine, this restaurant specialises in grilled food, with almost all of their dishes being cooked on it.
Michelin Star Restaurants on the Portuguese Coastal Route
If you'd rather spend some more time by the sea, the Portuguese Coastal Route is for you! This route begins in Porto and travels to Santiago De Compostela along the coastline from there. Enjoy all of the beaches, coastal towns, and seafood that northwest Portugal and Spain have to offer! Below is a list of just some of the excellent Michelin Star restaurants and food bars along different stages of the Portuguese Camino coastal route.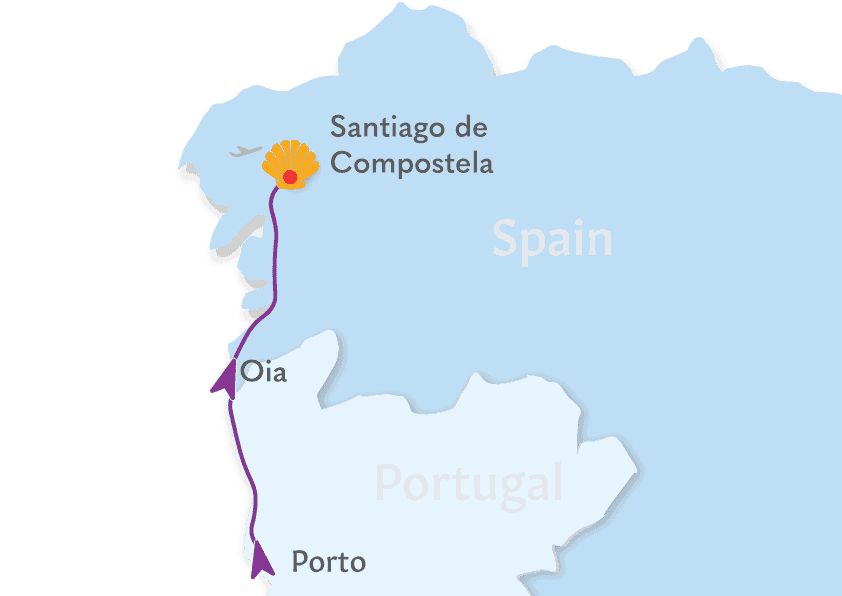 From Porto to Oia
This part of the coastal route has many options for delicious meals, at almost every stop along the way! With a large surplus of seafood, but also a variety of other cuisines, there's a great option for everyone!
Romando
Not far from the first stop on your way to Oia is Romando, a modern-style restaurant with a focus on traditional Portuguese cuisine. They serve many savoury rice dishes and also have a few seafood options!
O Marinheiro
In the same coastal area, you'll find the incredible O Marinheiro. With a nautical-themed interior and a varied menu with lots of seafood options, this restaurant is perfect for getting the most out of your coastal experience!
Tasquinha da Linda
Just a 5-minute walk from the very centre of Viana do Castelo, Tasquinha da Linda is an impressive seafood restaurant! This Bib Gourmand restaurant is run by fish wholesalers, so you can ensure that only the very best quality fish and seafood are being served!
Camelo
This family-run Bib Gourmand restaurant is close to both Viana do Castelo and Vila Praia de Âncora, and it's definitely worth stopping in! Camelo has multiple different facilities, including a bar, several dining rooms, a large space for private functions, and a huge garden! They offer a variety of extremely high-quality food, including a large range of seafood, meat, and even a vegetarian menu! To top it all off, they have a wide range of gorgeous desserts!
Solar do Pescado
Solar do Pescado is a great restaurant for any seafood lover! Just a two-minute walk from the coast and a 10-minute drive from the centre of Vila Praia de Âncora, this rustic restaurant serves traditional cuisine with a lot of fish! A great option for lamprey when in season!
Trasmallo
This Bib Gourmand seafood restaurant is a 20-minute drive from Oia, found in the centre of A Guarda, "the lobster capital". The family-run restaurant serves some meat and rice dishes, but the fish and other seafood are definitely the main stars of the show in Trasmallo, with a large lobster tank on display!
From Oia to Santiago De Compostela
This stretch of the coastal route has some high-quality culinary options, particularly in the centre of Vigo. From Pontevedra onwards, you have all of the same options that we listed earlier, between Tui and Santiago De Compostela. Before you get there, though, here is a list of just 5 Bib Gourmand and Michelin star options that we'd recommend on this section of the Camino Portuguese Coastal route!
Abisal
Just one of the many excellent restaurants in Vigo, Abisal is a Bib Gourmand restaurant that focuses on keeping things surprising and exciting. Their tasting menus are often changing and constantly being updated with new seasonal dishes!
Morrofino
The next brilliant restaurant in the area is Morrofino, a modern restaurant with an open-view kitchen and an exciting menu. They serve contemporary dishes that are creative and almost street-food-esque but still respectful of traditional flavours. Part taberna, the á la carte offers many dishes that are perfect for sharing!
Silabario
In Silabario, you'll find a range of modern cooking with its roots in Galician cuisine. This Michelin star restaurant lives up to its praise with a range of set menus, some sharing options, and brilliant lamprey dishes in season.
Casa Marco
Missing the traditional cuisine? Casa Marco, although coastal, isn't so focused on seafood! This elegant Bib Gourmand restaurant has a large window displaying the kitchen, and an á la carte menu with a large range of meats, some rice dishes, and a few fish options. We'd recommend the panadera potatoes and any of their delicious desserts!
Maruja Limón
This restaurant, opposite Vigo's sailing club, is a Michelin star restaurant with a gorgeous interior and impressive menu! They serve mainly contemporary and creative dishes, using Galician and seasonal ingredients. As well as their delicious food, Maruja Limón has some interesting service – the chef cooks every dish right in front of you in true "show-cooking" style!
Taste the Camino Portugues
No matter what route you choose to travel, whether it's inland, coastal, long or short, there are some great gastronomic options waiting for you! Book your Camino now to experience the cuisine on the Camino Portugues for yourself and try some of these incredible Michelin star restaurants!
If you are considering a foodie vacation along the Camino Frances – you can read about the Michelin star restaurants along the French Way of Saint James here.
Follow the Camino has been creating tailor-made trips and itineraries for pilgrims since 2007. Book your Camino with confidence with the help of our experts!
Taste the Camino in 2022 or 2023!
Are your dreaming of immersing yourself in the sumptuous food, delicious wine, and friendly culture of Spain or Portugal?

Let us turn your dreams into reality.
Flexible itineraries Luggage transfers Private rooms & bathrooms
Contact us