At the end of 2019, the pilgrim's office in Santiago de Compostela recorded one of its busiest years in recent history. About 350,000 pilgrims had reached the city and obtained their Compostela certificate. Based on 2019s statistics, they expected another record year in 2020. Unfortunately, those hopes were dashed before the Camino season had even begun by the COVID-19 crisis.
While most pilgrims were forced to postpone their Camino, there were a few who still managed to complete their pilgrimage in 2020. In total, 53,906 pilgrims (15% of 2019) reached Santiago de Compostela in 2020. This number does not reflect all pilgrims who walked during the year, only the ones who ended in Santiago. Many pilgrims choose to end their Camino in other places, but it gives us a picture of who hit the trail in 2020.
Who were these 53,906 pilgrims that managed to walk the Camino in such an unusual year?
Here are the Camino statistics from the Pilgrims Office for 2020:
Demographic of Pilgrims Arriving in Santiago de Compostela


By gender, women have been creeping up as the largest demographic walking the Camino since 2018. In 2019, about 5% more women were walking the Camino than men, with 177,801 women reaching Santiago. However, 2020 saw a dramatic drop in the number of pilgrims overall, as well as the percentage of women. The data shows that 56% of pilgrims in 2020 were men and only 44% were women.
In 2021 and 2022, we expect to see the number of women walking the Camino return to its pre-pandemic numbers. We at Follow the Camino have seen a rise in solo female travellers and all-women groups amongst our own clients. We feel positive that this trend will continue globally post-2020!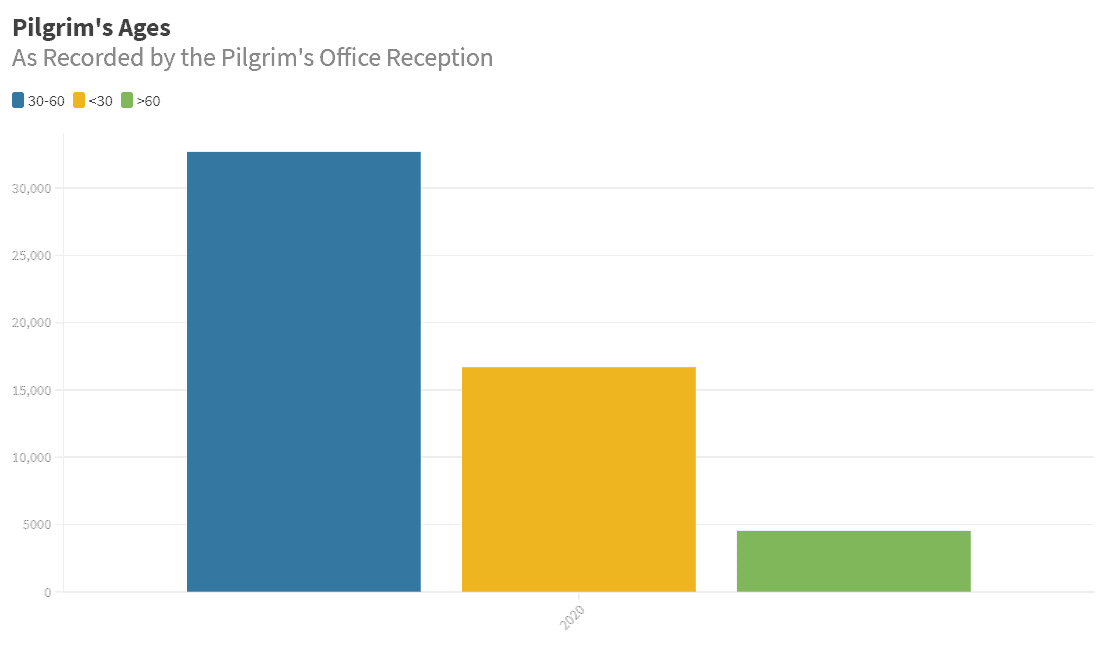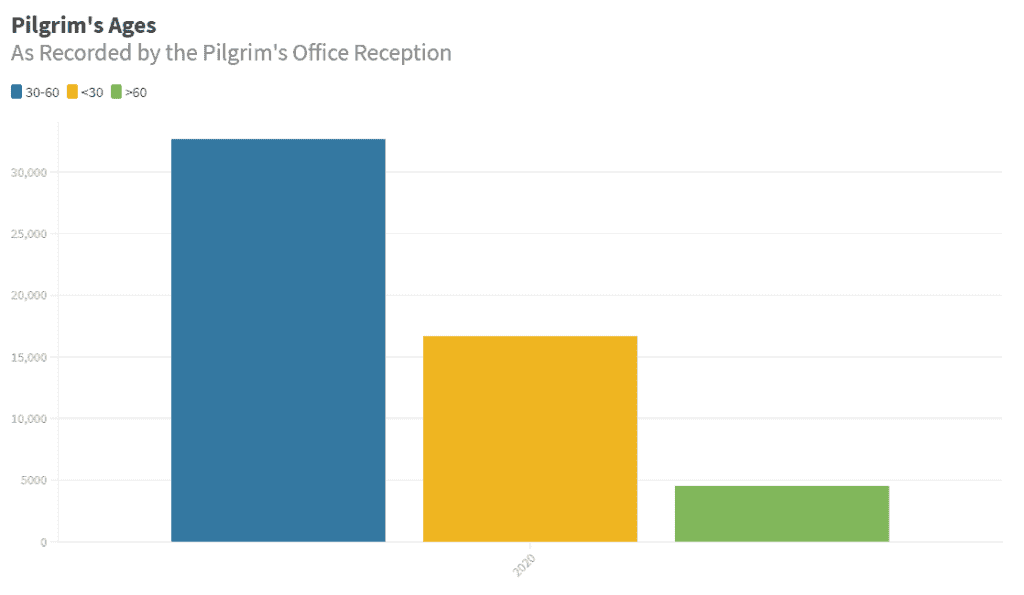 By age, the statistics show that 30-60-year-olds represents 61% of the total number of people who completed the Camino in 2020. This is followed by those under 30 (31%), and the smallest group is the over 60s (8%). With safety being a concern for older pilgrims, this is not surprising.
Top Countries Recorded by the Pilgrims Office
Overseas plane travel was nearly impossible for many would-be Camino enthusiasts. It is unsurprising that pilgrims from countries such as Spain, Portugal, and France are the most represented. Many Camino routes begin in these regions and the Camino is more widely known here.
Similarly, countries such as the USA and Canada are less represented, as US citizens were unable to enter Europe for much of the year. In 2020, the report shows that the US made up only 1% of the total number of 2020 pilgrims. This has made room for pilgrims from Poland and the Netherlands to rise into the top ten.
It is interesting to think about is the small number of individuals coming from other parts of the world, not pictured on this graph. These would be the single pilgrims arriving into Santiago from places such as Fiji, Ethiopia, Egypt, and the Faroe Islands. We can only imagine the reasons and motivations behind these pilgrims setting out on their own to Santiago during such a unique year!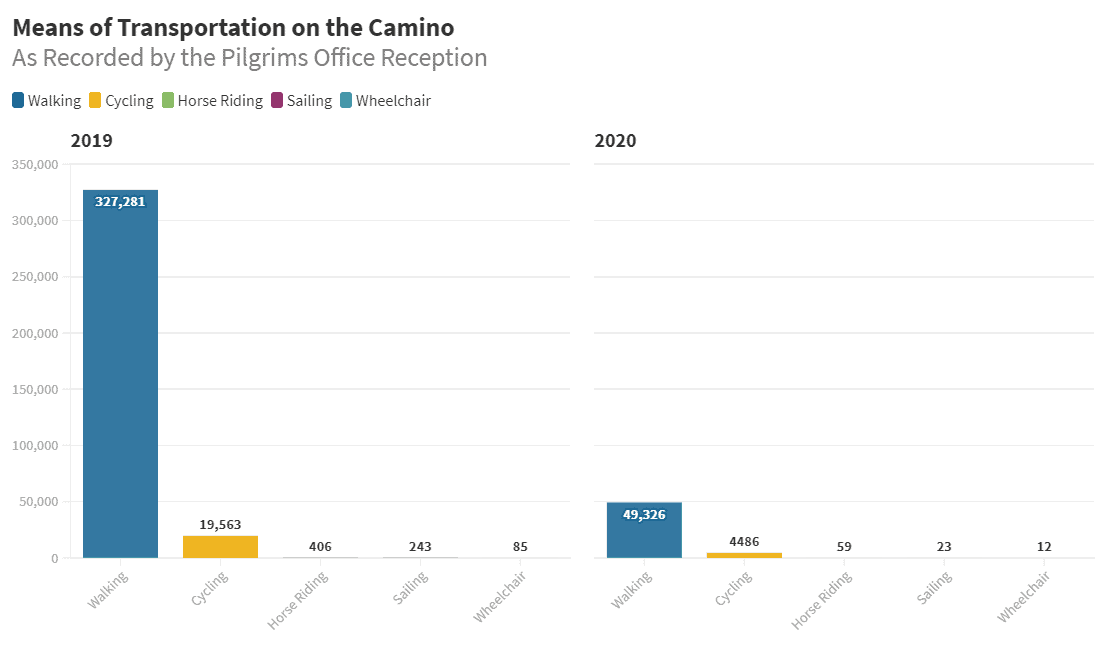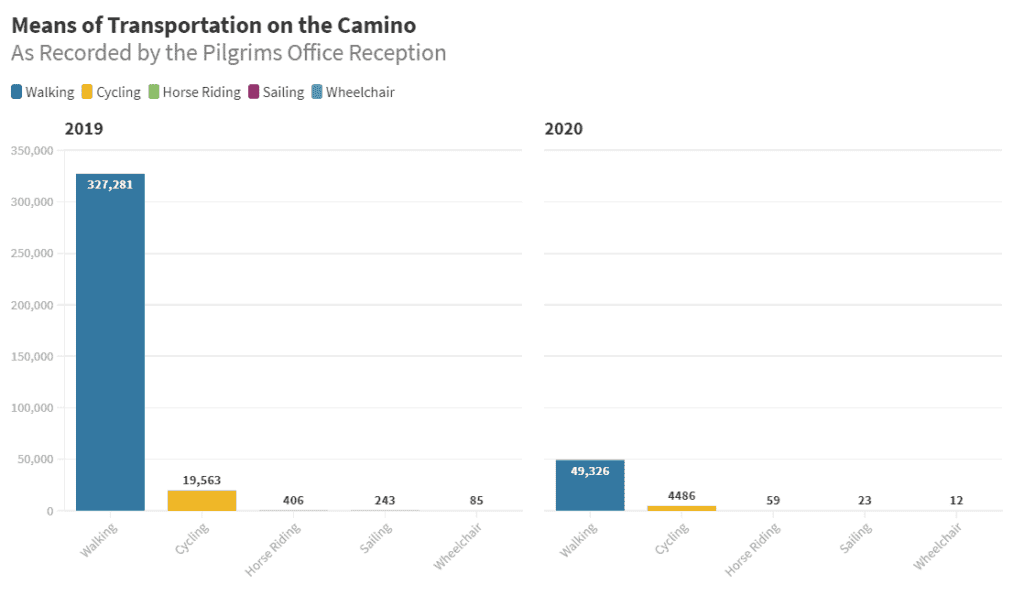 In keeping with tradition, the most popular way to reach Santiago is still on foot. The statistics show that 92% of pilgrims walked their journey and 8% of pilgrims choosing to cycle. Surprisingly, a good few pilgrims also managed to sail and horseback ride into the city!
12 incredible pilgrims arrived by wheelchair. Creating custom, wheelchair accessible itineraries is something that Follow the Camino is happy to help with! We believe that anyone can reach Santiago!
Learn more: Download your FREE Camino e-book!
Discover the routes and sections of the famous Camino de Santiago pilgrimage.
Download
Popular Camino Routes of 2020
Most 2020 pilgrims opted for the best-known Camino Frances route. This was followed by the Camino Portuguese.
It is interesting to notice how many chose to walk the Camino del Norte and Primitivo. Walking these routes requires traversing more than just the famous final 100km, a popular choice for many modern pilgrims. The stats tell us that many pilgrims of 2020 were embarking on long journeys of two or more weeks.
This is reflected even more in the chart below. We can see that 6% of pilgrims were arriving from Porto, a two-week journey to Santiago. Another 6% started from Saint Jean Pied de Port, the very start of the French Way, and a 4 to 5 week-long walk to the city.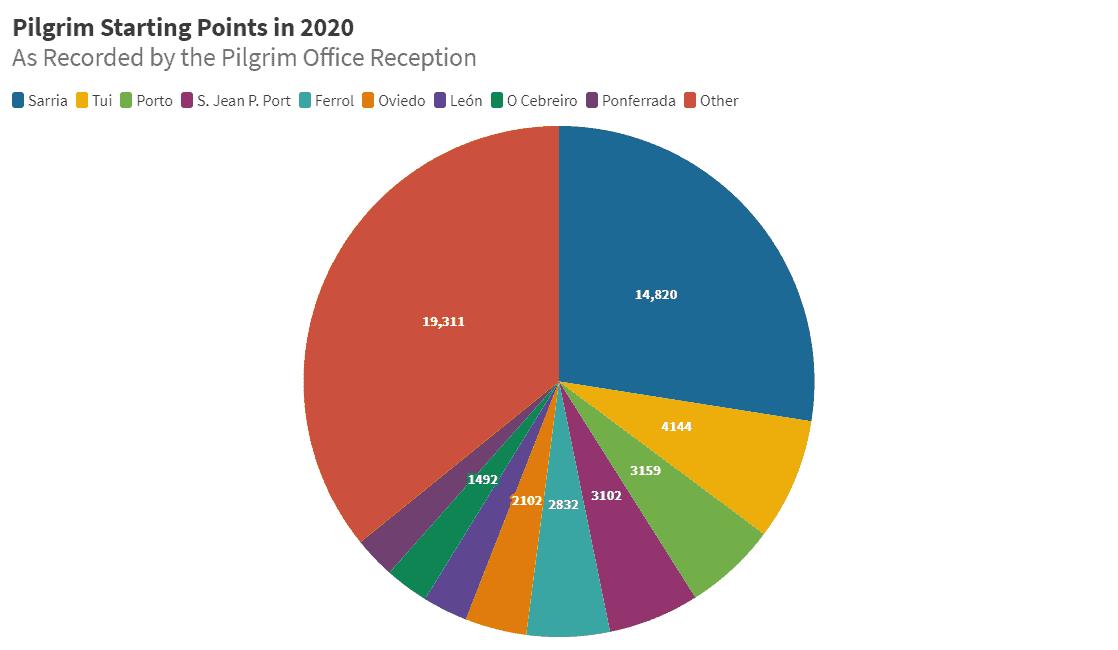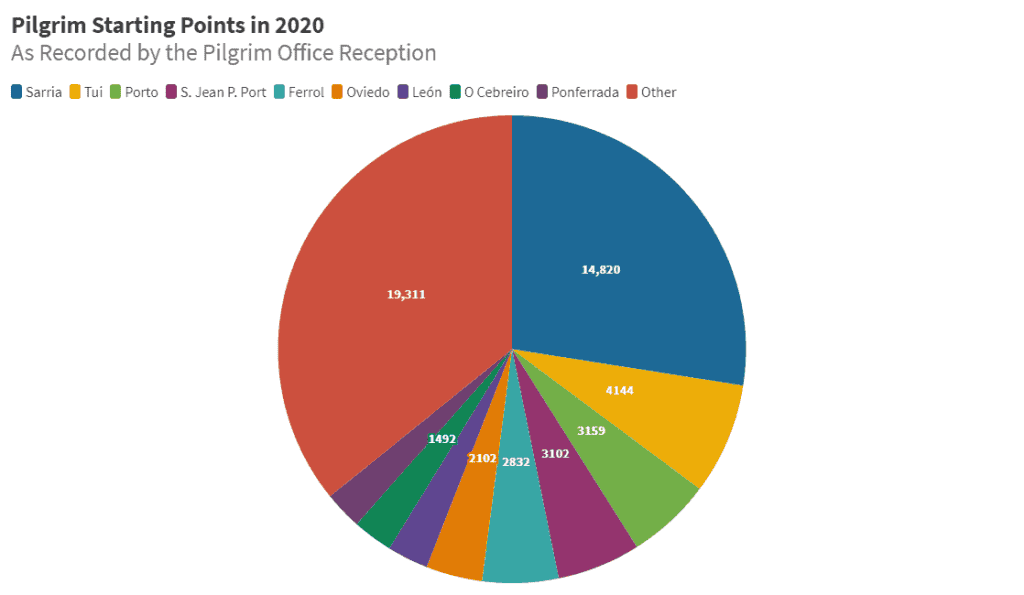 2020 was an Unusual Year for the Camino
The pilgrims of 2020 were clearly determined folk, setting out on quiet trails for several weeks at a time to obtain their Compostela certificate.
The Camino is still a place where people can find respite from global issues and solace in times of hardship. Similarly, we see that the Camino will survive through just about anything, and people will likely be returning en masse in 2021 and 2022.
In exciting news, the Holy Year, also known as Xacobeo 2021, has been officially extended beyond 2021 to include 2022 as well!
Previous Holy Years show jaw-dropping increases in pilgrims, with statistics showing an 87% rise in numbers in 2010 and 141% growth in 2004. After all that the world has experienced this past year, it is likely to be lively in Santiago for several years to come.
We at Follow the Camino are ready to help all pilgrims who wish to see Santiago in 2021 and 2022.
We have expanded our booking flexibilities to make it even easier for people to plan for the best in 2021, while also having the peace of mind that their Camino can be moved or changed easily if plans change.
Let us help you experience all the Camino has to offer. Get in touch today to secure your 2021 Camino!