---
The Camino really can be accessible to anyone, even people who move around in wheelchairs have managed to gain their Compostella! What makes a big difference is getting yourself ready in the best possible way. That is where strength and stability training for the Camino comes in.
We talked to the professional physiotherapists at ReBalance Physiotherapy in Dublin about the best way to prepare for the Camino de Santiago. Daniel, one of their very experienced physiotherapists, put together a comprehensive training plan for us.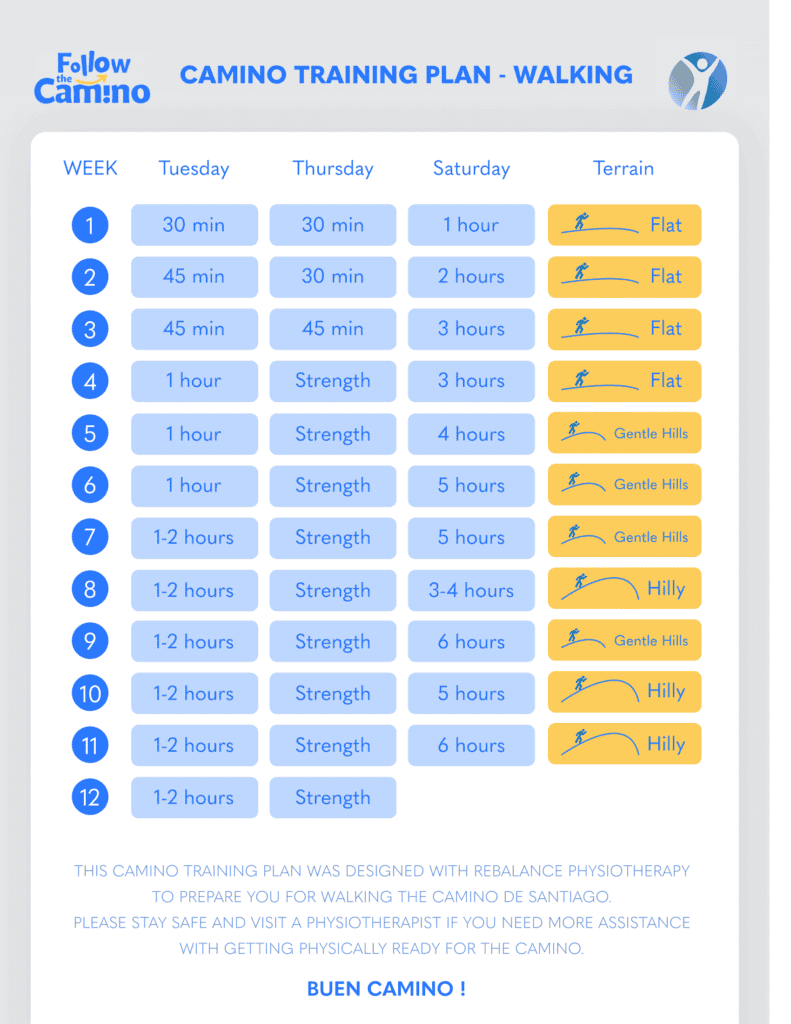 This easy plan will help anyone to get ready for the Camino in just 12 weeks.
It includes both walking and strength and stability training. Combining these in your Camino training means that you'll build up your fitness and stamina as well as looking after yourself. Adding stability exercises will help you to avoid injuries along the way. Strengthening your supporting muscles will help you to handle the uneven surfaces and slopes more easily on the Camino de Santiago.
The strength and stability exercises and stretches are divided into three difficulty levels. You can move between levels as you feel yourself getting stronger.
To help you to follow the Camino training plan we have made a video of Daniel explaining each of the moves. Have a look at the exercises and stretches he recommends. You can follow along with the video to learn each of the exercise options.
Strength and Stability Training for your Camino
If you find yourself with any aches or pains while training for the Camino, it is important to rest and look after injuries as soon as you can. It is normal to have tired muscles after a long walk. However, if you do feel pain or stiffness it is important to address this. Warm up and cool down every time you do a longer walk, and do the stretches outlined in the video before and after your walks.
Be kind to your body and prepare it well for your big walking holiday.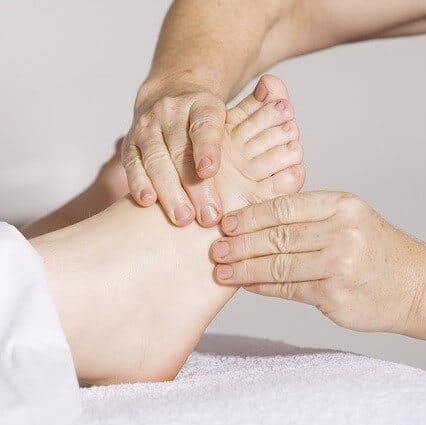 Rest, apply ice, gently compress, and elevate sore joints.

If you have continuing issues then you should visit a physiotherapist as soon as you can. The earlier you look after problem areas the easier they will be to fix. If you are in Dublin you can find ReBalance Physiotherapy in Dublin 2.
Let them know that you are training for the Camino and they'll help get you back on track as soon as possible.
If you need any help with getting ready for the Camino de Santiago, get in touch with us! We have plenty of tips and tricks to prepare you for your pilgrimages and walking holidays.
The Camino is Open for 2024 Bookings!
Get in now to secure the best accommodation for your Camino!
Discover this empowering journey across Spain, Portugal and France for yourself.

Journeys from 3 to 90+ days available.
Flexible itineraries Luggage transfers Private rooms & bathrooms
Contact us
---
About Camino Talks
Camino Talks is a collection of interviews about the famous Camino de Santiago. We talk to the people that make it so special and share their stories with you. By Follow the Camino
---
25th June 2020
Don't forget to share this post!