There's no set Camino training plan required in order to complete your journey. The Camino de Santiago welcomes people of all levels of fitness. At the end of the day, the physical challenge of the Camino is about making it to Santiago de Compostela. Some people take longer than others and everyone gets there in their own time.
The training you might undertake is also dependent on the stage of the Camino that you are planning to walk. For example, you will need more practice to cross the Pyrenees than the Meseta (a relatively flat area in the middle of the French Way).
Any preparation before your departure date will be a massive benefit to you during the journey and will also reduce the chances of injury. Adding in some strength and stability training will also help to keep you steady.
The best way to begin your training is to start walking more and go from there. A good time to get your programme started would be about 3 months before your walking holiday.
We talked to Daniel from ReBalance Physiotherapy about how to get ready for the Camino and set yourself up for success.
Here's a general Camino Training Plan that you can use to get started. This plan was expertly designed by physiotherapists from ReBalance Physiotherapy in Dublin.
Camino de Santiago 12 Week Training Plan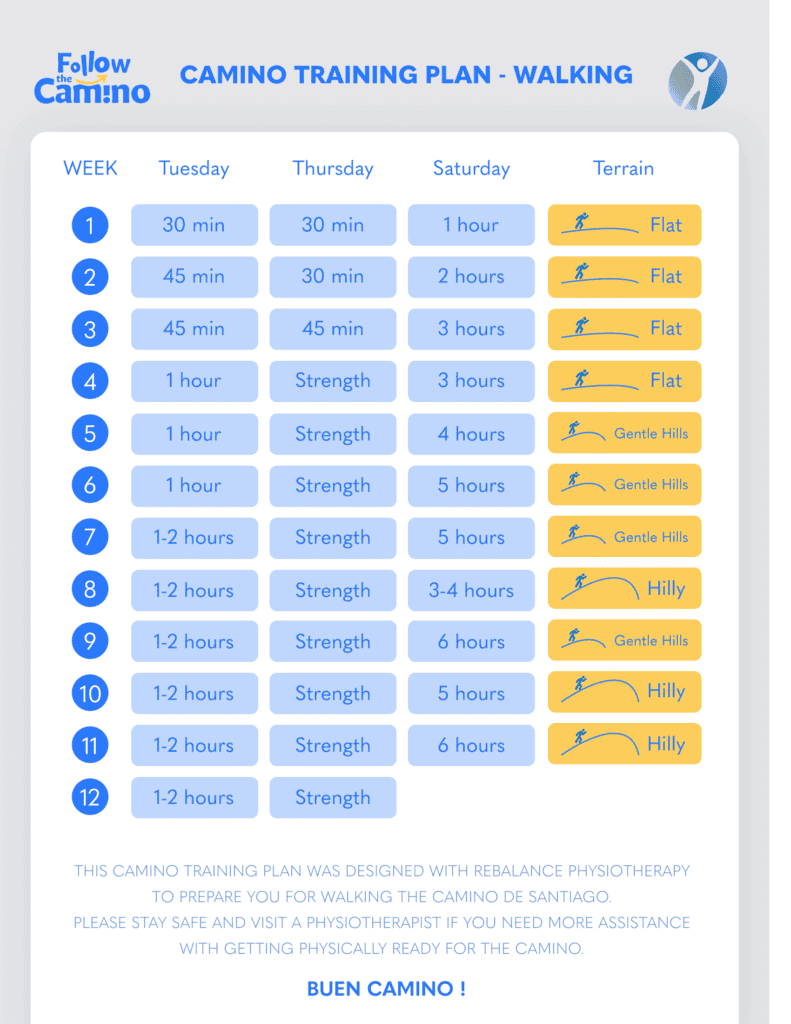 The strength training component of this plan is to help you build up stabilising muscles. These will help you to walk for longer with a reduced risk of injuries. This process is called "prehab"! Choose your current ability level and start at that level, feel free to take on harder exercise sets if you feel strong enough!
Strength and Stability Training for the Camino de Santiago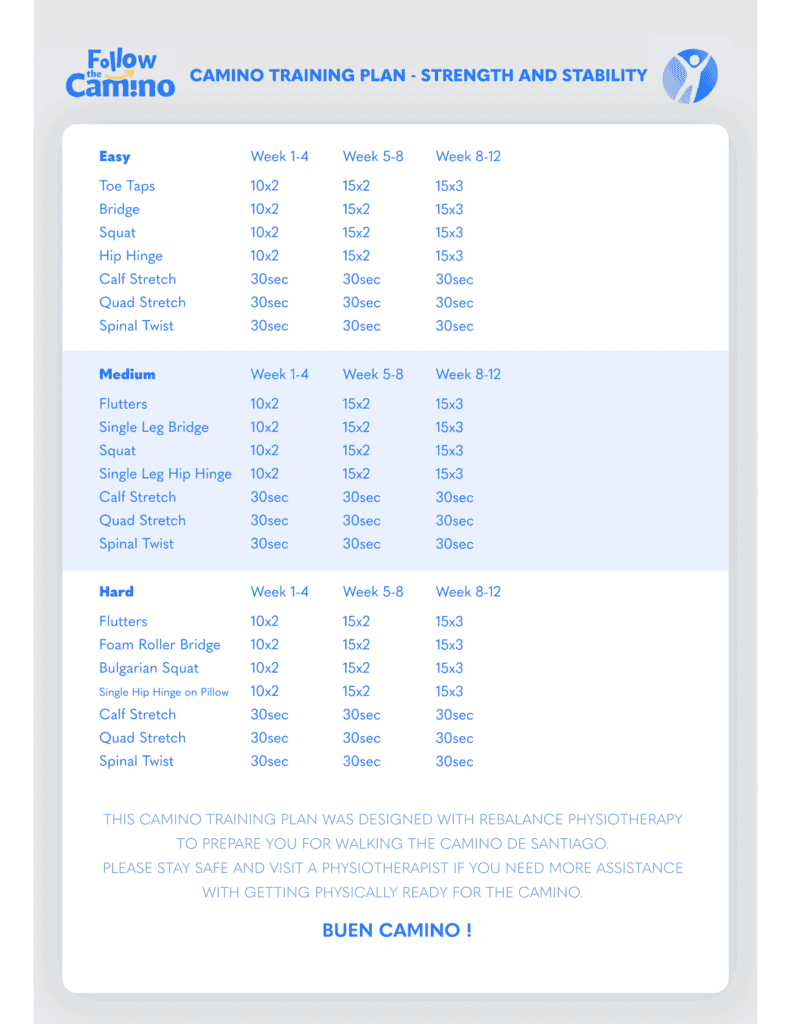 You can find the video tutorial on how to do each of these moves on our YouTube channel.
You can also listen to this podcast from Adventure Travel Show featuring a personal trainer talking about training for active travel adventures.
Training Walks to Prepare for the Camino
We have talked to our clients and various experts to put together lists of training walks in some of the main countries our clients are from. Check these out for inspiration!
It is worth noting that even if you train perfectly you will still have some aches and pains when you get there. This is normal and it will get easier the further you walk – we promise!
Learn more: Download your FREE Camino e-book!
Discover the routes and sections of the famous Camino de Santiago pilgrimage.
Download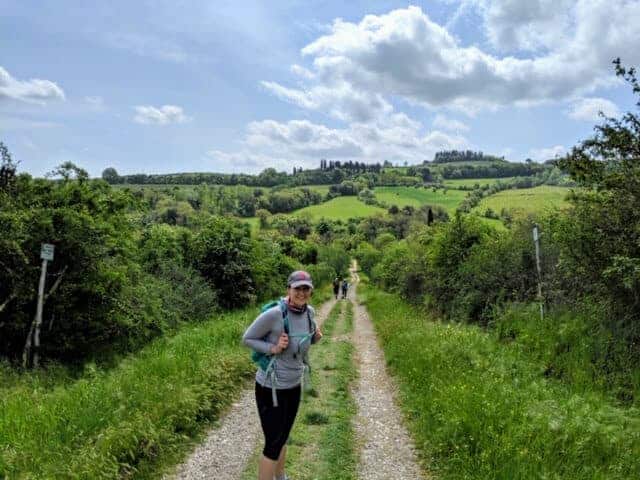 Tips to Make your Camino Training Easier
Start as soon as you can, the more training you do, the better you will feel for it when out on the Camino.
Combine both flat and mountainous terrain. This will help strengthen the relevant leg muscles
Gradually increase the distances that you are walking. You don't need to do this on every walk, but at least once a week.
Make sure if you don't normally walk with a backpack that you start wearing one when out walking. (If you have booked your luggage transfer with us you only need to practice with a small daypack.)
If you're getting walking shoes, make sure to wear them as much as possible to ensure they are well broken in before your Camino.
Listen to music. It really helps the time go by and can help keep you motivated.
Walk with a friend. This lets you spend time with a friend catching up whilst also getting your Camino training in.
Use an app or fitness gadget to keep track of your progress and to keep you motivated as you see the number of steps you walk add up.
Choose different routes so you don't get bored. This will also help you to tackle different terrains.
Pick a time of day that suits your schedule so you can more easily stick to your Camino training.
Listen to your body when walking. If your shoes are pinching or rubbing next time you wear them you should use a blister plaster as a preventative measure or try different socks.
Find a walking group – in most areas you can easily find a walking group to join. Have a quick search online to find one near you. It's also a great way to meet other people that have similar interests. If you're in Ireland, check out our Events page to see when our next Camino Training is happening.
Inspired? Download Our Camino Packing List!
Everything you need to pack to walk the Camino de Santiago.
Download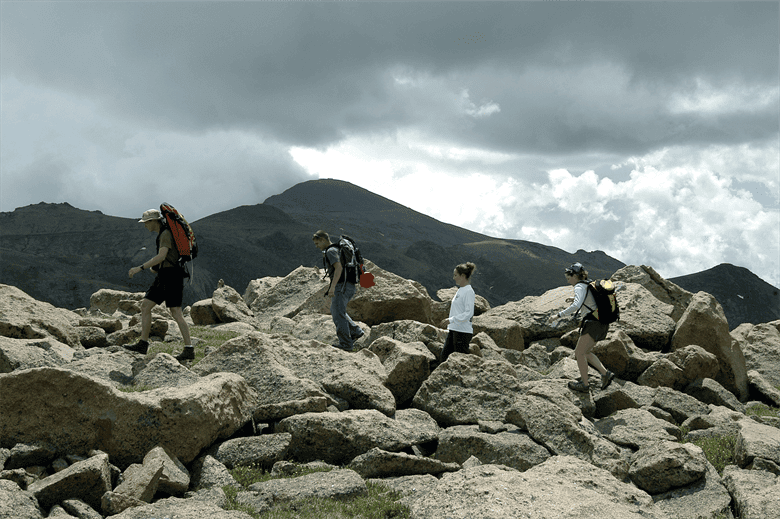 Check out the essential items you'll need to bring when Packing Your Bag for the Camino de Santiago. Another important thing you'll need to consider for walking the Camino is your footwear. You can read more about how to choose the best shoe for you here.
Thanks again to ReBalance Physiotherapy for their help. Having a qualified and certified physiotherapist design our training plans means you can use them with confidence.
Start Getting Ready for Your Camino!
Follow the Camino is the original Camino Tour company, with over 15 years of experience making brilliant Caminos. Our team has all the tips and tools that you need to plan and walk a stress-free Camino at your own pace.
There are dozens of options to choose from on our 9 main Camino routes. You can choose just one section, a couple of stages, or even a full Camino route. We have short walking day options, as well as luxury upgrades along the Way.
Whether you travel for quality time with friends and family, to get away from everyday worries, or for personal fulfilment and enrichment, the memories you build on the Camino will stay with you forever.
Get a free, no obligations quote from the most flexible Camino company and walk the world-famous Way of Saint James worry-free.
Contact us at info@followthecamino.com for any questions you have on the Camino tours.
The Camino is Open for 2024 Bookings!
Get in now to secure the best accommodation for your Camino!
Discover this empowering journey across Spain, Portugal and France for yourself.

Journeys from 3 to 90+ days available.
Flexible itineraries Luggage transfers Private rooms & bathrooms
Contact us