Travel is back and we are seeing so many more people booking last-minute trips to Spain and the Camino! There are a lot of questions about what has changed for the travel industry. Many people are asking about travel restrictions, requirements, and paperwork.
The short answer is that it depends on the country that you are coming from and the restrictions and requirements can change at any time. For the most up to date advice please visit the Travel Safe Spain website.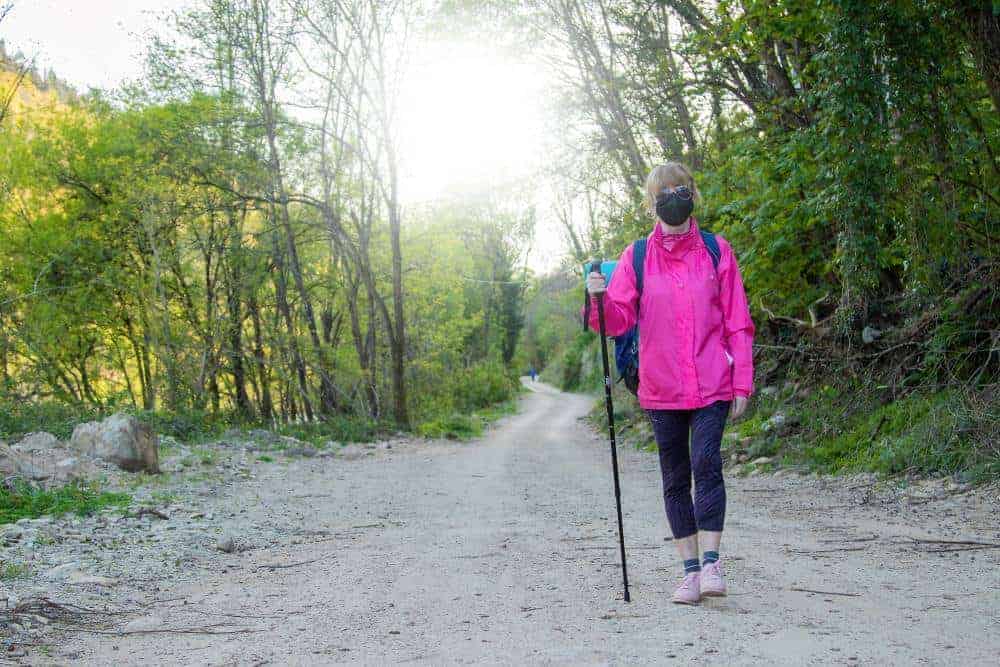 Travelling to Spain – FAQs
Please note that this information is subject to change at short notice. Please check the restrictions for your country before you leave.
Health Forms and Paperwork
Who is required to complete the Health Control Form?
All travellers who travel to Spain by air or sea need to complete the Spanish Health Control Form before they travel.
Where can I fill in the form?
If you are travelling by plane, on the Spain Travel Health website or on the apps for Android or iOs devices. If you are travelling by ferry, on this link: https://spthm.puertos.es/
Where will I need to present the form?
You will get a QR code (in paper or digital format) which you will have to show when boarding your plane or ferry and when arriving in Spain.
What happens if you travel by land?
You are not required to present a form of any kind if you arrive in Spain by land unless you travel from a high-risk country. Travellers from high-risk countries or areas arriving in Spain by land from France must have a vaccination/diagnostic test/recovery certificate. Children under 12 years of age are exempt.
Which are the high-risk countries/areas?
The list of high-risk countries/areas is constantly being updated, so we recommend that you keep checking it here.
If you are arriving from a country/area that is not considered a risk, which certificate or test document will you be required to show on arrival in Spain?
You will not be asked for any diagnostic test nor any vaccination or recovery certificate. You will have to fill in the Health Control Form and obtain the QR (FAST CONTROL) code if you are travelling by air or sea.
If you are an EU citizen and you arrive from an EU risk country / area, what documents do you need?
An EU COVID Digital Certificate that serves as accreditation for one of these three variants:
You have been vaccinated against COVID 19.
You have had a negative test result.
You have recovered from COVID 19.
If you do not have an EU COVID Digital Certificate or you cannot upload it to SpTH, you will have to manually enter the data of your certificate. If this is the case, waiting times at the health control point will be longer, since the health control staff may have to review your certificate.
Children under 12 years of age are not required to present these certificates.
If you are coming from a third country/area that is considered a risk, which certificate or test document will you be required to show on arrival in Spain?
Entry is permitted for persons travelling for tourism with a vaccination certificate issued by the competent authorities of the country of origin from 14 days after the date of administration of the last dose necessary to complete the vaccination course. Accepted vaccines are those authorised by the European Medicines Agency or the World Health Organisation.
Children and young people between 12 and 18 years old must also present this vaccination certificate (they cannot enter with a diagnostic test or a recovery certificate) except in exceptional situations which you will find on the map of each country on the home page. Only children under 12 years of age are not required to present a health certificate of any kind.
On the map on the Travel Safe Spain home page, you can also access information on the specific requirements for citizens coming from the UK.
How are these certificates accredited?
They can be entered on the SpTH application during the process of obtaining the QR code.
What languages must the certificates be written in?
In Spanish, English, French or German. If not, they must be accompanied by a Spanish translation from an official body.
Which vaccinations are accepted?
Those authorised by the European Medicines Agency or those that have completed the World Health Organisation's emergency use listing procedure. Check here.
Even if I have one of these certificates, is it possible that I might have to undergo a diagnostic test when I arrive in Spain?
Yes, it is possible. When you undergo the health checks, the health authority might decide that you need to take a diagnostic test when you arrive in Spain.
Might there be exceptions for each country?
Yes, there might be some territories that are exempt within a high-risk country or regulations or restrictions that apply to just one country based on the health situation there. For this reason, we recommend that you check the specific information for the country you are interested in on the map on the homepage.
Entering Spain from inside the EU: EU Digital COVID Certificate
What is it?
This is a digital accreditation certifying that a person: has been vaccinated against Covid-19 or has taken a diagnostic test and has tested negative for SARSCoV2, or has recovered from Covid-19. The aim is to facilitate free movement within the European Union, as a FAST CONTROL QR code is generated when the health certificate is completed which speeds up any formalities on your arrival in Spain.
What format is it in?
Either digital or paper format, both with the QR code, in the national language of the State in which it is issued and in English.
For which countries is it valid and from what date are they issued?
For all countries of the European Union. It may be issued, for example, by hospitals, test centres or health authorities.
Does it cost anything?
It is free of charge. You will find more information here: EU Digital Covid Certificate
Border Health Checks
Do you need to pass a health check to enter Spain?
All passengers arriving in Spain by air or sea will be subject to a health security check at the first point of entry, including at least taking your temperature, checking your documents, and a visual assessment of your state of health. For international transfers, check the applicable regulations here.
While You are in Spain
What should you bear in mind?
At all times follow the recommendations for Covid-19 issued by the health authorities.
Are there areas in Spain that offer insurance for people travelling during the Covid-19 pandemic?
Yes, some regions, which in Spain are known as autonomous communities, offer coverage for some COVID related disruptions. Check which ones here.
World Nomads travel insurance Explorer plans now include cover for some Coronavirus-related events – you can read more about it in their Coronavirus cover article.
Leaving Spain after your Camino
You may need to do a COVID-19 test before you leave Spain, depending on which country you are travelling to. Always check what the requirements are for your destination – even if you are going home.
COVID-19 testing in Santiago de Compostela, Spain
There are 3 private clinics in Santiago doing private tests for people who need a test in order to take a flight home. You will need to book your test ahead of time, so please make sure to plan this before you get to Santiago.
Laboratorio Clínico Compostela en Xeneral Pardiñas – http://www.laboratorioclinicocompostela.es/
J.de Soto en Doutor Teixeiro – https://www.laboratoriojacobodesoto.com/
Clínica La Rosaleda – https://www.hmrosaleda.com/
They can do 3 types of tests:
Blood test
Antibodies test
PCR test
We hope that this helps you to prepare for travelling to Spain and the Camino during COVID-19! Remember that these answers may change with short notice, so always double-check with the relevant Spanish embassy and on the Travel Safe Spain website before you travel.
Check out how Camino suppliers plan to overcome COVID-19!
Have a safe trip! Buen Camino!
Updated: 21 September 2021
The Camino is Open for 2023 Bookings!
Some of our top accommodation booked out in 2022, so get in now to secure the best accommodation for your Camino!
Discover this empowering journey across Spain, Portugal and France for yourself.

Journeys from 3 to 90+ days available.
Flexible itineraries Luggage transfers Private rooms & bathrooms
Contact us