Maintaining standards of hygiene and quality have always been a priority for our Camino de Santiago suppliers. Undoubtedly, after the coronavirus, the hygiene and cleaning measures will be even stricter.
From the second half of May, Spain announced that it will gradually ease its lockdown. As preparation for the return to tourism activity, the Spanish government has created a Guide to Good Practices for establishments and workers in the Spanish tourism sector. The guide outlines actions they can take to ensure a safe space for staff and customers.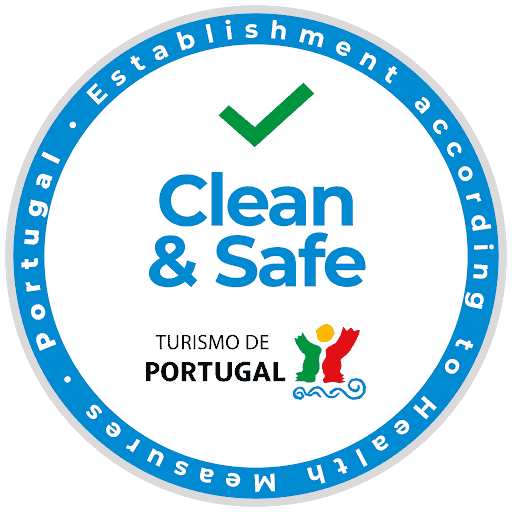 Portugal also launched its "Clean & Safe" stamp of approval to reassure holidaymakers. To gain this stamp, businesses must implement an internal protocol recommended by the country's General Director of Health.
Providing a high level of hygiene and cleanliness is mandatory for tourist accommodation.
Here is how our Camino de Santiago suppliers plan to overcome the COVID-19:
Camino accommodation hygiene measures
Here at Follow the Camino, we keep in continuous contact with our Camino de Santiago suppliers. They are safe and well. As the tourism sector is one of the most affected by this health crisis, we are encouraging our customers to postpone their trip instead of cancelling. That way we all can help to ensure a future for the small Camino businesses who mostly depend on the annual Camino season.
Last month, we ran a survey aimed at our Camino suppliers. One of the questions we asked was about the different cleaning actions that they are taking to overcome COVID-19.
55% of the respondees said that they are embracing and applying all the recommendations by government, and 45% of them are even going one step further to apply extra cleaning measures in addition to those recommended by the government.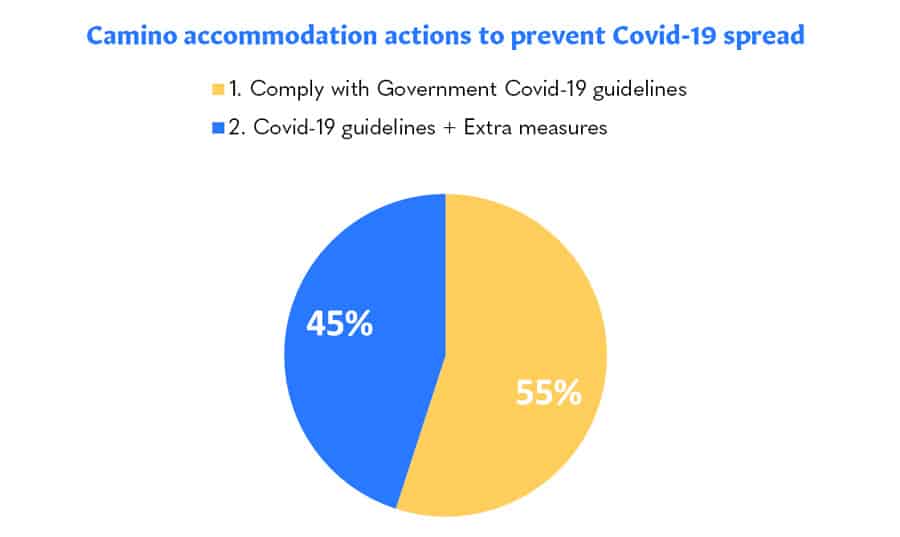 "From Casa das Corredoiras, we will follow the recommendations of the Spanish Ministry of Tourism with its Guide of Good Practices in relation to Covid-19. We think it is the most complete guide so far, specifying solutions for disinfection of spaces, recommendations for the staff that are employed, for travellers, etc. Likewise, we are attentive that once the confinement is lifted and the State opens again tourist accommodation, we will receive the Protocol of Prevention also from the Consellería de Turismo of the Xunta de Galicia (Regional Government)" -Casa das Corredoiras, Arzua, Spain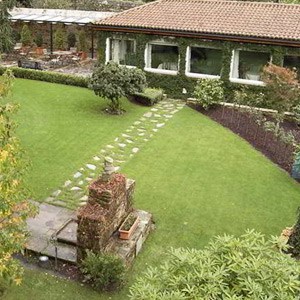 Some hotels are using different types of technology to ensure that their facilities are virus-free: "In the Virxe da Cerca, we will use an ozone machine that we have to leave all areas of the hotel virus free…" – Hotel Virxe da Cerca, A Coruna, Spain
"We will make all the necessary changes, as well as the reinforcement of sanitisation of common areas and so on. However, before the government ordered the closure of establishments we were already taking some preventive measures such as making hand disinfectant available to everyone at the reception, also reducing and spacing out the tables in our spacious dining room". -Hotel Carlos 96, Melide, Spain
Guide to Good Practices for establishments and workers in the Spanish tourism sector
This guide is intended to help ensure activity in companies or workplaces restarts and at the same time to protect the health of their staff and customers.
Apart from the general hygiene measures like washing hands regularly, avoid touching eyes, nose and mouth, keeping social distancing, etc., it also includes specific prevention measures in tourist accommodation (management, reception, technical and maintenance services, dining rooms, bars and kitchens, cleaning staff and floor staff, or children's play areas).
The guide includes a list of procedures to be followed in the event of the detection of COVID-19 cases in tourist accommodation. In addition, there is a procedure for cleaning potentially contaminated areas.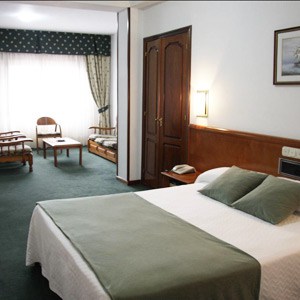 "It is clear that we are all going to maintain strict cleaning measures for when the quarantine is over and we return to the routine little by little, it is common sense. At this time when the hotel is closed, the relevant disinfections are being carried out."
-Hotel Scala Melide, Spain
Some businesses like Casa Brandariz even contemplate the possibility of having a reserve of gloves and facemasks to offer to their customers, if necessary.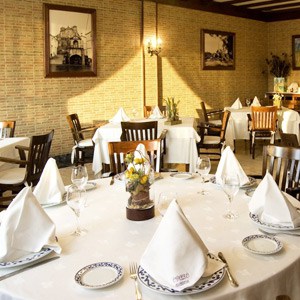 Apart from the cleaning measures, restaurants will guarantee a minimum space between customers, so people will have space enough to enjoy their meal while keeping social distancing.
Also, some hotels are working together with certified cleaning companies to obtain a "virus-free" certification, for the peace of their customers.
"We are working closely with the company that cleans our establishments and the company that handles all the disinfection aspects on the new implementation of working methods that guarantee and certify "virus-free spaces". -Hotel Lux Santiago de Compostela, Spain
We hope to welcome you soon on the Camino
Despite all the struggling through this time, suppliers stay still have hope and are doing their best to remain positive about the future.
Here are messages sent to us by a couple of our suppliers in Spain during the current lockdown.
Follow the Camino and all of our Camino de Santiago suppliers wish you all the best. We look forward to creating the best Camino experiences while guaranteeing the safety and cleanliness of all spaces for your future Camino de Santiago pilgrimage.
Check out some Camino Inspired Quarantine Activities and Travel Diary in Times of COVID-19.
Buen Camino!
Walk the Camino in 2021!
Join the flow of pilgrims walking the Camino De Santiago in the 2021 Holy Year.

You've never seen anything like it!
Flexible itineraries Luggage transfers Specially selected hotels
Contact us