The Camino de Santiago is a fantastic destination for wine lovers. There are a wide range of high-quality vineyards along each of the different Camino routes. It is easy to add a quick detour to your Camino or take a day trip to some of the world's best-known and oldest wineries.
In Spain, you will have the opportunity to taste something a little more authentic than you'll find in your local supermarket. The flavours are rich and the range is wonderful.
Here are our top 5 favourite wine varieties to that we recommend you try. These will give you a little taste of what the Camino de Santiago has to offer… Salud!
Our Favourite Wines to Try on the Camino
Txakoli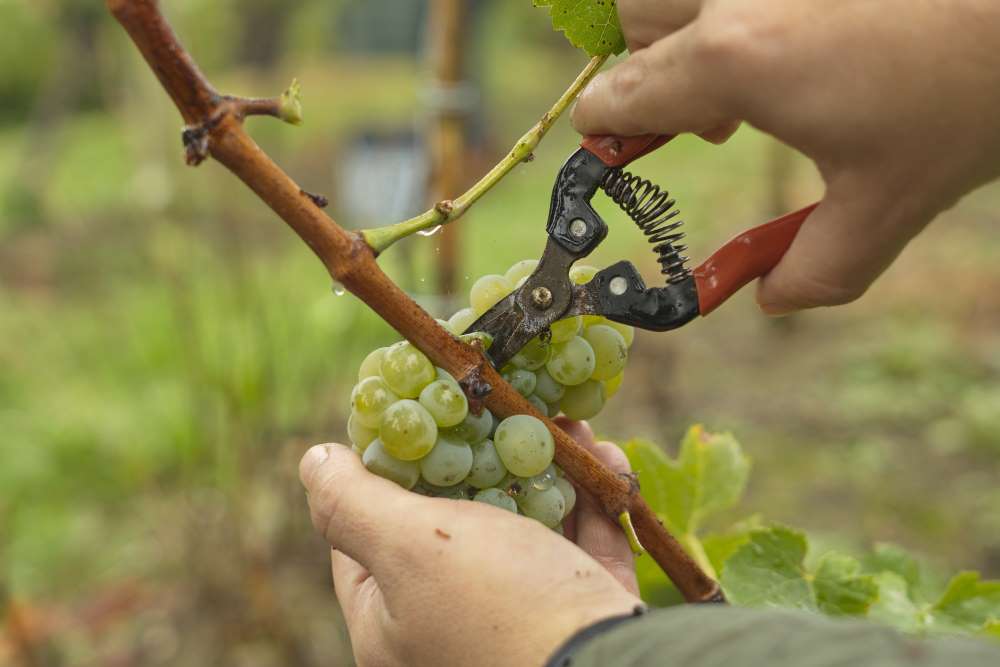 Txakoli (pronounced 'Chacolee') is a very old wine that comes from across the north of Spain. In particular, the Basque region where it's ingrained in their culture.
It's usually a white wine but can come in red or rose, although rare. Typically, the white wine is a pale yellow or green colour. White Txakoli is very dry and lightly sparkling with acidity, and low in alcohol. This is usually served as a young wine – one year or less from the bottling date. It is most often as an aperitif. This is a wonderful wine to try on your Camino, as it can be tricky to find in other countries.
Some of the most common variations of Txakoli in the Vasque region include Txakoli from Getaria, Txakoli from Biscay, Txakoli from Alava and Txacolí from Cantabria. Each type of Txakoli will vary slightly in its acidity and colour.
Of course, being served in the Basque country one should enjoy Txakoli with pintxos! Similar to tapas, pintxos are small bites of delicious food that allow you to sample many flavours.
Tempranillo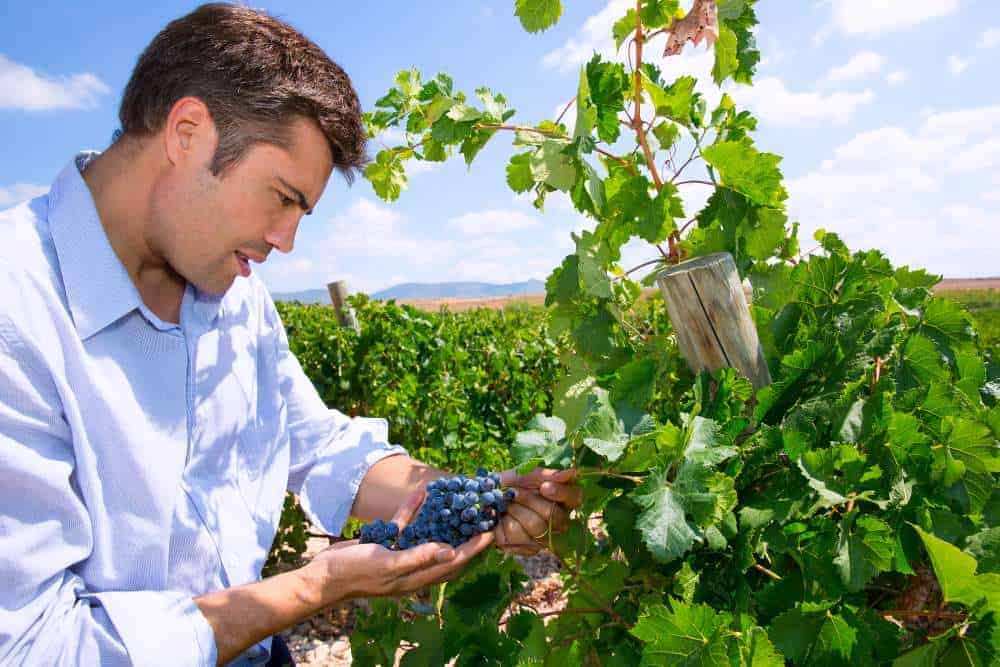 This versatile grape variety is blended with almost every red wine that comes from Spain and Portugal. It's grown in Castile and León and other regions across north and north-west Spain that the Camino runs through.
Tempranillo grapes are not naturally very acidic, which is why they blend very well with other varieties. This wine can be characterized as a medium-to-full-bodied wine with red fruit characteristics. Tempranillo translated literally means "little early one". The name was given to it by Spanish winemakers who noticed it ripening earlier than other grape varieties.
This wine pairs perfectly with a tomato-sauce based dish. It is also lovely with any dish that features corn as a major ingredient.
Albariño
Albariño grapes are grown in Galicia and northwest Portugal. It's a white wine grape noted for a distinctive botanical aroma which is similar to that of Viognier or Gewurztraminer. Look for notes of apricot and peach in these tasty wines. 
Albariño is frequently considered a sister wine of Riesling. The wine produced from this grape is particularly light and generally high in acidity and with alcohol levels of 11.5–12.5%. Its thick skin and high quantity of pips can cause residual bitterness. 
Spain produces a large portion of its Albariño in the Rías Baixas denominación de Origen. The Portuguese coastal route passes through this area and is a great opportunity to try this lovely wine.
Albariño wines pair fantastically with the delicious local seafood dishes that you will find on the Camino and throughout Spain and Portugal.
Rioja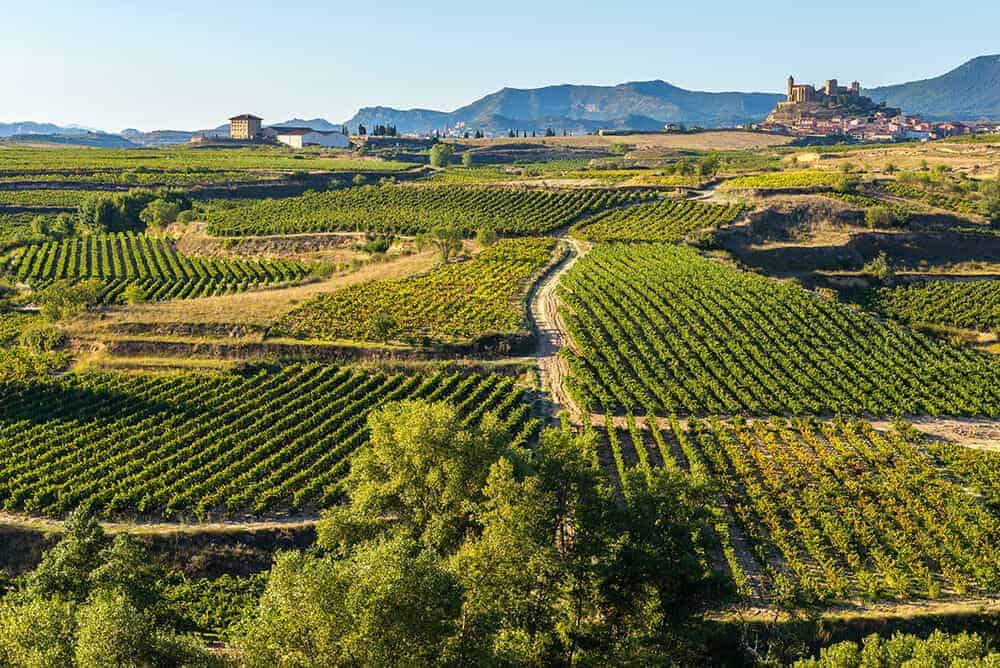 Rioja wines are made from grapes grown in La Rioja and Navarre, and the Basque province of Álava. You will pass through these vineyards along the French Way of Saint James.
A distinct characteristic of Rioja wine is the effect of oak ageing and the pronounced vanilla flavours. These are essentially a trademark of the region. Nowadays, modern winemakers are experimenting with making wines less influenced by oak, contributing to a wider variety of flavours from Rioja. Reds (or 'tintos') are classified into four categories, as shown below.
Rioja – the youngest. Spends less than a year in an oak-ageing barrel.
Crianza – aged for at least two years. One year of which is in oak.
Rioja Reserva – aged for at least three years. Again, one year of which is in oak.
Rioja Gran Reserva – aged for at least two years in oak and three in a bottle. Reserva and Gran Reserva wines are not necessarily produced every year.
When trying the red Rioja wines on the Camino, we recommend a lamb dish. The tenderness of the meat, mixed with the aroma of the wine will make for a wonderful meal. If you're trying the white variety of Rioja, sample lighter menu items, such as white fish or salads.
El Bierzo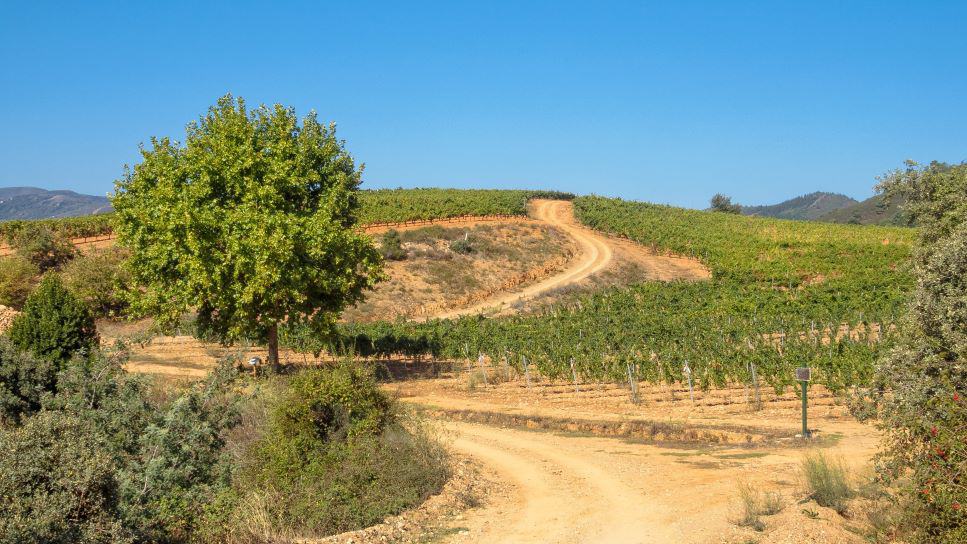 This delicious wine is usually characterized by fresh fruity notes, smooth tannins and a notable reflection of the mineral environment in which it's grown.
Bierzo is a rural and remote ancient region in the north-western corner of Spain, or Castilla y León. Until recently, this area was one of Spain's best-kept secrets. Now, with much investment and innovation, El Bierzo wine is recognised as one of the country's up and coming stars within the wine industry.
You'll pass through this wine region along the Via de la Plata and the French Way Camino routes. Keep an eye out for the vineyards as you near Santiago de Compostela.
Experience the Wines of the Camino de Santiago for Yourself!
Wine is as common as water along the Camino. If you enjoy discovering delightful vineyards, decadent winebars, authentic restaurants, and delicious wines then the Camino is the trip you have been looking for.
Every year Follow the Camino helps hundreds of clients from all over the world to discover the joys of the Camino. We make your pilgrimage stress-free, simple, and comfortable with our custom made packages. Whether you are looking for an authentic experience with homestyle meals and intimate B'n'Bs or a luxurious holiday full of food and wine – we can create the ideal itinerary for you.
Start planning your next Camino with us and let us know what you are thinking of. We'd love to send you a free quote and itinerary!
Buen Camino!
The Camino is Open for 2024 Bookings!
Get in now to secure the best accommodation for your Camino!
Discover this empowering journey across Spain, Portugal and France for yourself.

Journeys from 3 to 90+ days available.
Flexible itineraries Luggage transfers Private rooms & bathrooms
Contact us