We at Follow the Camino would recommend this route as an alternative to the Camino de Santiago if you are looking for more of a challenge. As this route is not as busy as the Camino de Santiago it is not as well waymarked nor does it have the frequency of facilities along the route and so will require more planning ahead of your days walking.
Nonetheless this route is growing in popularity, particularly with pilgrim's who have completed the Camino de Santiago and are looking to complete a pilgrimage on foot to Rome, the home of the Vatican as well as the tombs of Saints Peter and Paul. This route has also been recognised by the Council of Europe and designated a Major Cultural Route in 2004.
Our sister company One Foot Abroad has developed manageable sections of this walk from Canterbury to Rome. Along the route they have sourced the finest local accommodation and you will also have the opportunity to soak up the local culture whilst sampling the various regions culinary delights: Via Francigena.
The Road to Rome
A three-part series called Pilgrimage: The Road To Rome is being broadcast on BBC2. The documentary 'explores how relevant the medieval rites of pilgrimage are in today's society' and does this by getting eight celebrities to challenge their beliefs and live as modern-day pilgrims, taking on the ancient 2,000km Via Francigena.
Via Francigena connects Canterbury, England to Rome, Italy. The complete route covers 1,000km. However the route is divided into sixteen (16) individual walks, each one approximately averaging 63km – pick and choose.
The Challenge of the Road To Rome
The group spends 15 days joining hundreds of other pilgrims along the 1,000km pilgrim path. The ancient road of Via Francigena that connects Canterbury, England to Rome, Italy, is a popular pilgrimage route that spans four countries – England, France, Switzerland, Italy. This route will enchant you with stunning Tuscan views to regions with rich World War I/II history. This popular walking path is said to be challenging but rewarding as the beautiful scenery and magnificent points of interest, which range from lakes to castles, make it worthwhile. The journey gives them a chance to reflect on their experience and challenge their beliefs as well as discuss ethical and spiritual issues along the way.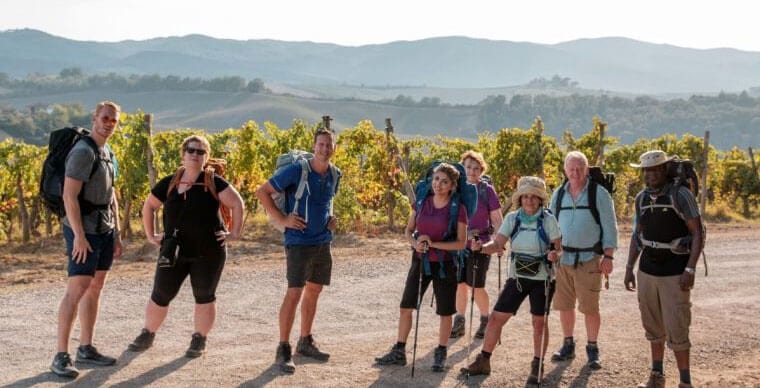 Originally published on 5th April 2019
Don't forget to share this post!